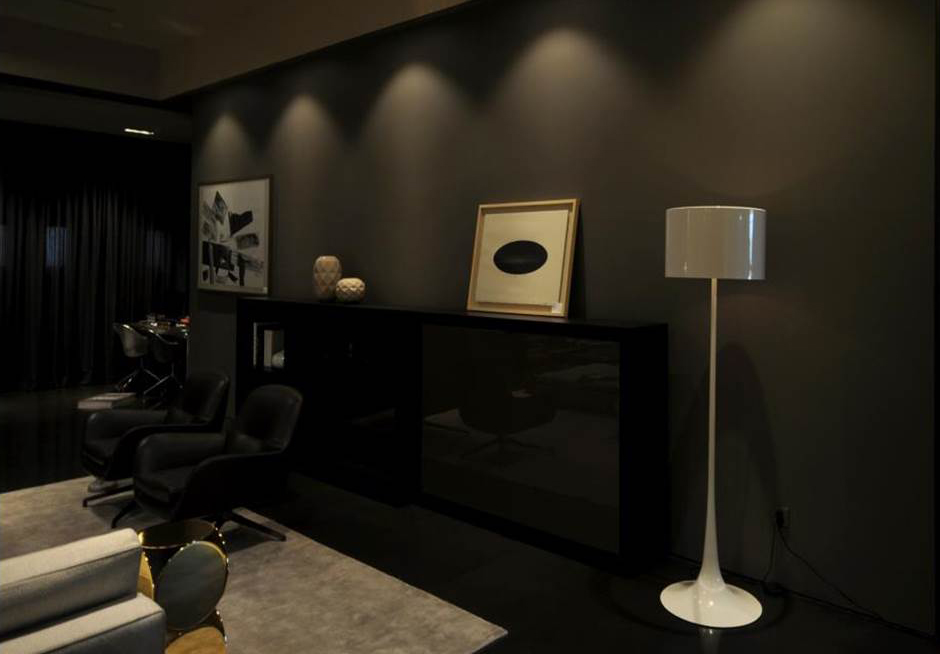 The Diamond Series LED downlights from Aplus Lighting are high-output architectural-grade recessed luminaires for medium to high ceilings in commercial, retail and hospitality applications. Available in 3 inch and 6 in fixed/adjustable apertures in reflector styles with a deep cut-off providing visual comfort, the complete portfolio consists of 5 wattage options (11W, 14W, 20W, 27W and 40W) and delivers up to 2,100 lumens of high quality white light. Designed for use in new construction, remodel, and retrofit installations, Diamond LED downlights deliver significant energy savings throughout the life of the product to satisfy building codes and sustainability requirement.
Diamond LED downlights feature the latest LED technology which delivers consistent light output and exceptional color performance with lifelong high efficacy. The chip-on-board (COB) LED arrays from Citizen deliver high flux density to enable improved beam control and precision lighting with 3-step MacAdam binning for clean and consistent uniform illumination. Exceptionally accurate color rendering in excess of 90 CRI provides superior color quality, along with an R9 value greater than 50 to accentuate intense whites and rich colors. High quality light sources help address the critical issues of the color experience in commercial showroom lighting, retail displays and illumination of artwork in museums and galleries. Utilizing an LED solution with the industry's tightest chromaticity tolerance and color consistency without compromising efficacy and lifetime, Diamond is the ultimate for showcasing high-end retail merchandise or museum artworks.
Leveraging state of the art LEDs and an innovative optical solution, the Diamond Series LED downlights deliver volume of lumens to produce sufficient footcandles but not overpower the environment with excessive luminance (the measure of light leaving a surface in a given direction). The downlights offer a choice of beam angles, including 14°, 20°, 30° for the models with 3" apertures and 20°, 28°, 33° for the models with 6" apertures. The luminaire provides superior light control and low aperture brightness with a deep-set optical system. The cut-off angle of narrow beam downlights keeps glare within comfortable boundaries. Reflectors are available with specular, matt silver and champagne gold finishes, allowing lighting designers to achieve desired decor and illumination. The adjustable version features 0 to 350-degree horizontal rotation and 0 to 30-degree vertical tilt.
Durable die-cast aluminum construction provides a structurally sound and thermally efficient housings that offer robust mechanical stability and heat dissipation. With adequate heat sinking a low junction temperature is maintained to ensure lifecycle and performance of the phosphor on the high density LED array is not adversely affected due to thermal degradation. Superior thermal management allows the luminaire to last over 50,000 hours with 70% lumen maintenance. The luminaire is designed with a mounting frame for ease of maintenance and future upgrading.
The Diamond Series LED downlight is powered by an integrated constant current driver which features a high PF and low THD across the entire universal input voltage range (100V-240V). The high performance driver provides exceptional line and load regulation with a variety of internal protection features providing the highest standards in reliability. 1-10V and TRIAC dimming capability enables maximum energy savings and facilitates a rich variety of lighting scenes.
Product features
Citizen COB LEDs delivering high efficacy and high flux density.
Tight CCT control and high chromaticity stability.
Deep set optics provide excellent visual comfort and beam uniformity.
Lockable angles of tilt and rotation ensure precise light distribution.
Excellent thermal design facilitates optimum LED performance and extended lifespan.
High efficiency driver provides tight regulation and control.
Easy installation and maintenance with dedicated mounting frames.
Optional optical accessories: zoom, diffusive filter, honeycomb grid.