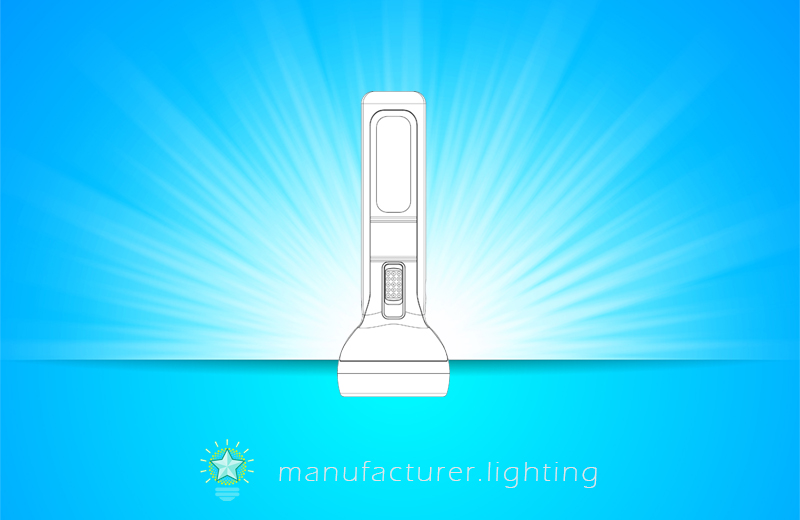 Flashlights are battery powered portable light sources, widely used to cover a range of household, workplace and recreational applications. A typical flashlight comes with one or more batteries arranged within a cylindrical battery compartment that constitues the handle of the light. Reflectors around or behind the light source are designed to help direct light. A switch mechanism, usually located between the lamp and the batteries, controls the flow of electricity between the batteries and the lamp. Various switches have been employed on flashlights, including push-button switches, sliding switches, twist-on/twist-off switches, dial switches, and there are more. Flashlights are offered in an array of shapes and sizes and provide many functions for various disciplines including military; fire fighting; police; industry; camping; boating; outdoor sports; scuba; hunting; and general household use.

Conventional flashlights make use of relatively fragile incandescent lamps with a short operating life and substantial power consumption. Light emitting diodes (LEDs) have provided noteworthy advances in portable light sources, such as flashlights. The power required to light an LED is much less than the power needed to light an incandescent bulb. For that reason, battery life in an LED flashlights can be tremendously extended. LEDs are manufactured with specific light emission directivity. Different from an incandescent bulb, which radiates light in all directions, LED's emit light in specific directions, or within a specific angle. Correspondingly, for spot illumination, which is the most typical use for flashlights, the directivity of LED's is of great benefit. LEDs can emit light of a certain color, which is important in situations that demand specific types and intensities of light, for example hunting, night-based research, or military operations. LED's also have an operating life which is far longer than that of most incandescent bulbs. Hence, the disadvantages of bulb burnout or failure, and the necessity to replace bulbs relatively frequently, are virtually avoided. LEDs are dimmable and focusable, as opposed to incandescent and fluorescent light sources. LEDs don't have any detrimental effects from frequent on-off cycling. LEDs may last as long as 50,000 hours, in contrast to fluorescent tubes are rated to about 30,000 hours and incandescent bulbs average 1,000 to 2,000 hours of usage. Conventional flashlights use rather fragile incandescent lamps accompanied by a short operating life and high power consumption. LEDs are solid-state, way more tolerant of shock, vibration, and crush-stress.

Their high light output combined with the low power consumption, make LED flashlights an excellent replacement for incandescent lamps in flashlights. LED flashlights typically generate a very soft diffused light in one color such as white, red or yellow. The brilliant LED beam lights up the night wherever necessary. Adjustable focus range for different applications, stretching to adjust its focus. Deep-dish parabolic reflector creates a long range targeting beam with optimal peripheral illumination to help with navigation. Optimized electronics provide controlled intensity throughout battery life. It features a lightweight, ergonomic design that makes it an easy task to handle. The aluminum housing helps make the light extremely durable and abrasion resistant. Anodized inside and out for increased corrosion resistance. Its compact design, balanced weight-to-size ratio, and waterproof feature make it well suited for all users, an excellent option for tactical situations, camping, hunting, fishing, police activities and security night patrols.