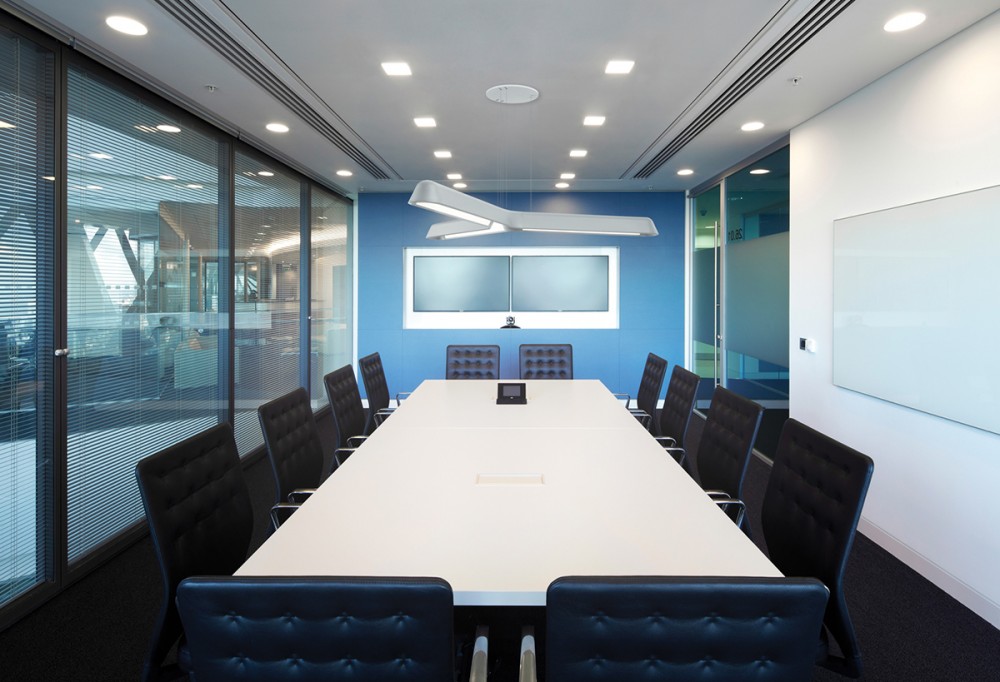 A geometric work of art that holds a minimalist, modern appeal, the Fold Spoke LED handing light created by Fluxwerx Illumination Inc. radiates a gentle glow that delivers extreme visual comfort without compromising its illuminance intensity. Making use of the advanced yet intricate anidolic lighting mechanism, Fold Spoke shines out beautiful ambient and pleasant room atmosphere. A visually comforting environment facilitates visual perception and provides a powerful stimulus to our biological clock. With Fold Spoke hanging overhead, creative and productive work takes place in office spaces, teamwork and communication converge in conference rooms, inspiration and innovation pops up in science labs, concentration and learning efficiency are improved in classrooms, and a human scale to architectural spaces in hospitality environment is created.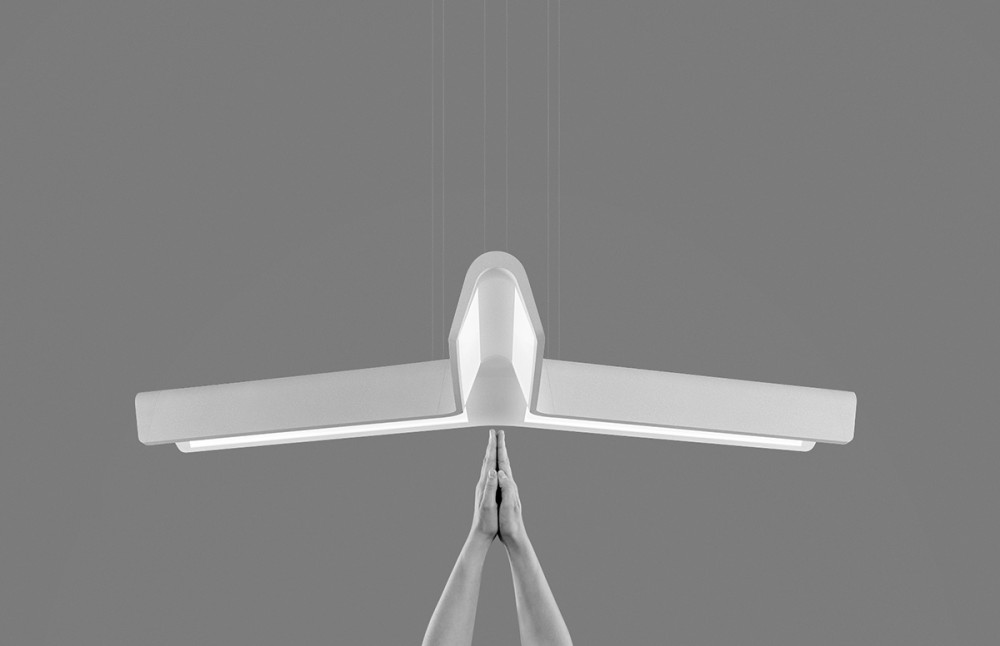 The Fold Spoke Series comes in 3-spoke and 4-spoke form factors with each spoke having 27.4 inches of reach. Smooth curves of the aluminum housing impart a sense of modernity and simplicity that blends effortlessly with the surrounding architecture. This sleek and minimalist structure emphasizes beautiful lines of pure light and provides maximum illumination coverage with its outreaching spokes. The mix of pure geometry and clean lines makes an architectural statement additional to the creation of visual comfort. The exquisite housing finish in black, white or metallic silver reinforces the visual impression of the fixture's contemporary aesthetics. Embracing modern lighting technology and exuding a timeless design appeal, this suspended light finds greater utility in contemporary or modern interiors, including open-plan offices, private offices, reception areas, meeting rooms, countertops, etc.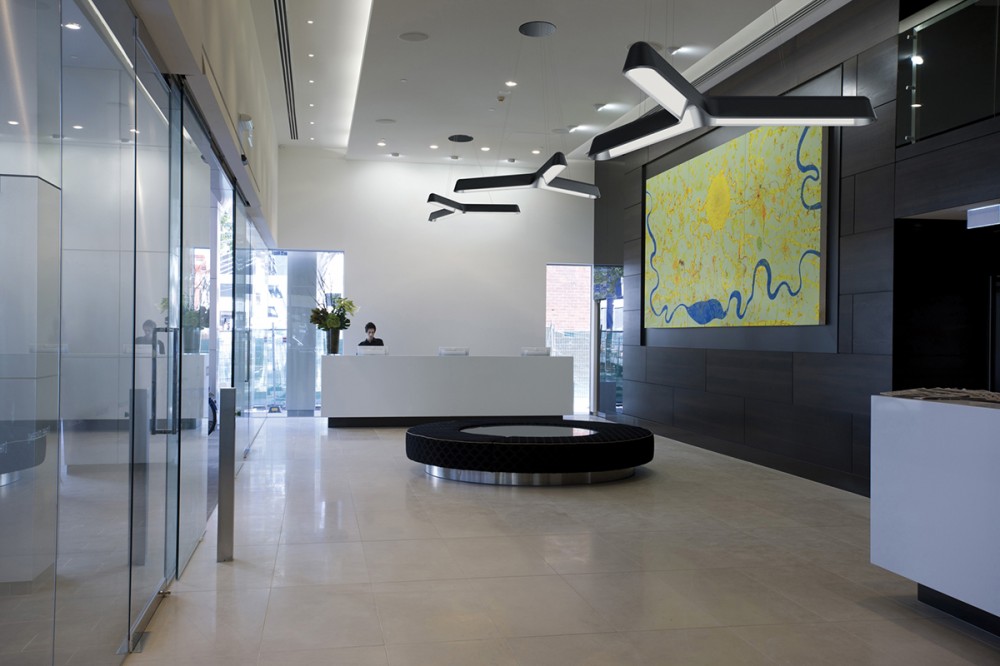 Fold Spoke's superior optical performance is based on the fundamental physics of anidolic lighting which eliminates visible hot spots from pinpoint LEDs. Office work is visually demanding and achieving quality lighting involves more than simply providing adequate illuminance. Poor lighting in today's office can mean anything from insufficient visibility, lighting that causes glare, imbalanced light distribution, terrible color rendering, to flickers caused by electrical disturbances in the power supply. Glare, in particular, has significant correlations to eye focusing problems and eye fatigue, hence negatively impacting job satisfaction and organizational commitment. Offsetting harsh LED illumination to eliminate discomfort from glare is a major challenge to the lighting industry. Fluxwerx takes a unique approach to glare control and brings unprecedented visual adaptation to LED lighting.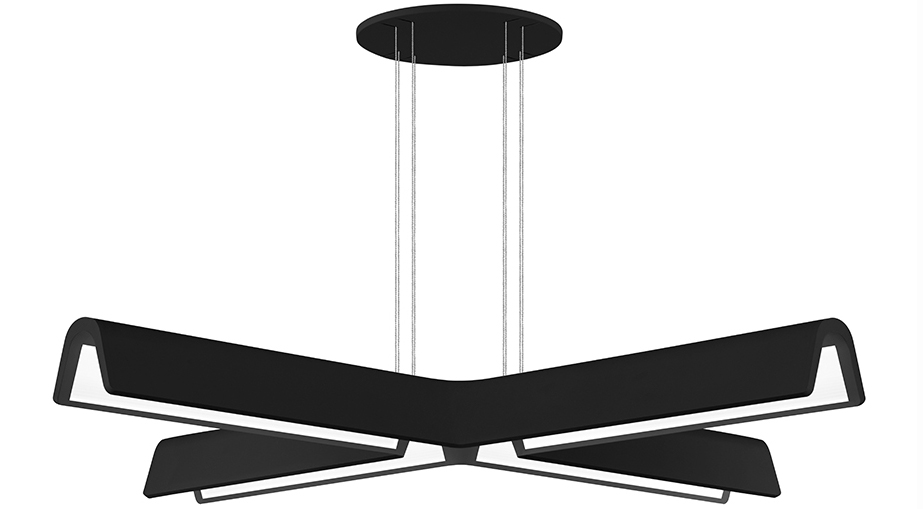 The anidolic optical architecture that defines Fold Spoke key innovation takes advantage of a light guide panel which also functions as a light emission device is interfaced with a linear LED module on its side. Through internal reflection and refraction, the light guide traps luminous fluxes produced by the LED module and distributes light across the entire span of the panel. Indirect light transmission does not expose the intensive LED spots within the occupants' field of view, thus eliminates issues with hot spots and glare. Precise extraction and uniform optical scattering ensure a homogenous light distribution. Thanks to the high optical efficiency of the light guide, Fold Spoke delivers an uncompromised light output with a system luminous efficacy of up to 128 lm/W. Most models come with an uplight module which utilizes the anidolic emission mechanism but in a slightly different optical architecture. With a wide angle batwing distribution, Fold Spoke is able to accommodate minimal suspension distances to create uniform, luminous ceiling planes.
Offered in a variety of wattages including 28W, 38W, 34W, 46W, 44W, 58W, 57W and 76W, the Fold Spoke Series produces 80 CRI white light with lumen packages ranging from 3200 lm to 9000 lm and color temperatures available in 3000K, 3500K and 4000K. The suspended light fixture delivers clean and consistent lighting with a chromaticity variation of less than 2 SDCM. With a rated L70 life of up to 200,000 hours and L90 life of up to 60,000 hours, Fold Spoke offers consistently high quality light over its lifespan.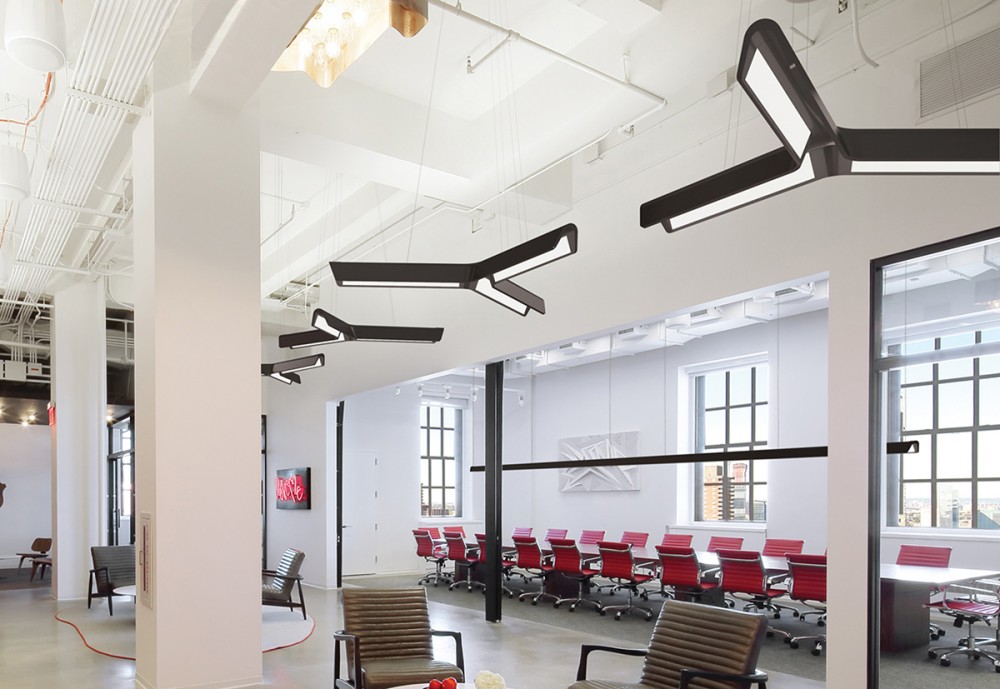 Fold Spoke's sleek design is implemented on a rugged construction. The fixture is built from extruded and machined aluminum which brings durability to the lighting system. The thermally efficient aluminum housing offers efficient heat dissipation that keeps the LED junction below the maximum limit, regardless of the LED densities and drive currents. Precision machined aluminum joints and endcaps are factory-installed for a seamless fit. The metal surfaces of the fixture are polyester powder coated to provide optimal color and gloss retention. Fixture suspension and power conduction are made by the low voltage stainless steel conductive aircraft cables in 3ft, 6ft, 12ft and 25ft length options. Fold Spoke has two size options for the canopy. The 12.5" x 0.45" canopy is designed for grid and drywall installation. The 12.5" x 2.3" canopy is designed for exposed ceilings and the version with a remote mounted driver. The color of the canopy finish matches that of the fixture.
The suspended ceiling light is powered by a 120–277V auto-ranging driver or a driver that accept 347V input. The constant current driver delivers high efficiency, high power factor (PC > 0.90) and low harmonic distortion (THD < 20%) through the entire load range. Dimming control is made using the 0-10V protocol. Optional Lutron Hi-lume H-Series EcoSystem LED drivers allow for 100-1% (PWM) dimming control. Agnostic driver design enables simple integration with any sensors, lighting controls or building energy management systems. Optional rechargeable battery packs provide dependable emergency lighting during power outages.