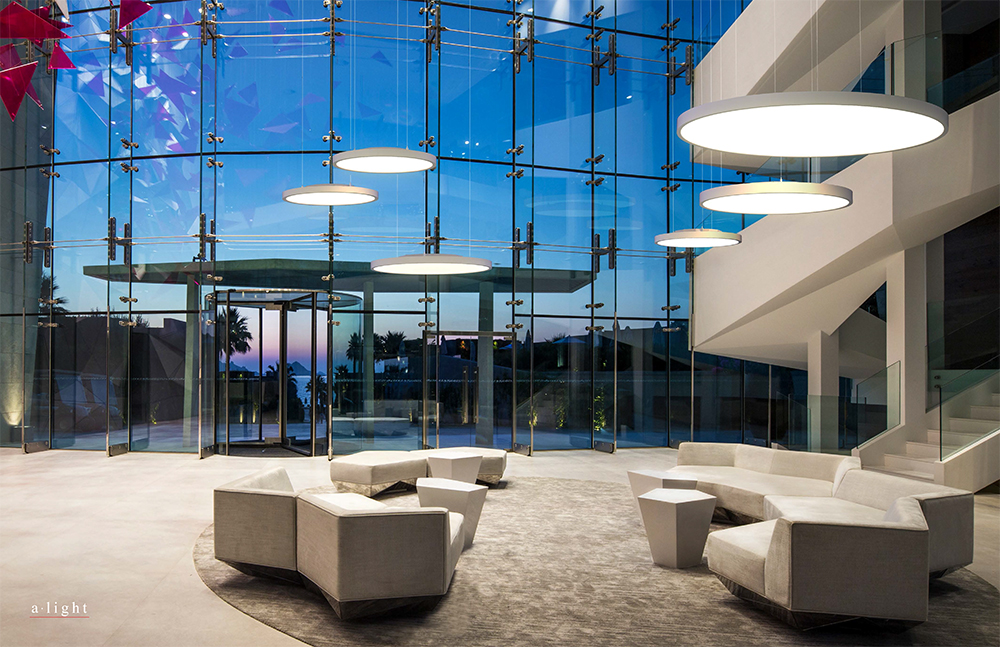 Defined by its clean, minimal design, the a-light Atlas LED ceiling light is a universally attractive addition to modern or contemporary decor in commercial, hospitality and residential environments. This round ambient light fixture radiates modernity and simplicity that lend soft, contemporary character to any room. Its clean white or elegant black finish and frosted acrylic shade coordinate with many interior designs. The low-profile design of Atlas is particularly appealing to interiors such as foyers, corridors, hallways and stairways that have limited ceiling heights. Atlas is as versatile as it is sophisticated. Not only does this fixture utilizes the latest in LED technology to deliver performance, efficiency, and lifetime value not previously available with conventional light fixtures, it is also convertible as a flush-mount, pendant or recessed fixture that accommodates design requirement for spaces with various installation heights, including high ceiling spaces such as hotel lobbies and grand foyers.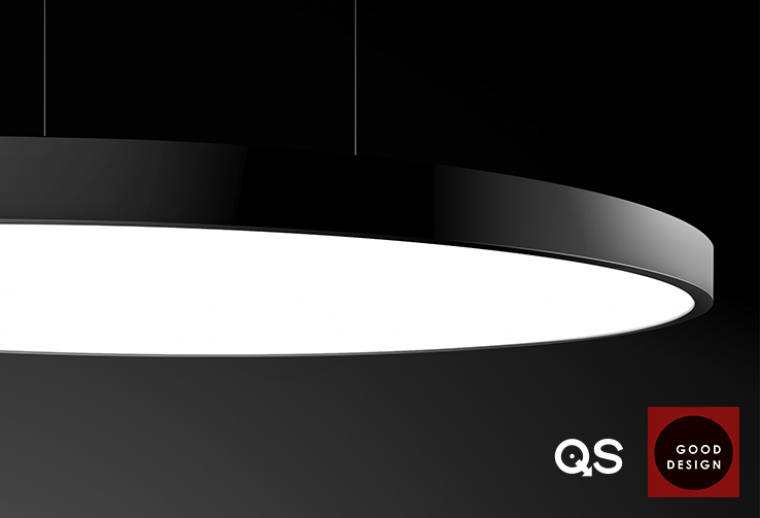 The low profile ceiling light is available in three diameter options: 20", 32", and 48". It maintains a 2.25" profile height and protrudes at 3.75" when taking the back wireway compartment into account. Each model is offered in high output (LH) and standard output (LS) versions and operates in 19W-183W power packages with lumen delivery ranging from 1,326 lm to 15,795 lm. The surface mounted and suspended lights produce an additional indirect symmetric distribution for a balanced combination of downlight and uplight therefore creating an open feeling of space while improving depth perception. The downlight optics include a 0.177" thick concaved thermoformed acrylic lens which provides excellent diffusion of LED hot spots and uniform, visually comfortable illumination across the viewing aperture. The uplight lens of suspended fixture is made of a thin clear, acrylic lens delivering 95% transmittance. The uplight lens of the surface mount version is a thin optical diffuser delivering 90% transmittance.
Atlas LED modules make use of high performance Nichia LEDs to deliver high efficacy and high flux density with a minimum color rendering index (CRI) of 80 in 3000K, 3500K, or 4000K color temperature. For higher color rendering applications, 90 CRI LEDs are available upon request. These SMD LED packages are binned to within a 3-step MacAdam Ellipse to keep chromaticity coordinates under tight control for superior fixture to fixture color consistency. With high efficiency heat dissipation provided by the thermally interfaced heat sink as well as low current density driving, LEDs are rated to maintain no less than 70% of its original lumen output after 60000 hours in accordance with LM-79 and LM-80 standards.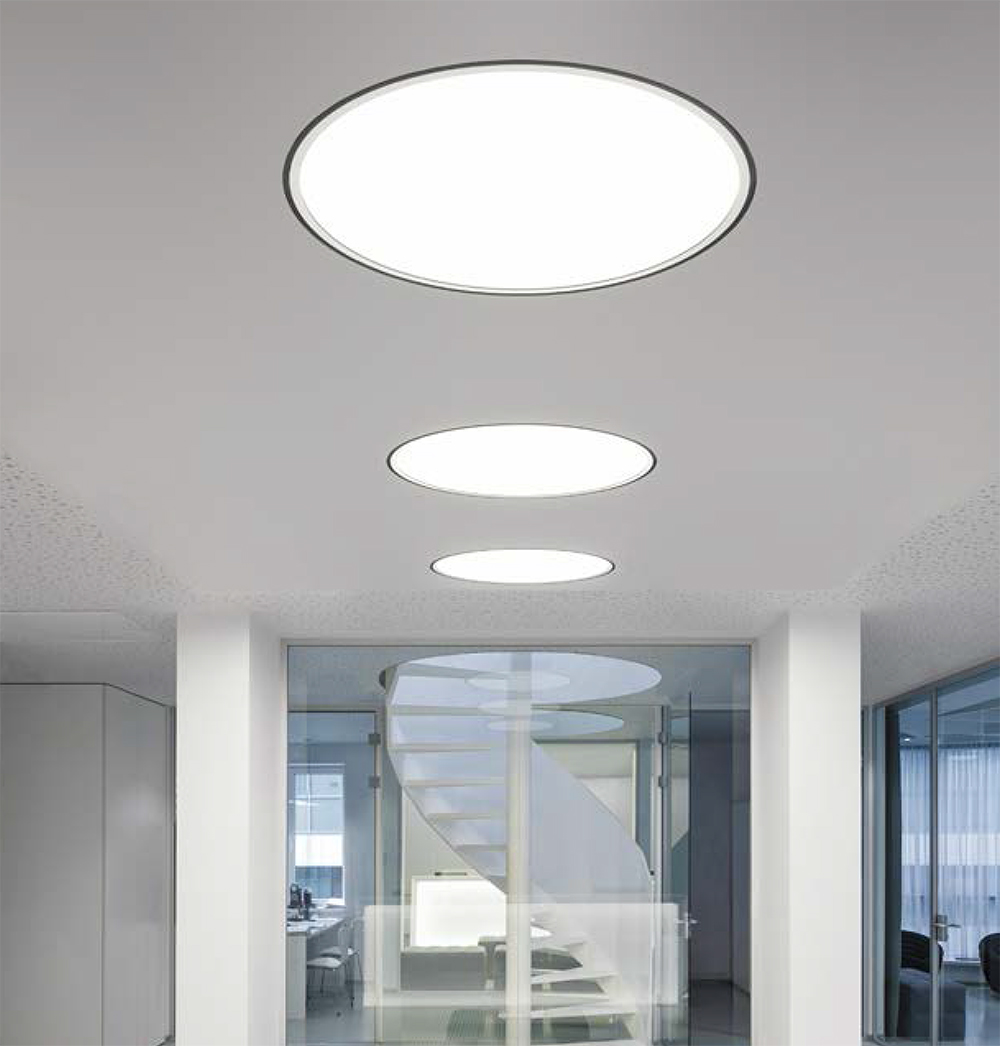 Atlas has a built-in, factory tuned constant current electronic driver which delivers high efficiency (>85%), high power factor (PF>0.9) and low harmonic distortion (THD<20%) through the entire load range. The driver accommodates a universal 120V - 277V input and is built to provide a minimum lifespan of 50,000 hours with ambient operating temperature ranging from -30°C to 50°C and a maximum case temperature of 75°C. 0-10V electronic dimming allows flicker-free brightness adjustment between 5% and 100%, addressing code requirements for energy efficient buildings. Other available driver options include Lutron Eco-system H-series (LDE1): Hi-lume™ 1% LED dimming driver with Soft On, Fade to Black; and DMX and DALI protocol drivers. The 32" and 48" fixtures can be equipped with integrated emergency power supplies which consist of a long-life NiCad recyclable battery, battery charger and converter circuit. Upon failure of utility power, the light fixture will enter emergency mode in which the emergency battery provides constant power to a nominal 12W or 5W LED load for 1200 or 550 lumens of uninterrupted illumination for a duration of 90 minutes.
Atlas' sleek, durable housing is constructed from rolled aluminum and electrostatically applied with a powder coat finish in satin white, satin black, or textured white (tbar version only). The suspended version comes with an aircraft cable set which includes three 48" standard length 1/16th stainless steel cables with micro grippers for field adjustment. The stem mount kit includes a 1/2" IPS hollow white threaded rod for suspension and power feed. Ceiling surface mount version has a galvanized mounting plate that attaches to the junction box with #6-32 screws (not included). The 20" tbar recessed fixture features a pan that fits into a 2x2" opening for both 9/16" and 15/16" grids, with a 0.25" drop from the ceiling surface.