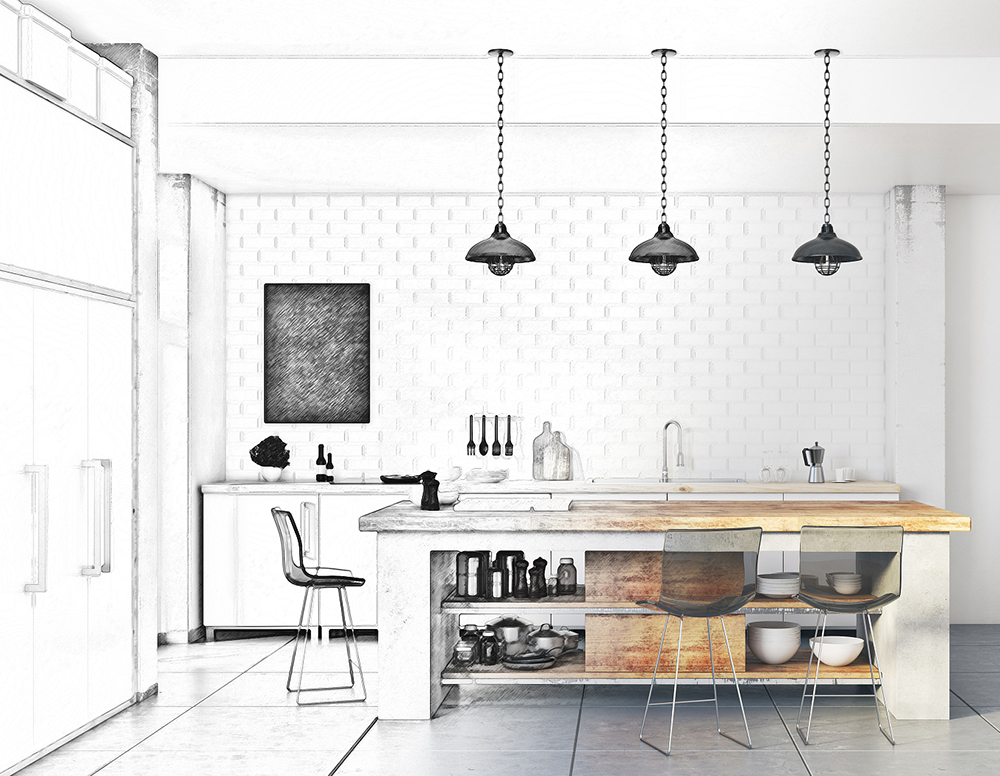 Aside from contributing to the task and ambient layers of lighting, pendant light fixtures add focal points, vertical dimension and spatial definition to a room. Nothing influences the look and feel of an interior space quite like a pendant light, which is hung from the ceiling and falls into everyone's field of view. In lighting design, pendant lights are an essential component that is responsible for bringing out the distinctive personality in a decor scheme and providing visually comfortable, optically competent illumination. Therefore a fastidiously designed hanging light can provide your room with a dramatic statement and fill you with pride every time you rest your eyes on it even when it is switched off.
A Lighting Companion for Kitchen Islands
Pendant lighting opens a litany of decor options and has become a design standard in rooms that need task and/or ambient lighting over tables, countertops, peninsulas or islands. Pendant lights are commonly hung over kitchen islands and breakfast bars to provide optimal illumination while accentuating the vibe of the kitchen. A kitchen, as the hub of household activity, is a multi-functional space where signature meals are prepared, family and friends gather, and a number of other activities are performed. Offering up to 360-degree access to surroundings, islands are frequently incorporated into kitchen layouts and allows friends and family to be part of the kitchen activity. Pendant lights are wonderful kitchen additions that help zone the counter space and create the illumination you need to prepare, cook, and dine. These suspended light fixtures are designed to create an intimate setting for family life and entertaining.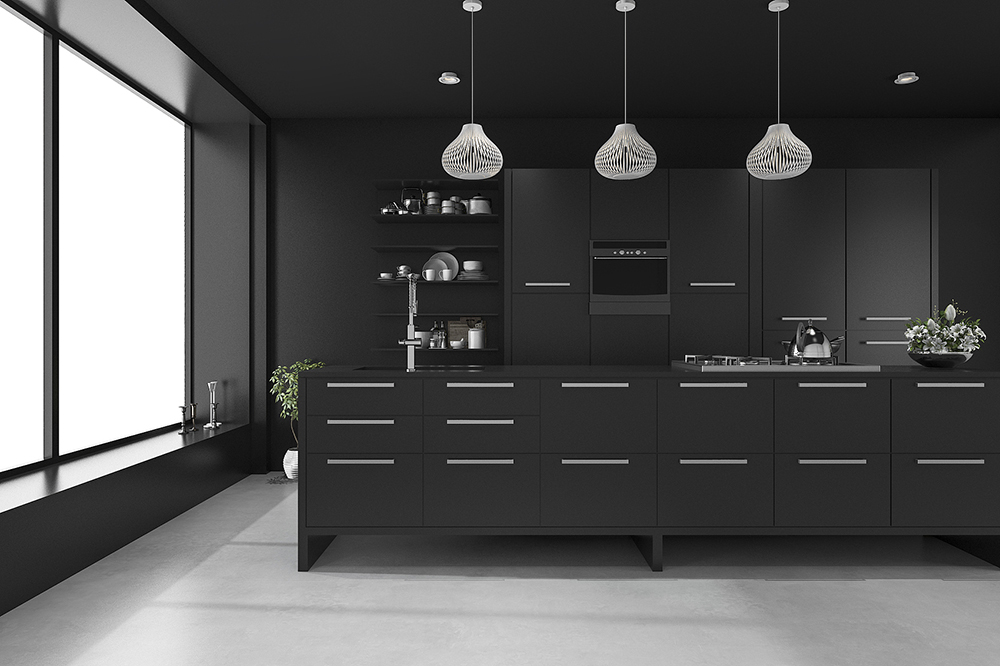 Let Your Fixture Inspire Conversations
As both a decorative statement piece and functional lighting device, a kitchen island pendant light complements the openness of an island by providing a vertical counterpoint to the horizontal island layout. A pendant fixture with a flawless blend of art and engineering is sure to inspire conversation and impress your guests. As opposed to a chandelier that comes with intricate crystal accents and delicate details to create a sense of formality or regency, pendant lights exude a more relaxed spirit and invite more organic fluidity. Whether hung individually to serve as a centerpiece or clustered together for a more striking look, pendant light fixtures never fail to invite radiance and intrigue into your interior. With a spectacular installation that can be effortlessly admired from all angles, thoughtful kitchen island lighting no doubt captures the sentiment of the people in the room and creates an atmosphere of pleasure and excitement.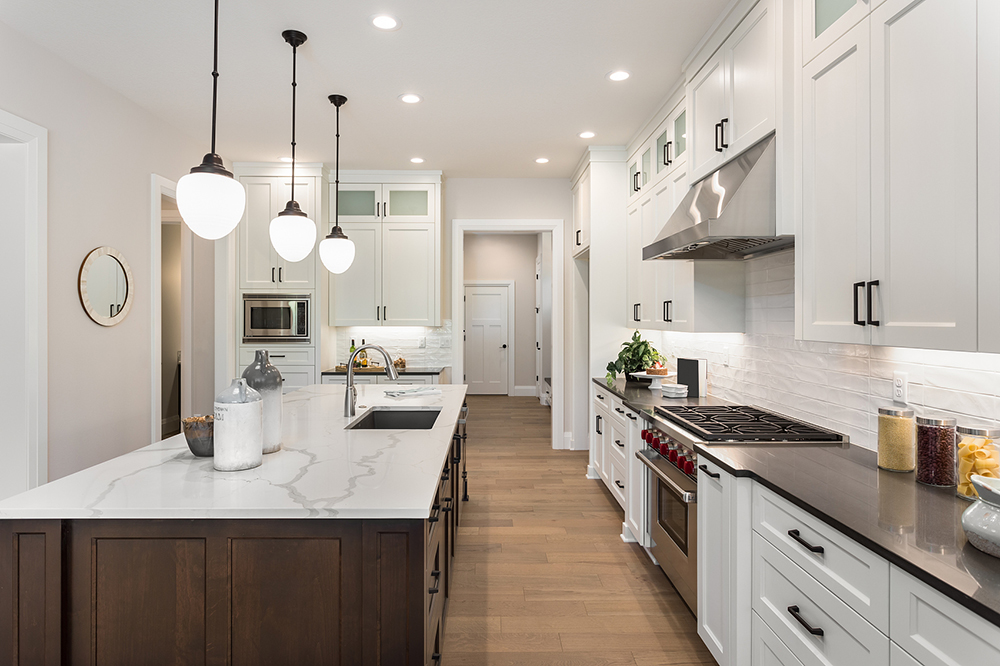 Express Your Unique Personality
Available in a wide and versatile collection, pendant lights can be perfectly fused into the decor composition and adapted to the design specifications of architects and interior designers. Go with a style that's heavily steeped in tradition for a vintage appeal. Illuminate your kitchen in true designer fashion with an inspirational contemporary light. Create a striking transitional design that ties together traditional design and contemporary styling. Incorporate an industrial edge in a statement fixture with clean lines and a rugged charm. Lend your room a Mid-century Modern flair with a throwback to the design style of the mid-1900s. Let your light fixtures speak the language of Scandinavian minimalism for a refreshing sense of serenity. The Modern and Scandinavian movements have been particularly influential with pendant light fixtures. These sculptural pieces draw the eye not by adding ornament but rather, by creating the personality through the reduction of superfluous extras or frills.
Incredible Variations
Pendant lights come in a variety of shapes, shades, and finishes that you can select to coordinate with any design scheme. Globe, bowl, cube, cage, dome, drum, cone, cylinder, cluster, bell, discs, bucket, beaded, lanterns, sputnik, starburst, and exposed bulbs are just a fraction of the shapes that give plenty of indulgent options to spice things up. It's very common to see multi-light pendants with three or more lights for an elongated scale of illumination coverage and aesthetical fill over kitchen islands with extended countertops. White, black, clear, brown, gold, grey, and beige are the most preferred shade or finish colors while other colors such as amber, blue, brass, bronze, copper, cream, green, orange, pink, purple, red, turquoise, wood tones, yellow, and multicolor shouldn't be overlooked to create a unique twist. Lighting designers explores a variety of materials to evoke sensibilities and maximize functionality. Lampshades constitute a big aesthetic component in the design composition of a pendant and they're typically made of glass, fabric, plastic, aluminum, copper, or ceramic. Glass pendants add lots of elegance, sparkle, and sculptural effects. If clear glass can't fulfil your design needs, inject an unusual aesthetic with seeded, stained, tinted, Tiffany, alabaster, etched glass, frosted, or marbleized glass. Minimalist style pendants quite often use powder coated metal shades to channel a touch of metallic modernity into both classic and contemporary interior spaces.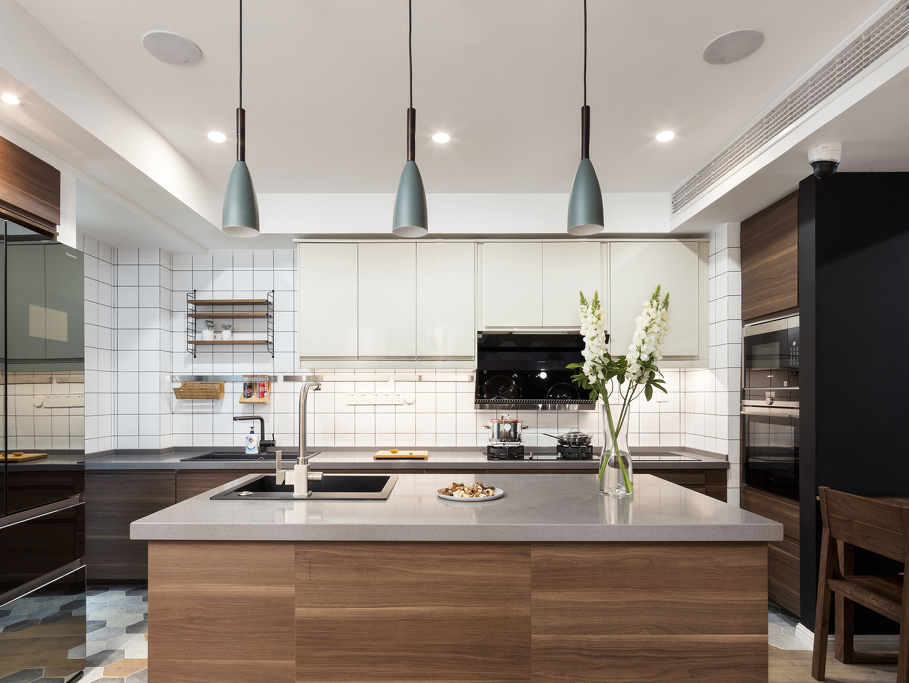 Lighting Technology
Virtually all pendant light fixtures available on the market are built around the LED technology. This cutting-edge lighting innovation not only brings significantly improved energy efficiency, extended lifespan and reduced maintenance cycles to the world of lighting, but also gives fixture designers unprecedented freedom in artistic expression since the solid state semiconductor emitters are compact enough to accommodate any fixture design that calls for a low profile presence or streamlined look. LED pendant lights are designed either with integrated light sources or replaceable light bulbs. The former is being more prevalent as integration of LED modules directly with fixtures allows for a more flexible form factor and precise optical control. The latter is commonly seen in traditional style uplighting fixtures, glass pendants and minimalist designer fixtures in which exposed bulbs are central to the design.
Light Quality
Residential light fixture designers tend to excessively emphasize the look of the fixture and pay less attention to light quality. This doesn't matter in the age of incandescent lighting. In fact, light produced by incandescence is luxurious in terms of quality. It contains a spectral power distribution (SPD) that closely emulates the characteristics of natural light. Light quality had never been a concern with filament heated light sources. Whereas in semiconductor based LED lighting, light is produced by passing electrical current through a p-n junction biased in the forward direction. White light from LEDs is typically generated by phosphor conversion of blue wavelength.
The blue LED excited light has a radiometric emission spectrum with a narrow wavelength distribution, instead of full spectrum wavelength distribution that is typical of sunlight and light produced by incandescence. Limited number of wavelengths in the visible portion of the electromagnetic spectrum results in poor color rendering. Most LEDs have a color rendering index (CRI Ra) around 80 and are deficient in color components that help bring out saturated colors. On the other side, incandescent light has a CRI Ra greater than 95 and an SPD spanning the visible spectrum from violet through deep red (R9), allowing it to reveal a natural saturation and accurately render colors. The phosphor coating formulation in LED packages can be optimized to excite full spectrum light, but this will increase cost and reduce luminous efficacy. Nevertheless, use of high CRI LEDs has become a trend in interior lighting applications.
Integrated LED Fixtures vs. Lamp-based Fixtures
In general, designer-grade pendant light fixtures with integrated LED modules are more superior in light quality and more reliable in system performance than lamp-based light fixtures. These pendant lights are more likely to incorporate higher quality LEDs because reputable fixture designers won't use dirty cheap LEDs even they're not as picky as high end commercial and hospitality lighting designers. The directional rays produced by LEDs are usually efficiently harnessed by dedicated optics for optimal light distribution. Canopy mounted or built-in constant current drivers provide high performance regulation and typically have an enhanced degree of protection against electrical disturbance. Exceptional compatibility with 0-10V, triac, or digital dimming technology allows for smooth, flicker-free dimming control as well as advanced lighting controls such as tunable white lighting. Thermal simulation in the development stage ensures the waste heat generated at the LED junction is effectively dissipated. Efficient thermal management is critical in LED lighting. Poor heat dissipation will lead to efficiency degradation, color shift and premature failures.
When it comes to pendant light fixtures that use Edison, candelabra or bi-pin base light bulbs, light quality, system reliability and dimming performance are left uncontrolled and advanced lighting control features are not available. SMD LED based light bulbs, in particular, have poor color quality that corresponds to their low price points. The electro-optical process of LED lighting means flicker and other visual anomalies can occur when a current waveform of the power supplied to the LED is imbalanced. The driver circuitry used on this type of LED bulbs has a component count reduced to a minimum, making them particularly vulnerable to electrical disturbance. Vintage-style LED filament bulbs mimic the beautiful tungsten filaments that we've all fallen in love with. They're massively used in pendant light fixtures where the bulbs can be seen as a decorative element. However, the light quality and dimmer compatibility of these LED bulbs also remain a concern. Bulb-illuminated fixtures are primarily designed for decorative lighting. If the kitchen island light also serves as a task light, invest in an integrated LED pendant fixture instead.
Our Favorites
Creativity abounds with pendant lighting so there's an endless list of inspiring pieces that perfectly compliment your interior design and provide high quality lighting. Below are our picks for pendant lighting. These fixtures are creatively or thoughtfully designed and meticulously engineered. (Disclaimer: We're not affiliated with any beneficiary of the external product links in this article.) This is a continuously updated list. We welcome product suggestions from those who take pride in building compelling value into their products. (Owners of products listed here are authorized to use our badge to promote your achievement. Please include a link to this page for listing verification.)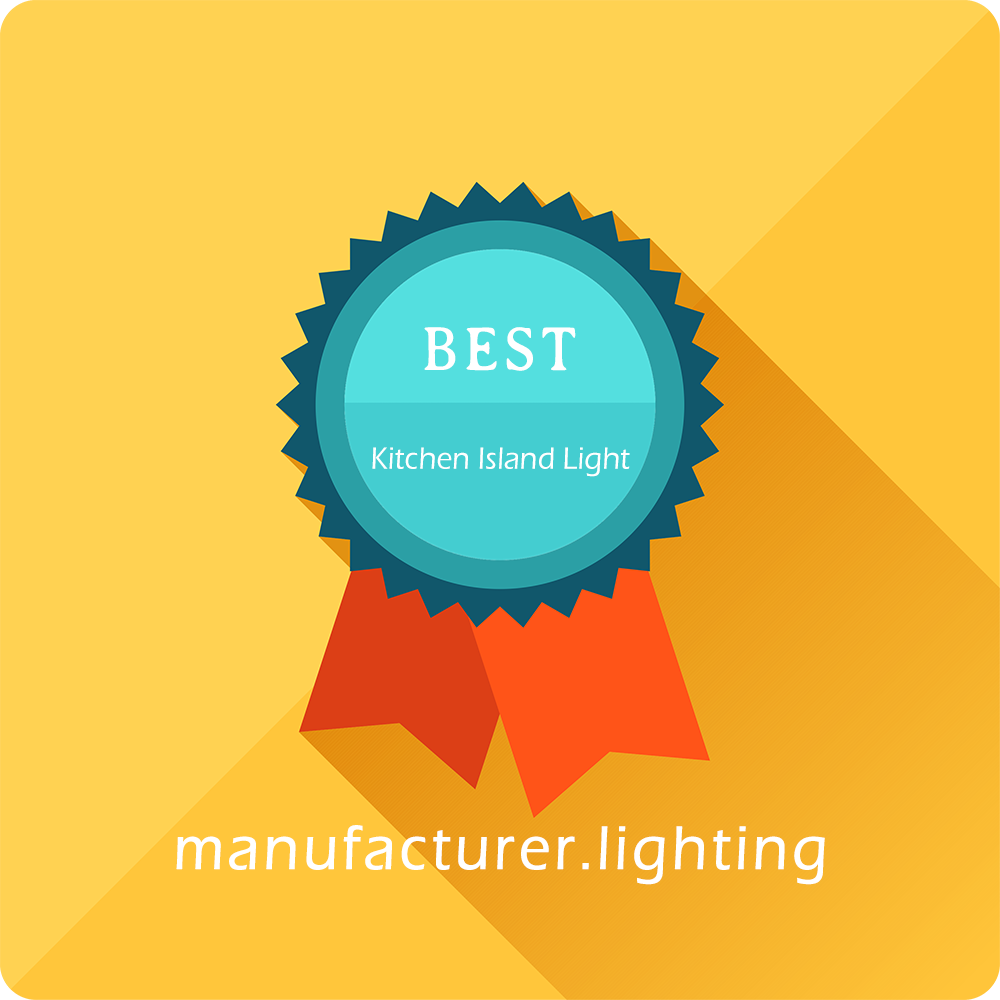 Lumina Galileo
Galileo, designed by Ettore Cimini, is the jewel of the Lumina collection. Handmade by master craftsmen, Galileo's precious crystal shade is the outcome of an extremely precise process of glass making. The refraction quality of the optical glass allows the luminaire to shines brilliance through the entire shade.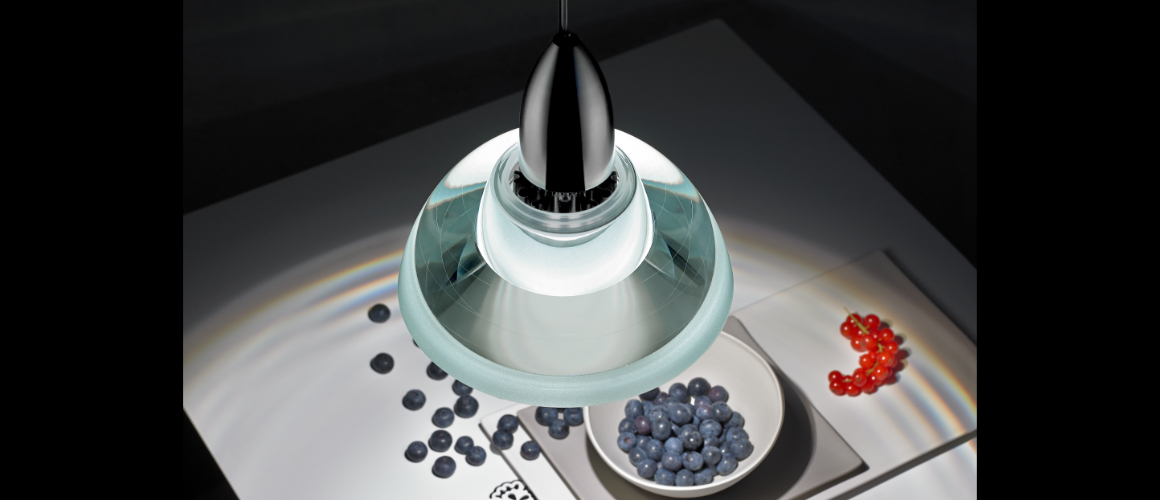 Linea Light Poe P
Poe P is a wonderful way to give a dignified modernist look to kitchen islands and dining tables. A sleek dome brings out the refined and neutral elegance. Available in embossed white or black or copper color.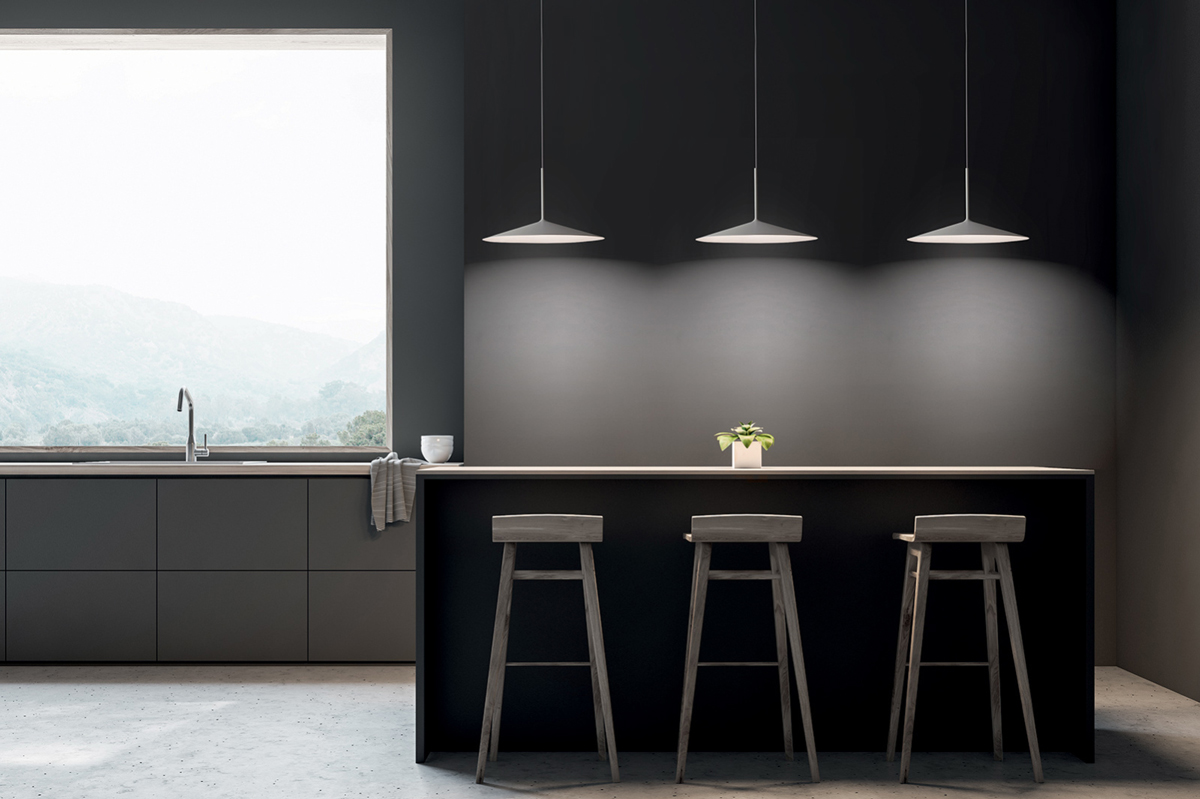 Flos Chasen
The Chasen pendant lamp is a stunning illusion from award-winning designer Patricia Urquiola who approaches each piece as a way to reinvent our way of life. The pendant lamp enchants with an unexpected presentation of diffused light. The diffuser is made of borosilicate and the body is chemically photo-etched stainless steel, and it features liquid-paint protection.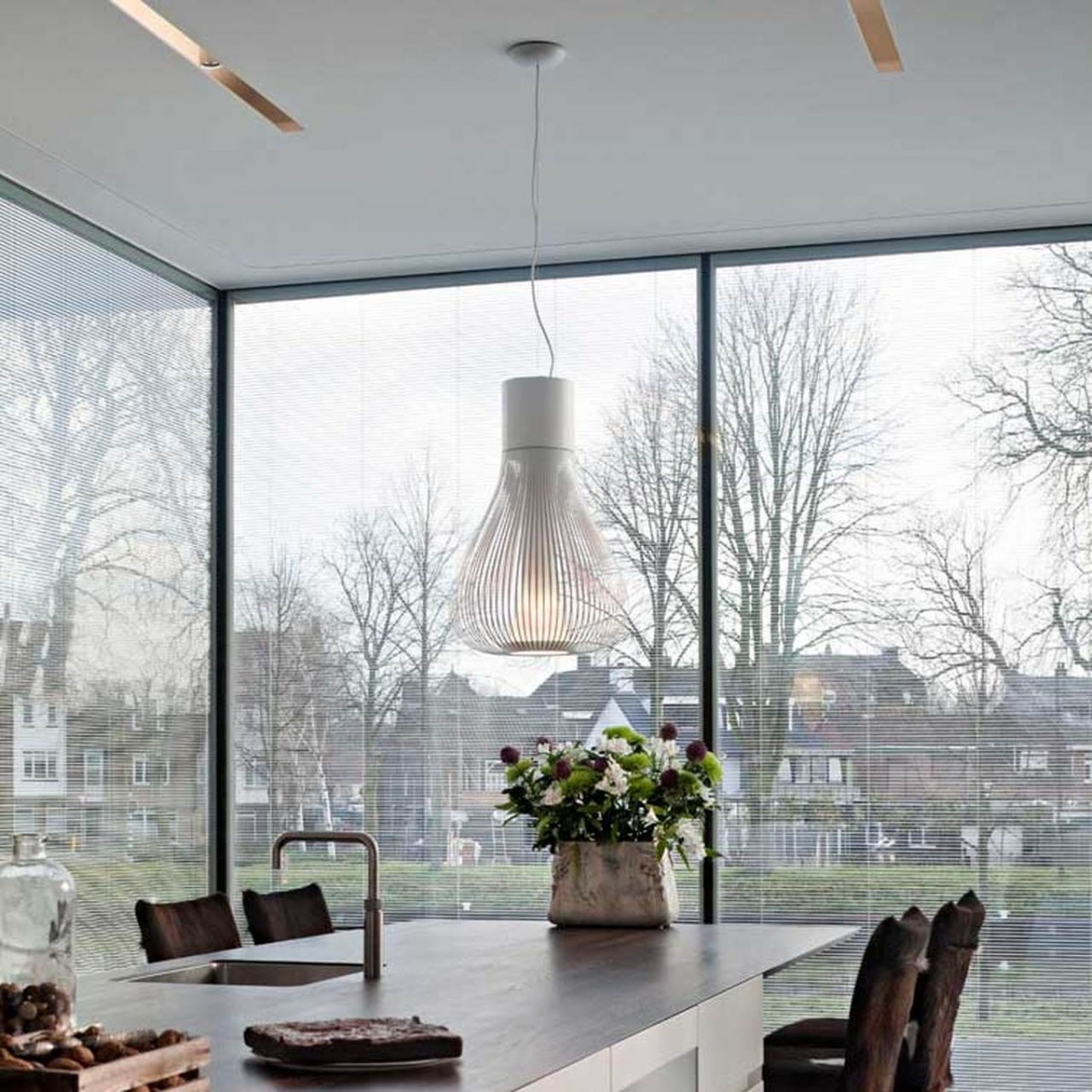 FontanaArte Serpentine
Serpentine—a luminous wave floating in space and bringing life to unprecedented lighting effects. The light emitting surfaces is comprised of 364 LEDs which work in conjunction to guarantee a uniform light distribution. Curved extruded aluminum frame with white finish. Methacrylate pinwale shield.
Prudential Stream Dot Pendant (SDP)
A sleek, minimalist round / square pendant light that offers a compelling design aesthetics and visually pleasant illumination for residential, commercial, and hospitality settings. An optional top glow LED module provides uplight enhancements.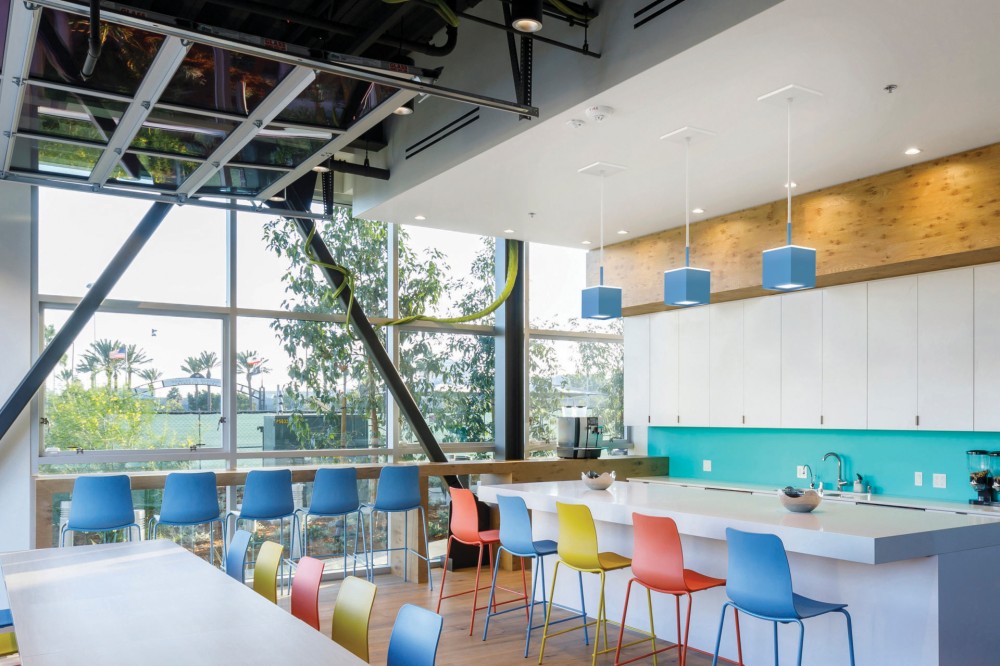 Brokis Shadows XL
The Shadows collection designed by Lucie Koldova and Dan Yeffet is a take on the famed, timeless lights found in French ateliers, and its typology pays tribute to that legacy. The collection features a combination of handblown glass, handcrafted wood, and classic shaping has given rise to a light of ageless elegance. The collection comprises four different suspension lights, as striking alone as they are in sets, characterized by a handblown glass shade set upon on a handcrafted wooden body.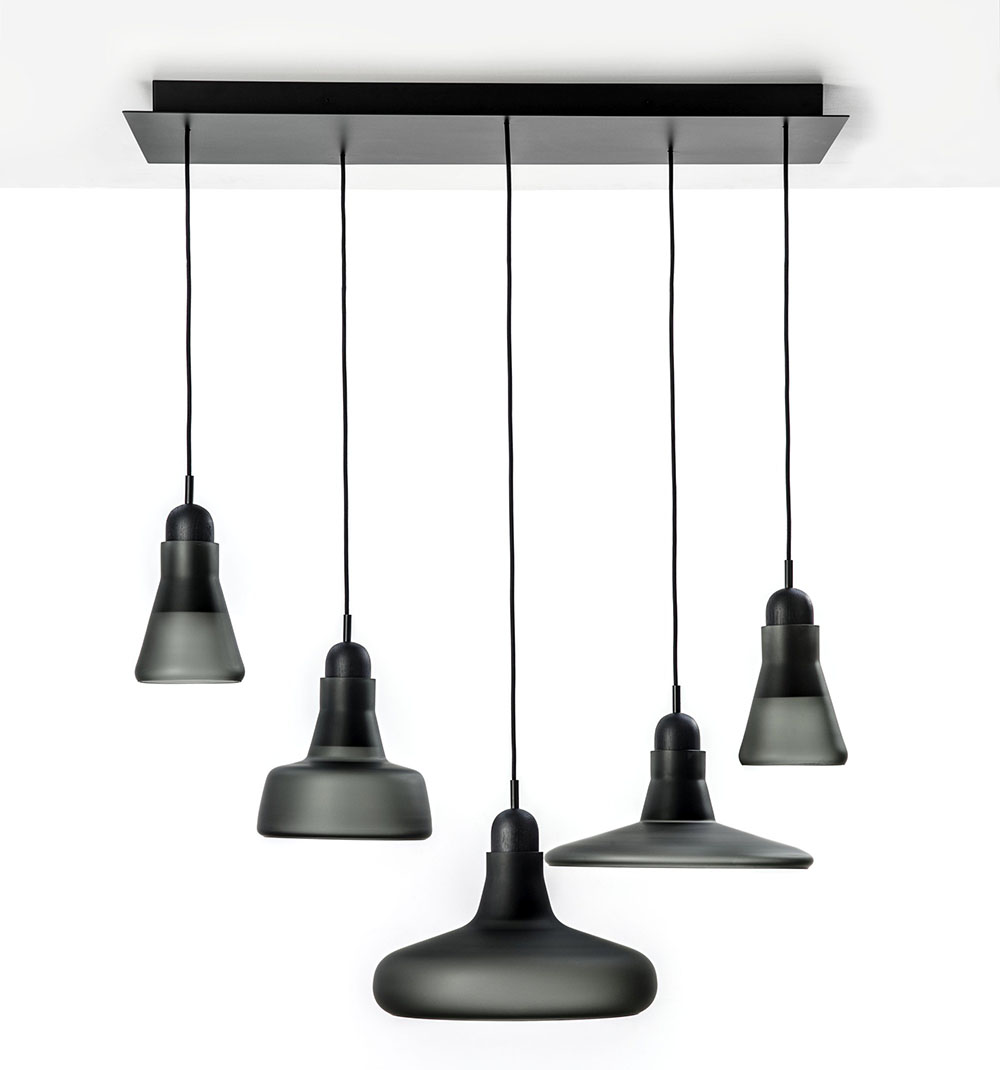 Leucos Beamer
Arik Levy designed the Beamer pendant to be a clever, multivariable pendant system. While the Beamer Pendant looks great as a standalone, the versatile pendant can be customized into three and five multipoint systems and comes in two sizes. Each pendant can be individually inclined with an optional tilt kit. The pendants are made of a chromed stem detail that transitions into a handmade chromed borosilicate diffuser.
Hubbardton Forge Slide
The Slide pendant is a statement piece in any space. Almost 4' in width, a fluidity of shape and movement is created by the sensual curves of the metal that seems to balance 3 opal glass globes. As beautiful as it is functional, the Slide Pendant provides light and grace to enhance its environment.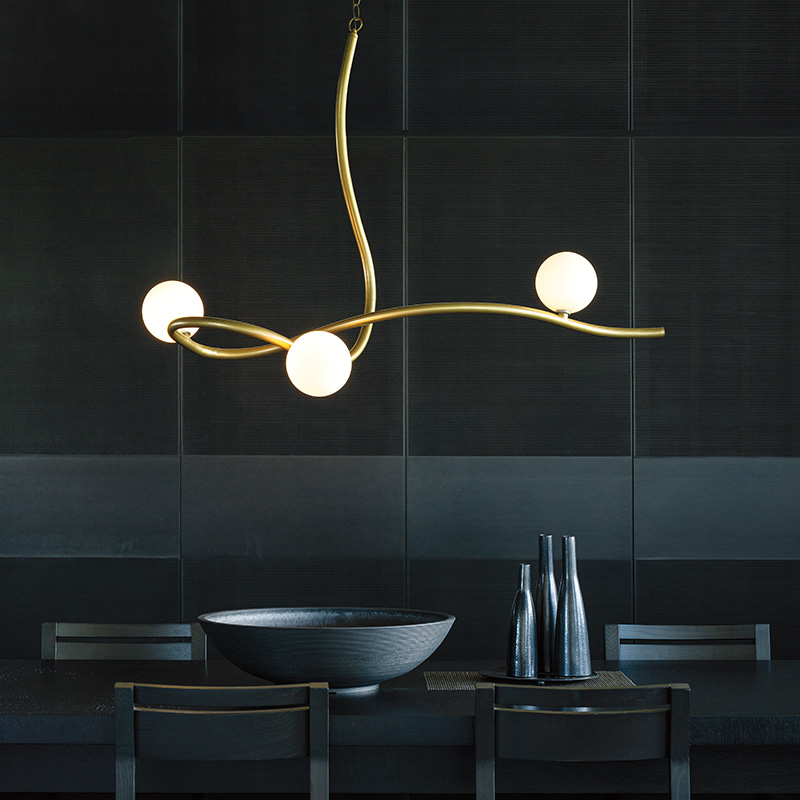 Sonneman Intervals
A uniquely integrated linear architectural lighting system of rhythmically aligned bidirectional illumination, with a range of available decorative and functional trims. Architecturally scaled, the suspended horizontal beams span long lengths within a space, supported from ceiling-mounted cables or stems, forming a dramatically powerful approach to illuminating architecturally expansive locations.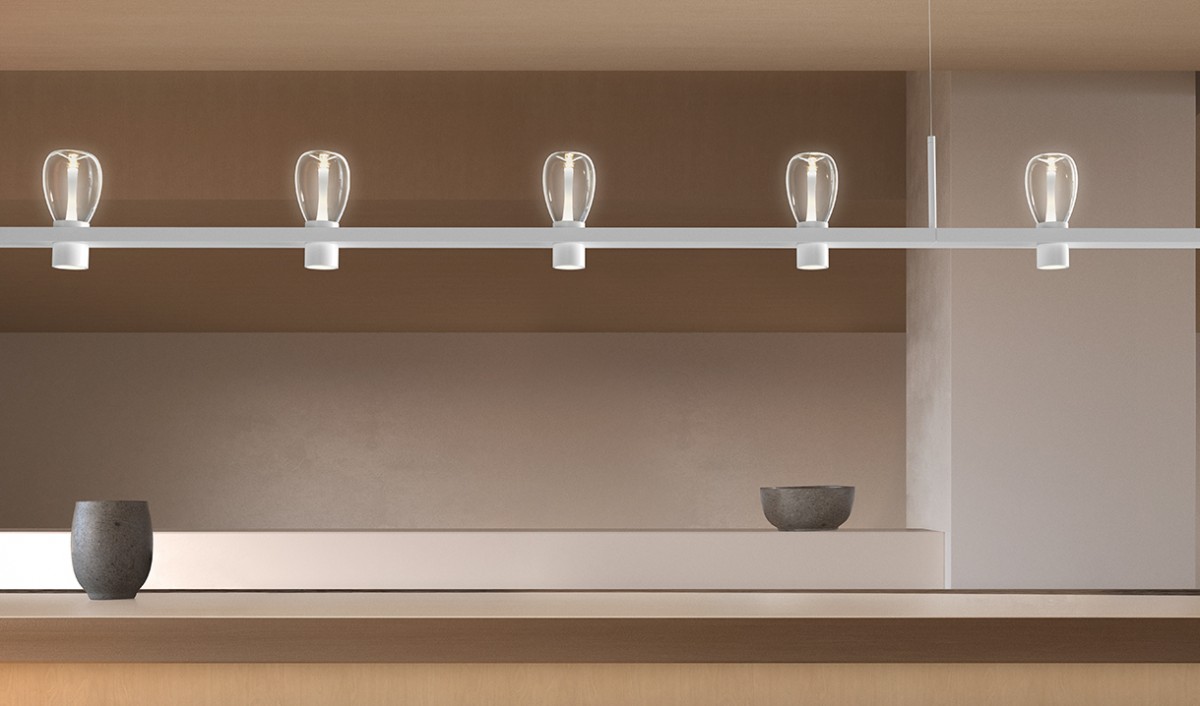 ModoLuce ABC
To add a touch of zest, all you need are simple, colorful designs you can mix and match as you like. With ABC pendant and floor lamps it's easy to give environments the right combination of character and style.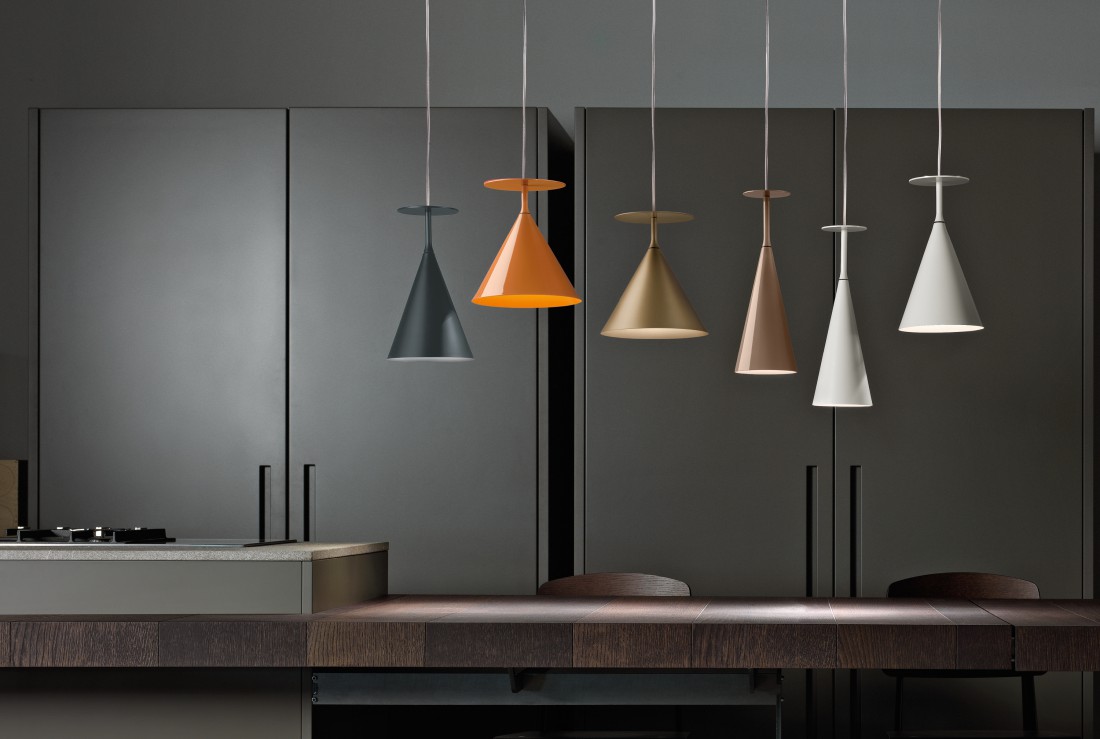 Wästberg W103 Sempé
This pendant fixture is meant to be as simple and solid as a nail or a push pin. The mechanics are sturdy and long-lasting. The lamp combines solidity and lightness: a thin beam joins the two opposite pieces of the lamp, a heavy foot and a delicate shade. The pendant lamp shades exists in different color tones - bright, soft, clear, dark - and can be arranged in any color combination, using the seven standard colors.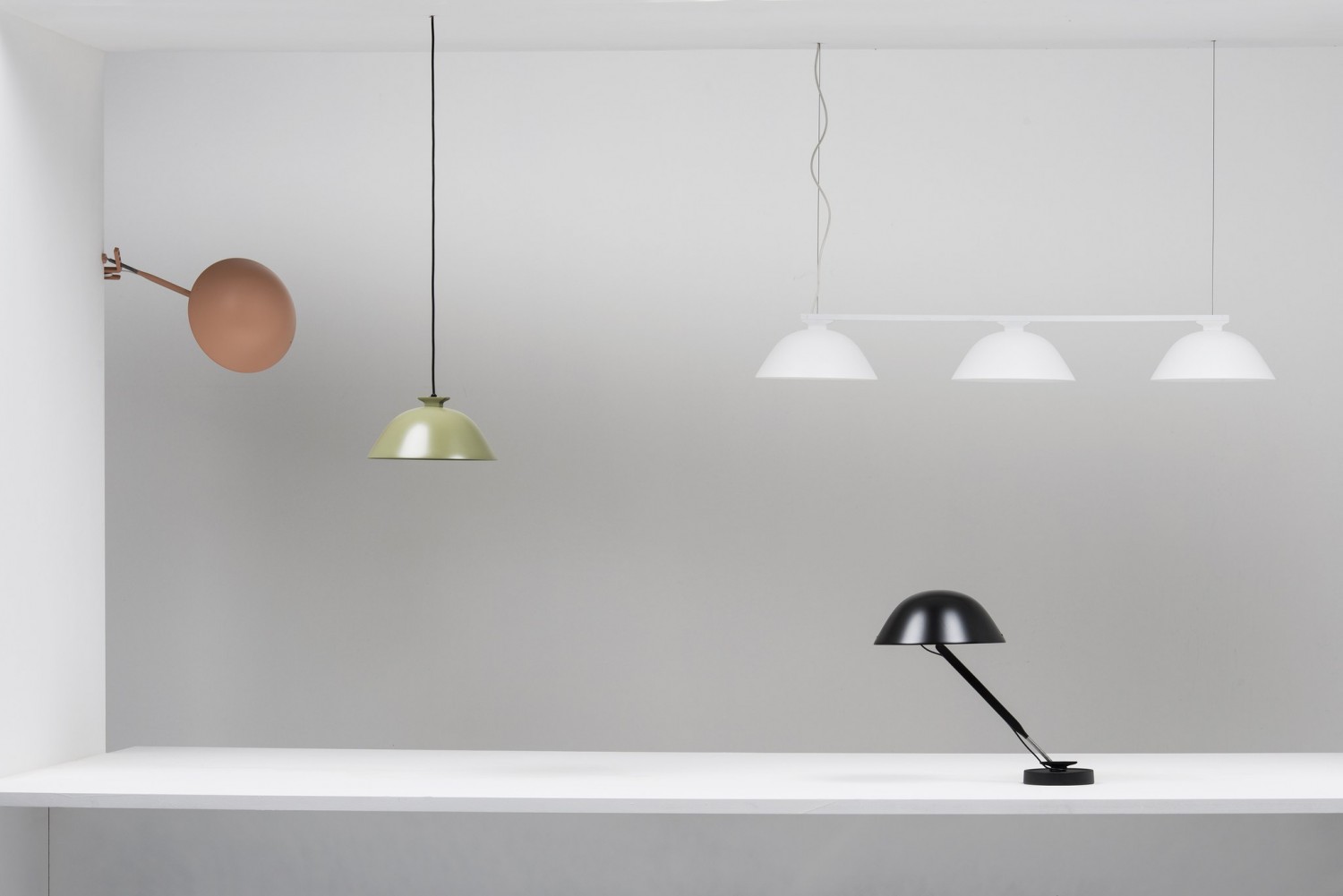 Marset Tam Tam
The colorful and sonorous Tam Tam now comes in a linear version that embraces fun, dynamic roots. Simplified with the addition of a hanging pole to which colored lampshades are attached. The luminaires can be oriented in any direction and come in a variety of colors.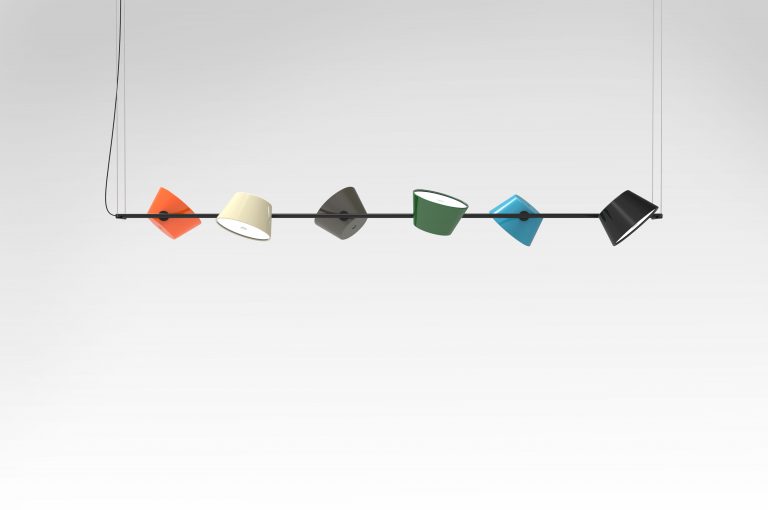 Tom Dixon Beat Linear Pendant System
Perpetuating the skills of artisan craftsmen in Northern India, Beat's origin is a re-purposed water vessel; hand-raised, welded, beaten and skimmed into functional silhouettes for the refraction of golden light.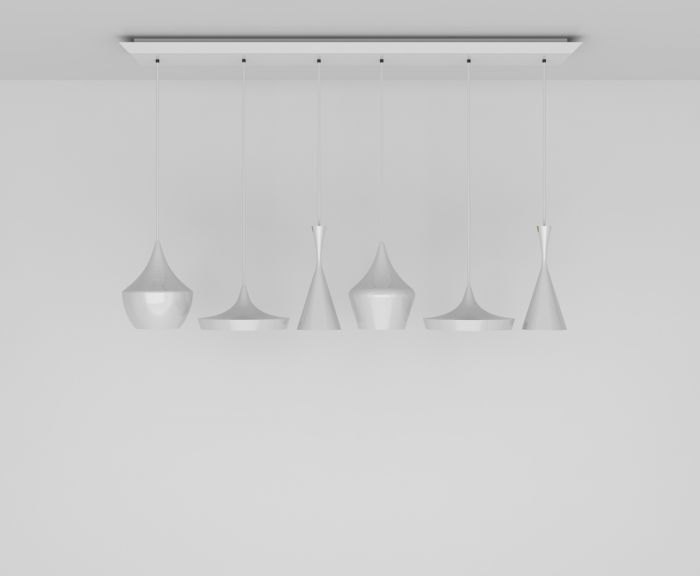 Feiss Joan Collection
Pairing a rich, two-tone finish with bold, geometric lines give Joan luxe appeal. Warm burnished brass joins with either midnight black or matte white in a thoughtful juxtaposition of contrasting finishes. A soft glow to shine through small perforations on the iconic, hourglass-inspired shade, further articulating the distinctive details of this chic collection.