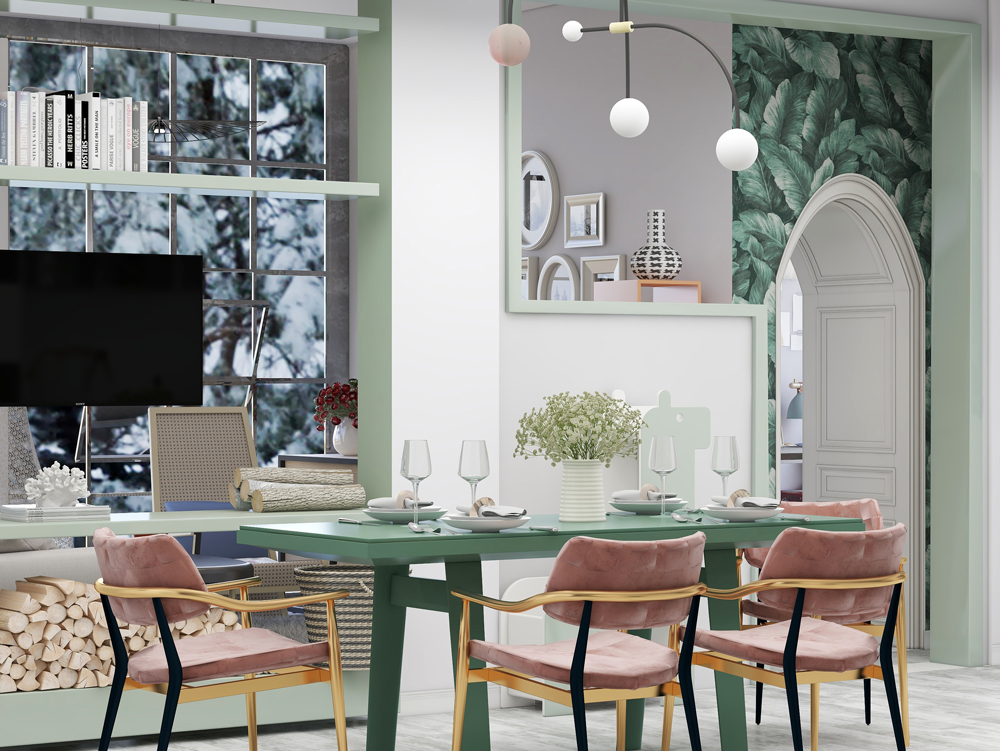 Create a dramatic installation with a gorgeous pendant light to invite radiance and intrigue into your dining room. A suspension lamp with an organic form provokes a unified look that ties together an intimate space while arranging a balanced spectrum of illumination. The light fixture hangs from the ceiling and creates the personality you want in the space. Pendant lights bring a pool of light closer to where it's needed and allow people to engage in a variety of activities over a dining room table. Along with task lighting, the layered approach to lighting design also calls for pendant lights to provide an additional layer of ambient light for a pleasant stay. Functional and decorative, pendant lights inject a unique style into the room and channel an enchanting illumination.
A Multi-purpose Space
Lighting can work to punctuate a room and decorative lighting gets its apex in the dining room. Unlike a kitchen which is more functional and private, a dining room is a multi-purpose space that serves a host of activities beyond enjoying everyday meals with family members. It's a temporary home office, study room, social gathering space, and even recreation room. Whether it's family dinner or a holiday gathering, a restful atmosphere with interesting decor will encourage happy gatherings and memory making. When the dining room serves as a work zone for bookkeeping, homework and crafts, a visually appealing environment inspires creativity and heightens the desire to maximize productivity. When kids linger around the dining table and friends gather in the dining room, a superb lighting design makes a difference in how they feel about the space. And a pendant light is a perfect piece to compliment your decor and create an organic radiance for a feeling of intimacy.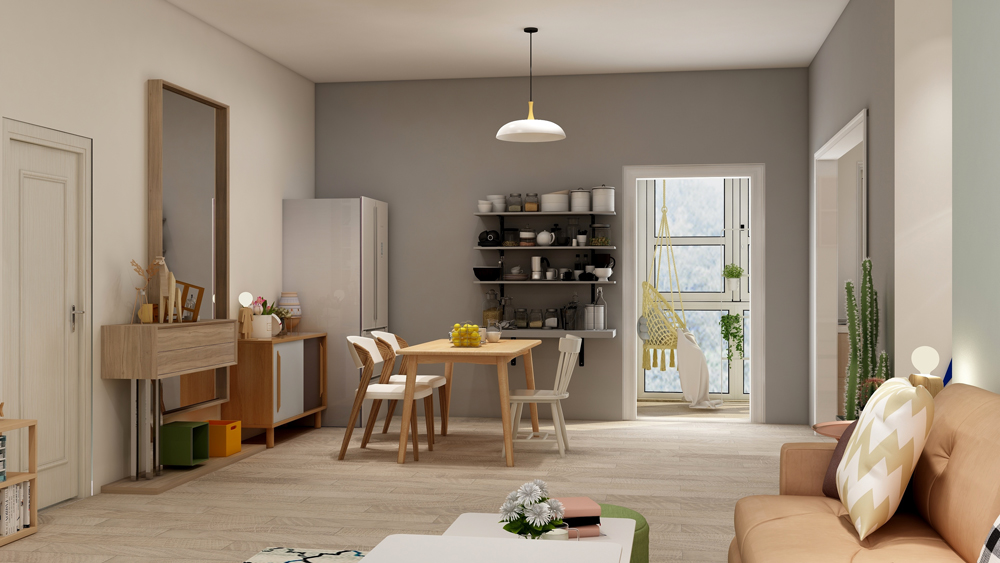 The Focal Point
Pendant lighting is arguably the single most important element in dining room lighting design as its role goes from functional to fashionable. Whether daytime or nighttime, a visually intriguing pendant light fixture creates an eye-catching focal point that ensures the visual depth and decorative flair of the room. Chandeliers over the dining table offer a traditional look for the dining room. Though they still remain as the typical hanging light fixture to make for an eye-catching decorative piece, pendant lights are a more stylish way to add character and usability to a dining room. Pendant lights are more flexible in aesthetic expression and versatile in functionalities. The advent of LED lighting allows for limitless possibilities of creativity in product design. This is especially evident for pendant light fixtures. Whether you prefer sophisticated neutrals with a subdued color palette or wish to add pops of playful color for an exciting dining scheme, a rich portfolio of pendant lights with a wide variety of individual personalities and tastes makes it simple to set the tone of the space.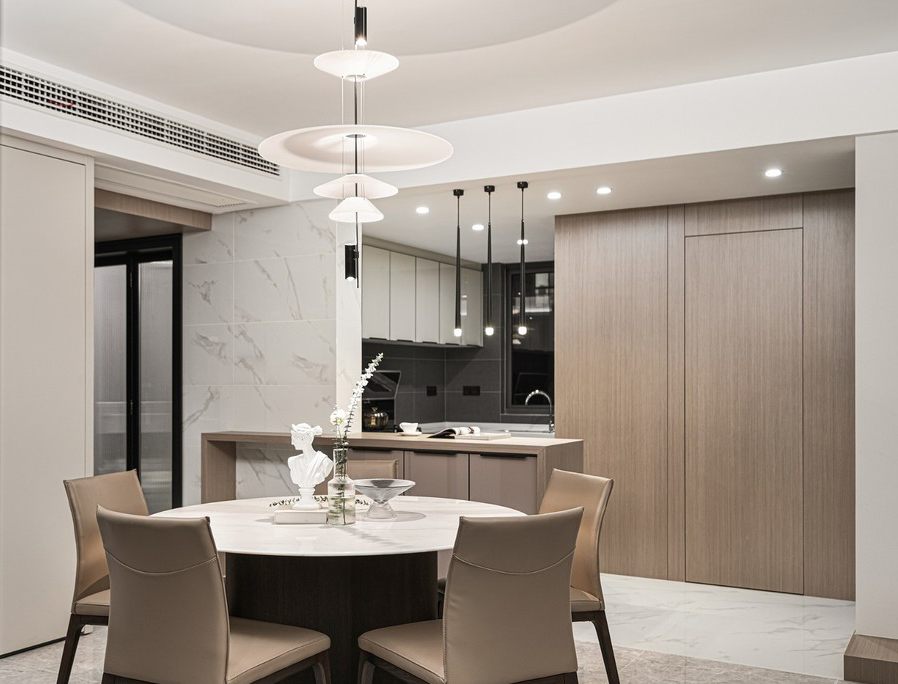 A Harmony of Form and Function
A pendant light is a ceiling-hung light fixture that is decorative in nature or design. The art of pendant lighting for residential spaces is much more than simply incorporating a light source into a lamp shade or light reflector and hanging it from the ceiling. What differentiates it from technical or architectural lighting is creative shapes, interesting designs, refined details, unusual colors, captivating lines, and attractive elements that counterpoints a specific furnishing or feature. And a pendant light is not simply a decorative fixture. In most applications it has a utilitarian role and needs to create layered task and/or ambient illumination while introducing a stylish balance into the room. Task pendant lights usually direct rays downwards to cast a pool of light across the dining table. Ambient light fixtures radiate with uniform, soft, and glare-free light that makes navigating a retail space visually comfortable. This type of fixtures typically uses indirect lighting that allows the light to be bounced off the ceiling or softens the light using a light diffuser. Some pendants provide a mix of ambient and task lighting to get the best balance of light in certain architectural spaces.
Dine in Style
Besides retaining its functionality via lighting layers, every pendant is styled on their own as a focal point in the room. Your dining room lighting should coordinate with the room's architectural and decor features. There's no shortage of ways to reinforce the theme and style of your dining room with pendant lights. A traditional home thrives on pendant fixtures featuring a design abundant in luxurious details, ornate crafting, symmetrical setups and classic elegance. Transitional style lighting design maintains the warmth and elegance of traditional interiors while taking a less-is-more design approach which is borrowed from the contemporary decorating style. Contemporary design has an eye on the present and future rather than the past. Therefore contemporary pendant light fixtures usually exude stylistic fluidity and tries to strike a balance of form and function. Within these styles, Art Moderne, Art Nouveau, Scandinavian, Coastal, Farmhouse, Industrial, Rustic, Mid-century Modern, Mission, and Nautical are some of the most influential design movements. When it comes to decorative lighting trends, Scandinavian style which is based on Nordic culture's nature-loving simplicity has never been so influential. Its sweet blend of style and practicality creates a stylish flow throughout your home.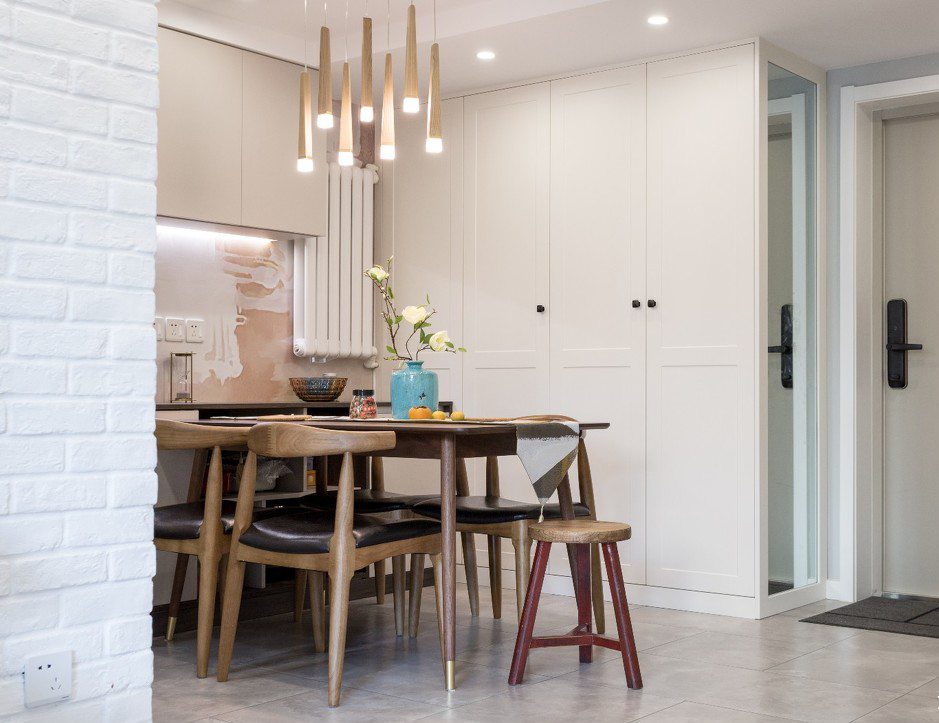 Types
Pendant lighting often includes a variety of geometric shapes in its styles. The creativity in lighting design is embodied utterly in pendant light fixtures which are available in an extensive selection of shapes, e.g., globe, bowl, cube, cage, dome, drum, cone, cylinder, cluster, bell, disc, bucket, beaded, lanterns, sputnik, starburst, and teardrop. However, the true focal point of a pendant light fixture is the shade which constitutes fixture's principal visual appearance. Pendant light shades are made from glass, fabric, plastic, metal, or ceramic. The colors and finishes of the shade and fixture housing also have a major impact on how the decorative piece works in a space. The infinite array of colors and finishes make it easy to pick up styles that echo the decor theme. Contemporary dining room pendant lights are often glass or metal fixtures. While medium and large pendants look amazing when suspended individually, small and mini pendants can be grouped together to create dramatic installations for a strong visual statement. A multi-light pendant which has multiple hanging lights connected to one central fixture creates uniform light distribution over a dining room table.
Light Is a Creative Medium
Across all styles of lighting and shapes of fixtures, the emphasis should fall not only on how the lights look, but how they perform. The purpose of dining room lighting is to create sparkle for a decorative flair and enhance the appearance of people and objects in the room while either establishing the mood that encourages conversation with ambient lighting or providing high quality task lighting for accomplishing visually demanding tasks. Pendant fixture designers give thought to establishing the optimal balance between sparkle and glare by counteracting the boring, uncomfortable effect of direct lighting with indirect lighting which reflects light from other surfaces such as walls or ceilings. High intensity downlighting is typically diffused so that the bright glow is gentle to the eyes. Designers also resort to the color of the light source to create the perfect atmosphere for a moment and positive impact on people. In household and hospitality settings, warm white light (approximately 3000K or less) is mostly used to create an inviting and intimate environment. Some light fixtures are designed to radiate with a neutral tone (3000K – 3500K) to keep people alert yet relaxed or improve the feel of brightness in a space.
Color Quality
Nevertheless, your treasured light fixtures might be compromised in light quality. As lighting enters a new era of LED for energy efficiency and sustainability, there's a huge variation in the qualities of light produced by LED lamps. Although it's power hungry, incandescent lighting brought to the human world the highest quality of artificial light so far. The spectrum of the light sources affects how human will perceive the colors they see in the lighted environment. The spectral power distribution (SPD) of the light emitted by incandescent bulbs is the most characteristically corresponding to natural sunlight, with a color rendering index (CRI) of 95 as compared to sunlight's 100 CRI. Color rendering is the ability of a light source to make the colors of objects in the human appear natural. In residential spaces where people invest a lot in interior decor to create a visually attractive, atmospherically pleasant environment, faithful color reproduction of a light source is critical in bringing out the beauty of their decor, making people look in their best, and helping people perform color-sensitive tasks.
LED Lighting Is Not About Light Bulbs
Unfortunately, most consumer lighting products that use LED technology have medium or poor color qualities. A large number of pendant light fixtures use Edison screw or candelabra base LED bulbs. What most fixture designers and consumers don't know is that lighting manufacturers more often than not use the cheapest, lowest quality LEDs in this type of products to increase market share. They take it for granted that general consumers only care about price points, energy efficiency and product lifespan. These LED bulbs have a typical CRI around 80 and are deficient in wavelengths that bring out saturated colors critical to rendering flattering skin tones and vivid colors in your beautiful furnishings. Furthermore, these products are often equipped with a low cost driving circuit that not only has an operation life much shorter than that of the LEDs, but also may produce flicker as a result of its poor drive current regulation. Don't pair your luxury light fixtures with low quality light bulbs. There're LED bulbs with color performance comparable to incandescent bulbs. Although they are not cheap, their excellent color quality and product reliability absolutely justify your investment.
Integrated LED Systems
An increasing number of fixture designers start to build their products around LED technology, not LED bulbs. High quality LEDs are being integrated into pendant light fixtures and paired with precision optical control, excellent thermal management, and high performance, feature-rich LED drivers. Pendant lights with integrated LED modules will lead the way in the lighting design industry. An integrated approach to system engineering ensures every component of the fixture is optimized to deliver optical performance, system reliability and advanced lighting controls that are not possible with bulb-illuminated fixtures. These lighting systems usually has exceptional dimmer compatibility with traditional switch dimmers. Some of them can accommodate sophisticated lighting technology such as app-based wireless lighting control and tunable white lighting. However, the biggest lure for fixture designers is the design flexibility unique to this compact, solid state light source. The creative shapes of integrated LED fixtures bring geometric wonder to interiors and seamlessly blend with the architecture of a room.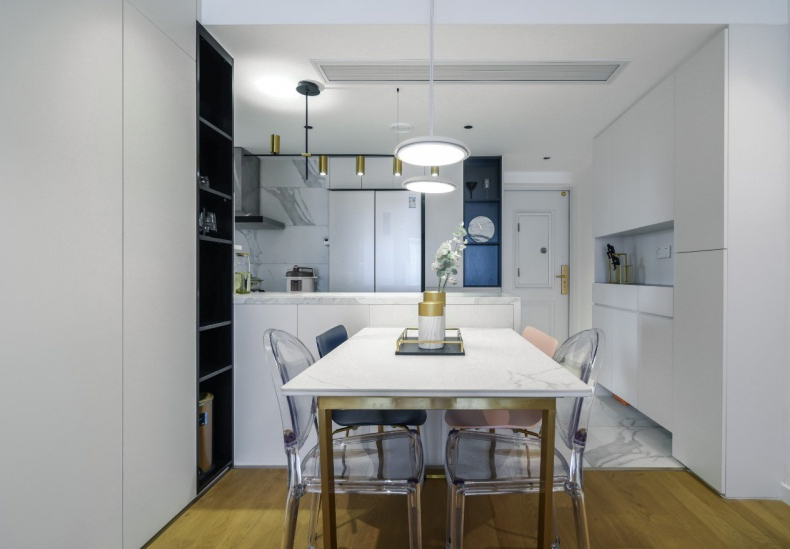 Unaffiliated Recommendations
There are plenty of exciting pendant light fixtures to choose from for your dining rooms. We've pulled together some of our favorite designs that infuse a poetic exploration of light and form. (Disclaimer: We're not affiliated with any beneficiary of the external product links in this list.) This is a continuously updated list. We welcome product suggestions from those who take pride in building compelling value into their products. (Owners of products listed here are authorized to use our badge to promote your achievement. Please include a link to this page for listing verification.)
Bover Mod
The Mod collection, designed by Lázaro Rosa-Violán, finds inspiration in floral flourishes. The pendant light capture and transcribe the beauty of a blooming cluster of flowers into a luminaire. The fusion of radiant energy and organic form is sure to make a statement to a dining space. You can group several pendant lights to form a garden of possibilities.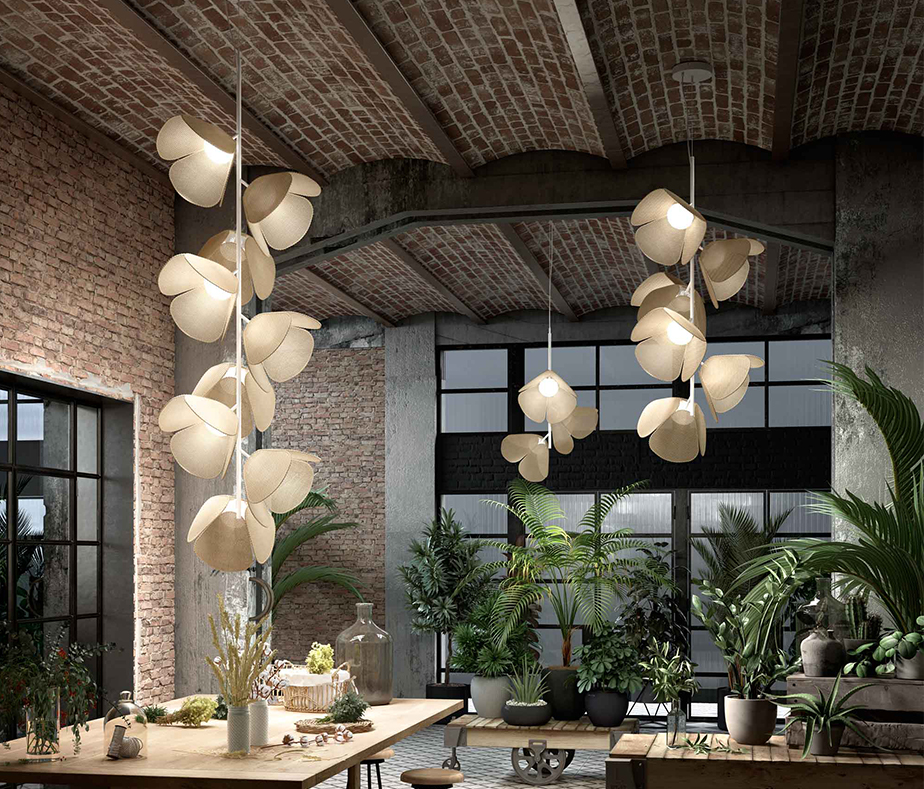 Luceplan Trama
Designed by Luciano Balestrini and Paola Longhi, Trama yields the ultimate in minimalist form. The shape and silk-screening of the polycarbonate diffuser enhance the quality of the light, which spreads uniformly in space.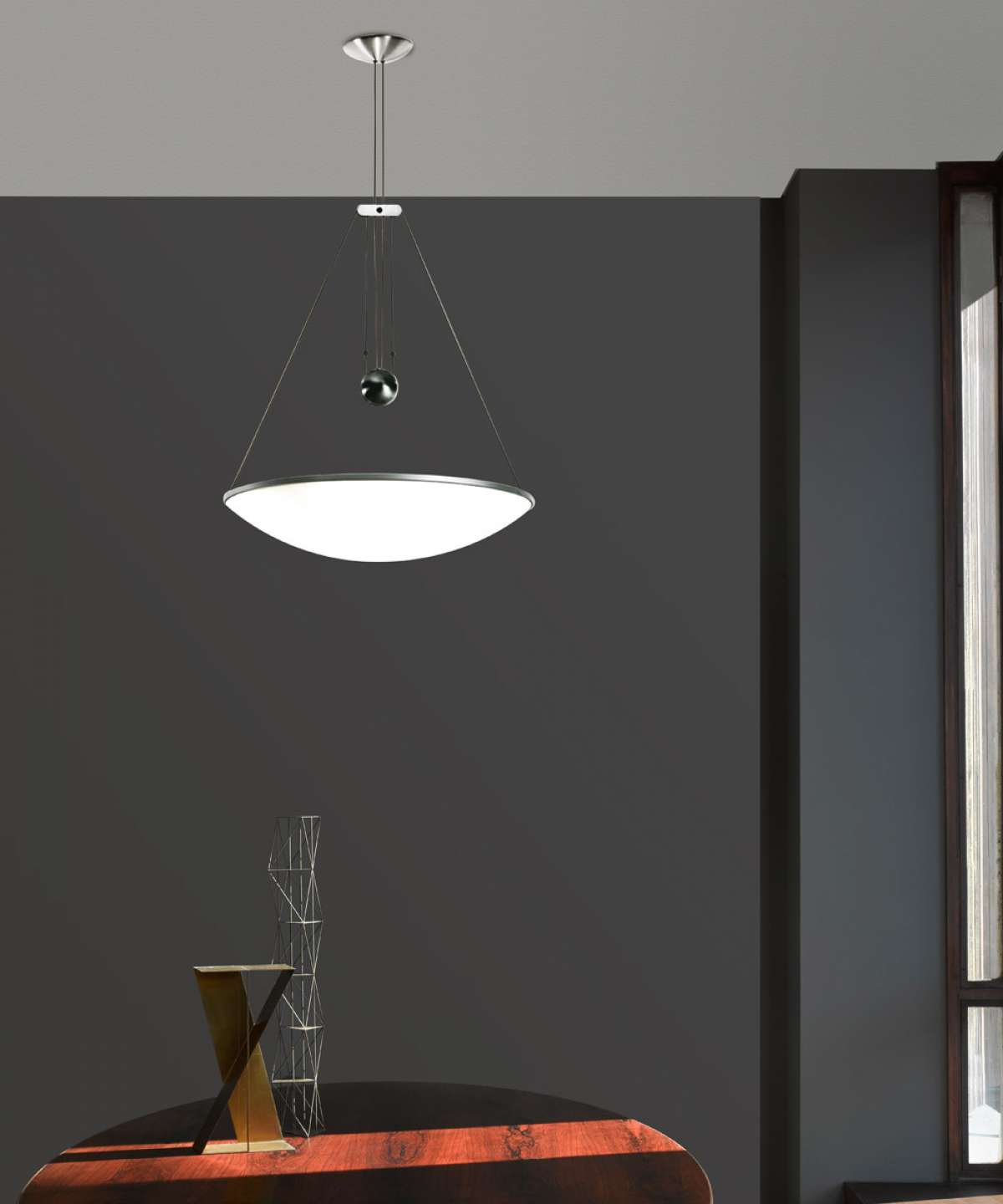 Foscarini Aplomb
Aplomb casts a wide beam of light onto the surface underneath. It is made by Italian experts through a craft-based process of concrete processing. The challenge at the heart of this project was to obtain slim thicknesses, light-weight shapes and a textured surface, still pleasant to touch. It was all achieved thanks to the painstaking care and profound knowledge of the raw material, which allowed the creation of special mix, particularly fluid when poured into the cast. Aplomb is available in three colors - white, grey and brown - made with pigments added directly to the material blend, in order to answer different setting requirements. Aplomb Large can be placed over a table, a kitchen island or a counter, at home or in a public place, and it is perfect for use on its own or repeated in linear compositions.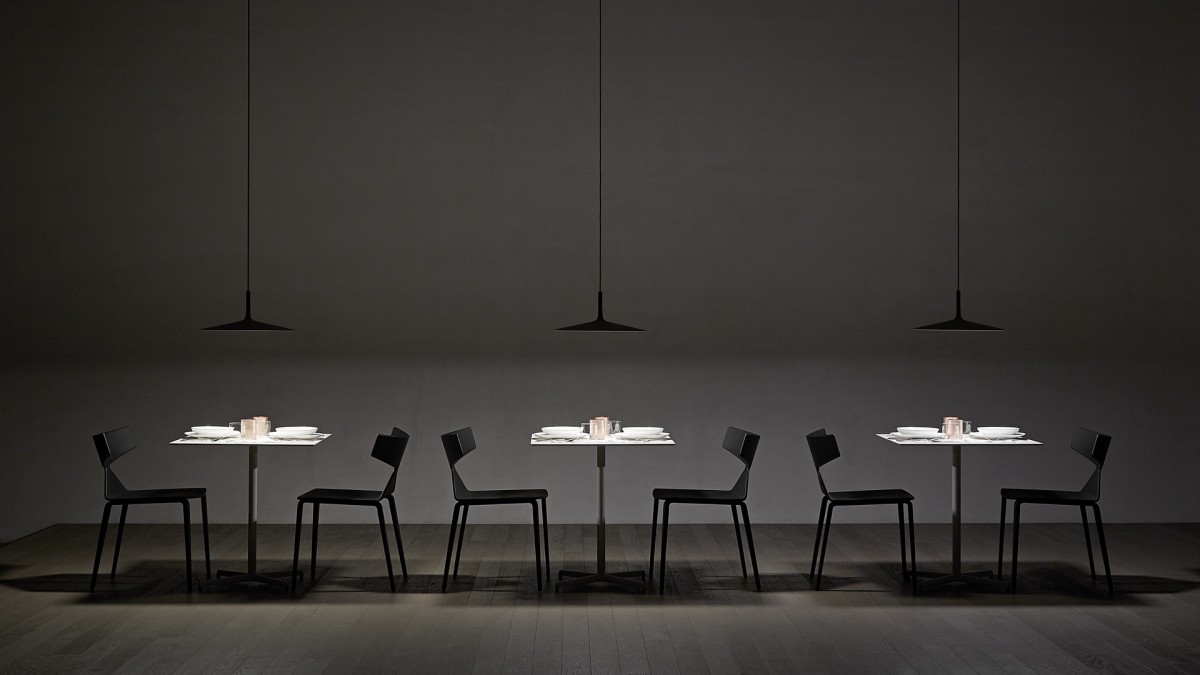 Cameron Design House Lohja Tornio
The Lohja Tornio pendant light explores simplicity with geometry creating a striking, balanced sculptural form in a horizontally aligned configuration.
Occhio Sento
Sento sospeso due is the perfect luminaire for dining tables and offers the highest levels of operating comfort in home and commercial settings. Emitting light from one or two sides, the elegant luminaire can create a broad array of lighting moods. The quality of light produced by this LED luminaire comes is very close to that of natural daylight. It can be operated intuitively by using the touchless control, manual switching on the luminaire head or through the Occhio Air app.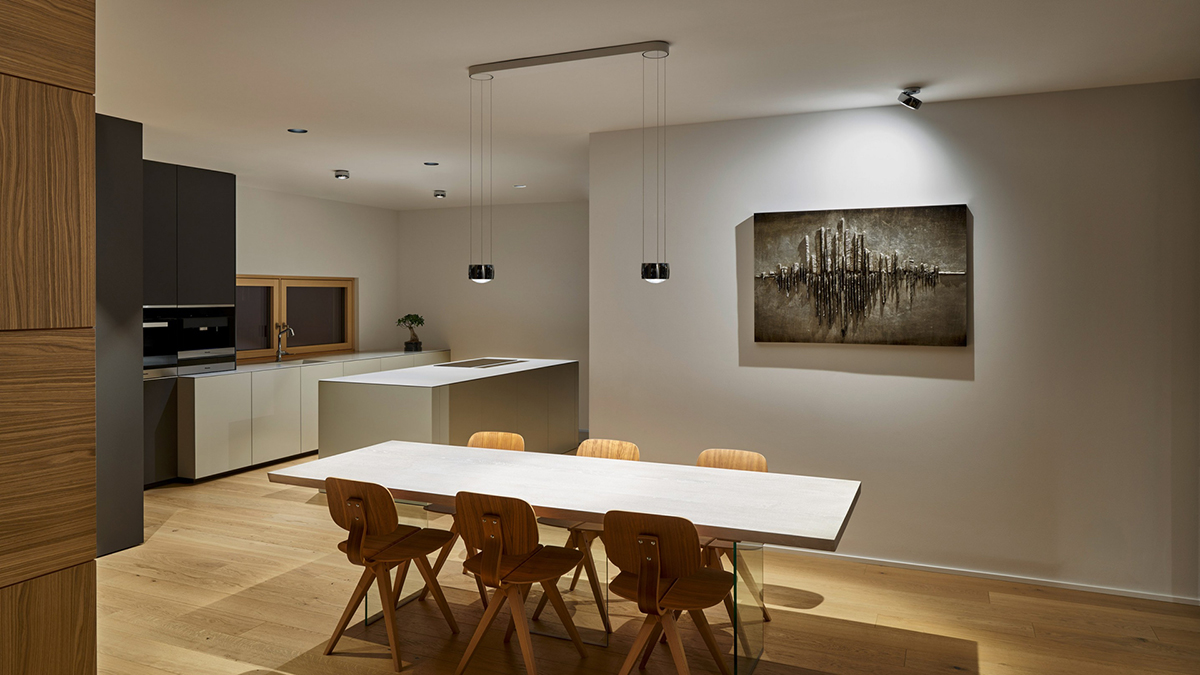 Panzeri Blanca
Designed by Federico Churba, Blanca is an integrated LED pendant light fabricated from turned aluminum with polymethylmethacrylate (PMMA) thermoformed diffuser fixed without screw. The LED module is composed of 6 COB packages or 6 LED strips. Both versions come equipped with dimmer DALI/PUSH DIM integrated in the canopy. The fixture finish is available in gloss white or metallized brown.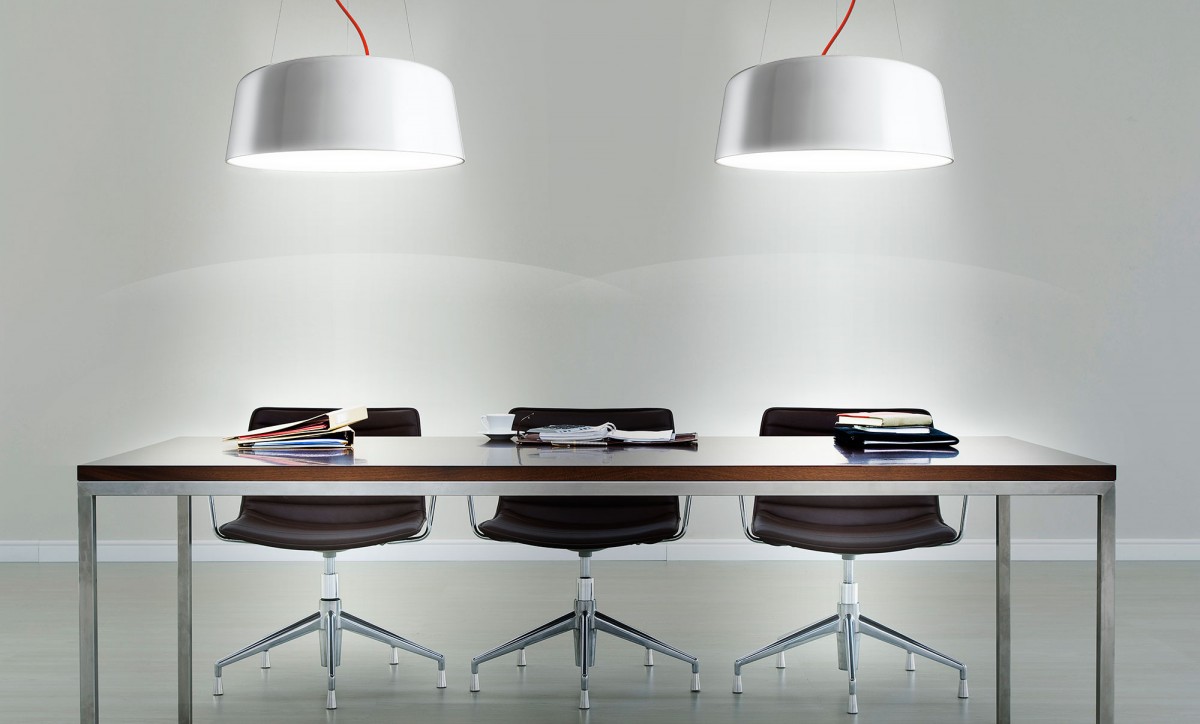 Exenia Ponyo
Blending minimalism, contemporary styling and latest LED technology, Ponyo Adds modern sophistication and drama to a kitchen or dining room. The light source is installed on a sandblasted methacrylate support with diffusing function. The pendant is available in numerous liquid painted finishes and custom colors. Supplied with polycarbonate canopy painted in the chosen fixture finish. The LED pendant is capable of delivering direct/indirect lighting. It operates from an integral SMPS power supply and is dimmable with Triac phase control dimmer.
Secto Design Octo
Octo is handmade of PEFC-certified formpressed birch in Finland by highly skilled craftsmen. The wood provides a soft luminosity for atmosphere and appeal. A patented ceiling suspension by Dezall allows easy and quick to installation and enables the ceiling cup to sit perfectly tight against the ceiling.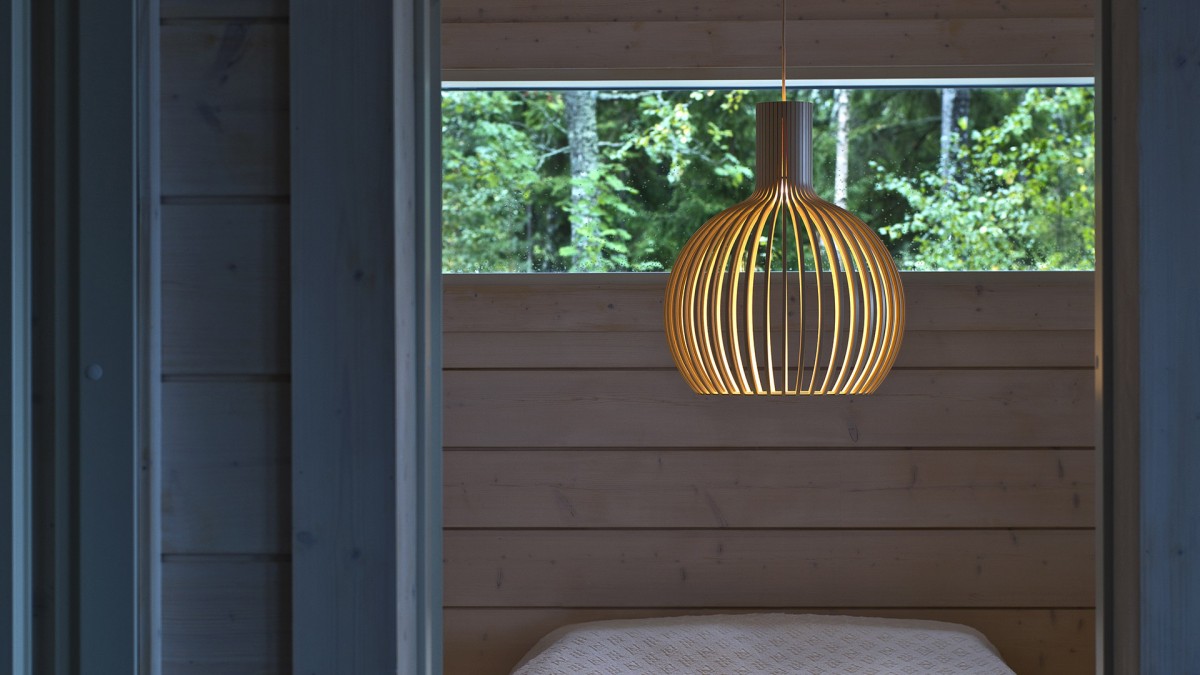 B.lux Keshi S
The pendant is crafted in sanded black Markina marble and metallic bar shade, finished in matte black. Upper metallic reflector with a mirror finish. The chic design brings clean, modern lines to a variety of decor schemes.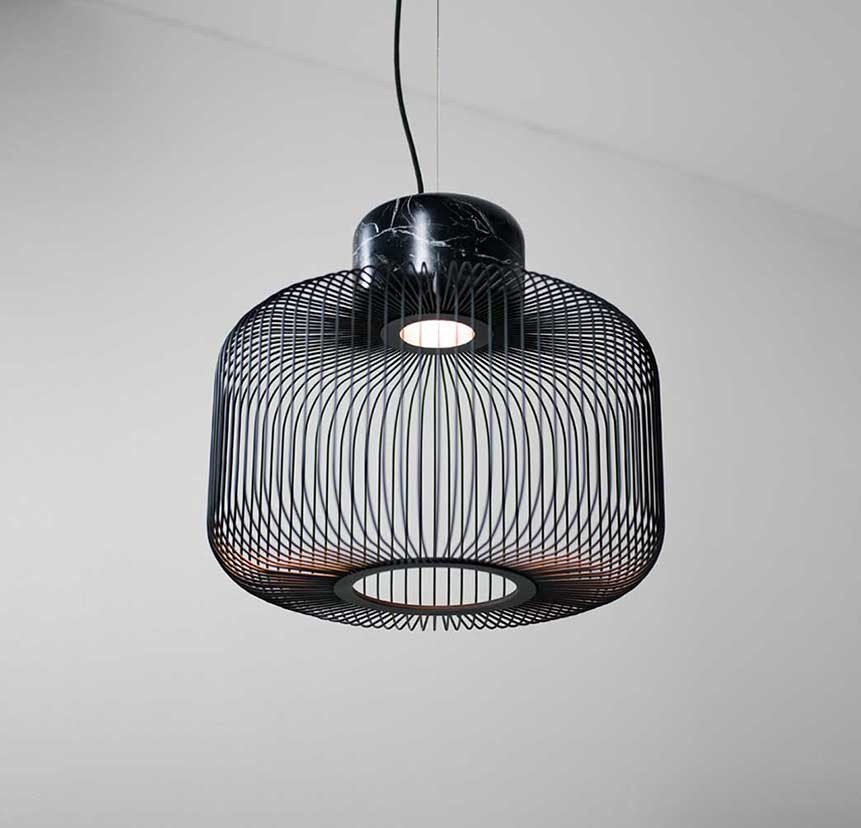 Marset Vetra
Vetra was created by designer Joan Gaspar who uses a completely closed glass diffuser as a reflector, and creatively places the light source outside -instead of inside- the shade. The pendant gives off more light than one would expect, without glare. Much of the light is directed downward, and the rest is filtered toward the inside of the shade, subtly illuminating it.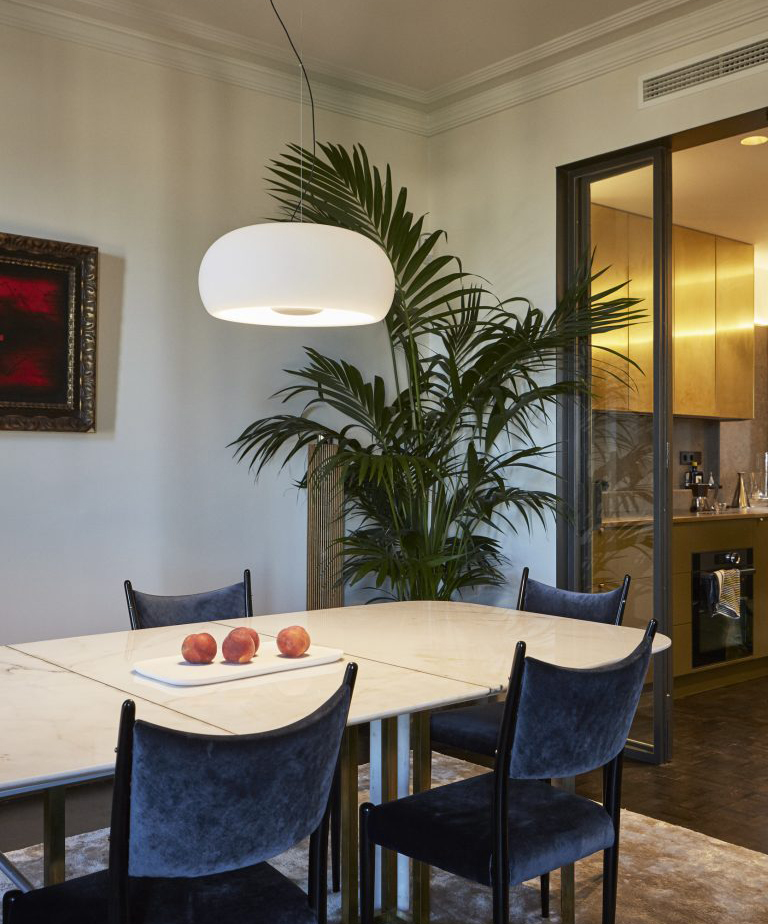 Italamp Rose
Pendant lamp with blown glass diffuser with shiny coating and metal structure with chrome or iron grey finish. Available in different colors.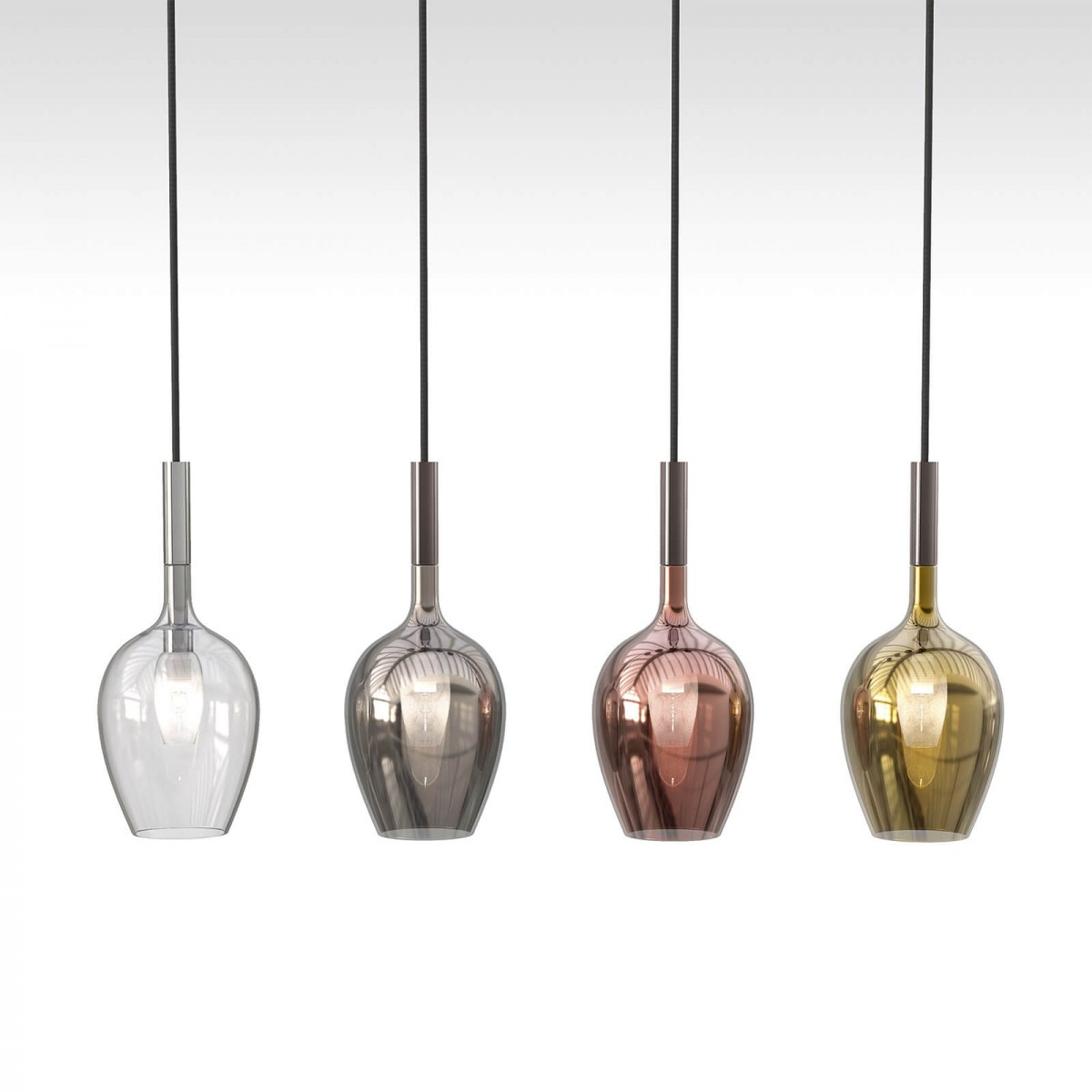 Adot Wing
Taking its shape from flying wings, the Adot Wing LED pendant light brings a fresh contemporary flair to your decor. The tri-wing pendant combines forward thinking design with advanced technology to create a fixture that carries a fine fusion of style and performance, while affording higher levels of system reliability and energy efficiency.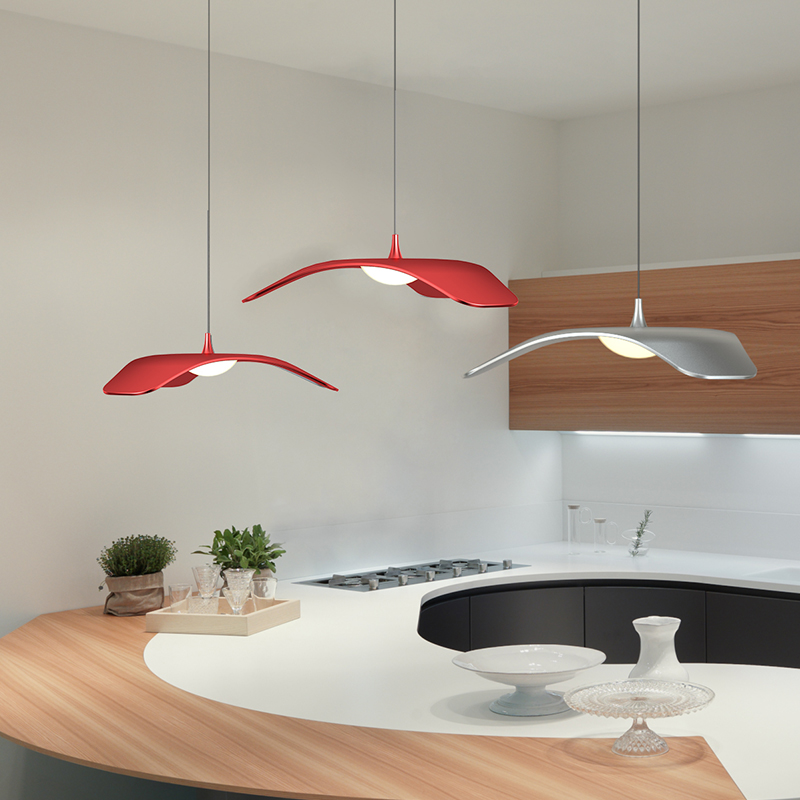 Fabbian Cubetto D28
This impressive light was created by the Pamio Design studio who digs deep down to find the most important natural element of all, water, and then studies it in its most fascinating form: ice. A great amount of attention and skill was dedicated to the production of the crystal housing. The diffusers are available in three versions: in crystal, sand-blasted on the inside, and in a black or white glass paste. For all variants the main structure is available in polished chrome, or with a copper finish for the wall and ceiling lamps with an articulated diffuser.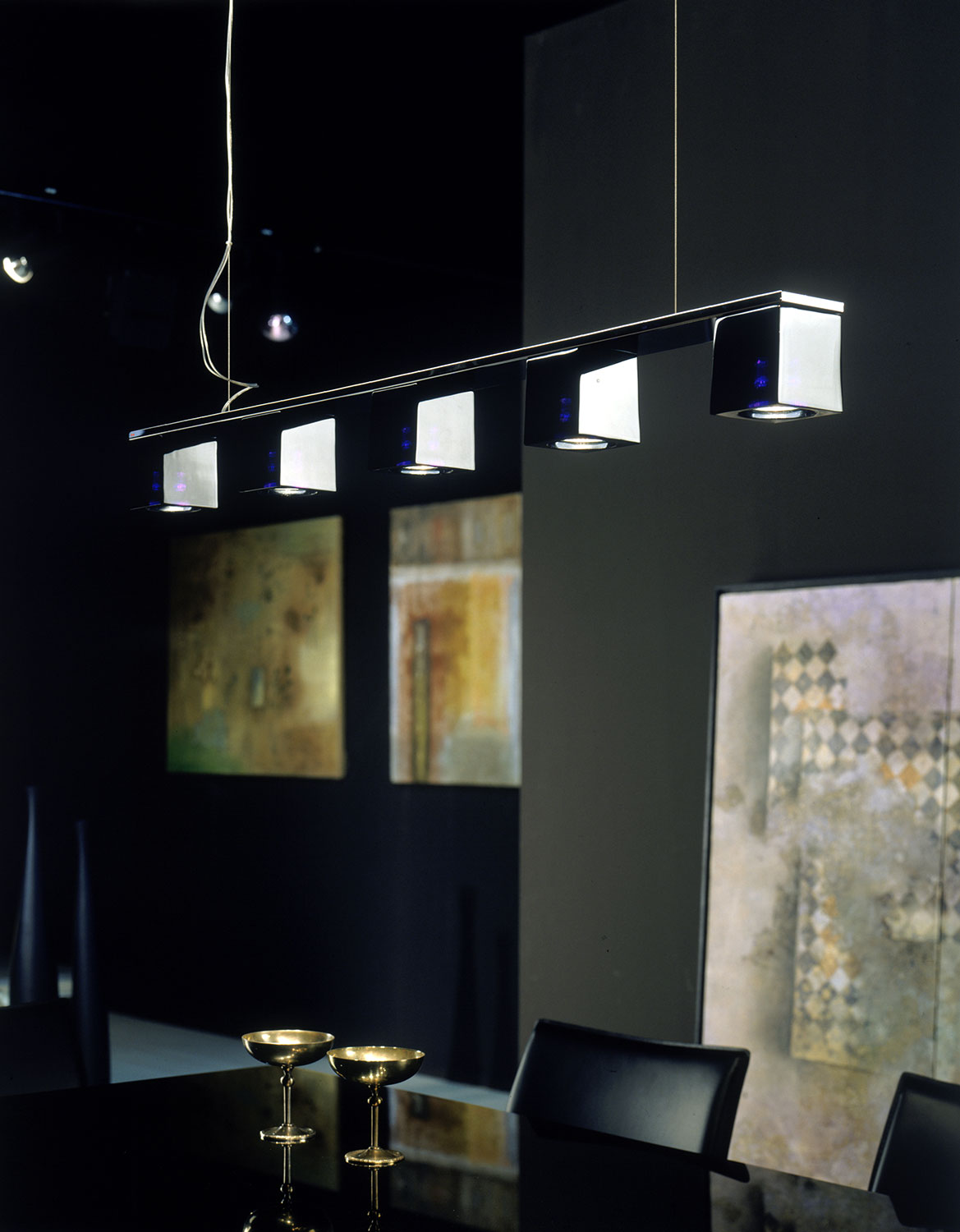 Brokis Shadows XL
Fumie Shibata wants her lights to give the impression of seeing a ball of air floating when you look up. This design sprung from the idea of creating lighting that looks like soft glass which has retained its shape after being inflated.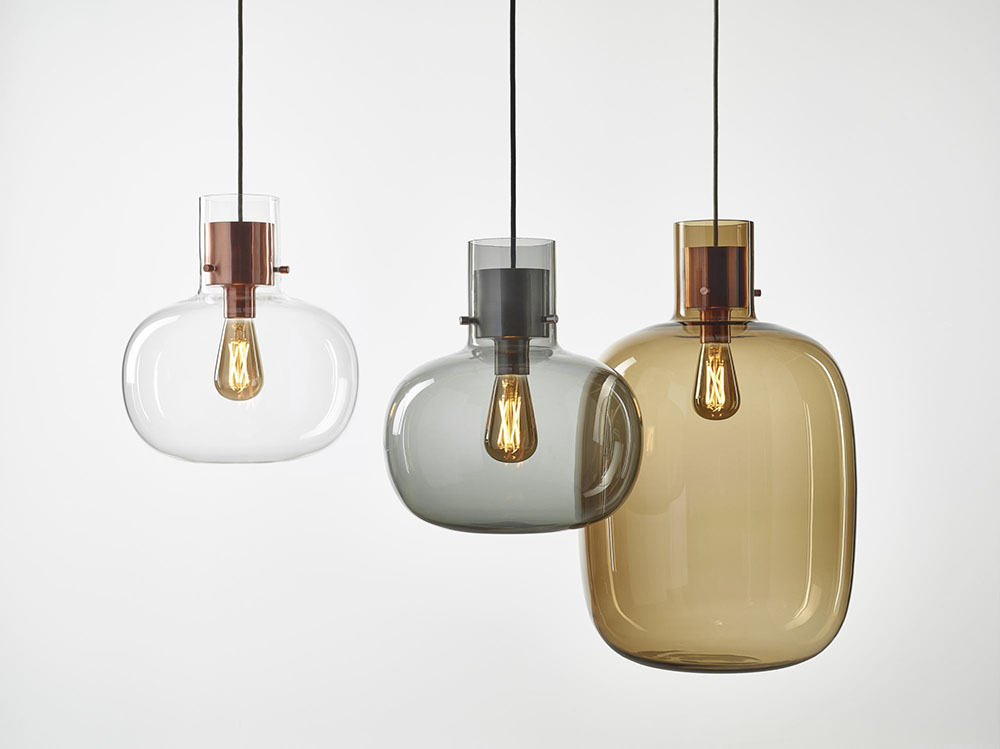 Leucos Witch
The Witch pendant, by Maco Piva, is as enchanting as it sounds. In addition to direct light, Witch emits a beautiful indirect light from the hidden center of its handblown glass diffuser (an effect that is strongest in the black and chromed glass versions). The Italian handblown glass diffuser will look beautiful in a variety of spaces and will be sure to bewitch!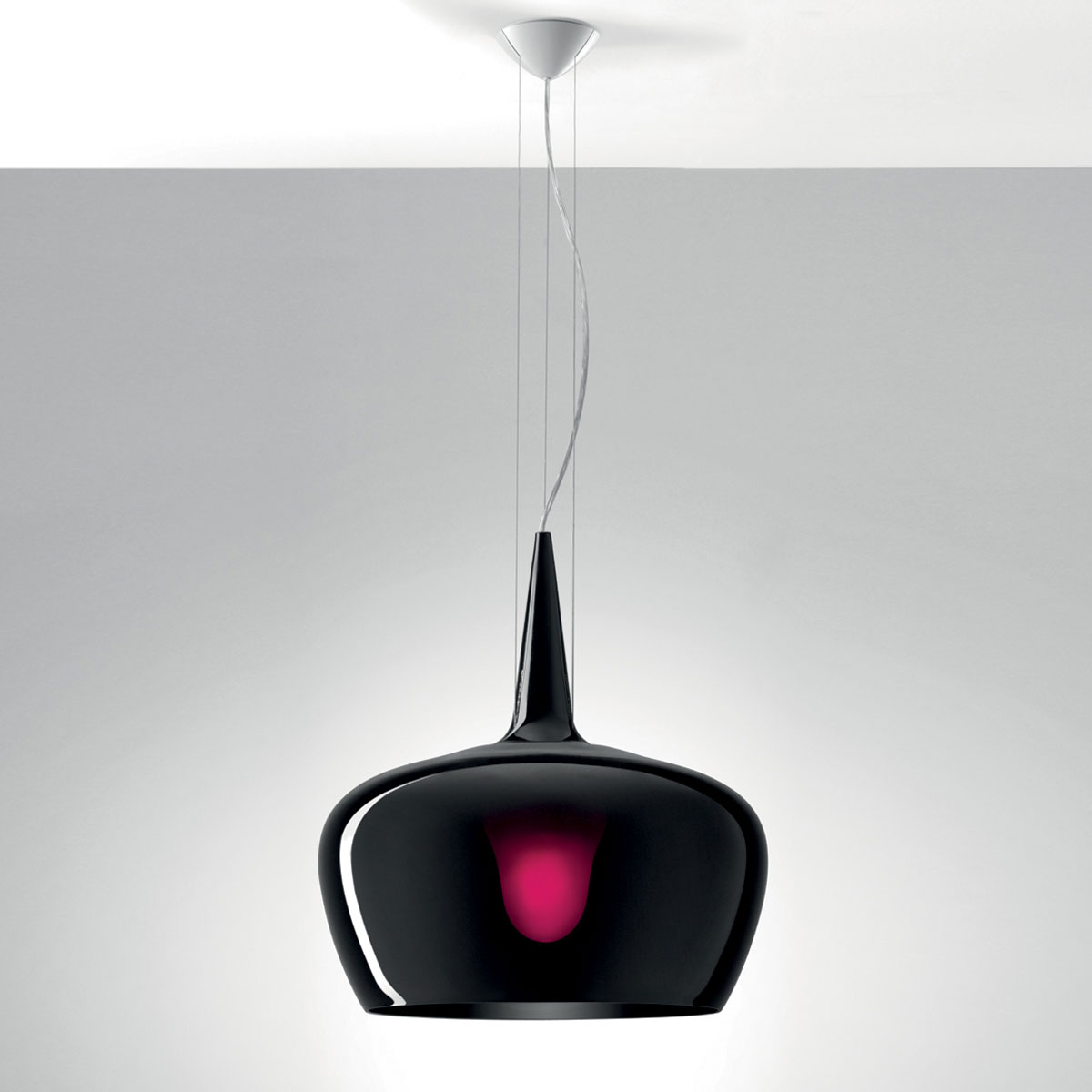 Leucos Deluxe
The Deluxe pendant, designed by Archirivolto, is a versatile and bold lighting collection featuring a geometrically-patterned, cloud-shaped handblown glass diffuser. Its handblown satin white or matte black diffuser is made of multiple layers of glass to create a rich look. This traditional Murano handblown glass technique is called incamiciato (Italian for "jacketed" or "layered"), which requires multiple layers of glass during the blowing process to create perfect diffusion.
TEO Yoko
Yoko brings a warm, soft and gentle feeling to every room. Taking inspiration from ancient Japanese teapots Yoko combines eastern and western influences to modern pendant light with a friendly and unique character.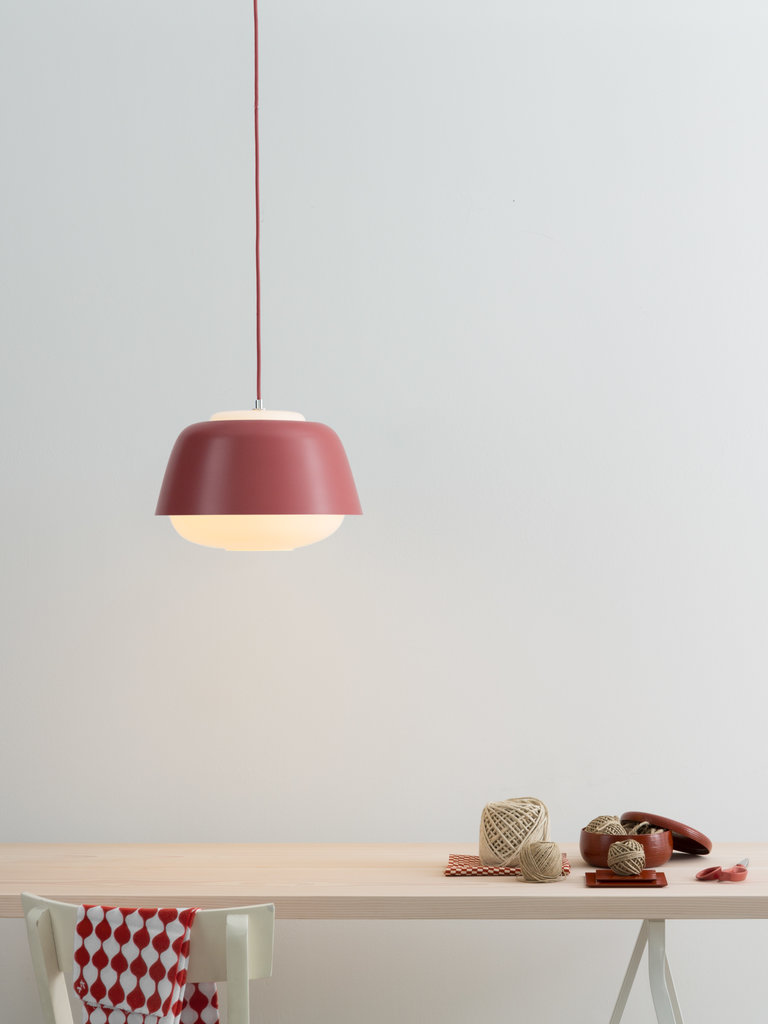 ModoLuce Righello
Fine graduated "ruler lines" that seem to measure light and space. Righello illuminates public or residential ambiances with geometric rigor, while the soft, thermoformed fabric ensures acoustic comfort in the environment.