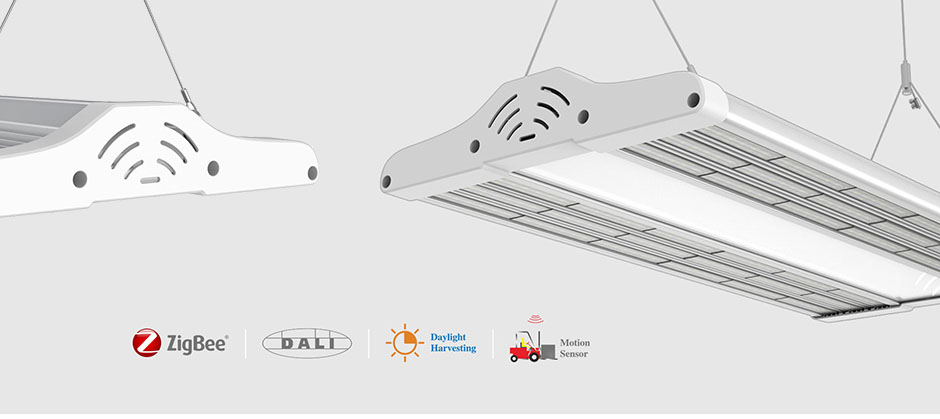 HiPanel linear LED luminairies deliver a high lumen output to replace legacy HID and 2-, 4- or 6-lamp T5HO fluorescent fixtures in both low bay and high bay applications. The HiPanel family of linear LED high bay fixtures are available in eight different wattages including 80W, 90W, 120W, 150W, 180W, 240W, 300W and 400W. They're designed to replace 1300W HID equivalents while achieving up to 75% energy savings. Rugged construction and sophisticated LED technology add unparalleled energy efficiency and reliability for years of maintenance-free operation.
The HiPanel
linear high bay
delivers industry-leading performance with an extremely attractive payback advantage. The full body assembly features a value-optimized chassis design and is made of extruded aluminum that provides durable protection and optimal heat dissipation for LEDs, optics and electrical components. The high flux density Nichia SMD LEDs produce 125 lm/W system efficacy (lensed). Combined with perfectly matched driving circuit with full featured protections as well as superior thermal management, HiPanel's LED modules offer an extraordinary lumen maintenance greater than 90 percent at 50,000 hours and projected life over 200,000 hours.
Multiple lumen packages and optical distributions provide the necessary application flexibility to meet a range of lighting requirements. Narrow and wide distributions including 80° x 100°, 30° x 100° and 60° x 120°accommodate different mounting heights and luminance requirements for warehousing, retail environments, manufacturing facilities, open and stack aisle applications. Diffused lens provides uniform light distribution and excellent LED source obscurity.
The HiPanel Series uses Meanwell and Inventronics for 100-240V, 100-277V, 347V and 480V applications. These Class 2 rated, UL/cUL listed constant current drivers are optimized to correspond to the exact current design requirements of HiPanel LED modules for enhanced system efficiency and LED lifespan. Standard with 1-10 volt dimming, motion and daylight sensors can be integrated to facilitate additional efficiencies. DALI dimming and ZigBee wireless control options available for more flexible lighting control and energy savings.