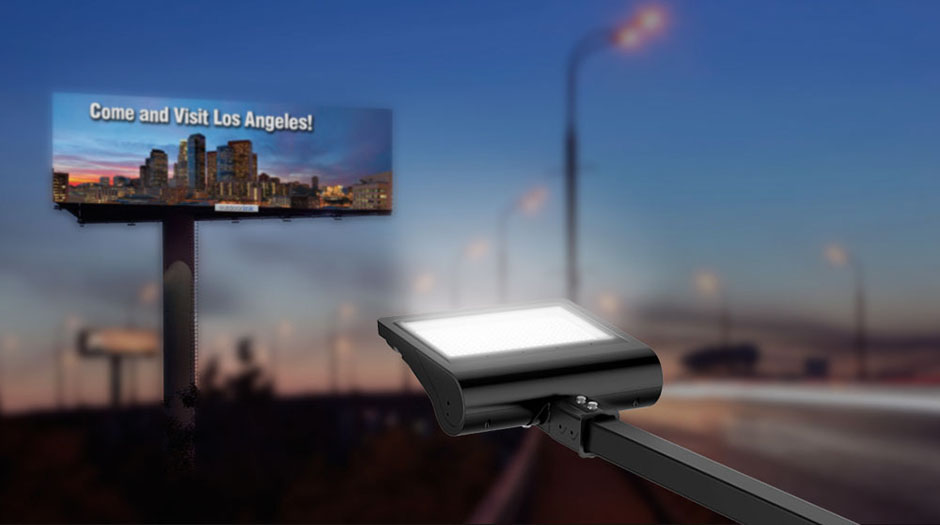 HiBoard is designed to provide edge-to-edge flood illumination for a wide variety of billboard lighting applications. The HiBoard
LED flood lights
utilize precision engineered optics providing uniform forward throw (FT) distribution with sharp backlight cutoff to comply with Dark Sky requirements. Available in precise 65°x120° (NEMA 6H x 4V), 30°x60° (NEMA 4H x 3V), 65°x120°(NEMA 6H x 4V), 15°(NEMA 1) and 30°(NEMA 2) beam patterns through TIR high performance acrylic optical designs, HiBoard offers excellent design flexibility for maximum coverage of target area with superior uniformity and color quality to enhance the billboard posters. The NEMA 6H x 4V and 4H x 3V distributions with 10 degrees of asymmetry maximize fixture spacing while ensuring precise cutoff to avoid light spillage for billboard/bulletin lighting. The high wattage and CRI versions of HiBoard with asymmetrical wide beams provides accurate forward and lateral light control as well as enhanced luminance and visual acuity, making HiBoard also an excellent choice for active sports applications such as tennis court lighting.
Combining value and performance in a sleek design, the HiBoard
LED floodlights
are equipped with the latest cutting-edge LED technology to offer unparalleled payback advantage over legacy HID luminaries. Through a synergetical integration of thermal engineering, premium optics, high brightness Nichia LEDs and high efficiency
Inventronics LED drivers
, HiBoard achieves a consistent system efficacy of 130 lumens over its 50,000 hours of L70 life. The rugged enclosure consisting of a polyester powdercoated die-cast aluminum housing and tampered glass features an IP66 weather protection through durable sealing by a durable, one piece silicone gasket. HiBoard is built with both the lighting designer and contractor in mind by offering multiple beam choices, lumen packages (13,000lm@100W, 18,000lm@150W, 24,000lm@200W, 26,400lm@240W), and installer-friendly mounting accessories including round/square slipfitters and adjustable yokes.