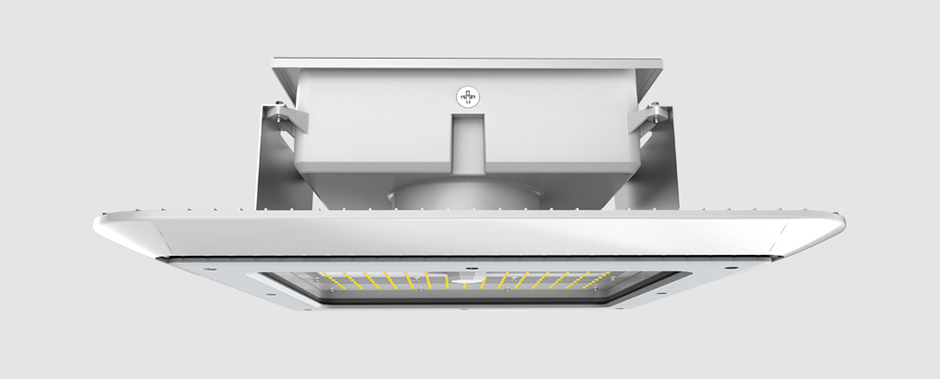 The HiGas X LED canopy lights are designed to offer an outstanding combination of high performance and maximum value not found in any other LED canopy fixtures. Innovative system design combined with the latest, most robust LED technology creates a fully customized lighting system optimized for gasoline service stations, truck stops, and other drive-through canopies.
HiGas X features a semi-integrated structure designed for maximum thermal performance and ease of installation. A low profile luminaire housing constructed from high purity die cast aluminum provides durability and delivers excellent heat dissipation in an architectural shape. This low profile fixture includes a highly reliable LED light engine in which an array of mid-power Nichia LEDs are mounted to a metal core PCB in an optimized geometry for uniform light distribution. Available in lumen packages of 8,000, 12,800, 16,000, 19,200, 24,000 and 32,000lm, the light engines offer an industry-leading system efficacy of 160 lumens per watt which translates to more than 70% energy saving over HID fixtures. The optical lens is sealed to the light engine with a silicone gasket to ensure weather-tight protection.
HiGas X has a detachable driver box designed to hide from the ceiling and secure the light assembly. The Meanwell (or Inventronics optional) constant current driver with a high power factor correction circuit provides maximal power utilization. The driver provides up to 10kV surge protection for effective line transient protection for outdoor applications.
Durable TGIC polyester powder coat finish provides durable protection against superior protection against fade and wear to maintain attractive appearance in outdoor environments. This rugged canopy light carries an IP rating of IP66 and impact protection of IK08 offering exceptional durability and long-term reliability.