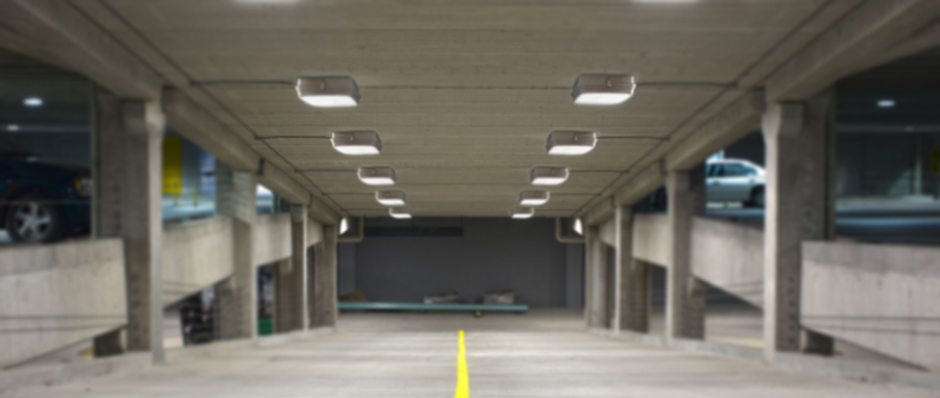 The HiPark Series is designed to take full advantage of the benefits of solid state lighting while addressing the unique challenges of parking garages and canopy applications. Architectural design, uncompromising performance, and low total cost of ownership make HiPark LED garage lights an oudstanding lighting solution. AGC Lighting blends high-tech engeering with advanced technology to deliver a comprehensive optical, mechanical and electrical ecosystem for affordable sustainability.
The rugged construction of HiPark LED garage lights feaures a hinged two-piece enclosure designed for durable protection and quick installation. Constructed of copper-free die cast aluminum with integral high performance heat sink, the low profile luminaire enclosure conducts heat away from the metal core LED module and mission-critical LED driver. Efficient thermal management design enables the LEDs to maintain a 50,000-hour minimum L70 lifetime. The HiPark garage luminaires utilizes Nichia LEDs to provide superior quality of light, high lumen density, and real world efficacy.
The HiPark Series features an in-house engineered LED lens specifically designed to deliver excellent uniformity and quality illumination which translates into enhanced visibility for parking garage patrons. A precision injection molded PC lens is precisely positioned to the LED engine to match the geometric distribution of discrete LEDs. Accurate optical alignment of the high efficiency lens ensures precise optical control and uniform vertical distribution. High lumen density Nichia LEDs coupled with high performance optical system deliver aesthetically soothing light distribution and superior low-glare illumination with an excellent system luminous efficacy of 130 LPW.
Integration with automated lighting controllers allows HiPark to be specified for additional energy savings during unoccupied periods. HiPark LED garage lights include a passive infrared (PIR) motion sensor with excellent pedestrian coverage to control the light output and a photocell to deliver daylight harvesting.
The luminaire is IP65 rated to provide weatherproof protection against moisture penetration and environmental contaminants. High quality TGIC thermoset powder coating protects the aluminum housing against corrosion, ultraviolet degradation and abrasion.