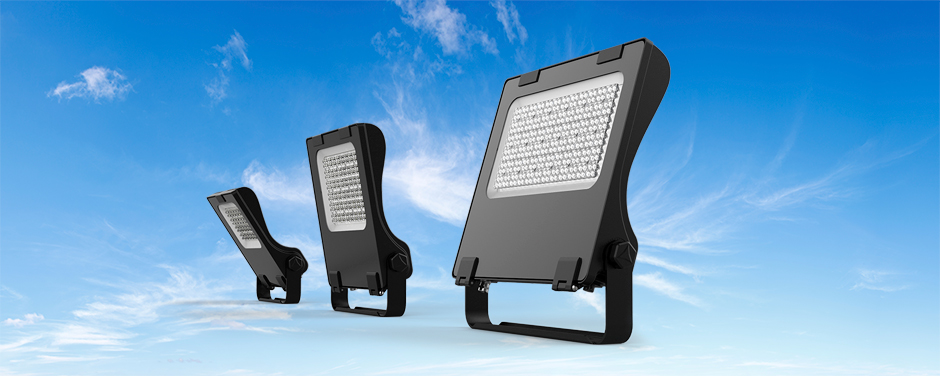 The AGC HiSpot LED flood light is a unique solution for sports court and recreational park lighting that demands high quality horizontal and vertical illuminance while maintaining precise cut-off optical control. Available in a variety of wattage options including 40W, 60W, 80W, 100W, 120W, 150W, 180W, 200W and 240W, HiSpot is one of AGC Lighting's flagship lighting solutions that are driven by the latest advances in LED technology. Combining state-of-the-art LED light engines, thermal management design, optical technology and electrical systems, the AGC HiSpot Series LED luminaires yield the optimal balance of desired light levels and economic benefits.
HiSpot LED flood lights begin with the highest quality componentry in the industry. The Nichia LEDs produce unmatched quality of light with brilliant color rendering capability designed specifically for visually distinctive illumination. The constant current Mean Well LED driver works seamlessly with a breadth of LED module. The driver is fully featured with very high efficiency, excellent PF and THD over wide variations in line voltage, and advanced protection features ensuring the highest reliability. Top-tier LED and driver technology paired with AGC's engineering depth of thermal and optical systems deliver one of the industry's most robust lighting systems for high-end outdoor flood/area lighting. HiSpot LED flood lights feature an excellent system luminous efficacy of 135 lumens per watt, which translates to significant energy savings of up to 75% compared to conventional HID luminaires.
The rugged, die-cast housing of HiSpot flood includes an integrated heat sink which is aerodynamically shaped to encourage an increased velocity of airflow. The driver compartment is thermally isolated to reduce the negative effect of thermal energy transfer from LED junctions.
The Dark Sky compliant LED luminaire offers five beam patterns including 65°x120° (NEMA 6H x 4V), 30°x60° (NEMA 4H x 3V), 65°x120°(NEMA 6H x 4V), 15°(NEMA 1) and 30°(NEMA 2). The NEMA 6H x 4V and 4H x 3V distributions with 10 degrees of asymmetry provide maximum forward throw illumination and accurate cutoff to reduce glare, light spillage, and sky glow. The precise optical alignment of precision engineered TIR optics ensures that there will be optimal uniformity luminance.
The luminaire's IP66 rated all-weather construction is designed for exceptional durability and long term reliability. A purposefully engineered vent breather prevents temperature cycling from building up internal vapor or pressure.