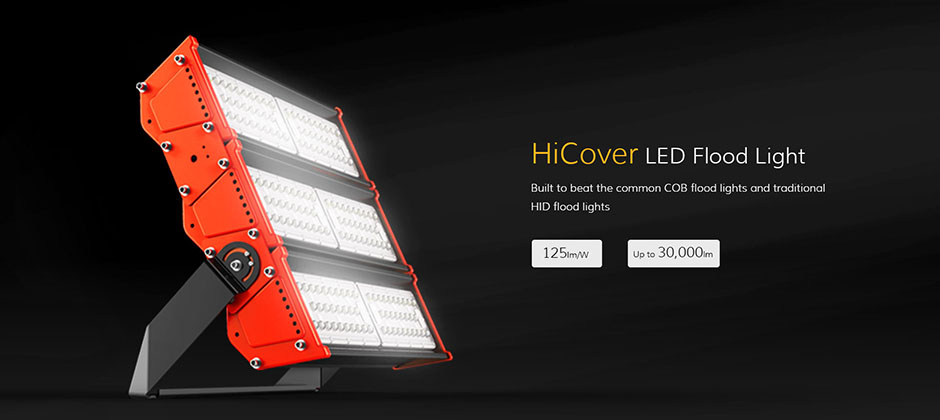 AGC Lighting offers a modular family of
LED flood lights
with an industry leading combination of lumen output, lumen maintenance, and efficacy. Designed to provide energy efficient alternatives to traditional HID flood lights from 240W to 750W, HiCover LED flood lights offer unparalleled performance and reliability in an array of commercial and outdoor applications, including landscape, structural accent, area, site, security, and billboard lighting.
The high strength aluminum alloy chassis of HiCover is engineered in an architectural form, providing rock solid structural support for the LED light engines (light modules) and offering flexible mounting options. Core to the HiCover lighting system are its independently functional light modules with each incorporating an integral heat sink, LED assembly and power supply. The rugged, die-cast heat sink facilitates superior passive cooling and provides durable protection for the LEDs and drivers. The light engine utilizes high flux density Nichia LEDs to provide an outstanding CCT and CRI combination. Paired with a high efficiency Mean Well power supply, the HiCover LED engine accomplishes a system luminous efficacy of up to 130 lm/W. The cutting edge driver technology and thermal management ensure the light source has a minimum lifetime of 50,000 hours with virtually maintenance-free operation.
HiCover LED flood lights incorporate precision designed PC lens to deliver precision beam spread without the need for glare visors and spill control reflectors. A diverse portfolio of optical patterns (30°x70°, 60°x90°, 40°x130°, 90°, 120°) are available to maximize application efficiency whereas modular advantage of this high performing luminaire allows power serialization and adds great scalability to accommodate different lighting requirements. The optical assembly provides an IP65 rated seal of the LEDs. The entire fixture comes with an IK10 impact protection.