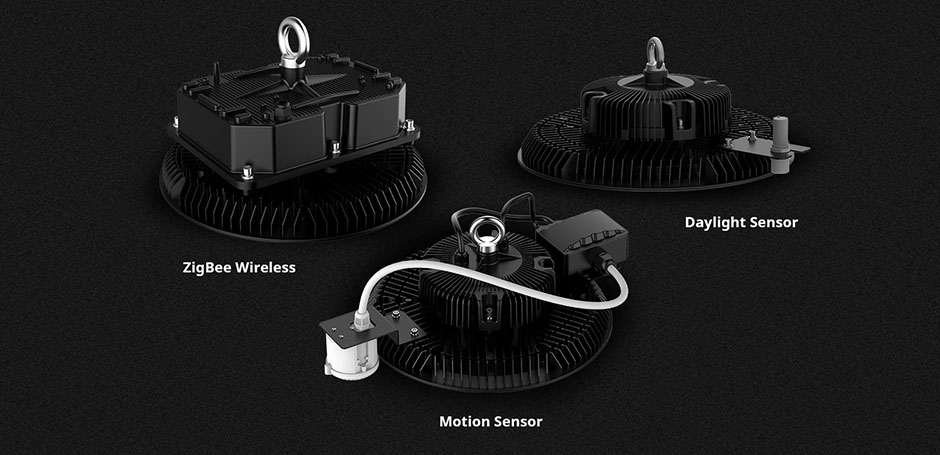 The HiCap Series LED
high bay luminaires
from AGC Lighting deliver premium product performance and extremely attractive ROI for high ceiling industrial and commercial applications including manufacturing and warehousing facilities, distribution centers, sports facilities, and supermarkets. Combining exceptionally durable construction, latest solid state lighting technology and high performance optics, the unmatched configurability and engineering depth of the HiCap LED high bays allow them to thrive in challenging environments. The integration with daylight, occupancy sensors and third-party controls delivers flexible zone and luminaire-based configuration for boosted energy savings.
HiCap High Bay Series luminaires are offered in a variety of wattages, lumen packages and optical distributions to provide maximum flexibility in all types of applications. Offered in 100, 120, 150 and 200 watts in premium and standard efficacy versions, the premium efficacy version of HiCap Series delivers up to 32,000 lm per fixture with a system luminous efficacy approaching 160 lumens per watt. The highly engineered luminaire is designed with a heavy duty aluminum die-cast construction. A computer optimized heat sink with a plurality of vertically aligned cast fins provide maximize thermal radiation and natural convection cooling. High brightness Nichia LED arrays are mounted on thermally efficient metal core circuit boards and deliver high efficacy with superior color quality and lumen maintenance. Accurate TIR optics packages enable superior uniformity levels, tight beam control in directional and high flux delivery. Seven beam angles are offered in wide, medium, narrow or aisle distributions to provide optimal luminaire spacing.
The luminaire uses the industry-leading constant current LED driving technology from Meanwell and Inventronics to provide accurately regulated current over wide variations in line voltage (100-240Vac/100-277Vac 50-60Hz). The high efficiency drivers offer standalone dimming protocols. DALI digital dimming can be optionally integrated for large installations to provide complete control over HiCap luminaires. AGC Lighting also offers wireless controllable HiCap LED high bay lights using the ZigBee open standard protocol.