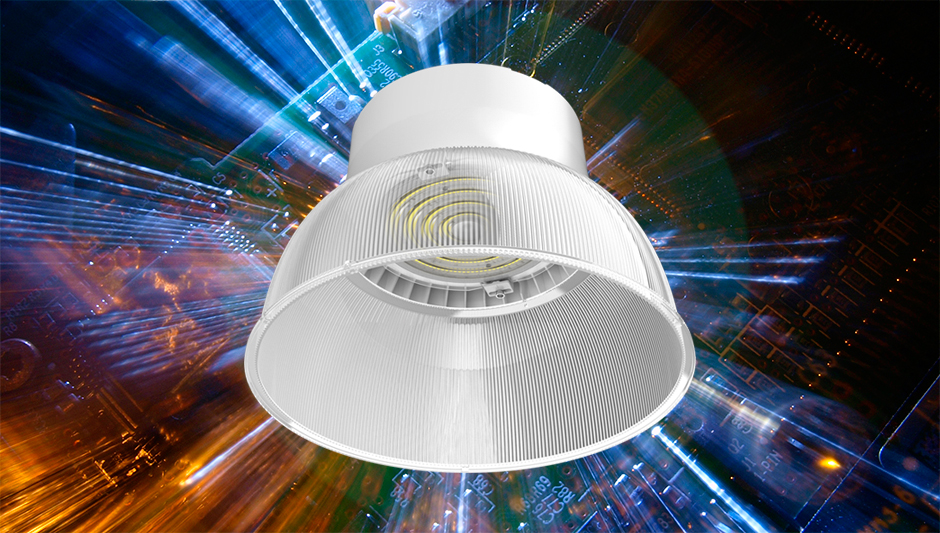 The HiWide LED
high bay lights
blend superb lighting performance with a premium aesthetic that is well suited to many commercial, retail and industrial environments, including big box stores, sports facilities, auto showrooms, warehouses, manufacturing facilities, open and stack aisle applications. White polyester coated housing paired with a polycarbonate prismatic refractor creates a flair of combined sophistication and fashion. The technologically innovative and architecturally appealing design leverage AGC's engineering disciplines of optical, electrical and mechanical design, with industry-leading competency in thermal management.
The HiWide Series includes two wattage options: 100W and 150W, each producing a nominal luminous flux of 19,500 lm and 26,000 lm, respectively. The performance engineered luminaire is designed with a state-of-the-art thermal management system which establishes an effective thermal transfer path starting from the LED junction, via the thermally interfaced metal core PCB and way to the heat sink that is integrally cast to the sleek, highly heat conductive aluminum housing. Unique SMT arrangement of discrete LEDs ensures an optimized exploitation of the high efficacy and high flux density features of Nichia LEDs. This LED assembly is also designed to correspond with reflection and refraction prisms of polycarbonate prismatic refractor to guarantees a high level of optical efficiency and extraordinary illumination of both horizontal and vertical surfaces, with great visual comfort.
The synergistic combination of high quality components and advanced system design yields a full-featured LED system which delivers superior optical performance over an extended lifespan. Excellent thermal management and driver compatibility ensure unprecedented lumen maintenance and color consistency. High system efficiency contributes to substantial energy savings. Integration with occupancy sensors and daylighting controls improves these savings even more.