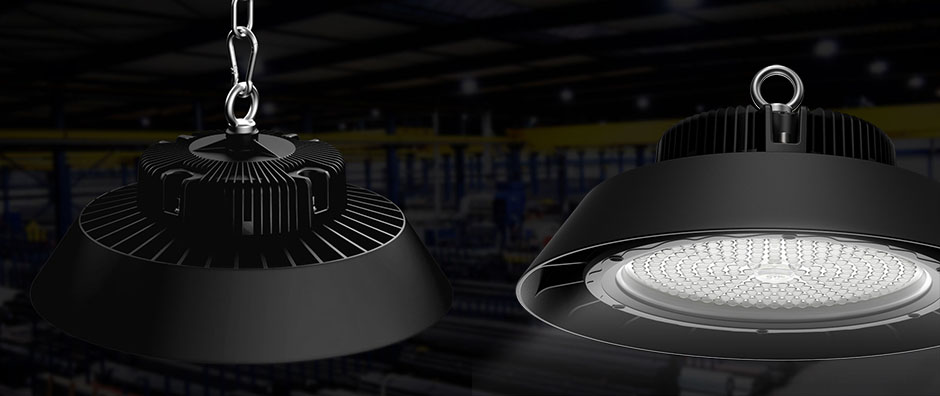 With an uncompromising emphasis on thermal management, optical engineering and system integration, the HiCool LED luminaire takes high bay lighting to a new level of innovation that guarantees all the enhanced
benefits of LED lighting
, including unparalleled performance, failsafe reliability, higher energy savings, extended system life, and superior lighting control. The HiCool LED high bay features a flow-through heat sink design to promote heat dissipation and natural convection cooling. The innovative thermal design allows the luminaire to operate in -30 °C to 50 °C ambient environments and provides excellent temperature tolerance to drive higher output currents for maximum lumen intensity without degrading LED life.
The HiCool series offers lumen packages ranging from 13,000 lm to 40,500 lm with standard and premium system luminous efficacies (130, 135 and 150 lm/W). The HiCool Series LED high bay family allows for replacement of up to 1,000-watt metal halide fixtures and provides years of maintenance-free operation with up to 70% energy savings over the legacy HID systems. Engineered to bring high performance and quality of light to medium and high ceiling buildings such as manufacturing facilities, warehouses, indoor arenas and retail spaces, HiCool LED high bays utilize high efficacy Nichia LEDs and precision molded PC lenses to deliver excellent color quality, precise beam control and uniform illuminance. A choice of eleven optimized distributions offers design flexibility to provide more targeted distribution for open floors or racked aisles.
This
high bay light
is equipped with a high efficiency Meanwell constant-current driver that offers unparalleled current regulation and system protection. The lighting system provides 1-10V dimming, local intelligence through occupancy and daylight, communications capabilities and advanced lighting management through digital protocols such as DALI and ZigBee.
The rugged high bay is sealed with a durable silicone gasket and carries an ingress protection rating of IP65, offering watertight integrity for the optical assembly and driver. Five-stage super TGIC powder coating enable the aluminum housing to resist extreme weather conditions for high-durability and gloss retention.