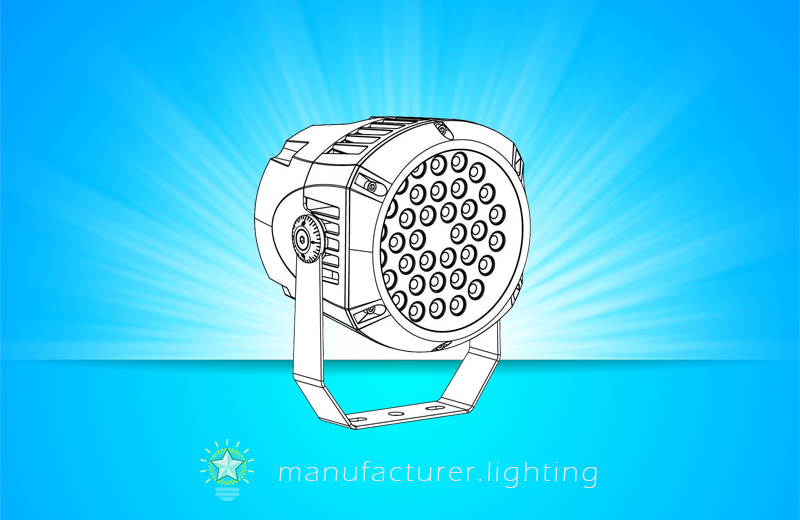 The design of architectural surfaces increasingly incorporates light features for decorative or functional purposes. Architectural lighting is typically utilized to add eye-catching effect to the architecture of a building or other structure. The nature, configuration and placement of the fixtures delivering such lighting are responsive to the configuration and structure of the building. Versatile light fixtures are desired to accommodate an array of demands for architectural lighting. Light intensity, light distribution, source position, adjustability, versatility, and fixture appearance all can be factors in architectural lighting designs. Architectural floodlight projectors deliver high-quality light output in red, green, blue, and other colors to support a variety of uplighting, floodlighting, and decorative lighting applications. They are designed for lighting bridges, land-mark building, monuments, towers, skyscrapers, theme parks, and any other outdoor sceneries, etc.

With high lumen output and an unlimited selection of colors for maximum visual impact, LED floodlighting luminaires are well suited for scene setting, opening up a number of creative options and dynamic flood lighting effects. LED architectural floodlights typically have options including optics for flood or accent lighting; RGB or RGBW color-mixing; various mounting options, accessories and spread lenses; and dimming control via DMX/RDM. The multi-color RGBW LED architectural floodlight projectors present the beauty of a structure and creates an aesthetic quality to a scene. Light naturally appeals to people's attention so highlighting specific features will help an audience comprehend the structure. Combining the functionality with aesthetics, they fit the changing needs of designers and architects, which require extremely versatile sources and high reliability for outdoor installations. These LED fixtures incorporate white and rich, saturated, color and color-changing effects with hassle-free installation. Multiple channels of LED light sources combine to create a full spectrum of precisely controllable illumination, including an incredible number of saturated colors, pastels, and uniform white light with CRI of greater. They offer various field-configurable beam angles to deliver a range of floodlighting, spotlighting, wall washing and grazing options.

Constructed with a rugged die cast aluminum housing for superior heat dissipation and durability, an integral weather-tight LED driver compartment and high performance aluminum heat sinks, the efficient thermal cooling mechanism delivers the heat away from the junction point within the LED to ensure the product operates at its 50,000 hour lifetime, at 70% lumen maintenance. A dimmable driver accepts a universal power input range of 100 to 277 VAC, making it possible for the lighting specifier to set scenes of light for external schemes. The luminaire body is rotatable 360°for proper targeting and uniform illumination. The rotation is clearly marked with index marks on end caps. Tempered glass lens helps to protect LEDs and allows for easy cleaning and debris removal. The louver and glare shields can be installed on fixtures to maximize the precision of the lighting in addition to providing added protection. The low-profile mounting canopy, rotating mounting bracket, and locking fixture rotation offer extraordinary versatility. The IP66-rated LED projector luminaire is for outdoor applications in damp or wet locations.