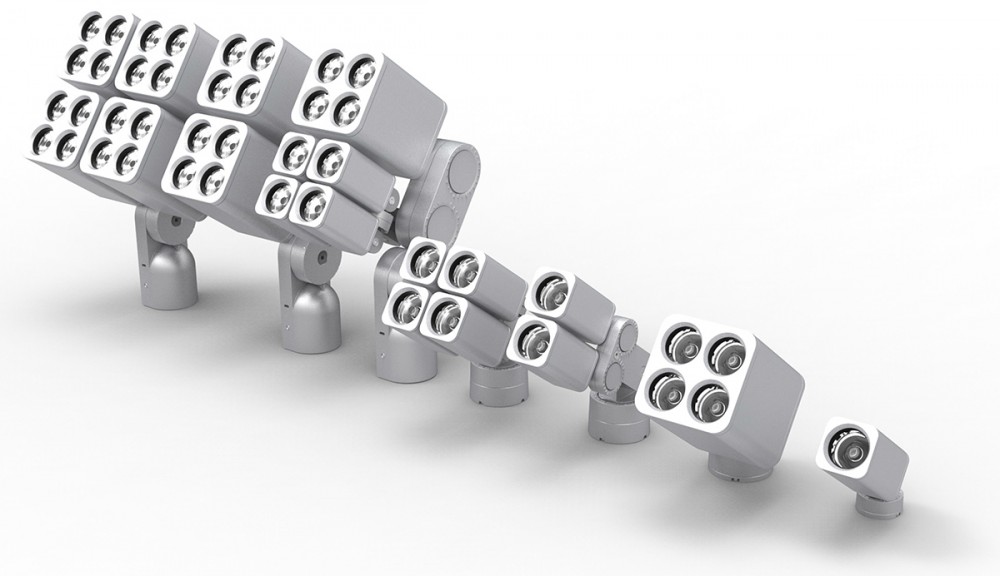 Combining all the benefits of LED lighting in a robust design, Ecosense's Rise LED floodlights are true all-rounders that satisfy the goals of virtually all outdoor lighting designs aimed at creating architectural impressions and enhancing landscape features. Scalable lumen packages, interchangeable optics, configurable light assemblies, and flexible mounting options allow Rise to effortlessly fulfil different lighting requirements. This energy efficient, performance engineered family of flood lights is a versatile tool box for lighting designers and architects to highlight building facades, illuminate hardscape elements such as monuments, bridges or other structures, and accent softscape elements including trees and plantings.


The design philosophy for Rise was to create a product platform that has unparalleled scalability and configurability to accommodate the implementation of various lighting techniques. From 300 lumens for landscape lighting to 11,200 lumens for large-scale architectural installations, from a far reaching pencil beam for skyscraper grazing to a wide spread beam for wall washing and softscape floodlighting, Rise is nothing short of essential for creating depth, dimension, drama, texture, space, focal points as well as producing a really fantastic, spectacular, and harmonious ambience at night. Be it for scene setting or atmosphere creation, the Rise Series provides exceptional flexibility to create eye-catching accent, wash, grazing, shadowing, and silhouetting lighting effects. When paired with an inspiring design idea, these painstakingly crafted LED luminaires bring life to the objects being featured and transform the lighting projects into noted landmarks.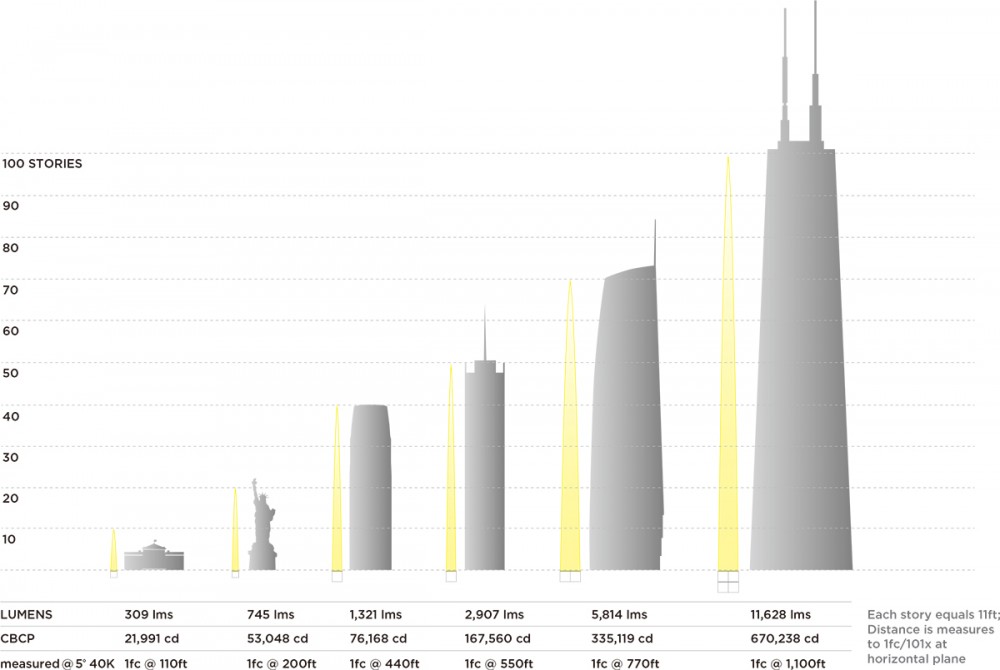 The Rise LED luminaries feature a sleek cuboid appearance that exudes a flair of contemporary minimalism. The compact form factor reduces wind resistance and allows for modular assembly of multiple luminaires for high lumen output. The luminaire is designed and engineered to unlock the full potential of LED technology and deliver superior quality of light, volume of lumens, exceptional optical characteristics, and tremendous cost savings in energy and maintenance. Rise incorporates Cree's Extreme High Power (XHP) LEDs which is powered by the SC5 Technology™ Platform known for its fundamental breakthrough in lighting-class LED performance. The Cree XHP LED does the work of 48 mid-power LEDs while offering a long lifespan at high temperature and drive current. Each array delivers high efficacy and high flux density with tight correlated color temperature control.
EcoSense has an exclusive contract with Cree who is requested to use a single bin strategy for all of the LED CCTs. This ensures all Rise LED floodlights radiate with color coordinates that fall within the 3-step MacAdam Ellipse. Excellent color consistency from LED to LED and luminaire to luminaire eliminates the need to manually adjust color points on each fixture as well as allows landscape lighting designers to create a cohesive scene. Rise is available with 2200K, 2500K, 2700K, 3000K, 3500K, 4000K, 5000K and 6500K CCTs across the entire product line. A CRI as high as 90 minimum (2700K, 3000K, 3500K, 4000K) enables the LED floodlights to render richer, more vibrant colors and bring out the best in the appearance of all architectural and landscape elements. In addition to a complete range of high quality whites from warm to cool, Ecosense offers custom-made ROSCO lenses in red, blue, green and amber color options. These color filters can be inserted into the secondary optic and produce the additively mixed colors for dramatic effects on exterior architecture and landscaping.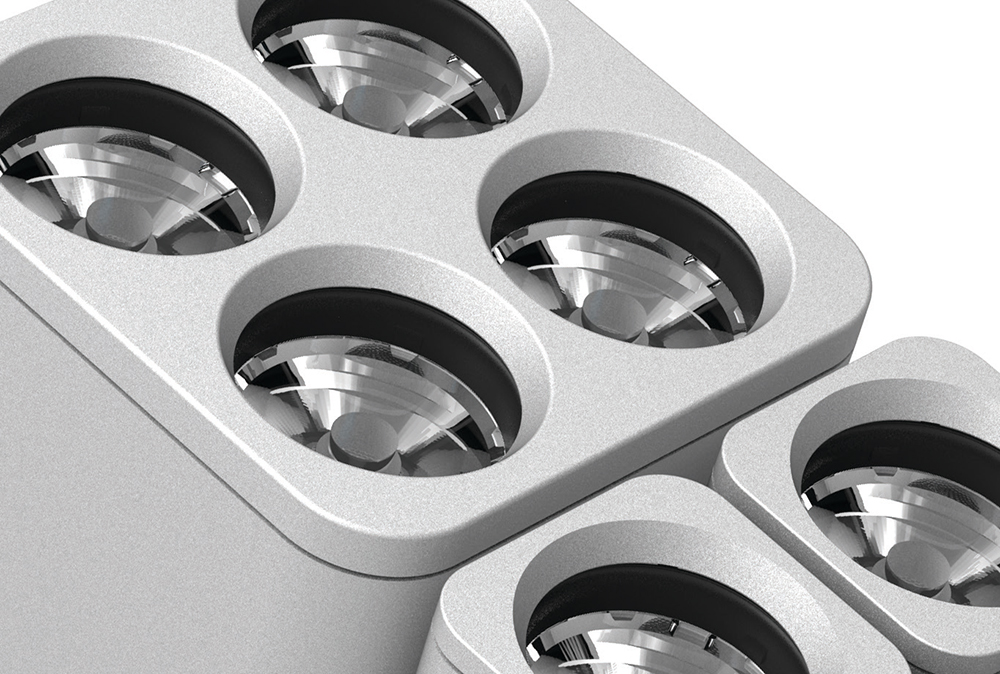 What makes Rise prominent in the marketplace is its superior optical engineering. A state-of-the-art optical system allows the directional lighting system to deliver 2x more Center Beam Candle Power (CBCP) than the market average across a broad range of lumen packages. Rise packs a serious punch with a bright, uniform beam in 11 light distribution options - laser spot (5°), very narrow spot (10°), narrow spot (15°), spot (20°), flood (40°), wide flood (60°), very wide flood (80°), elliptical (15°x60°, 30°x60°, 60°x15°, 60°x30°). The full range of interchangeable spot, accent, flood and elliptical optics addresses multiple application needs. The optical system consists of a secondary acrylic lens which produces 5-degree light distribution and a tertiary lens that sits above the secondary lens to further shape the beam into the desired angle. The tertiary lens is made of impact resistant, UL f1 rated, UV-stabilized polycarbonate which resists yellowing for up to 10 years.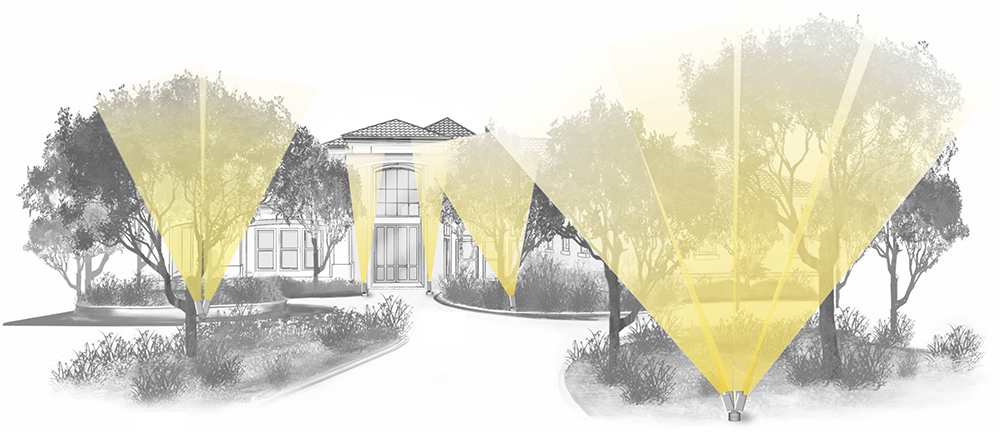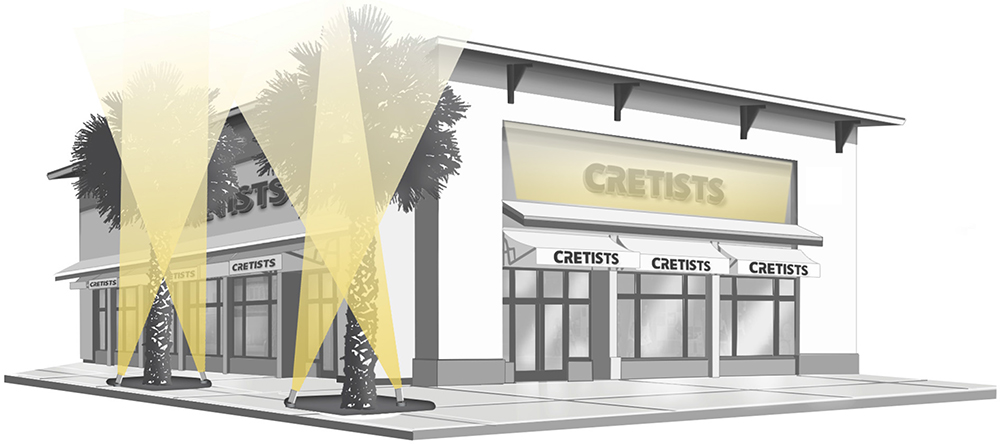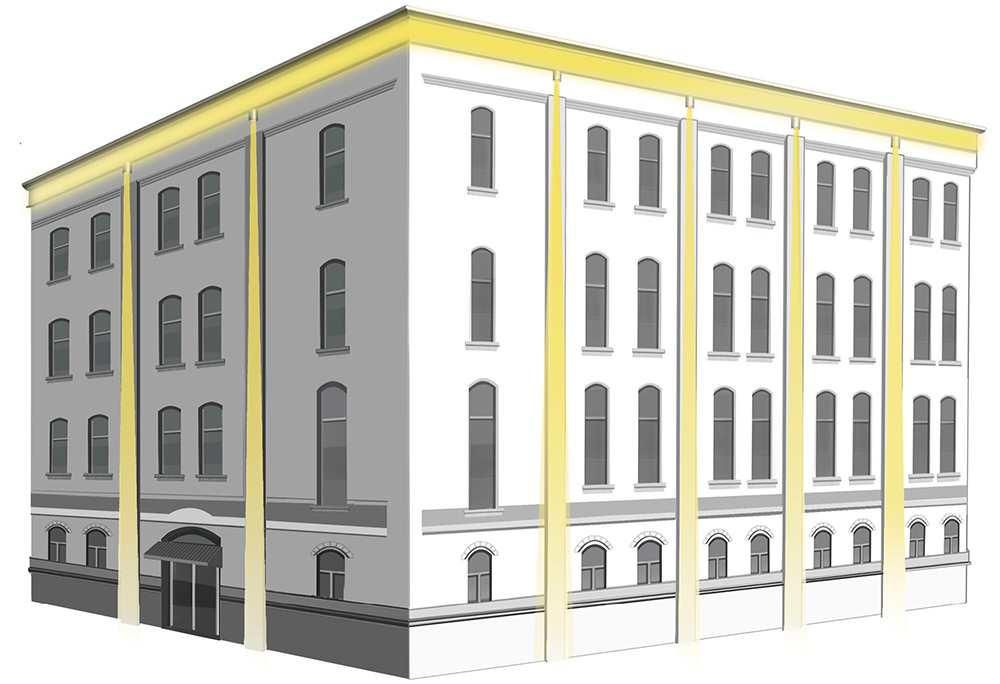 Innovation in mechanical engineering brings a truly one-of-a-kind experience to lighting installers who are challenged with complicated lighting tasks. The robust lighting system gives users unprecedented control over light distribution and light intensity. MACRO™ Lock, a uniquely designed hinge system, allows the luminaire to be easily tilted from 0 degree to 180 degrees, and panned 360 degrees with only one twist. Combined with cast-in angle increments designed to assist precision aiming, Rise offers unmatched field adjustability to direct the light exactly where it is needed. A patented bracketry system allows users to effortlessly double or quadruple lumen packages for multi-direction illumination from one single installation point. The Rise F380 which incorporates a 4-spot F170 luminaire and four F080 single-spot luminaires can either provide powerful illumination for a single object or accent up to five different objects. The creative modular concept yields a wide diversity of luminaire configurations. No other products have such application flexibility.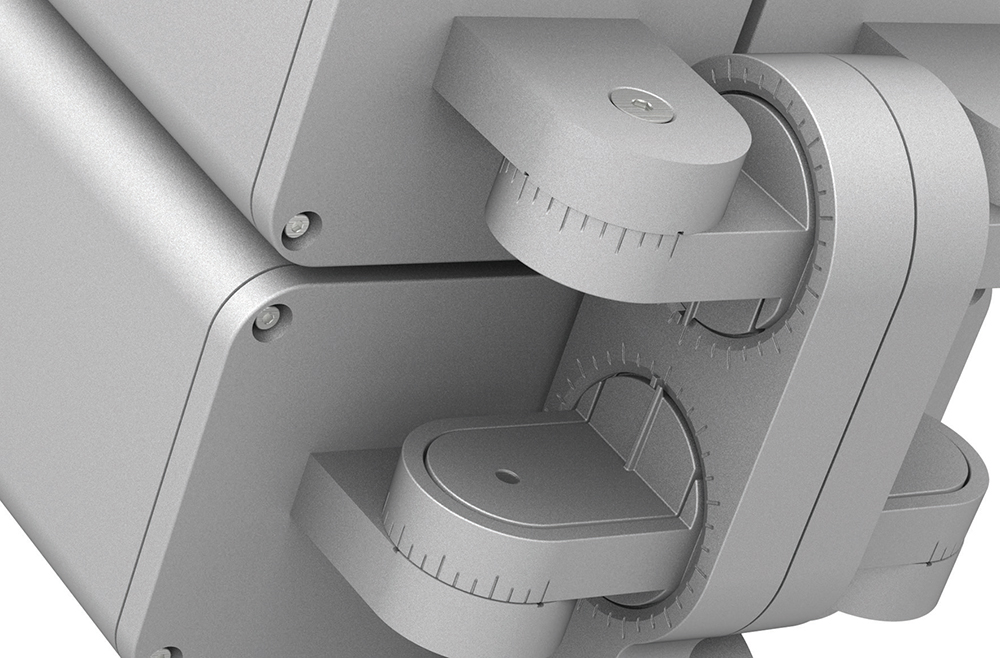 With its high-class thermal management technology, Rise offers higher spectral stability and more consistent light output than competing products. Binned at 85 °C, endowed with a low thermal resistance of 0.9 °C/W, and capable of survive a maximum drive current of 4800 mA (6 V) or 2400 mA (12 V), thermally optimized Cree XHP LEDs' higher operating temperatures reduce the thermal dissipation areas of heat sinks. Nevertheless, Rise is designed with a high efficiency thermal dissipation system which ensures the LED junction temperature does not exceed thermal limits of the phosphor and encapsulant. The LED array is soldered to a high thermal conductivity MCPCB in which a thick metal core with an electrically insulating layer provides effective thermal spreading. The LED assembly is integrated with a die cast aluminum heat sink which interface the aluminum housing to evacuate the heat to the ambient environment.
The outdoor LED luminaire was built to pull through lifetime exposure to abusive environmental conditions. IK10 rated enclosure protects critical components against external mechanical impacts. Rock solid aluminum construction and dependable circuit assembly allow Rise to withstand up to 3G vibration load rating per ANSI C136.31. UL listed for wet locations (IP66), the outdoor floodlight provides durable protection against the ingress of dust, water, moisture and environmental contaminants. The waterproof luminaire comes with a protective vent which continuously equalizes pressures inside and outside the enclosure. Pressure equalization prevents the internal vacuums or pressure build-ups that stress the gaskets and degrade their waterproofing performance. To repel corrosives and ultraviolet rays, the aluminum housing receives a triglycidal isocyanurate (TGIC) based polyester powder coat finish which is electrostatically applied, thermally cured to form a high molecular weight polymer in a network-like structure for lifetime adherence. The fade and abrasion resistant, ultra-weatherable finish that comes standard in black, bronze, silver, or white serves functionally as a corrosion resistance layer and decoratively enhances the luminaire's look with optimal color and gloss retention.
Unlike off-the-shelf analog drivers that pose various design limits, Rise's built-in digital power supply is customized specific to the luminaire design for optimal performance and long operation life. The power factor corrected and THD suppressed LED driver operates with high efficiency and reliability which in turn contributes to the long lifetime and exceptional efficiency of the LED luminaire. Multi-volt input allows Rise to operate on any voltage from 100 VAC to 277 VAC and prevent mix ups that are common with ordering and installing the incorrect voltage. By supplying the LED load with a constant, non-oscillating electrical current, Rise can be dimmed smoothly without causing flickers. The driver is compatible with most ELV dimmers (reverse phase dimming) and works with EcoSense LDCM (0-10V-ELV Linear Dimming Control Module).