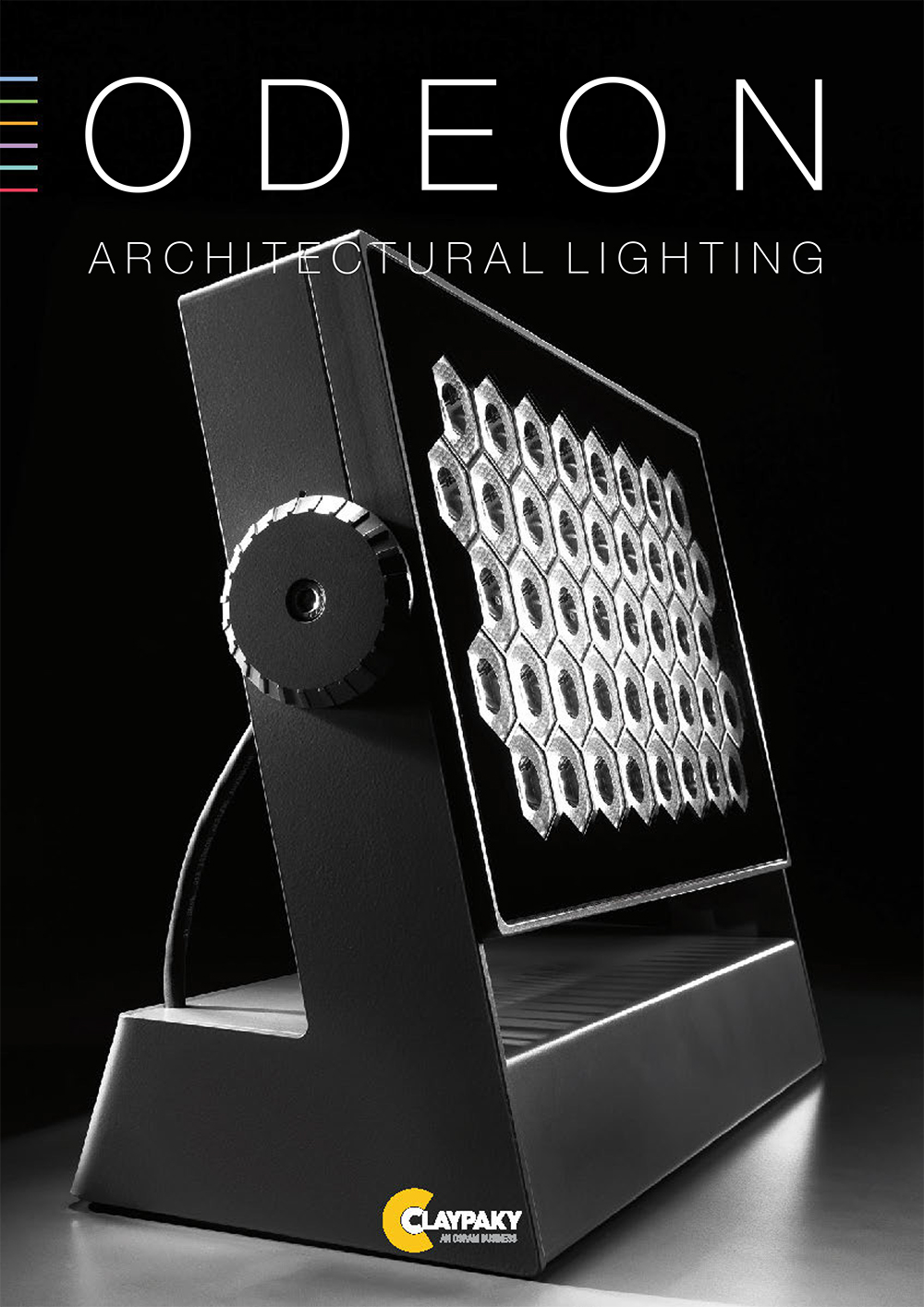 The Claypaky Odeon architectural floodlights offer a future-proof solution to create fantastic architectural impressions for a multitude of outdoor applications including commercial buildings, shopping malls, entertainment centers, bridges, piers, and themed attractions. Featuring a sleek contemporary design that allows for integration into any style of architecture, the LED floodlight provides a blend of aesthetic enhancement and operational robustness that is unique in outdoor lighting. Claypaky continues to set new standards in delivering energy efficiency, reliability and performance for landscape, architectural and urban applications. The Odeon Flood offers impressive optical performance with the efficiency and energy savings of LED lighting, making it an ideal choice for accent lighting and spotlighting.
The Odeon family of architectural floodlights consist of the RGBW, tunable white (TW) and mono-white (W) versions. Available in 16, 27 and 42 LED counts with each drawing 175, 250 and 320 total watts, the Odeon delivers up to 8650 lumens (RGBW), 11130 lumens (TW) and 17230 lumens (W) to support a range of lanscape, facade and decorative lighting applications. A choice of optics including 15° (narrow), 25° (medium), 35° (flood), and elliptical light distributions accommodate a range of fixture spacings and setbacks. Whether the project is lighting building facades or accentuating architectural features, the Odeon LED floodlight family gives the architects and lighting designers the ultimate flexibility in design.
The high power LED floodlights take advantage of the latest LED multichip technology to offer tight beam control and high punch for exterior long throw applications. Osram Ostar Stage high-performance multichip LEDs provide an extremely narrow beam and high luminance that enable the Odeon to deliver clean, consistent and uniform lighting. The calibrated RGBW LED packages that integrate 625 nm red, 527 nm green, 453 nm blue, and 6500K white LED chips produce deeply vivid color across the visible spectrum, as well as high quality whites and vibrant pastels. Tunable white technology enables the flood light to change the color temperature from 2700K warm white to 7000K cool white. The monochrome LED light produces high intensity white light in a 3000K or 4000K CCT. Tight control of chromaticity coordinates following ANSI binning standards guarantee unprecedented color consistency from fixture to fixture. A wide range of LED storage temperatures from -40°C to +85°C makes this product ideal for installations in countries with hot climates (e.g. the Middle East).
An innovative optic design provides exceptional light control and precise distribution of light while improving the quality of light from each LED, enhancing the color uniformity and maximizing color mixing performance. The precision optical system produces focused and striation-free beam thanks to a proprietary hexagonal lens design which uses a rod to maximize the beam uniformity and a collimator to concentrate the luminous flux. Adjustable tilt mechanism which is designed to facilitate fixture aiming enables up to 135° rotation (45 ° forward and 90° backward) for lockable onsite adjustment. A complete kit of optional optical accessories including visors, snoots, barn doors, spread lenses and truss kits provides enhanced glare control and ensures maximum visual comfort.
The Odeon Flood has a built-in LED driver that operates on a universal power input range of 90 to 305 VAC. The high efficiency LED driver includes a power factor correction (PFC) circuit that maintains high power factor of up to 0.98 over a wide input voltage range while suppresses the harmonic current to a minimum. This constant current driver features smooth and flicker-free deep dimming (0-100%) of all colors. It also provides protection features such as intelligent overtemperature protection, open- and short-circuit protection. The Odeon LED floodlight is compatible with standard RGB controllers or DMX 512 controllers which allow for effortless creation of static lighting schemes or linear color changing and step based scenes. It also support two-way DMX, known as RDM (Remote Device Management), which enables bidirectional communication between the Odeon floodlights and the DMX controller.
The Odeon Flood is constructed to deliver exceptional durability and long term reliability for outdoor installations. A die cast aluminum housing provides superior heat sinking to ensure the Osram LEDs operate with high color stability and excellent lumen maintenance throughout their 80,000 hours of rated life. The rugged housing is fully sealed by a durable silicone rubber gasket and clear toughened glass for IP65 level ingress protection. The sealed housing is designed with a pressure equalizing air vent to prevent seal fatigue and failure. The die-cast aluminum housing and stainless steel base receive a thermoset polyester powder coated finish in aluminum grey or optionally jet black (on request) for complete, uniform corrosion protection and high gloss retention.