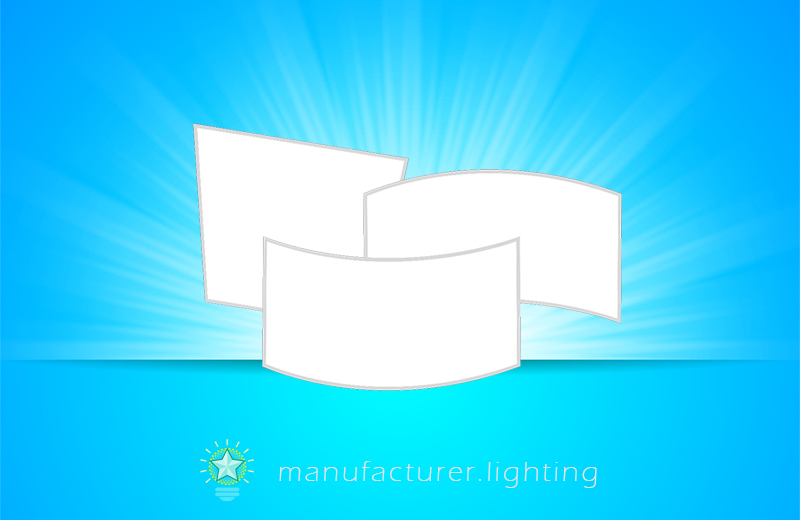 OLED light panels offer the design professionals an exciting opportunity to create a beautiful palette of innovative lighting products that breathe life into architectural spaces. The organic electroluminescent panels include an emissive layer (EML) of organic semiconductor material placed between two electrodes (an anode and a cathode). The EML emits light in response to the combination of holes and electrons supplied from the anode and cathode when an electric current is applied between two electrodes. The anode is usually made of transparent conductive oxide (TCO) layer, for example indium-tin-oxide (ITO), to allow light to exit the OLED. The light panels may further include a hole injection layer (HIL), hole transport layer (HTL), electron transport layer (ETL) and hole blocking layer (HBL) stacked together to maximize light output, efficiency, lifetime and furthermore to tune the color quality of the emitted light.
The self-luminous, multi-layer structure gives OLEDs unique properties which differentiate them from their rival inorganic light emitting diodes (LEDs). LEDs are basically point light sources. To create uniform illumination across the surface of an LED panel, complicated waveguide optical architecture and light recycling designs are required to spread the light out evenly. The LEDs are placed along the perimeter of aluminum frames. The light quality heavily depends on its optical construction which consists of a white frosted polycarbonate or acrylic diffuser, a laser etched light guide panel (LGP) and a reflector, which are secured by a steel top backplate. OLEDs by their nature are surface emission devices and therefore do not require separate optical system to distribute light over the panel. Unlike LED panel lights which require a rigid aluminum frame to provide structural support for their LED modules and optical components, OLED light panels can be fabricated on a variety of flexible and rigid surfaces. The incredibly thin and lightweight panels made on flexible substrates can be curved, rolled, or even folded. This fascinating feature brings a breakthrough design concept in the lighting industry.
In addition to their revolutionary form factors,
OLED light panels
are distinguished by their high quality light that addresses the health concerns associated with LED and traditional lighting technologies. The white light generated OLEDs has a broad wavelength spectrum which makes it easy to achieve excellent color rendering with a CRI up to above 90. Light from OLED light panels is characterized by a natural softness. Light is emitted evenly from the surface without hotspots and harsh shadows. The soft, natural and glare-free pools of focal glow create comfortable and flattering ambient illumination. Both rigid and flexible OLED light panels are available in square, rectangular and round shapes with a thickness as thin as less than 1 millimeter. They're available in a variety of sizes, e.g., Φ100mm, 100x100mm, 200x50mm, 300x100mm, 300x300mm 400x50mm. Moreover, as a solid state light source, OLEDs have the potential to achieve high luminous efficacy and substantial energy savings. All this makes OLED light panels perfect lighting products that can be integrated into various lighting fixtures to deliver compelling lighting experiences.