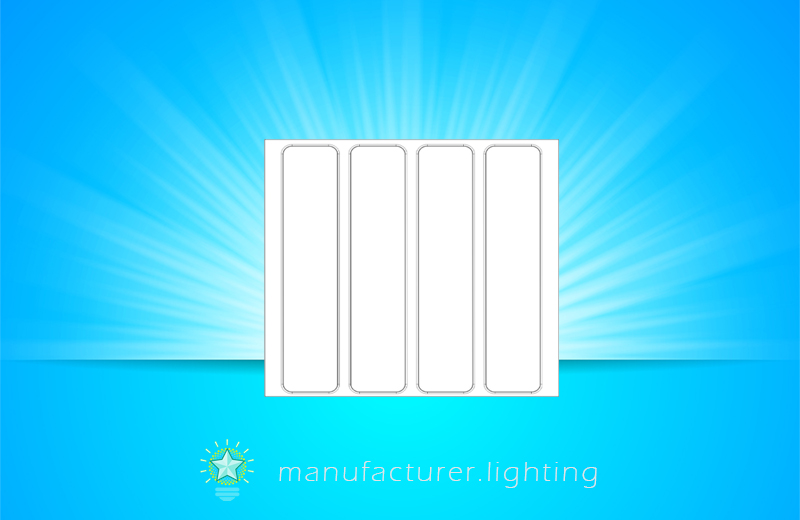 A troffer is a light fixture looking like an inverted trough that is either recessed in, or suspended from, the ceiling. One of the most prolific commercial light fixtures is a fluorescent troffer fixture. This fixture consists of a troffer forming an enclosure into which one or more fluorescent light tubes are inserted. Troffers can be mounted to or suspended from ceilings, and can be at least partially recessed into the ceiling, with the back side of the troffer herniated into the plenum area above the ceiling. The fixture may include ballast (e.g., a power supply) for maintaining a specific orientation of the fixture when it is fixed to a ceiling. The fixture can include one or more acrylic lenses, diffusers or parabolic louvers designed for controlling the light emitted by the fluorescent tubes. Because fluorescent tubes give off omnidirectional light (e.g., in 360 degrees), the interior surface of the troffer fixture may include a reflector for redirecting up light (e.g., light emitted towards the fixture) down towards the room. The fluorescent tubes emit light across the entire length of the troffer to create a focused light distribution pattern. However, fluorescent lighting tubes is likely to be expensive, require a warm up period, and produce flicker that is undesired.

To improve the power efficiency of light fixtures, fluorescent light tubes have been replaced with light emitting diode (LED) light sources. Unlike a fluorescent light tube, a LED device is not omni-directional but may only emit light in no more than a 180 degree cone. Which indicate that a LED based troffer will emit light down and out of the troffer, and for that reason does not require a reflector along the top inner surface of the troffer. To soften the emitted light, and optimize the light for the fixture and also the space where it is installed, the fixture normally include one or more lenses, reflectors, diffusers and additional optics. Designed as cost-effective alternatives for traditional fluorescent troffers, the LED troffers are a good choice for installation in T-bar grid or drop-in ceilings. The LEDs can be arranged in different ways in the troffers, with some having LEDs arranged in a light engine. They delivers excellent color rendering and smooth light output from ceiling to floor in offices, educational facilities, hospitals, government buildings, retailers and other commercial settings. The highly efficient LED system with sophisticated optical design provides optimal light uniformity, resulting in soft, natural light for superior visual comfort. Acrylic patterned lens allows the light to spread evenly throughout the space.

Offering a fast and simple one-for-one substitute for inefficient fluorescent troffers, an LED troffer features a maintenance-free sealed chamber and a top-notch diffuser that allows for optimal lumen output free of hot spots. LED parabolic troffers today include large cell parabolic aluminum louvers to control glare. End plates come with accessory grid-lock feature for safety and convenience. The soft natural illumination is pleasant to the eye delivering a cozy aesthetic in conjunction with high uniformity, improved efficiency, and reduced glare. High-efficacy light engine offers long life and excellent color, ensuring an enhanced level of quality lighting installation which is highly efficient and sustainable. LED troffers can be purchased in a daylight, warm, cool, or neutral color temperatures with 0-10V dimming options. Consumer taste for recessed troffers has moved toward a specific type of high performance recessed troffer which reflects light internally or makes use of special diffusing optics to create delicate lighting effects with high levels of brightness at the ceiling and walls. Linear troffers (4"-12" wide) employ one or two linear lamps and are frequently installed in parallel lines in the space. Linear LED designs utilize rigid metal plates (for example aluminum) with reflective sides for the purpose of directing light down into a diffuser lens and out of the metal troffer tube. The metal plate sometimes also functions as a heat sink. The acrylic linear prismatic diffuser provides LED concealment, uniform illumination across the diffuser and improved lumen-per-watt performance.