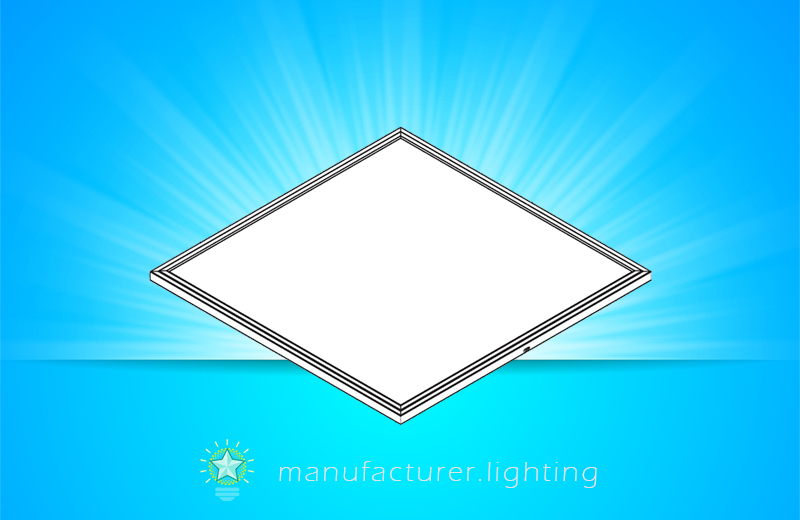 Panel lights are frequently mounted in suspended grid ceilings as an energy-efficient replacement for existing fluorescent fixtures. Designed to fit directly into existing standard suspended ceilings and recesses, or can be surface mounted to ceilings and walls or alternatively can be used as pendants. Providing optimum illumination performance and well suited for use in both commercial and residential applications, these slim flat panel LED lights are most desirable for offices, conference rooms, corridors, industrial buildings, retail establishments, classrooms and homes. This clean design not only looks good but the panel itself is hassle-free to keep clean which is a good choice for areas where hygiene is of the uttermost importance. This super bright LED panel lighting has a high lumen output and offers consumers significant savings over using conventional fluorescent fittings. The light is built to become an integral part of ceilings giving a contemporary look that's space saving and practical.

For years, recessed ceiling lighting fixtures or luminaires, have employed fluorescent lamps or incandescent lamps. In addition to the lamps, lighting systems commonly include an assembly of components, such as ballasts and reflectors. Troffer-based fluorescent light fixtures are ubiquitously present in commercial and institutional facilities and, to a lesser extent, in residential buildings. A troffer light fixture is a typically rectangular or square tray-like housing composed of a top body wall and four shorter side walls which is mounted in or on a ceiling in an inverted manner such that it is open toward the floor. This fixture includes a troffer forming a enclosure into which a number of fluorescent light tubes are inserted. The troffer carries a base surface from which side walls stretch out to form an open box. With worries over the environment, fluorescent lighting has been discovered to be inefficient, and associated with environmental waste hazards. LED (light emitting diode) light fixtures are becoming increasingly commonplace because of its energy efficiency and usable lifetime. With their extremum power consumption, long lifespan, uniform and bright illumination, and thin, lightweight characteristics, the high output LED light panels are ideally suited to illuminate any translucent material when compared with traditional fluorescent back lit systems. The LED panel lights were constructed to eliminate the fixture, ballast, and bulb, and replace it with streamlined and slim panel. Because LED systems produce significant heat during operation, the support structure for the frame is generally designed to work as a heat sink and/or heat radiating member to ensure that heat is conducted away from the LED system.

Constructed with an anodized aluminum frame which is trendy and fashionable with everlasting color, the aviation grade 6063 aluminum offers high thermal conductivity. Edge-lit LED panel lights developed for drop-in ceilings are extremely popular these days, they deliver better light performance than the direct-lit type. When it comes to appearance, edge-lit LED panel lights are thinner as compared to the direct-lit lights due to the fact the SMDs used in them are positioned at the edges and not at the back. Owing to use of an edge-lighting design, the output is uniform across the panel while not having any dark or weak spots, and the super-low profile presents a nice clean ceiling line. The edge-lit LED panels blend with diverse ceiling details and emit soft natural light. High lumen LED efficacy paired with high power factor drivers cut down operating expense. PMMA resin light guide plate (LGP) reaches 90% light uniformity. LED lighting panels in addition have a wide 120° beam angle for even light dispersion. The LEDs are run by a power supply commonly known as a driver. A dimmable driver gives this slim LED panel light dimmable functionality. Furthermore they can be controlled by occupancy sensors, daylighting, and lighting relay panels. Lighting panel has been precision engineered to match flawlessly in ceiling grids. They can be installed in either drop ceiling, hung as a pendant, or alternatively surface-mounted.