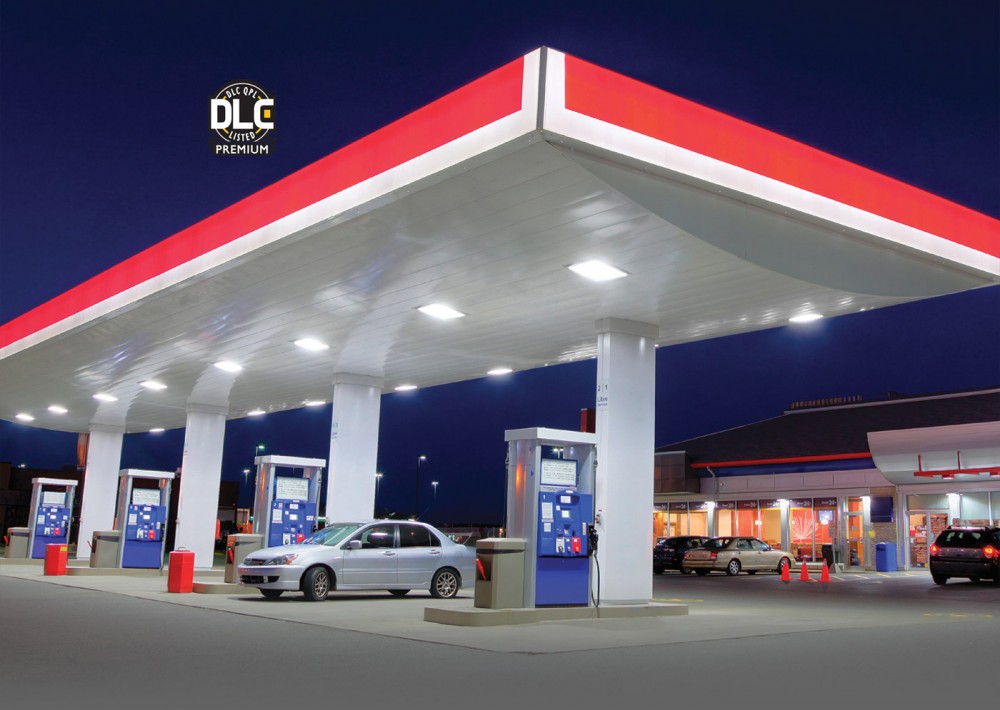 The MASI LED gas station canopy light delivers today's best-in-class solid state lighting technology and retail petroleum lighting design you've come to expect from RAB Lighting. The semi-recessed, low profile light fixture is designed for installation in canopies with single-deck construction which are commonly found in gasoline service stations, drive-thrus and other applications that must adhere to strict height restrictions. This IP66 rated gas station fixture equilibrizes the technical needs of a sophisticated canopy lighting system with the engineering demands of a robust outdoor fixture facing year round aggressive environment. Whether it's new construction or replacing traditional HID fixtures, MASI is doomed to impress with its sleek architectural aesthetics that enhance any canopy appearance as well as unbeatable value.
Available in two sizes (16" x 16" and 20" x 20"), the gas station light fixture features an extremely low, 1.5" profile which helps maximize vehicle clearance. MASI is designed for standard 4-inch hole installations in new construction projects and also accommodates retrofit installations in openings from 4 to 6.5 inches in diameter by making use of an optional retroplate. Installation is completed from the top of the canopy by inserting the wires and mounting stem on the MASI, bolting the junction box to the stem, wiring the fixture and latching the cover to the junction box. A pair of stiffening brackets prevent deck sagging. The fixture is designed with discreet weep holes that prevent water from collecting on fixture.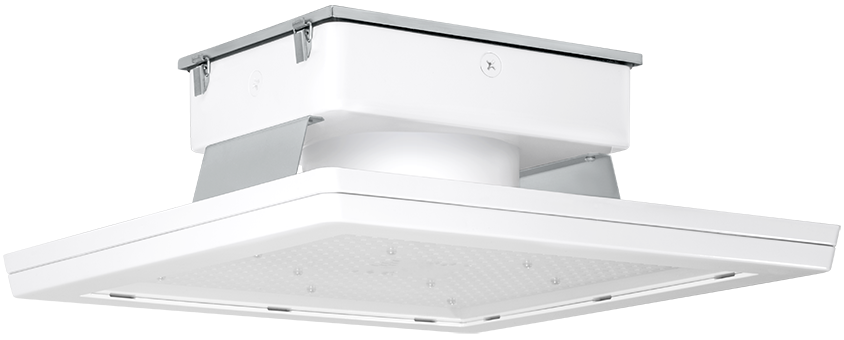 The 16" x 16" MASI LED canopy fixture is offered in 52W, 80W, and 100W power packages which offer replacements for 100W - 250W metal halide fixtures in typical canopy applications with mounting heights from 10' - 16'. The 20" x 20" fixtures which are available in 160 and 200 watts provide one-for-one replacement for 320W - 400W metal halide fixtures. These figures are designed for use in canopies with higher mounting heights from 16' to 24' for applications such as industrial fueling stations and truck stops along major roadways. MASI is equipped with high-efficacy surface mount LEDs which deliver high lumen output in a choice of color temperatures including 5000K cool white, 4000K neutral white, and 3000K warm white. These LEDs fall within a single 7-step MacAdam ellipse to ensure color consistency from fixture to fixture. The mid-power LEDs are driven well below the maximum allowable limits, on both drive current and junction temperature, to prevent the LEDs from premature failures and performance degradation.
The high performance LEDs are operated by a constant current driver that accepts a universal input from 100V to 277V, 50/60 Hz. The driver features an exceptionally high power factor (99.9% at 120V, 94.4% at 277V) and an extremely low total harmonic distortion (4.7% at 120V, 11.8% at 277V). High efficiency load regulation enables MASI to achieve a high system luminous efficacy of up to 144 lm/W, which translates to significant energy savings by up to 72% when compared with HIP lamps. MASI exceeds the efficacy requirement of the Design Lights Consortium (DLC) and qualifies for the highest tier of utility rebates available. The driver includes dimming control wiring for 0-10V dimming systems, enabling direct integration and operation with standard dimmers and light management systems for maximum energy savings. Solid state circuitry gives MASA excellent cold weather starting performance. The gas station light fixture can operate to its full specifications in ambient temperatures as low as -40°C (-40°F).
A rugged die cast aluminum housing with stainless steel cover gives MASI exceptional durability. The flat LED assembly is mechanically attached to the aluminum housing in maximum thermal contact. The heavy duty aluminum housing provides high capacity heat sinking that ensures an extraordinarily long service life of 100,000 hours, meaning there's virtually no maintenance or re-lamping for 27 years. The UL wet location rated fixture is built to survive even the harshest environmental conditions and exposure to high, repeated vibration. A tempered glass lens protects LEDs with high-temperature silicone gasketing to resist ingress of dust, dirt and humidity. The aluminum housing receives an environmentally friendly polyester powder coating finish for superior outdoor weathering in all conditions.