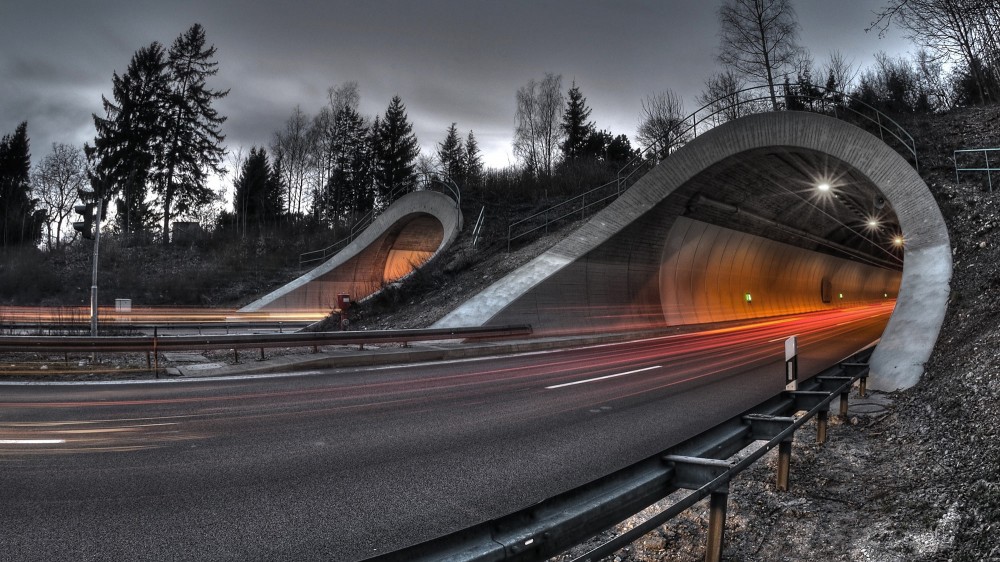 Designed to address the challenging and highly specialized needs of tunnel lighting, the Galileo EB Series LED tunnel lights from AEC Illuminazione Srl offer tunnel owners and operators a performance engineered, energy efficient and sustainable solution. Whatever your project requirements, whether it be a short urban underpass, a long through-mountain tunnel or an undersea mega-tunnel, AEC's state-of-the-art LED technology and unrivalled expertise in road and tunnel lighting guarantee its thoughtfully engineered lighting systems to deliver high quality illumination from the tunnel's entrance through to its exit, with minimal luminaire maintenance over the products' incredibly long lifespan.
Compared with other outdoor lighting projects, tunnel lighting is a far more technical and complex application. Tunnels present a particularly strenuous environment. Corrosive laden environments and aggressive temperature conditions are common. Tunnel lights are subjected repeated vibration caused by moving heavy commercial vehicles. 24/7 lighting is required while maintenance access can be limited. These are not the end of the list. Sky luminance, daylight penetration, solar and tunnel orientation should be taken into account to achieve eye adaptation. Then there's the feeling of comfort and safety. Glare and flicker must be controlled to provide the right degree of visual comfort, avoid driver disorientation and eye strain. The Galileo EB Series LED tunnel lights are built to withstand the rigors in tunnels whilst delivering a great driver experience and offering tunnel owners and operators unbeatable value with a competitive total cost of ownership.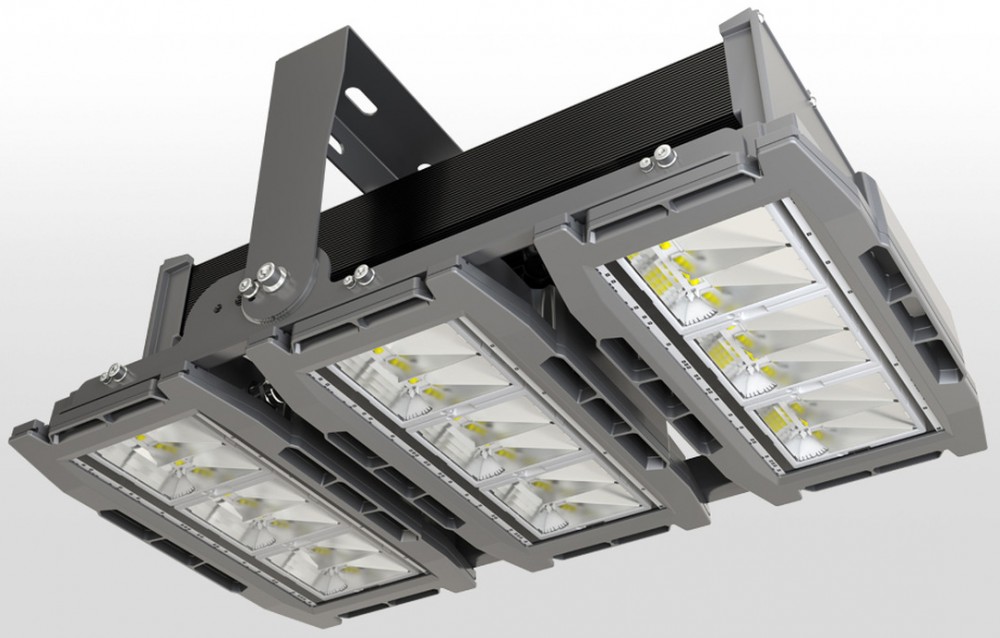 The Galileo EB Series consists of three models which are categorized according to the quantity of modules (1-3). Each model has a huge selection of variants distinguished by optics, drive currents and power consumption. The wide range of specifications allows the Galileo family to accommodate various project needs and meet specific lighting requirements of each zone within a tunnel. With rated system power ranging from 40W to 450W, the light output of the Galileo EB Series can be scaled from 1700 lumens to 51310 lumens with the correlated color temperature in 5700K (4000K optional) and a 70 CRI. With luminaire efficacies as high as 136 lm/W, Galileo LED luminaires deliver energy savings up to 50% over HPS and an impressive reduction in CO2 emissions. AEC's warrantied L90/B10 specification with 100,000 hours means the lamp lumen depreciation (LLP) issue that obsesses legacy lighting technologies is no longer a concern. Therefore tunnel owners can capitalize on the significantly extended relamping cycle.
Galileo's modular design even makes the term "relamping cycle" virtually obsolete by eliminating the need for the whole luminaire to be replaced after the rated lifespan. The modular system not only allows a wide diversity of luminaire configurations, but also facilitates modification, upgrade or change in photometric or electrical properties as LED technology advances or lumen output depreciates over time. The optical and electrical components can be effortlessly accessed and serviced with hassle-free on-site wiring, making inspection and maintenance quicker and easier. Isolated power supply promotes convective cooling of the LED modules while preventing heat buildup on the driver circuitry. In integrated LED luminaires the light source produces thermal stress on its neighboring electrical components and may compromise components life. This future-proof design adds great system reliability, upgradability and scalability.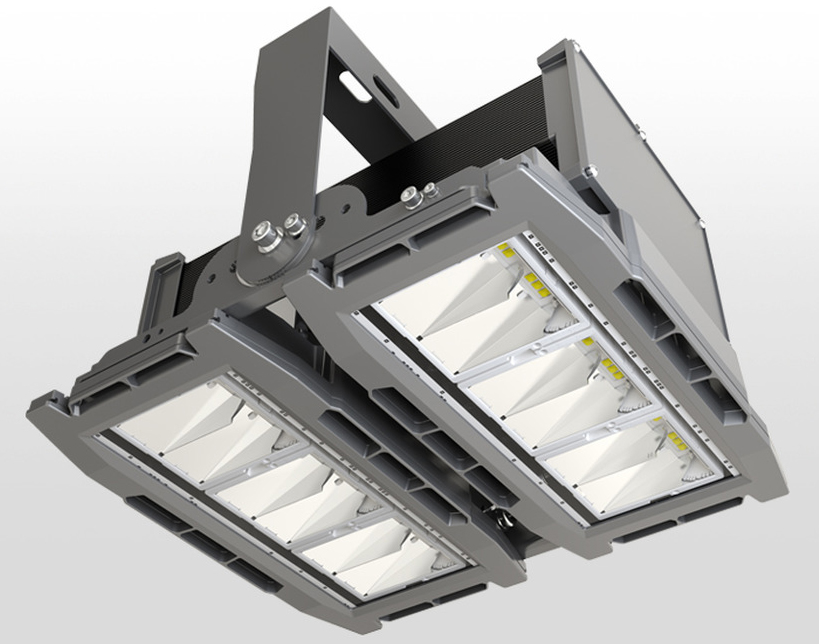 The self-contained LED modules are constructed from low copper die cast aluminum for a durable construction as well as high efficiency heat sinking across the full LED assembly. The heavy duty aluminum housing and heat sink synergistically provides superior passive thermal management so critical to long LED system life. High performance LEDs are reflowed onto a metal-core printed circuit board (MCPCB) using an advanced surface mount technology (SMT) process to form high strength solder joints. These robust interconnects use creep resistant alloys to maintain solder joint integrity over a long time and limit the amount of strain energy buildup. For high power LED applications, solder joint performance could be a primary factor that affects the final lifetime of the products. The ability to survive stressful thermal cycling from high drive current operation ensures a reliable, efficient thermal conduction path that starts from the LED junction through to the ambient environment. Strong metallurgical bonding of the solder alloy reduces the risk of open circuit failure caused by vibrations.
Galileo takes advantage of AEC's proprietary Comfort Light Optic (CLO) technology to achieve industry-leading optical performance. The CLO system features a hybrid light transmission mechanism which combines direction emission, light refraction and reflection to obtain maximum optical efficiency, high uniformity and improved vertical light distribution. Individual groups of LED packages are recessed in sloped cells of the optical chamber. The optical cell that works as a light reflector and refractor is made of 99.85% aluminum with a 99.95% aluminum surface finish deposited using vacuum deposition process. Excellent reflectance and inventive optical control give birth to a sophisticated optical system that maximizes lumen delivery, produces uniform photometric distribution, and provides maximum pole spacing and exceptional glare control. Galileo LED luminaires are available with symmetrical and asymmetrical optics for symmetrical or counterbeam tunnel lighting.
The LED driver for the Galileo EB Series comes standard with a rated voltage of 220 240V, 50/60 Hz (standard tolerance +/-10%, other voltages and tolerances are available upon request). The constant current driver provides power factor correction (PF > 0.9) to maximize the efficiency of the power grid while suppressing the harmonic current which could results in higher temperatures in neutral conductors and distribution transformers. Full set of protection features including overcurrent, short-circuit, overvoltage and over-temperature protections ensures the highest reliability. The luminaire is protected by an SPD device that can withstand peaks and surges of up to 10 kA / 10 kV. A thermo fuse is incorporated to disconnect load at the end of SPD life. The driver and other electrical components are housed in a waterproof enclosure which is fixed by two die cast aluminum end caps. The driver box is mechanically interfaced with a low profile aluminum gear tray which provides a quick-disconnect terminal for AC mains input through waterproof cabling.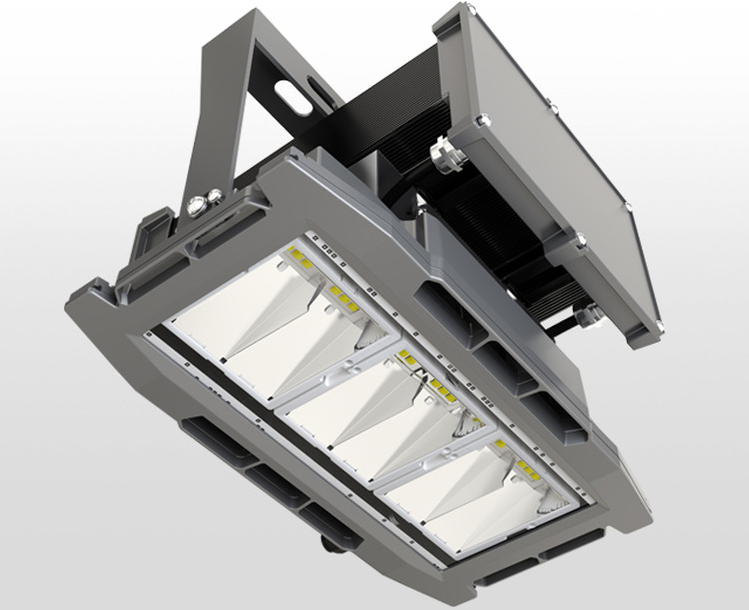 A host of lighting control options enable AEC to tailor-make a tunnel lighting system to your specific project requirements. Galileo can be operated/controlled in one of these modes or protocols: F (fixed out), DB (dual power with control wire), DALI (Digital Addressable Lighting Interface), PLM (power line single point communication system), and FLC (constant light flux). For tunnels with large installations of luminaires, networked lighting control allows dynamic adjustment of light output to meet the different illuminance requirement of all zones by taking into consideration the factors affecting eye adaptation. The threshold zone, for example, requires a high luminance value during daytime to make smooth visibility transition from daylight to artificial light. During nighttime the light intensity could be dimmed to match the roadway lighting outside the tunnels. Within a tunnel, luminance levels of the transition zone could be gradually decreased until the interior zone level is achieved. AEC's application-based lighting control solutions offer the flexibility needed for highly adaptive tunnel lighting while maximizing energy efficiency to a maximum.
The Galileo LED tunnel luminaires stand strong even in the harshest tunnel environment. The rugged, IK08 rated module and driver enclosures provide excellent protection against mechanical disturbances. The optical assembly is protected by a 4mm thick tempered glass with very low dirt depreciation. The gasketed luminaire has undergone rigorous testing to ensure high degree protection against ingress of dust, dirt and humidity. These tunnel luminaires come with an IP66 ingress rating which means they are high pressure washable. The exposed aluminum surfaces are electrostatically sprayed with a polyester powder paint coating, following a multi-stage cleaning, pretreatment and chemical conversion coating process to ensure high corrosion resistance and maximum paint adherence. All exposed screws are made from AISI 304 (AISI 316L optional) stainless steel and come with plastic spacers to avoid galvanic corrosion. Heavy duty brackets are provided for surface or bar mount.