The D-Series LED area lights from Lithonia Lighting, a member of the Acuity Brands, interweave form and function to provide a solution that stays at the forefront of energy efficiency, lighting performance, design sophistication, and value creation. Lithonia's luminaires are a leap forward in modern area lighting technology, transcending the old-school LED shoebox lights in architectural aesthetics, optical control, application versatility and systematic cost reduction through value engineering. Outstanding photometric performance results in projects with excellent uniformity, efficient light pollution control, greater pole spacing and lower power density. With a built-to-last system driven by sustainable LED technology, the D-Series LED luminaries provide multifold benefits beyond high quality illumination. The A+ capable luminaires have been designed and tested to provide chromatic consistency and system-level interoperability, which means you get world-class LED lighting and controls technologies with the peace of mind only Acuity Brands can offer.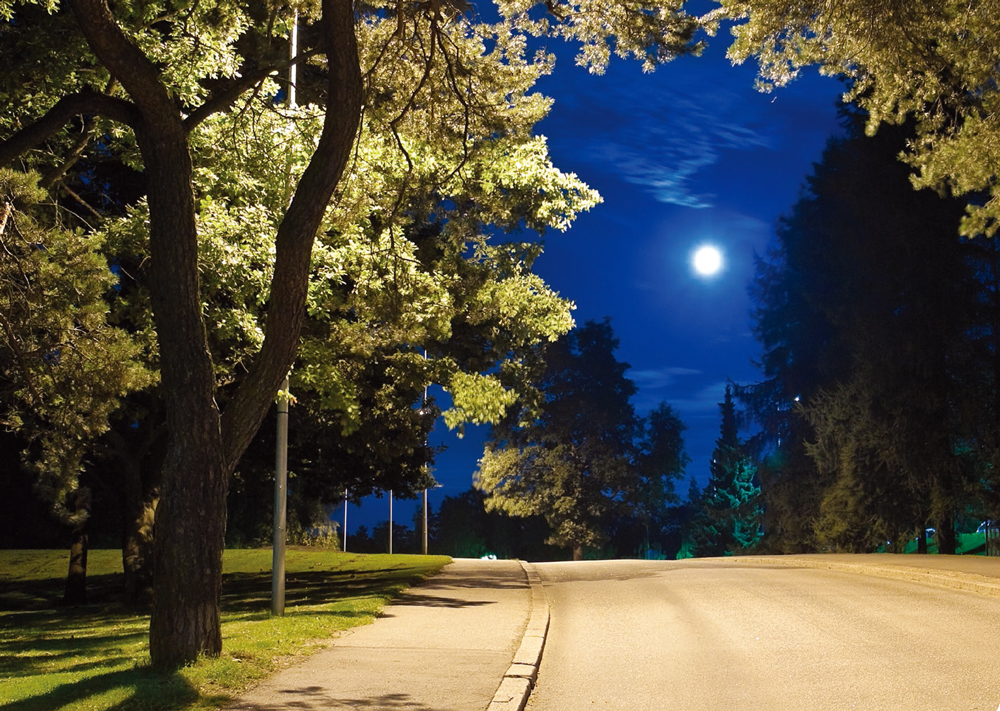 Lithonia's D-Series offers unparalleled variety in three families of products which are thoughtfully designed to illuminate every scale of sites from pedestrian walkways to parking lots and commercial plazas. Pedestrian in scale only, the Size 0 LED luminaires are used on urban sidewalks, building perimeters, precincts, pathways, town or village streets, residential neighborhoods, campuses, boulevards with luminaire mounting heights between 8-15'. The D-Series Size 1 and Size 2 LED luminaires are urban-scale area lights that accommodate mounting heights between 15-25'. The Size 1 luminaires are designed to replace 250-750W metal halide fixtures that are installed in parking lots, pedestrian streets, urban plazas, tennis courts, basketball courts, and residential complexes. Producing up to 51,800 lumens for an equivalent output of 1000W metal halide products, the D-Series Size 2 embodies the definition of power and performance. This family of area luminaires is specifically designed for car dealerships as well as large parking lots adjacent to airports, transit stations, commercial plazas, and other big-box retailers.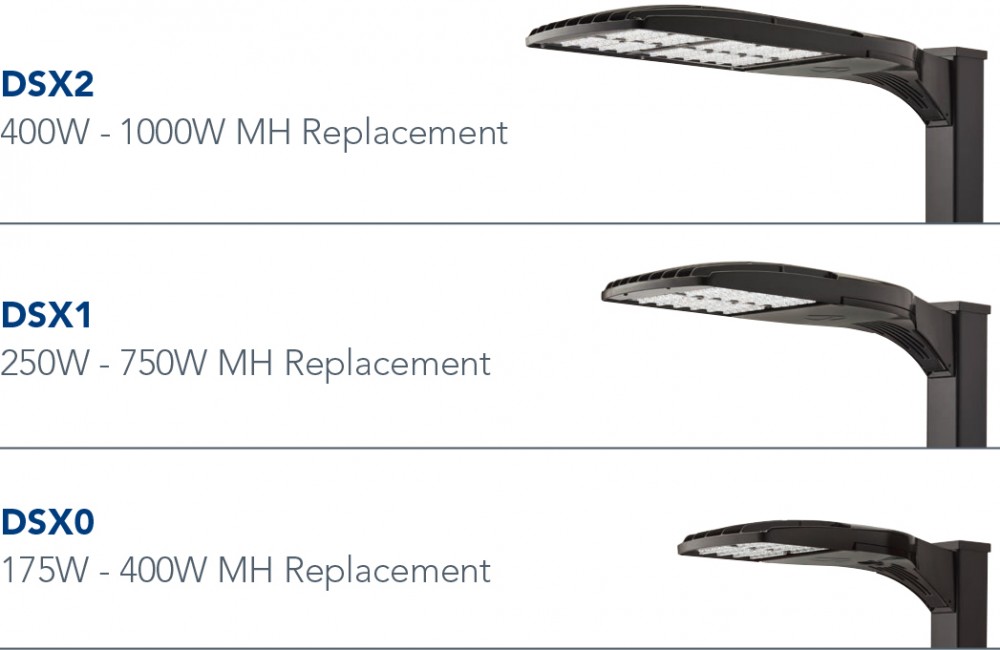 The scalability of lumen packages from 2,600 to 19,400 lm for Size 0, 3,900 to 29,000 lm for Size 1, and 10,700 to 51,800 lm for Size 3 provides maximum flexibility in all types of area lighting applications. The D-Series exploits the possibilities of LED technology to the full through a total systems approach which integrates the most advanced LED sources, driver technologies, and optics to set the industry standard rather than follow the industry trend. The modular LED system incorporates 20-100 thermally optimized, high flux density 70 CRI SMD LEDs with the correlated color temperature available in 3000K, 4000K, 5000K and AMBPC (Amber Phosphor Converted) options. The D-Series features luminaire efficacies as high as 140 lm/W, which translates to energy savings of up to 80% vs. comparable HID luminaires. Together with 20+ years expected service life and excellent lumen maintenance up to L99/100,000 hours (25°C ambient), Lithonia's area luminaires deliver a market leading financial payback. This Series is also available with DesignLights Consortium® (DLC) Premium qualified models and DLC qualified models, which allow you to take advantage utility rebates or incentive programs for maximized return on investment.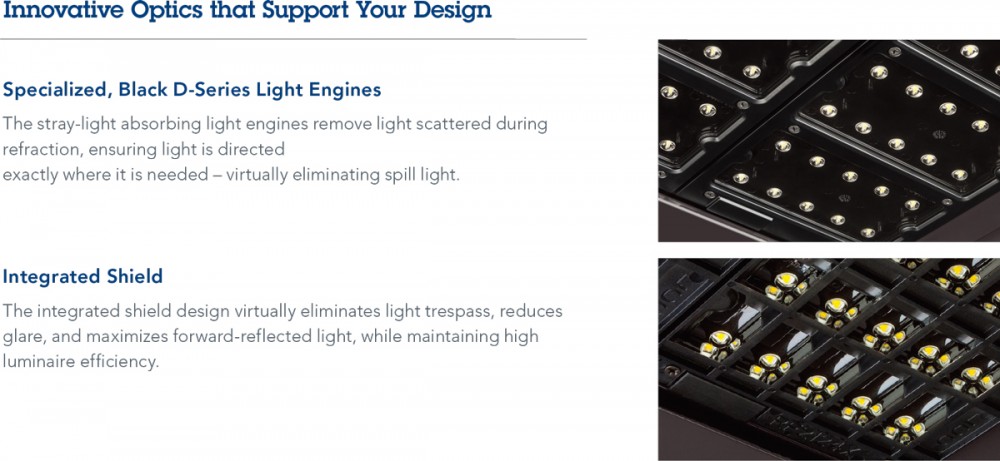 All LED luminaires are not created equal. Lithonia's D-Series LED luminaires offer even the most discerning specifiers, architects and buyers everything they need to handle the challenges of the optical design of an area lighting project. Engineers in Lithonia take great pride in D-Series' cutting edge optical design that addresses efficiency, uniformity and environmental issues. This range of products provides lighting designers and architects with an extremely adaptable area lighting solution with an abundance of optical distributions including Type I short, Type II short, Type II medium, Type III medium, Type IV medium, Forward throw medium, Type V very short, Type V short, Type V medium, Type V wide, Backlight control (BLC), Left corner cutoff (LCCO), and Right corner cutoff (RCCO). Precision-molded proprietary acrylic lenses provide exceptional light control, coverage and uniformity. These highly refractive acrylic lenses are UV stabilized to maintain long lasting optical clarity. Superior resistance to gradual discoloration under prolonged sunlight exposure ensures the high efficiency optical system is exempt from lens-induced color shift.
Integrated optical engineering yields a product that conforms to the most stringent industry standards on neighborhood-friendly outdoor lighting. The Nighttime Friendly luminaires which are equipped with Lithonia's Extreme Cutoff Optics (BLC, LCCO, RCCO) provide precise light distributions consistent with the Leadership in Energy and Environmental Design (LEED®) green building program and Green Globes criteria for eliminating wasteful uplight. To earn LEED point for outdoor lighting (V4) the luminaire must be engineered to meet strict light trespass requirements. Conventional backlight cutoff methods do not provide sufficient spill light control. The giant bolt-on shields are not aesthetically attractive and create enormous wind loading on the pole. Other shields like the repurposed dryer vent only work in some applications. The D-Series uses innovative backlight control and corner cutoff optics to eliminate offsite visibility and on-site glare. Black masked engines remove light scattered during refraction. The integrated shield design virtually eliminates light trespass and maximizes forward-reflected light. As a result, the light trespass behind the luminaire is thoroughly controlled. The corner cutoff optic enables pole mounting in the corners without producing light spill behind, and on one side of the pole.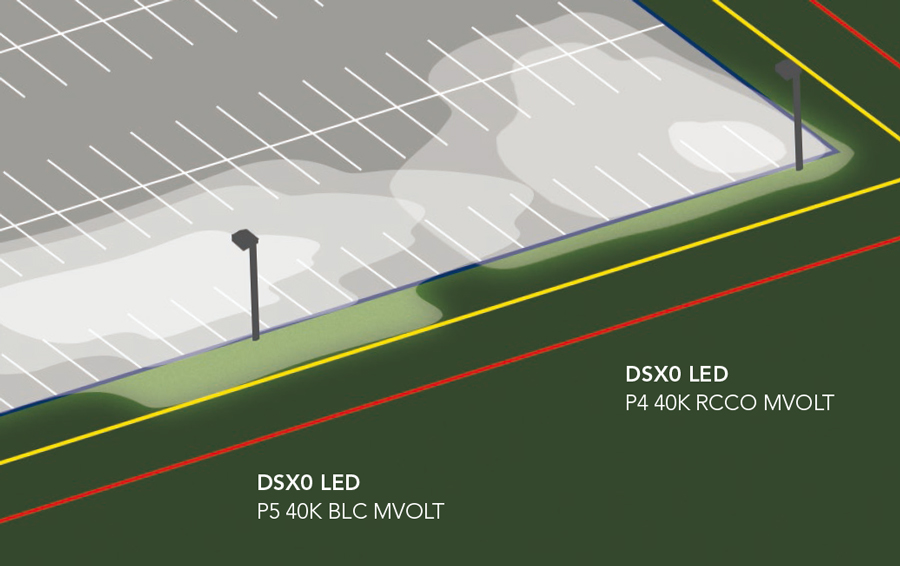 With its distinctive design language, the D-Series lends a sophisticated daytime appeal to the surroundings. Unlike shoebox-style lights which are bulky, heavy, and have high wind resistance, the compact and sleek luminaire has a very low Effective Projected Area (EPA) which minimizes wind load requirement and offers significant savings on poles, trenching and installation costs. The low profile, modern design of the luminaire was not blindly conceived, nor did it sacrifice the luminaire's thermal performance and durability. The single-piece die-cast aluminum housing with integral heat sink fins provides air convection and conduction that prevent the LEDs from phosphor thermal degradation and keep the driver cool to ensure longer life, higher delivered lumens and superior color stability. The heavy duty housing and other exterior parts are protected by a textured or non-textured, zinc-infused super durable TGIC thermoset powder coat finish that provides superior resistance to corrosion and weathering. A tightly controlled multi-stage cleaning, pretreatment and chemical conversion coating process ensures a minimum 3 mils thickness for a finish that can withstand extreme climate changes without cracking or peeling. The luminaire is completely sealed against moisture and environmental contaminants to an IP65 ingress protection rating.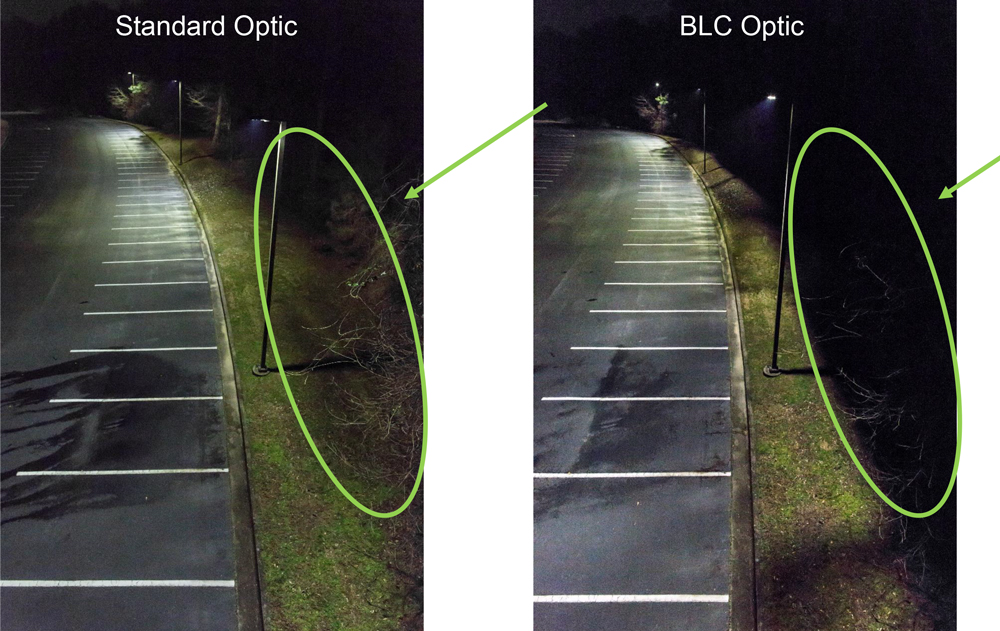 The D-Series LED area light has a built-in Class 1 electronic driver that operates on line voltage 120V, 208V, 240V, 277V, 347V, 480V, or MVOLT (120-277V). The driver has a PFC circuit that maintains high power factor (PF > 0.9) while suppresses the harmonic current for a low THD of less than 20%. The driver is built to match the long lifetime of the LEDs with a life expectancy of 100,000 hours and less than 1% failure rate. An easily-serviceable 10kV surge protection device that meets a minimum Category C Low operation (per ANSI/IEEE C62.41.2) protects all downstream electronics from electrical disturbances such as nearby lightning strikes. The driver can be integrated with various controls to maximize energy savings. Acuity Controls offers a suite of control options including standalone daylight harvesting photocell, switched bi-level, part-night scheduled dimming, multi-level motion sensor, and ROAM® wireless monitoring and control. Implementing multiple levels of control strategies with innovative and practical solutions from Acuity Brands enables highly automated lighting management which helps reduce energy consumption by as much as 45%.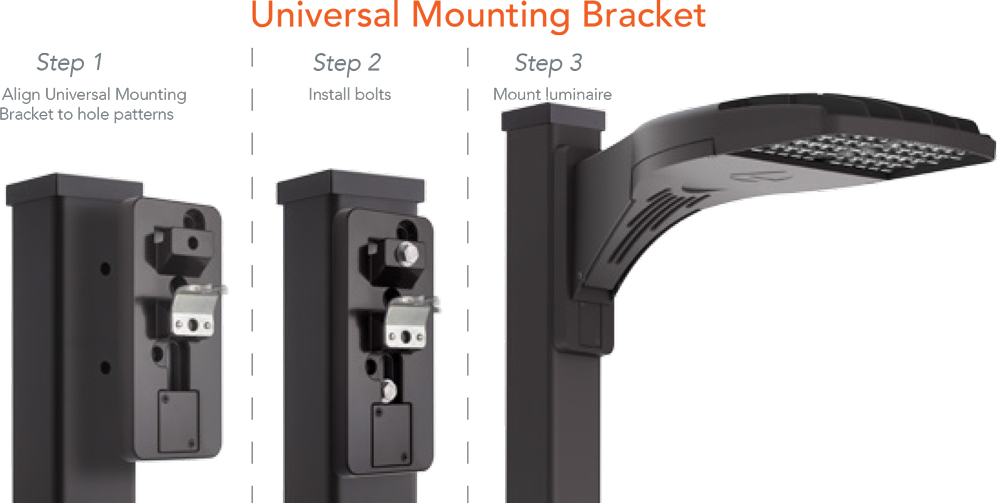 The luminaire is shipped with a mounting block and integral arm which are designed to facilitate quick and easy installation. Stainless steel bolts fasten the mounting block securely to poles and walls to ensure that the luminaire is able to withstand up to a 3G vibration load rating per ANSI C136.31. The D-Series utilizes the AERISTM series pole drilling pattern. Optional mounting accessories include universal mounting brackets, square/round pole mounting, wall brackets, square/round pole universal mounting adaptors, mast arm mounting bracket adaptors. The universal mounting bracket allows for hassle-free installation of Lithonia LED area luminaires on existing poles without the need for drilling.