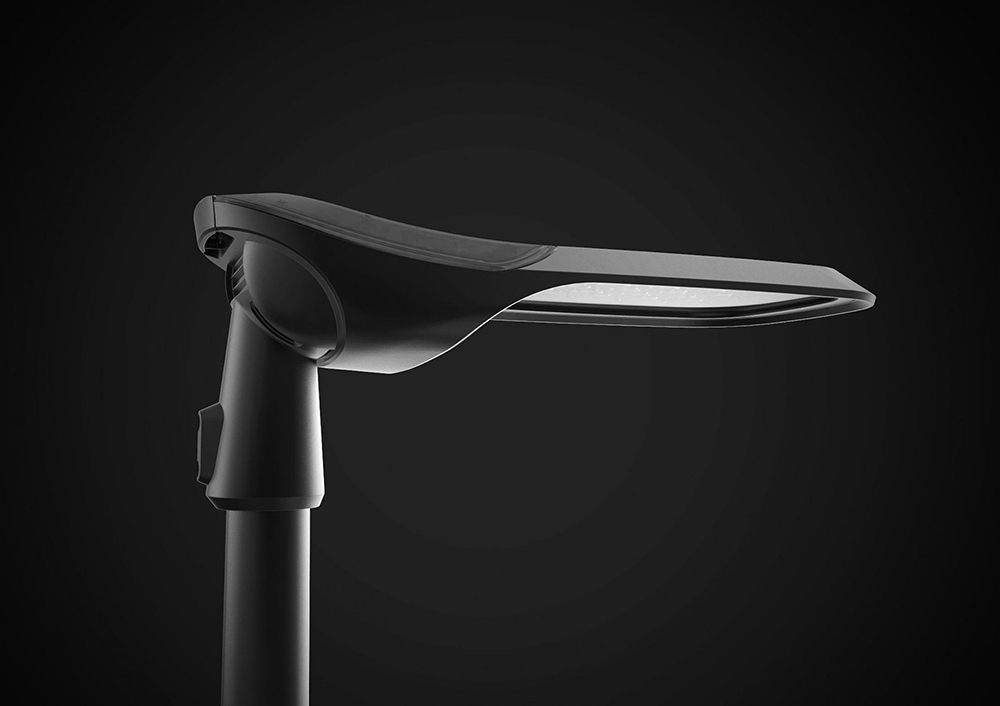 Sustainder Alexia, an IoT-ready LED street light that won the 2018 German Design Award, integrates intelligence and network connectivity into a high-performing lighting system that utilizes the latest LED technology and state-of-art optical control. Alexia makes best use of the unique qualities inherent in solid state lighting and harnesses the power of sensor technology. Designed and engineered through a total systems approach, Alexia provides a future-proof platform that maximizes luminaire performance and system reliability while allowing many intelligent features to be deployed for smart city applications. This luminaire was created to offer exceptional performance and value in a durable construction and modern design, with versatility for a wide variety of area and roadway applications.
The luminaire features a low profile, sleek design that exudes a contemporary appeal and facilitates a cohesive outdoor lighting design for both roadways that carry a large proportion of vehicular traffic and streets with high volumes of night pedestrian usage. Alexia's distinctive look delivers tremendous aesthetic value when the luminaire is used to create daytime visual continuity in areas with a significant number of pedestrians expected to pass by the street light. These areas include boulevards, squares, parks, driveways, bikeways, walkways, sidewalks and other outdoor spaces where light fixtures are within close visual scales of pedestrians. Its aesthetic character shows up well in modern urban settings and can be easily tied into the surrounding architectural style.
Alexia's sleek design is a just byproduct of its sophisticated engineering which aims to provide long life, maintenance-free, and energy efficient operation while delivering superior optical performance. Made from LM6 high silicon aluminum alloy through a high pressure die casting process, the low profile housing exhibits high resistance to corrosion under both ordinary atmospheric and marine conditions. And most importantly, it performs as a high efficiency heat sink that accelerates thermal dissipation. The luminaire's streamlined profile enhances natural air flow for convective cooling and enables natural cleaning and removal of dirt and debris. Excellent thermal performance allows the luminaire to accommodate high density circuit designs and high drive current light engines. The rugged housing also provides impact protection for the electronic circuits and LED modules.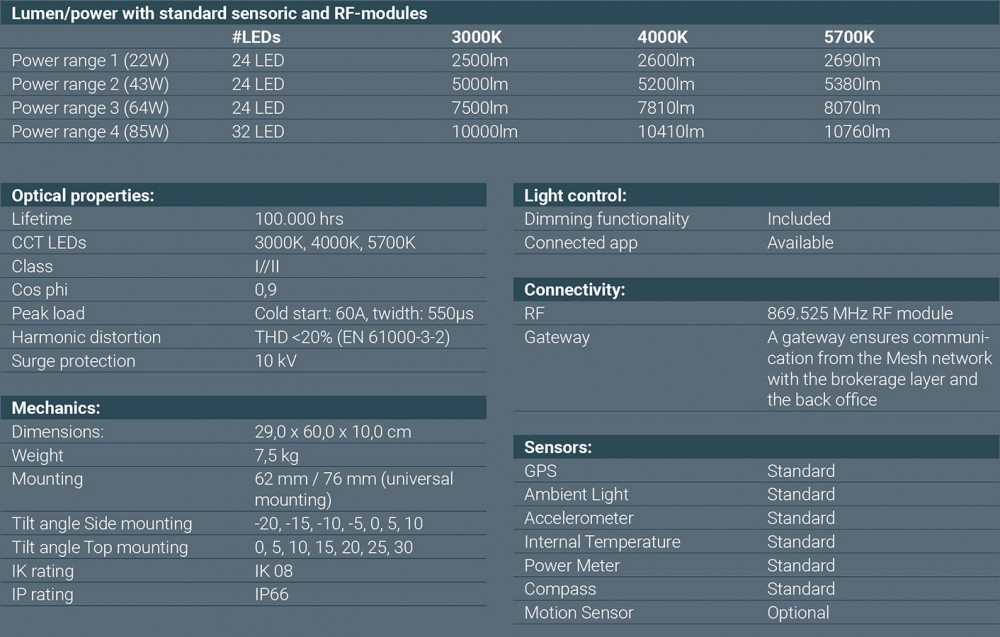 The Alexia family consists of 22W, 43W, 64W and 85W models with lumen packages ranging from 2500 to 10760. Available in 3000K (WW), 4000K (NW), or 5700K (CW) CCT and 70 CRI minimum, these roadway luminaires deliver a system efficacy of up to 126 lm/W, which translates to significantly reduced energy usage as compared to traditional HID/HPS luminaires. High power LED packages are reflow soldered to a multi-core printed circuit board with high thermal conductivity. High performance solder joints provide excellent creep and thermal fatigue resistance that withstands stringent thermal cycling in high power LED lighting. An efficient, reliable thermal conduction path enables integrated thermal management to be executed, thereby reducing failure rates and preventing lumen depreciation and color shift that consequent from thermal degradation. Alexia is rated to deliver constant light output (CLO) throughout full life of the LEDs (100,000 hours).
Alexia offers a complete suite of light distribution options to produce accurate and comfortable visibility at night for 1) heavy vehicular traffic roads that serve as the principal network for through-traffic flow and roadways servicing traffic between major and local streets.; 2) local streets that provide direct access to residential, commercial, industrial, or other abutting property; 3) residential and commercial areas such as streets, shopping centers, cycle paths, footpaths, playgrounds and car parks; and 4) large sites such as industrial parks, ports, airports and stations. Precision engineered LED optical lenses made of high efficiency, UV stabilized polycarbonate produce asymmetric distribution optimized to maximize pole spacing, lumen delivery, horizontal and vertical uniformity while reducing glare to a minimum.
The luminaire has an independent electrical compartment that is purposefully designed to mitigate thermal impact from the optical assembly and allow for easy installation and maintenance of the driver and other electrical components. The constant current driver has a built-in power factor correction (PFC) circuit that maintains high power factor (cos phi > 0.9) over a wide input voltage range (90 - 240 VAC) while suppressing the harmonic current to less than 20%. Default 30%-100% dimming control, connections for external dimming equipment are available upon request. The driver has integral protection against overload, short circuit, as well as intelligent overtemperature protection. A 10kV surge protection device is supplied as standard.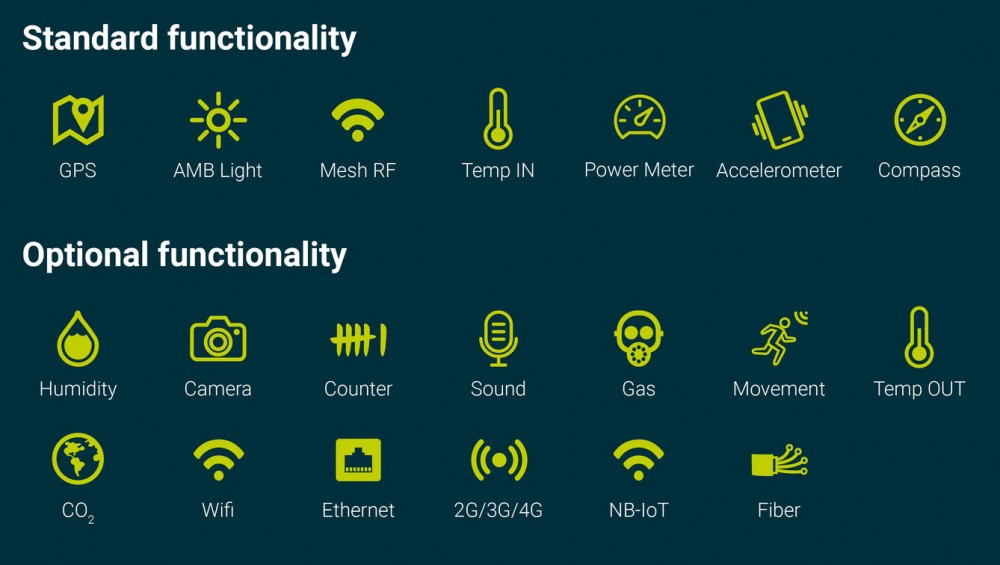 A variety of functional features are incorporated in this luminaire for remote control and monitoring via radio frequency. Standard features including daylight harvesting, GPS positioning, electrical power usage measurement, vibration and tilt sensing, and luminaire temperature monitoring. And thanks to a unique cassette system, it's easy to extend Alexia's capabilities. Sustainder offers additional installation of environmental sensors, video monitoring equipment and network communication devices such as humidity sensors, occupancy sensors, ambient temperature sensors, video surveillance cameras, sound and intercom systems. Alexia sends and receives data through the wireless mesh network using an integrated RF module that operates at 869.525 MHz. WiFi, 2G, 3G, 4G, Ethernet, and narrowband IOT (NB-IoT) connectivity can be integrated into the Alexia street lighting systems.
Thanks to its open architecture, the Alexia luminaire can be connected to all back-office systems using an API. The high profile feature enables remote configuration and commissioning, real time network mapping and sophisticated fault detection. This can significantly reduce the operating and maintenance costs, and eliminate time spent on nighttime patrols to identify malfunctioning lights in remote, hard-to-access areas. Now this feature has been made even easier with the Sustainder Lighting App. Installation engineers and network managers can use the app to optimize luminaire settings as well as perform elementary lighting control such as remote on-off control, dimming, and scheduling functions. In conjunction with sensors that monitor local conditions, the networked street lighting systems can provide adaptive lighting for maximal energy savings and improved safety and security.
Featuring an adjustable fitter, Alexia supports both pole top and side entry mounting. The luminaire is designed to accommodate 60mm or 76mm O.D. tenons. The pole top mount luminaire can be tilted 0-30° in 5° increments. The side entry version can be tilted -20° - +10° in 5° increments. Tool-less entry of electrical compartment allows for easy installation and field maintenance. The wet location rated luminaire is fully sealed to prevent ingress of dirt or moisture (IP66). The cast aluminum housing receives a RAL 2100 TGIC polyester powder coat finish which is electrostatically applied and thermocured after a multi-stage pretreatment process to ensure excellent corrosion resistance while providing optimal color and gloss retention.