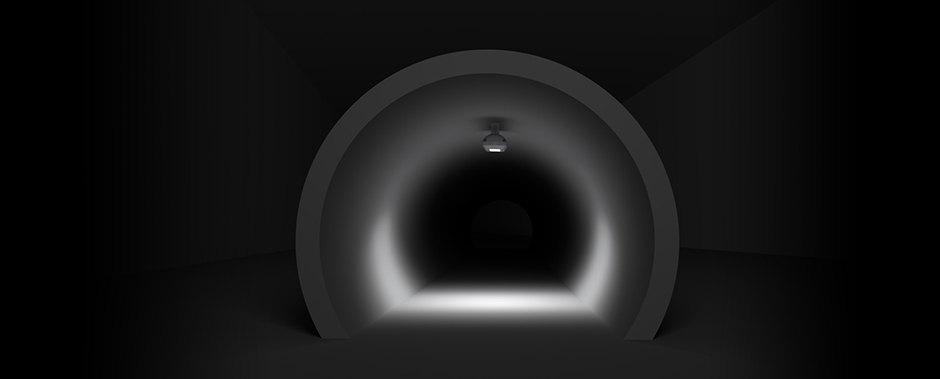 The JRE6 Series LED tunnel lights from Jingri Lighting are ceiling mounted symmetric lighting systems designed to deliver easy eye adaptation and excellent visibility. Its linear design offers minimized light/dark transitions, making the luminaire superior to conventional tunnel lighting systems in terms of longitudinal uniformity of the lighting on the road surface. The JRE6 series is specially designed to address the complex and highly specialized needs of tunnel, underpass and other underground passageway. Through superior optical engineering and industrial design, JRE6 delivers dependable, high quality and energy-efficient illumination that optimally fulfills the demands of different customers including contractors, operators and owners.
Thanks to its modular design, the tunnel lighting system can be scaled from 18 to 54 LEDs and from 525 to 850 mA for the ultimate flexibility to fit to almost all application requirements on light intensity. This sustainable modular design provides for a future proof product that not only gives end-users an amount of options and customizations, but also facilitates field maintenance and fixture upgrades. The modular family is available with a choice of nine different LED engine specifications that allow scalability from 3350 to 18420 delivered lumens. The excellent optical performance is delivered by Cree/Osram LEDs which produce high quality light with precise optics to achieve enhanced light distribution. With high density LEDs and high performance regulations from high efficiency Mean Well/Inventronics LED drivers, JRE6 provides an industry-leading combination of lumen output and efficacy.
The JRE6 LED tunnel lights are built to last with their failsafe system reliability and rugged construction. The modular LED engines are mounted to a heavy duty die cast aluminum housing which provides excellent thermal performance as well as structural stability. The streamlined geometry guarantees a low density of dirt, maintaining product performance uncompromised in dusty environment that is typical of tunnels. The light engines and LED driver are fully sealed against penetration of water and dust. They are integrated into the luminaire with a high resistance to shocks and vibrations. The aluminum housing undergoes an intensive pretreatment process for excellent resistance to corrosion, ultraviolet degradation and abrasion with an electrostatically applied polyester powder coat finish.
Product features
Streamlined, low dirt depreciation design..
Modular design offers scalability, serviceability and upgradability.
Durable, rugged construction with high shock and vibration resistance.
Precision engineered optics provide high uniformity and glare-free symmetric photometric distributions.
Superior thermal management for consistent LED spectral and electrical performance.
Cree/Osram LEDs with industry-leading efficacy, lifetime, and reliability.
LED driver with failsafe protection against damage caused by overcurrent, short-circuit, overvoltage and overtemperature faults.
Heavy duty, on-site adjustable mounting bracket.
IP66 ingress protection.