A
downlight
(also called a recessed light, canister light, or can light) is a light fixture that is installed in a ceiling, in a way that the light source is recessed above the plane of the ceiling. The use of downlighting has expanded recently due in part to a flexibility of use of the wide selection of available downlighting luminaires and also the ability to apply downlighting in a range of environments which require either general lighting, task lighting, accent lighting and similar including combinations thereof. Downlighting provides a flexibility inaccessible with many other categories of lighting attributable to the ability to employ an assortment of fixtures designed for downlight purposes to lighting situations covering anything from ambient to accent to wall-washing and the like. The very nature of downlighting allows for the luminaires applied to be comparatively unobtrusive since downlighting luminaires are generally recessed in a ceiling.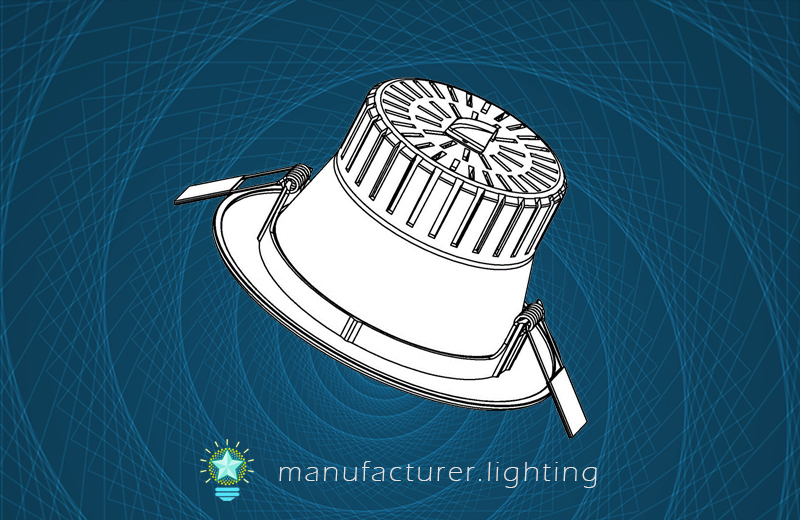 The vast majority of collimated downlighting illumination systems are recessed in a false or lowered ceiling at the same time variants may be embedded in a wall or carried by a framework that is attached to a solid ceiling. Such downlighting systems are very desirable on account of the flush mounted complement the ceiling and their deployment have become prevalent in commercial lighting applications. In "downlighting" situations, lighting fixture assemblies are nestled above the ceiling or sub-ceiling of a room with major portions of the fixtures being covered by the ceiling, the fixtures themselves therefore being unobtrusive while delivering efficient illumination within the environmental space underneath an aperture in the ceiling whereby light is directed from lamping carried by the fixtures. Downlighting luminaires must be functional and efficient and so be capable of those usual features associated with downlighting luminaires, for instance, efficiency, ability to dim, production of usable light, advantageous spacing, etc.
Recessed lighting fixtures or downlights have become ever more popular in today's homes and businesses. One reason for the increased application of recessed lighting fixtures or downlights is because they can satisfy an array of interior lighting requirements considering they are more than simply functional, but also aesthetically pleasing. Downlighting luminaires offers a decorative function in combination with particular lighting functions thanks to a variety of options involving design features of the luminaires themselves together with characteristics of the illumination produced by downlighting luminaires of particular configurations. A downlight therefore may be used with practically any decoration scheme to accomplish varied lighting tasks including highlighting of particular decorative or functional elements within the environmental space or combined with other downlights and/or other lighting to provide general illumination within the space. Decorative downlighting luminaires making distinctive illumination such as colored lighting effects can advantageously be applied to tie or complement a color pallet employed by an architect or interior designer and to create one-of-a-kind environments such as in upscale offices, gathering places, and corporate lobbies..
Downlighting illumination systems are designed particularly around the type of illumination light source used for example incandescent lamps, halogen lamps, compact fluorescent lamps (CFLs), high-intensity discharge (HID) lamps and more recently light emitting diodes (LEDs). A large number of downlighting systems currently implement CFL lamp technologies because of improved lumen per watt characteristics as opposed to the incandescent bulb. Nevertheless, CFL lamps are inherently an omnidirectional light source producing light in all directions (with the exception of where the electrical connector attaches to the body of the gas filled tube) and this ends up with a significant loss of light when utilized within a downlight system. The advantages of LED lighting technology have drawn the interest of commercial and residential consumers.
LED lighting
provides
advantages
including a reduction in power requirements, longer lifespan significantly less environmental waste. Further, LED lighting is considered to provide enhanced aesthetics. This has contributed to a rise in the selection and installation of LED lighting in new construction, and, also, the replacement of traditional light fixtures with LED fixture retrofits in existing building infrastructure. Downlights based on LEDs which are inherently directional light emitting sources features significant LOR (Light Output Ratio) advantage over CFL based systems as the light emitted from LEDs are often in a beam angle range from 10 degrees to 140 degrees.
The light fixture includes a housing or "can" within which an LED module is installed. The LED module can include one or more LEDs installed to a common substrate. The housing is commonly a cylindrical thermally conductive body fabricated from, as an example, die cast aluminum. The LED module can be thermally coupled to a heat sink designed to transmit heat from the LEDs. The housing also operates as a heat sink and dissipates heat generated by the light source. To increase heat radiation from the downlight and consequently increase cooling of the light source, the housing can include a number of latitudinal spirally extending heat radiating fins centrally located towards the base of the housing. The heat sink can have any of many different configurations. Each fin can include a radial portion that elongates from the core member, and a straight portion that furthermore extends straight from the radial portion. To further increase the radiation of thermal energy, the outer surface of the housing can be processed to improve its emissivity such as painted black or anodized. The LED module may be attached to a circular shaped MCPCB (metal Core Printed Circuit Board) which includes a layered structure characterized by a metal core base, typically aluminum, a thermally conducting/electrically insulating dielectric layer and a copper circuit layer intended for electrically connecting electrical components in a desired circuit configuration. Additionally the thermally conductive PCB may be constructed from a MCPCB, direct bonded copper (DBC) substrates, insulated metal substrate (IMS) or a ceramic substrate.
LED downlights
may generally be operated by control circuitry which includes an AC to DC converter due to the fact power is supplied to the device as AC voltage. The conversion circuitry (which may employ a transformer and one or more solid state electrical elements, like diodes and one or more transistors) may be externally connected or can be included inside the downlight.
Further, an LED downlight typically contains a reflector and a diffuser to direct light emitted from the LEDs. A reflector housing can be installed substantially around the LED light source for reflecting, refracting, transmitting, or diffusing light. The reflector is produced with a reflective material, such as aluminum or silvered plastic. The reflector housing can be joined together to the heat sink and/or the can to perform the duties of a secondary heat sink for the LED module. The actual shape of the reflector can be determined by a number of factors, including the size and shape of the light source, the size and shape of the aperture opening, and also the needed photometric distribution. The shape of the reflector in conjunction with the diffuser and LED array size, array configuration, and relative location of the array with other optical components generates a specific beam spread. The beam spread establishes the coverage of a single lighting unit in addition to the spacing and quantity required when a plurality of such units are employed for uniform illumination of a surface.
The trim ring offers an aesthetically pleasing frame for the lighting fixture. The trim ring may have any of a variety of colors, shapes, textures, and configurations. Such trim frequently taking the form of glass or acrylic rings or plates of differing sizes and configurations, such rings and plates typically having integral color and being disposed in the luminaire aperture or suspended below the aperture.
Typical ceiling mounted recessed lighting fixtures often come with a frame with means for securing the frame to structural supports for a ceiling. The retrofit light fixture is made to be retrofitted into an existing ceiling opening and/or opening of an existing mounting frame without resorting to any tools or hardware. The spring bands are constructed to deflect inward during insertion of the retrofit downlight through the opening. After insertion, the spring bands may return to their preloaded state to help secure the retrofit light fixture in the ceiling.