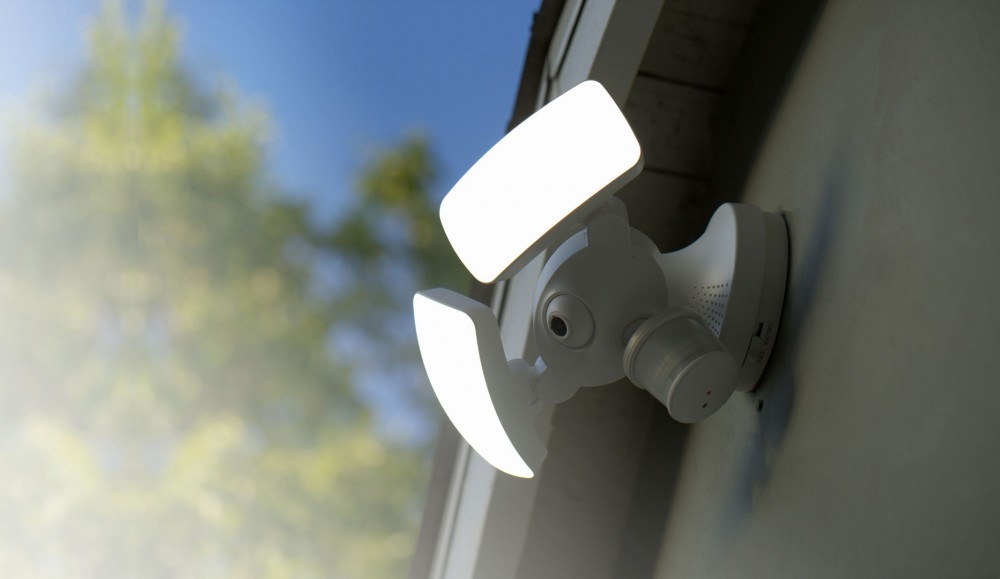 The Maximus Camera Floodlight combines state-of-the-art LED lighting and smart sensor technology to bring you a connected security lighting solution that outshines the competition. App-based control keeps you posted on what is happening around your home from anywhere. Sensor activated operation in conjunction with energy efficient LED lighting delivers dependability, reliability as well as substantial energy and maintenance savings. A sleek form factor and clean aesthetic give this outdoor security light a contemporary architectural appeal that complements modern exterior decor during daylight hours. With abundant features and unprecedented sophistication that are unavailable in traditional security systems, Maximus is a great choice to provide perimeter video surveillance to any residential or commercial area, including garages, doorways, sheds, porches, decks, fences and outdoor walkways.
The twin head LED motion security light features a complete revamp of traditional security floodlight designs from inside out for an exceptional styling and durable, functional construction. Rugged aluminum housing and lamp heads are engineered to provide high structural stability and mechanical adjustability in a trendy design. These die cast components have excellent thermal conductivity and heat sinking performance such that the waste heat generated at the LED junction is effectively routed away to the ambient. Robust thermal management not simply protects the light source from phosphor thermal degradation which can lead to color shift and lumen depreciation, but also eliminates the risks of thermal damage to other temperature-sensitive components within the system. All metal surfaces of this security light receive a super-durable thermoset TGIC polyester powder coat finish in a handsome white of black, which brings in an incredibly clean accent to the fixture and gives exposed metal housing maximum corrosion resistance and excellent gloss retention.
Two gently curved, low profile lamp heads perch on the lockable rotating hinge of the aluminum housing. A high flexibility mechanism enables vertical tilt and horizontal swivel of the lamp heads. Flexible lamp adjustment allows the directional heads to be aimed to radiate toward just where needed. With large emission surfaces in curved profiles, the individually adjustable lamp heads provide a massive light coverage that corresponds to the wide viewing angle of the fixture's video surveillance camera. Each lamp head is equipped with an integrated LED panel module that delivers both high flux density and high efficacy throughout its long rated operational life. Two LED modules produce 2400 lumens of 80+ CRI light in a 5000K color temperature, allowing the security camera to capture high definition pictures during nighttime. A UV stabilized, impact resistant polycarbonate diffuser protects the LED module from dust and water ingress. The precision-engineered diffuser that balances clarity and diffusion allows for optimal uniformity of light distribution across the surface of the panel, without revealing hot spots and producing glare, while maintaining overall lumen output.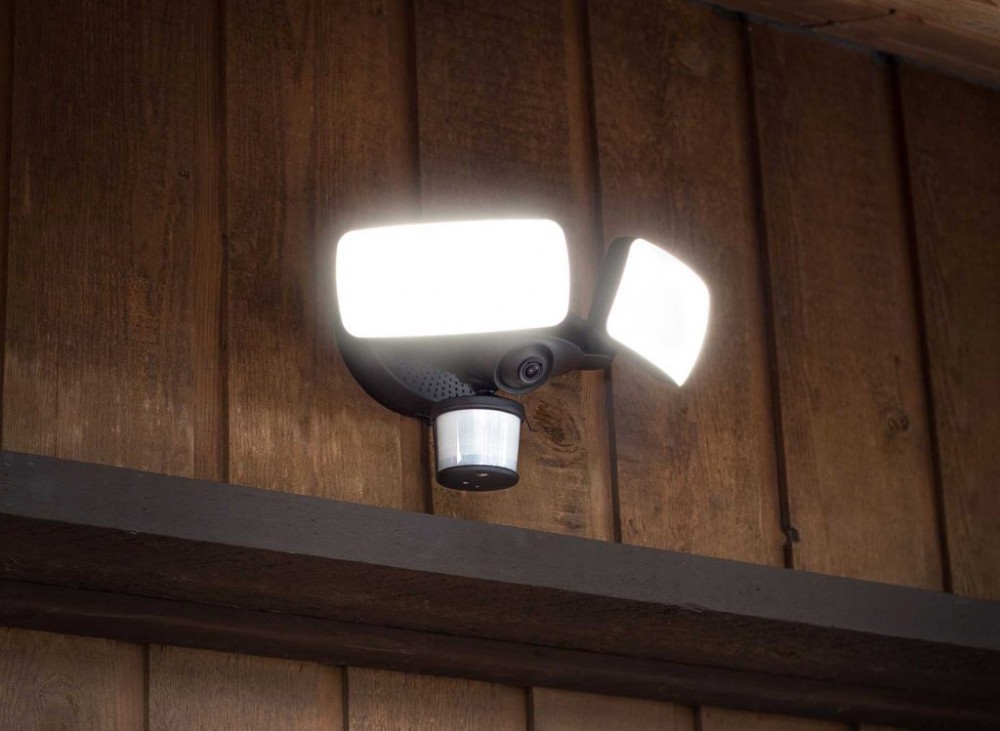 The Maximus motion security light is geared up with high performance componentry for a host of features including video shooting, voice interaction, occupancy detection, daylight harvesting, and WiFi communication. The floodlight features a 1080p HD video camera for high-resolution recording and live streaming. The HD camera offers incredibly wide coverage area with a 155° diagonal field of view. A motorized focus and zoom (MFZ) lens allows the user to zoom-in to focus on the most important areas within the field. Progressive scan ensures clear images with minimal blurring and no tearing when capturing moving subjects. The camera is set to pre-buffer 10 seconds so you always have the whole story. The camera's housing can be manually tilted or swiveled up to 40 degrees in each direction. A passive infrared (PIR) sensor is mounted below the camera to provide 270° motion detection with up to 70 ft range. Upon detection of infrared radiation from a moving body, the occupancy sensor activates the camera to start capturing footage and also turns on the floodlight when the ambient light falls below a preset level. An integral photocell provides dusk-to-dawn light control to ensure the floodlight won't be activated upon motion detection during daylight hours. The Maximus Camera Floodlight has a speaker and microphone array that supports two-way intercom. The high fidelity speaker also performs as a remote panic alarm to scare away unwanted intruders with a 100dB siren.
With an onboard wireless radio that supports 2.4GHz and 5GHz Wi-Fi communication, the motion activated LED security light can be remotely controlled from anywhere in the world using smart mobile devices that run on Android or iOS operating systems. Access to the Maximus comes by way of the Kuna mobile app. The robust home security app allows you to live stream video, adjust motion detection sensitivity, receive real-time notifications, dim the light and set lighting schedules. Respond to an event with pre-recorded messages, two-way intercom, a loud alarm siren, or call 911 directly from the app. Maximus works with voice platforms such as Amazon Alexa and Google Assistant.
Events are uploaded and saved to the cloud, so you never have to worry about stolen devices. With the free plan, you also get access to video clips recorded up to two hours previously and can download three video clips per month. For access to extended look back, unlimited downloads of video footage, artificial intelligence (AI) based smart detection and qualification for theft protection program, upgrade to the Kuna Premium, a paid cloud subscription plan. Kuna AI is a smart detection technology powered by sophisticated neural networks based on the human visual cortex. Kuna AI Smart Detection tells you if the source of motion is a human or a car, and how many are in view. The technology also lets you customize motion detection zones within the field of view of the camera.
Maximus Camera Floodlight has an installer-friendly design. Simply screw a quick-connect baseplate into the junction box which is mounted on a wall or eave. The floodlight assembly is then effortlessly attached into the baseplate using a twist-lock mechanism. The light has an integrated power supply that accommodates a universal power input range from 100 to 240VAC, 50/60 Hz.