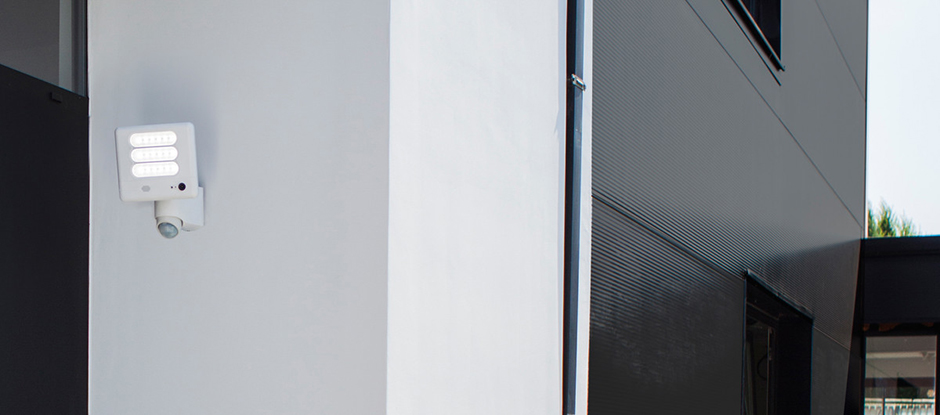 The real revolution comes when intelligence and internet connectivity are added to an advanced lighting system, making it truly smart and sustainable. The Lutec ESA LED security light is an all-in-one video surveillance and security lighting solution that features an extra layer of intelligence and convenience. Equipped with a PIR sensor which detects intruder motion up to 20 meters away over a range of 180 degrees, this maintenance-free, full-featured security system offers automated operation of the LED light and video camera. The embedded Wi-Fi networking feature offers innovative interoperability among devices and the system. The networked security system allows for remote management and real-time monitoring via an Andriod or iOS smart phone.
By leveraging a unique combination of innovative technologies and engineering expertise, ESA seamlessly integrates cutting edge solid-state lighting technology with advanced electronics to facilitate a sophisticated security solution that combines form and function. ESA features a low-profile, compact housing in an architecturally sleek design. The floodlight is designed with three horizontal light modules which utilizes high efficacy Lextar 3030 LEDs to provide 1,530 lumens of bright white light. Light throw is softened by opal polycarbonate diffusers to ensure good brightness without being overwhelming. An integrated LED driver is optimized to unleash the full potential of LEDs for maximal power efficiency and system reliability.
Embedded in the front of the floodlight is a 720p wide-angle HD camera (110 ° field of view), and a speaker and microphone array that supports two-way audio. A wireless radio module that supports 2.4GHz and 5GHz Wi-Fi is also housed in the weatherproof aluminum enclosure. The lamp head is pivoted to the fixture base and allows for 170-degree swivel and 45-degree tilt. The motion detector is mounted to the fixture base for an optimal sensing range. The ESA security light is built to last with a heavy duty die cast aluminum construction in a corrosion resistant thermoset powder coating finish. High levels of architectural strength, dimensional stability, thermal performance and ingress protection ensure all the critical components incorporated in ESA operate to their robust specification with industry-leading reliability.
The Lutec app that is freely available on the App Store and Google Play offers the ultimate convenience in the remote management of this intelligent security light. The app enables you to customize system settings remotely from anywhere, and to receive push alerts or instant email once motion is detected. You can tune the floodlight's brightness and motion sensor's operation pattern (on-time, detection distance, sensitivity). Via the free Lutec app you can watch live streaming and talk with the visitor via the two-way intercom. The live stream can be archived or a single-frame snapshot can be captured. Lutec ESA comes standard with an 8GB (expandable up to 32GB) microSD memory card for local data storage.
Product features
App-controlled, motion activated video recording and security lighting.
Weather-resistant PC + aluminum housing in a low profile, compact design.
Long life Lextar 3030 LEDs with high light output and luminous efficacy.
High reliability LED driver with robust specifications for high efficiency operation.
Adjustable lamp head with 170-degree swivel and 45-degree tilt.
180° wide angle PIR motion sensor with 20 meters of detection range.
720P HD camera (110° field of view).
Local data storage with supplied 8GB MicroSD card (expandable up to 32GB).
Integrated speaker and microphone for 2-way voice communication.
Free Lutec app for remote control and monitoring.
Constructed to IP54 rating for tight protection from water spray and dust ingress.
Easy DIY installation.
5-year warranty.