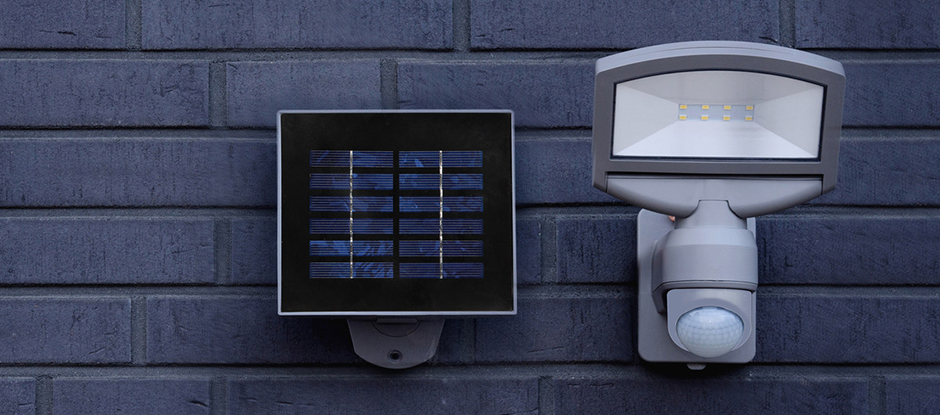 The Lutec Sunshine is an affordable and dependable LED solution for commercial and residential security lighting. The solar powered light can be wall or eave mounted to provide wide flood illumination for maximum coverage and security. The reliability, controllability and efficacy benefits of LED technology synchronize perfectly with motion control and photovoltaic technologies. Sunshine is powered by an off-grid photovoltaic system which is redundantly designed to achieve the longest run time. The light comes equipped with a small-sized polycrystalline solar panel delivers exceptional performance and yield even in high temperature conditions. An included high energy density lithium-ion battery with a capacity of 2200 mAh provides up to 8 hours of continuous lighting for 3.4W LED module. The operation efficiency and energy savings are further maximized utilizing passive infrared (PIR) technology for motion controlled light activation. The PIR sensor detects human presence over a range of 150 degrees from up to 15 meters away. It activates the light upon detection of motion for a preset duration of time (10-90 seconds). This security light can be motion activated up to 120 times under a full charge.
Product features
Durable ABS housing.
Operating completely independent of electrical grid. No running cost.
High performance LEDs with exceptional efficacy and light quality.
Correlated color temperature (CCT): 4,000K.
1.5W polycrystalline photovoltaic panel.
2200 mAh 3.7V lithium-ion battery.
8 hours of continuous lighting or 120 times of light activation
PIR motion sensor with a wide detection range.
Independent solar panel mounting with 5m cable.
116° beam angle.
Fast and simple installation. No utility line extensions.
IP44 ingress protection.