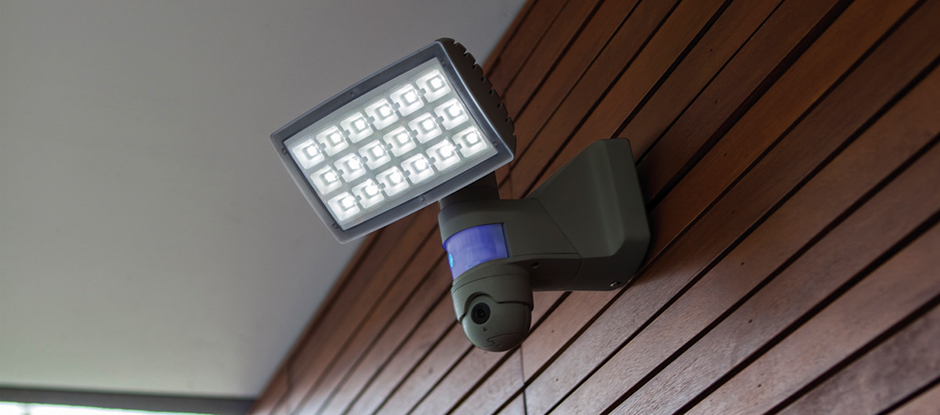 The Lutec Peri integrates LED security lighting with video surveillance into a smart connected solution. The highly engineered system is equipped with an LED flood light, PIR motion sensor, HD video camera, speaker and microphone for a full-featured security system. Whether you are at work or away on a trip, Lutec Peri gives you a secure feeling to go forth and do. The flood light and HD camera will be automatically activated by the motion sensor when it detects signals of infrared energy emitted by an approaching person on the field. A push notification will be sent via the Lutec mobile app to your smart phone.
Available for iOS and Android devices on the App Store and Google Play, the free Lutec app gives you full control of the Peri remotely from anywhere when the product is connected to your home WiFi with high-speed Internet connection. Just follow the in-app instructions, you can customize the floodlight's brightness and motion sensor's operation pattern (on-time, detection distance, sensitivity). The Lutec app offers access at any time to a live stream from the camera. You can record and take snapshots of your visitors on your phone. The embedded speaker and microphone allow Lutec Peri to serve simultaneously as a two-way audio intercom. The Lutec Peri features an on-board WiFi IP video camera with a 110 ° angle lens that covers almost every corner of your outdoor space. The HD camera renders vibrant colors and vivid details with 1280 x 720 effective pixels. Lutec Peri provides a local video storage solution with an included 8GB microSD memory card and supports up to 32GB capacity of data storage.
A rugged aluminum construction with PC housing gives this product superior architectural strength, heat dissipation and corrosion resistance. The floodlight incorporates high efficacy Lexstar 3030 LEDs to produce 2,120 lumens of bright white light while drawing only 25 watts of power from utility grid. Lumen delivery is optimized for optimal coverage using a one-piece reflector with grid reflective cavities. The light head provides a 70-degree swivel and a 75-degree tilt for flexibility in directional aiming.
Product features
Live HD video, motion detection, and 2-way voice communication.
Long life Lextar 3030 LEDs with high light output and luminous efficacy.
High performance LED driver designed to fully unleash the capabilities of LEDs.
Adjustable lamp head with 70-degree swivel and 75-degree tilt.
270° wide angle PIR motion sensor with 19 meters of detection range.
720P HD camera (110° diagonal field of view).
Local video storage with supplied 8GB MicroSD card (32GB maximum capacity).
Integrated speaker and microphone.
Free Lutec app for iOS or Android devices.
IP44 level ingress protection.
5-year warranty.