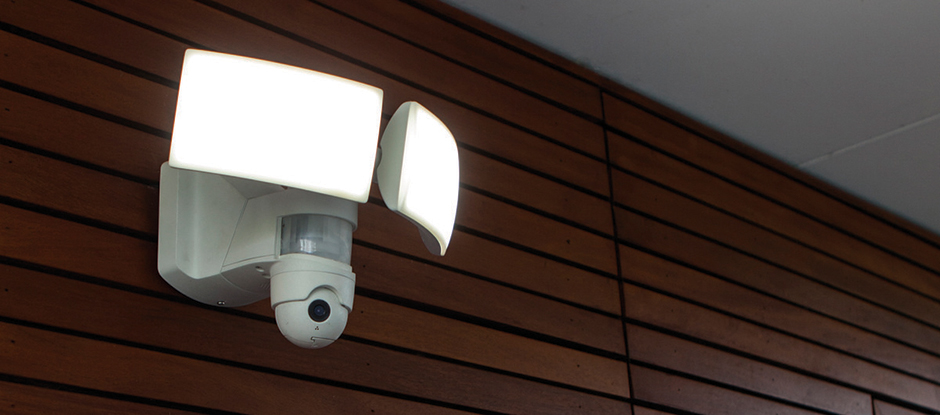 The Lutec Libra LED security light is an App-controlled security lighting and video surveillance system which provides ambient lighting, deterrent illumination as well as live streaming and video recording on motion detection. This super-bright 38 watt LED security light comes complete with integrated twin-head LED flood light, motion detector, HD camera, noise-cancelling microphone and two-way speaker. With intelligent, automated features and internet connectivity, Lutec Libra has totally redefined security lighting by transforming the basic, unintelligent security light into an IoT based monitoring and control system.
Constructed of durable aluminum alloy for high mechanical strength and superior corrsion resistance, Libra features a robust housing design that adds to its sleek profile. Two gently curved, low profile lamp heads are adjustably mounted for vertical tilt and horizontal swivel to ensure optimal coverage. They're packed with Lexstar 3030 LEDs that combine high light output, high efficacy and high reliability to deliver up to 3,000 lumens of bright white light with excellent lumen maintenance through to the end. The light emanated from the LED source is softened by opal polycarbonate diffusers, adding a level of visual comfort and lighting quality.
Libra is equipped with a 720p HD camera for outdoor monitoring. The camera is WiFi-connected and automatically activated by a PIR motion sensor upon detection of motion. The on/off switching of LED floodlight is also performed by this sensor, which features adjustable sensitivity, light duration and ambient-light threshold. The flexible aiming capability of the lamp heads combined with the 110-degree camera FOV and 270-degree motion detection range offers Libra a maximal space coverage and virtually eliminates blind corners. The camera connects to your home network on the 2.4GHz band and will run through the full-featured Lutec app that is freely available on the App Store and Google Play.
The Lutec app enables you to control your Libra security light on your iOS or Android device remotely from anywhere. Whenever the light is activated an instant email or mobile alert will be generated and delivered to your mailbox or phone. Via the free Lutec app you can watch live streaming and communicate with the visitor via the a speaker and microphone array that supports two-way audio. The live stream can be archived or a single-frame snapshot can be captured. Libra comes standard with an 8GB (expandable up to 32GB) microSD memory card to provide local video storage.
Product features
App-controlled, motion activated video recording and security lighting.
Heavy duty aluminum construction in a sleek design.
Long life Lextar 3030 LEDs with high light output and luminous efficacy.
High performance LED driver with robust specifications for high efficiency operation.
Adjustable lamp head with 60-degree swivel and 45-degree tilt.
270° wide angle PIR motion sensor with 19 meters of detection range.
720P HD camera (110° field of view).
Local video storage with supplied 8GB MicroSD card (expandable up to 32GB).
Integrated speaker and microphone for 2-way voice communication.
Free Lutec app for remote control and monitoring.
IP44 level ingress protection.
5-year warranty.