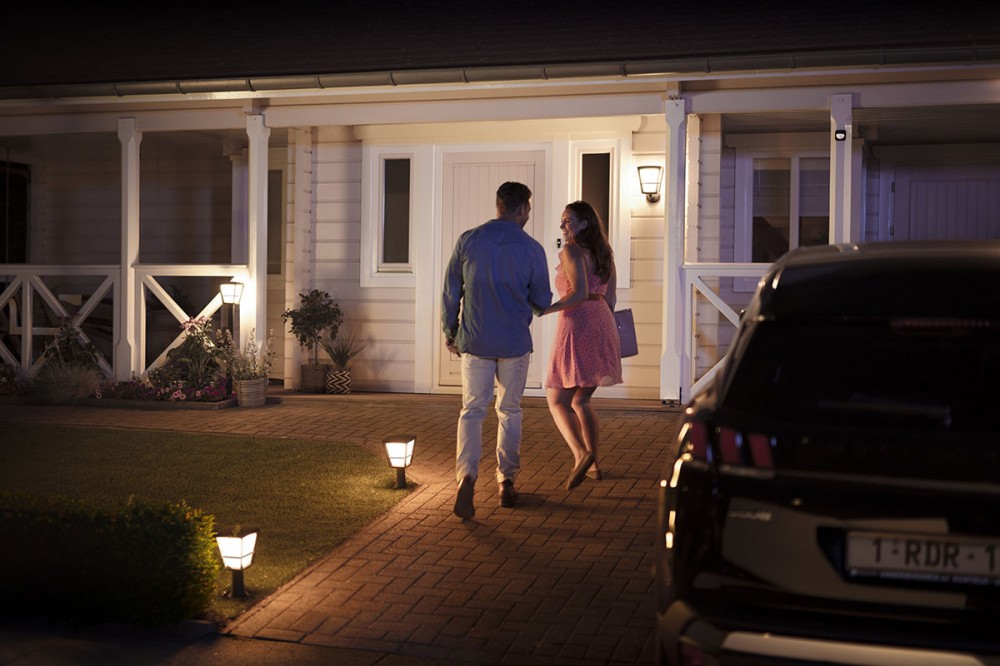 No longer have your outdoor activities ruled by the sun, get your kids lost in the darkness, and leave unobserved entry points for intruders. Philips Hue smart outdoor lighting products extend the hours of enjoyment you and your family spend outside of your house by providing comfortable visibilities of activity areas. The purpose of exterior lighting for residential applications is to unify the relationship between a house and its surrounded environment, while providing a sense of safety and security. Well-designed lighting creates an appealing, welcoming ambiance that transforms exterior living spaces into a harmonized nighttime environment and cultivates a new perception of architecture at night. So your home becomes a more vibrant and attractive destination for relaxation and pleasure.
A wide choice of outdoor lighting fixtures are available to illuminate courtyards, walkways, alcoves, patios, decks, porches, or other areas. These fixtures serve either utilitarian or decorative applications to add visibility, dimensionality and context to a nighttime scene. General purpose floodlights cast light over a wide area creating ambient light. Spots provide a focal point of illumination that highlights architectural features and landscape elements. Deck lights adds accent and illumination to define areas for outdoor seating and activity. Outdoor wall sconces create grazing effect on architectural surfaces or provide way-finding ambiance. Path lights create pools of light that offers pedestrian scale lighting on pathways and entrances while providing qualitative design appeal to enhance landscaping. Layering different types of lighting creates visual expansion and continuity between the indoors and outdoors.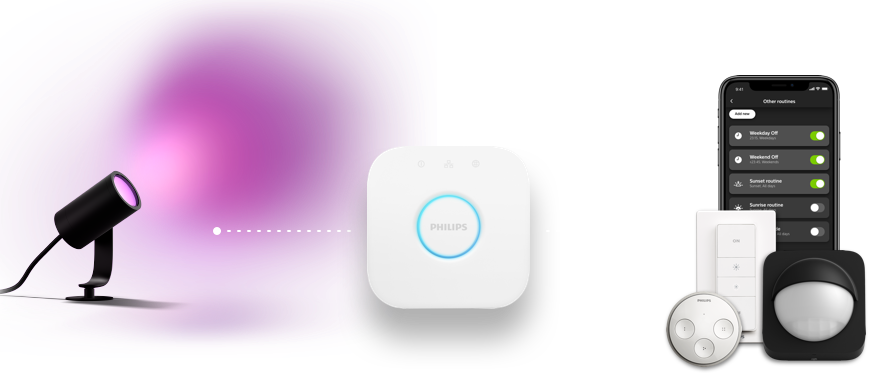 The increasing number of fixtures around the house makes it complicated and time-consuming to manage the lights. Even though a light management system can be used, its complex designing, wiring, installation, commissioning, and daily operation present a great challenge for general consumers who do not have the expertise to streamline lighting control. Advances in LED technology have led to the ubiquitous deployment of LED light fixtures with unprecedented performance, efficiency and lifespan. As a digital light source, LEDs can be precisely controlled for a variety of tasks. Beyond basic switching and dimming, new features like full-color output, dynamic lighting and human centric lighting have brought the transition from conventional lighting controls to connected lighting controls which allows for communication between the light fixtures, people, the environment, and other devices. Needless to say, traditional 'dumb' light fixtures which do not have intelligence and connectivity can not take advantage of emerging capabilities on the IoT (Internet of Things).
Philips Hue lights offer a smart lighting solution that delivers value beyond light to bring the night to life! These intelligent outdoor lights feature multiple levels of programmability within Philips smart home ecosystem which enables the fixtures and controls to communicate directly with each other for instant interaction and seamless interoperability. The connected lighting system puts the tools of a facility manager in the hands of a homeowner. It's not just about simplifying your life and giving you peace of mind with automated light delivery. With Philips Hue smart outdoor lighting, you can personalize your lighting environment and adapt it for every occasion and activity. From a vibrant pool of light that heightens the atmosphere of a social gathering on the deck to a soft, warm glow for intimate, romantic evening dinners al fresco, you can craft defined areas to become an extension of your identity and expression.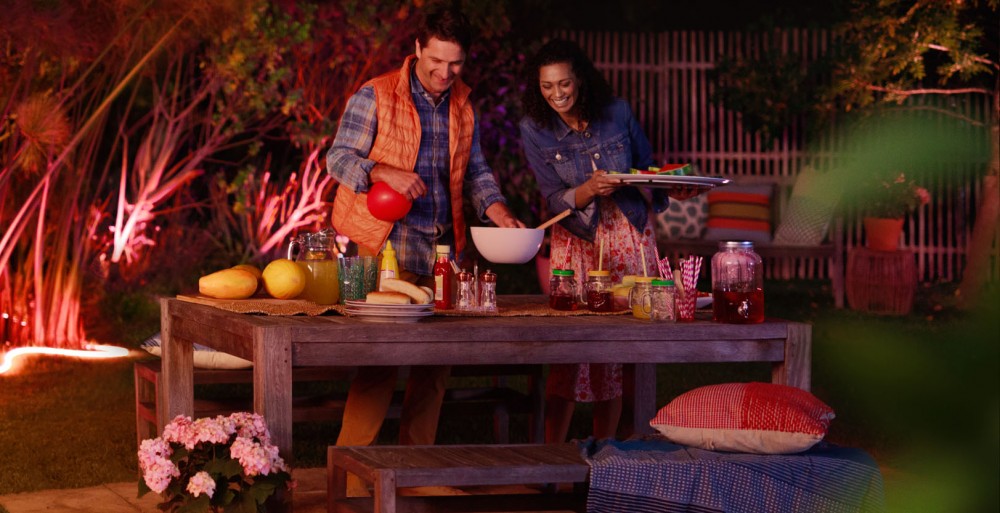 A smart outdoor light is an Internet-connected, weather-proof lighting node which has the intelligence embedded in the device or is controllable with intelligence provided by software in the cloud. Connected lighting provides the ability to maximize energy savings, customize light output and manage dynamic lighting with minimal human intervention. When state-of-the-art LED lighting meets smart control outdoors in Philips Hue's scalable, robust wireless ZigBee lighting network, a whole new world of possibilities is opened up to breathe excitement into nighttime activities and create multi-functional ambiance with forward-thinking sustainability.
Foundational Energy Savings
Philips Hue's intelligent light solution provides aggressive energy management to unlock the full energy efficiency potentials of LED lighting. By implementing occupancy detection, daylight harvesting, dimming control, zone-based lighting and other energy-paring strategies, Philips Hue smart lighting balances energy efficiency with the need for basic visual recognition of objects, obstacles, and egresses in outdoor environments for safe navigation, making it possible to consume the least amount of energy required to produce high quality illumination.
Improved Safety and Security
Philips Hue's open intelligence architecture allows for seamless integration of light fixtures and security systems. It unifies, manages and controls video cameras, motion sensors and lights to provide smart intruder detection, real-time alerts, and live video streaming. Deter burglars by programming lights to turn on and off to make it look like you are home while you are away. With the App's location awareness feature, the outdoor lights can be set to automatically turn on when you arrive at your front door or turn off when you leave home.
Paint Outdoors with Intelligent, Colorful Light
The multicolor Philips Hue lights use red, green, and blue LEDs to produce full spectrum color mixing for dramatic and vibrant lighting effects. Intelligent color mixing lets you bring an outdoor space to life with either a static or a dynamically changing lighting mode. Create architectural impressions with almost infinite possibilities of light effects. Whether you want to decorate your outdoors for holiday celebration or bring life to the dramatic features in an exceptional landscape lighting design, Hue's palette of over 16 million colors gives you the freedom to explore immersive effects and create memorable experiences.
Unwind with Warm to Cool White Light
Human centric lighting has been one of the driving forces for smart lighting. From the warm white light of a summer sun, to the ice cool daylight of winter, different shades in white light inject fresh character into plain, unpretentious environment at night. Embedded intelligence and a mix of multi-CCT LEDs make it possible to adjust the color temperature along the planckian curve from warm white to cool white. With tunable white, you can create the perfect atmosphere to a positive effect in your daily life. Set the right ambiance on your patio, balcony or porch to create emotionally perceivable experiences and impart a feeling of comfort, coziness and relaxation.
Bring Simplicity to Light Management
Philips Hue smart ecosystem allows a large number of fixtures that serve different applications in different locations to be managed with ease. ZigBee mesh network technology simplifies communication between nodes and enables the intelligent lights to be programmed to respond directly and individually to one or more inputs via a mobile app. The wireless lighting network features a variety of automated triggering strategies, including timelines or schedules tailored to the specific requirements of a zone, occupancy activation that dims or switches lights depending on the occupancy of an area, dust-to-dawn control that dims or switches lights depending on the amount of daylight in an area. And with IFTTT support which can trigger your lights based on millions of events, you add another digital layer to your outdoor lighting.
Smart Control with the Philips Hue App
The Philips Hue App transforms the way you experience light and gives you the convenience to control your lights with a touch of a button. Take full control and change the brightness, color or shade of white. Choose from preset light scenes that support your daily routines. Sync your lights with your favorite music and let your lights change color to the beat of music for an extra level of entertainment. Access your lights from anywhere in the world with an active Internet connection. Whether you're at home or on a vacation, you can automate your lights the way you want it. Connect your lights to other smart products such as Nest, Samsung SmartThings, XFINITY Home, Vivint Smart Home, Razer Chroma, and RunLessWire for more comfort and peace of mind.
You Talk, Hue Responds
Enjoy the fun interactive hands-free lighting. Philips Hue outdoor lights work with Amazon Alexa, Apple HomeKit, Microsoft Cortana, and the Google Assistant, which means whoever you choose to ask to control your lighting with your voice, Philips Hue will respond.
In the Philips Hue smart lighting system the Hue Bridge is the brain of the operation, communicating with both your smart outdoor lights and the Hue app to ensure that everything works together. The Hue Bridge which is used as a ZigBee transceiver to communicate with the lights and sensors connects to the home router via Ethernet. The energy efficient bridge provides the scalability required for wireless smart lighting control and accommodates up to 50 nodes, so you can outfit your entire outdoor lighting system and control them all within the app. New features and improvements made to the system get added automatically.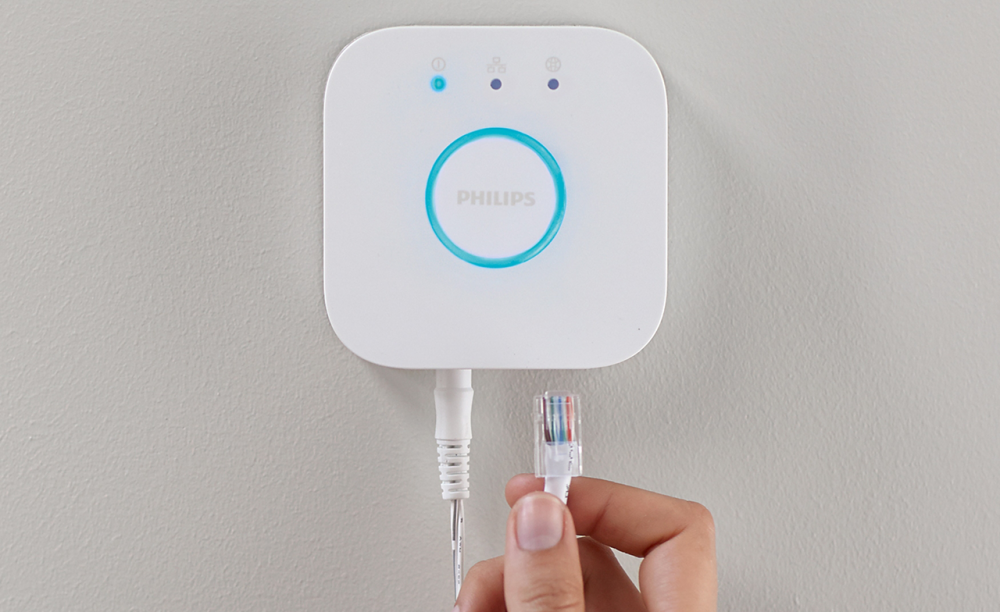 The Hue Bridge connects up to 12 accessories, including smart dimmer switches as well the Hue outdoor sensor only with which a full-featured outdoor lighting system is accomplished. The weather-resistant motion sensor has a detection range of 12 meters (39 feet), a horizontal angle of view of 160 degrees, and a vertical viewing angle of 80 degrees. The outdoor sensor turns on your Philips Hue lights automatically at night when motion is detected. Pair any light with the motion sensor via the Philips Hue app. Also select the scene or light setting that should be triggered upon detection of intruders. The Hue outdoor sensor has integrated dusk-to-dawn sensor which prevent daytime activation. Configuration of daylight and motion sensitivity is done via the app. The battery-powered wireless motion sensor comes complete with mounting accessories which allow it to be mounted on a flat wall, or on the inner or outer corner of a wall or post.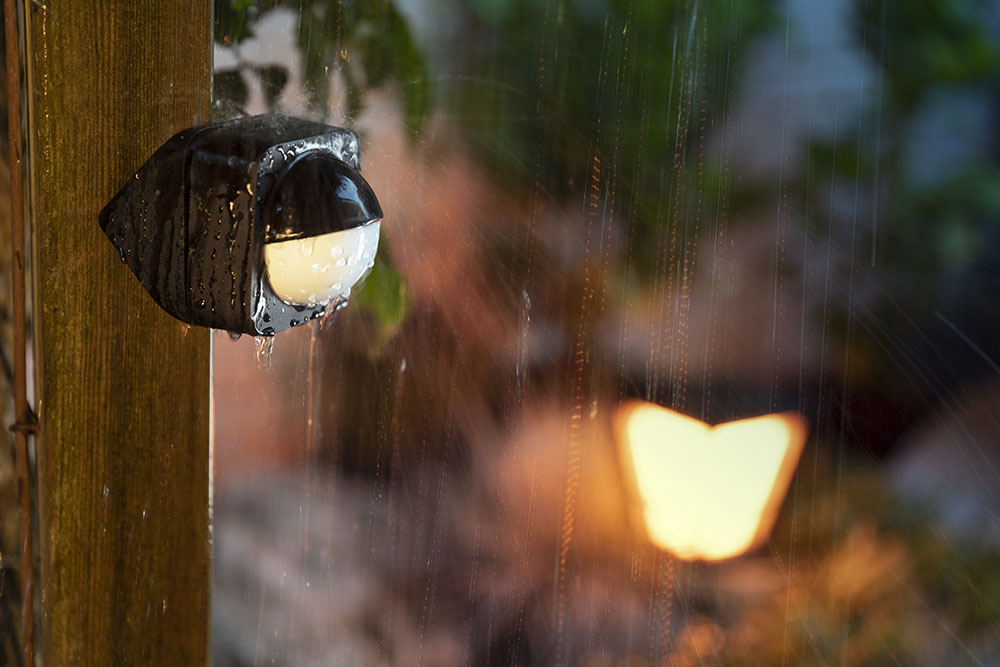 Philips offers an expanding portfolio of smart outdoor lighting products which are designed to impress and last. High quality LEDs with tight color binning deliver high performance and energy savings along with superior fixture-to-fixture color consistency. Excellent thermal management ensures a low temperature at the junction between the diode's positive and negative layers. And thus the performance of the LEDs will not be adversely affected, for example in terms of color stability, lumen maintenance and operational lifetime. In fixtures with integrated power supply, built-in programmable circuitry for CCT tuning or color mixing pairs perfectly with constant-current LED drivers which provide high performance load regulation with low total harmonic distortion (THD) and a high power factor (PF). These UL Wet Location rated lights are specially designed for use in outdoor environments.
Discover and Welcome Outdoor Floodlights
Constructed of rugged aluminum with all diffusers fabricated from injection molded, UV stabilized material, these 15W outdoor floodlights provide visually comfortable lighting across a wide area for ambient lighting of driveways, doorways, porches, patios and walkways, transforming them into livable and functional environments. The Welcome Outdoor Floodlight produces 2300 lumens of warm white light (2700K) which helps you to unwind and relax at night. The Discover Outdoor Floodlight is equipped with RGB LEDs capable of producing millions of saturated colors, pastels, and uniform white light to brilliantly announce the rich detail of your outdoor architectural and landscape features. Never lose track of what is happening around your house with these powerful flood lights.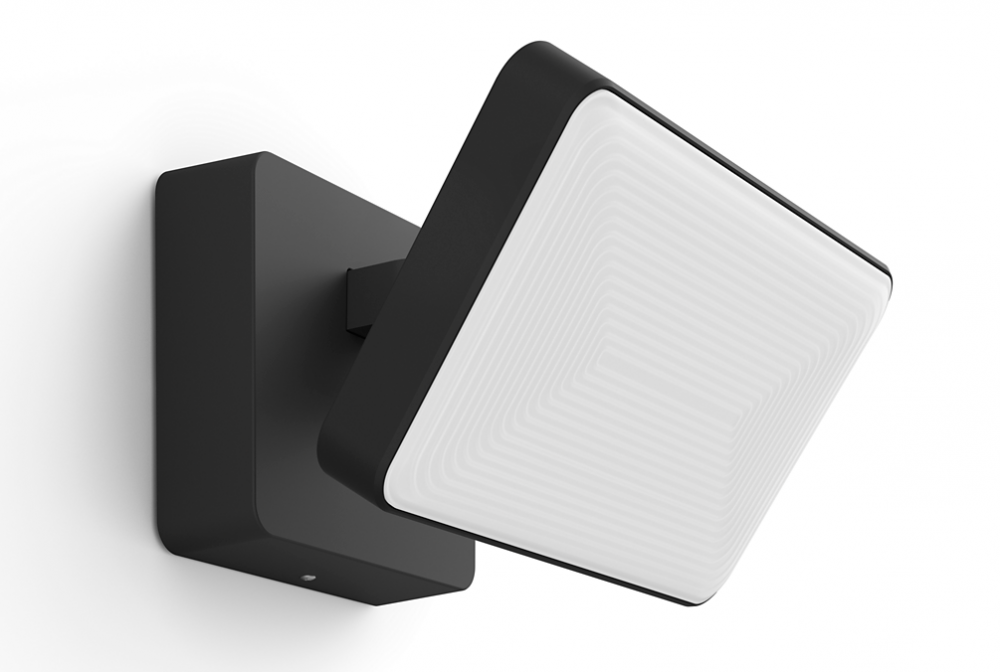 Lily Outdoor Spot Light
The Lily outdoor spot lights are the go-to fixtures to highlight elements of your landscape and make select features pop out from the background. The narrow beam light offers a burst of energy that creates a focal point in the landscape through spotting, shadowing and downlight grazing. With RGB additive color mixing you have the ultimate freedom to decorate your garden with any color of the rainbow. 2000-6500K tunable whites allow you to enjoy any shade of white light to fit your mood throughout the year. The clean and minimalist design in a black weather resistant finish will blend effortlessly into any garden bed. The sleek one-sided yoke mount with an adjustable knuckle joint ensures durable and robust installation while allowing 360 degree rotation for precision aiming. A spike extension allows for easy insertion into the earth and holds the spotlight firmly in loose soil. The IP65 rated fixture is protected from jetting water and dust ingress.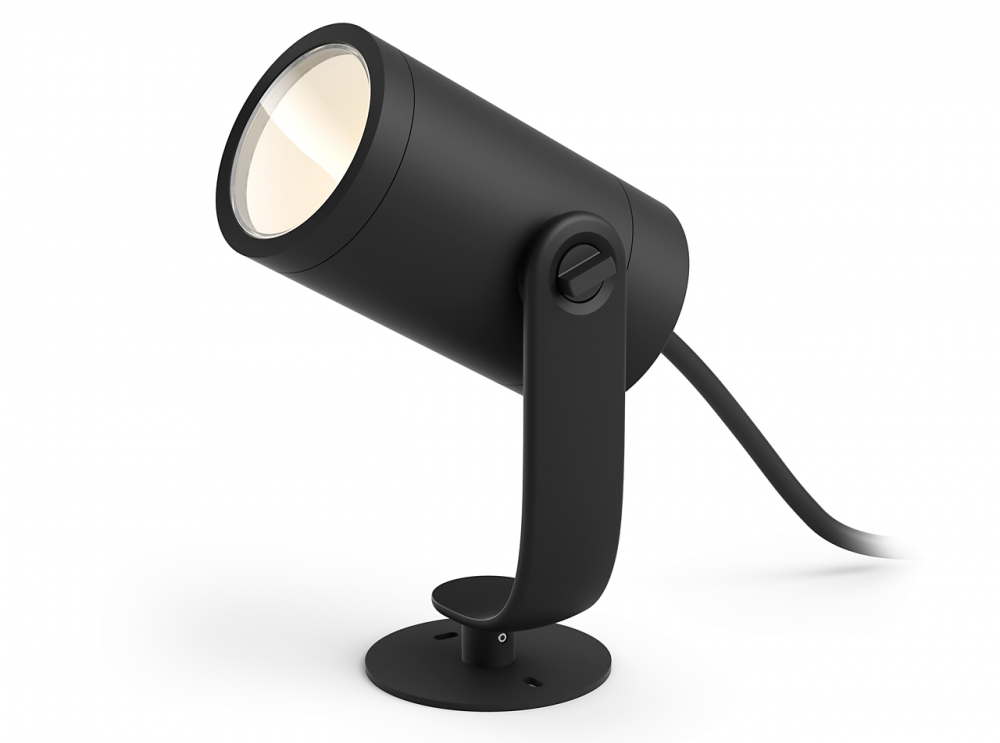 Calla Outdoor Pathway Light
Make your yard stand out with this bollard-style pathway light. Finished in a sleek aluminum cylindrical housing with frosted optical assembly mounted atop, Calla provides low-glare visual guidance while also bathing the landscape to create a visual link between pathways and other part of the outdoor space. The pathway light includes an 8W LED module which can be programmed to create every color your eye can see. With intuitive app control, anyone can create an atmospheric garden with either a cozy white to impart a sense of security, orientation and comfort of walking in the yard, or a vibrant spectrum of colors that add drama to the yard. The LED fixture works on 24V mains power. An enclosure integrity of IP65 ingress protection as well as high corrosion and weather resistance of the aluminum housing and optical lenses ensures Calla to survive the rigors of outdoors. An included ground stake facilitates quick, tool-free installation.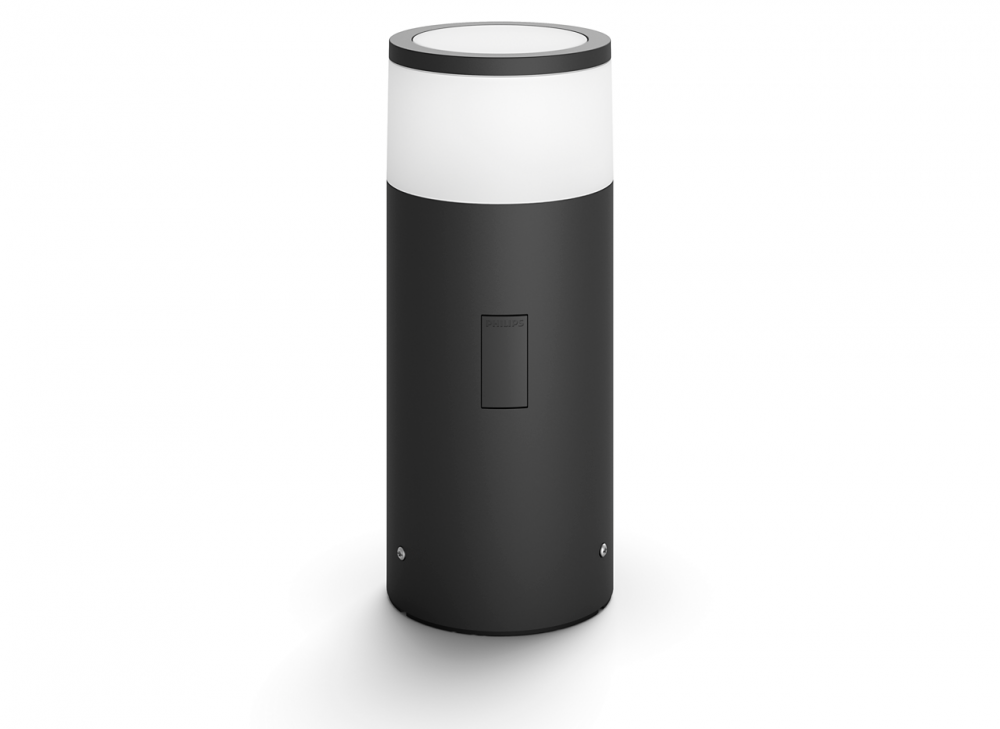 Econic Outdoor Wall Light
This contemporary outdoor wall light features an extremely robust, die cast aluminum frame that protects the frosted glass optical assembly. The geometric form of this gorgeous fixture exudes understated elegance that will enhance a porch, garage or other exterior facades. Econic outdoor wall lights are available in drop-mount and arm-top versions, which offer design flexibility in architectural integration. The 15W LED module radiates out a soft glow in any shade of white or with color across the visible spectrum at any level of saturation, providing you with virtually limitless options to create atmospheric lighting and decorative accent. Econic provides not only pleasant way-finding illumination where you desire, but also highlights facade textures for a beautiful architectural effect.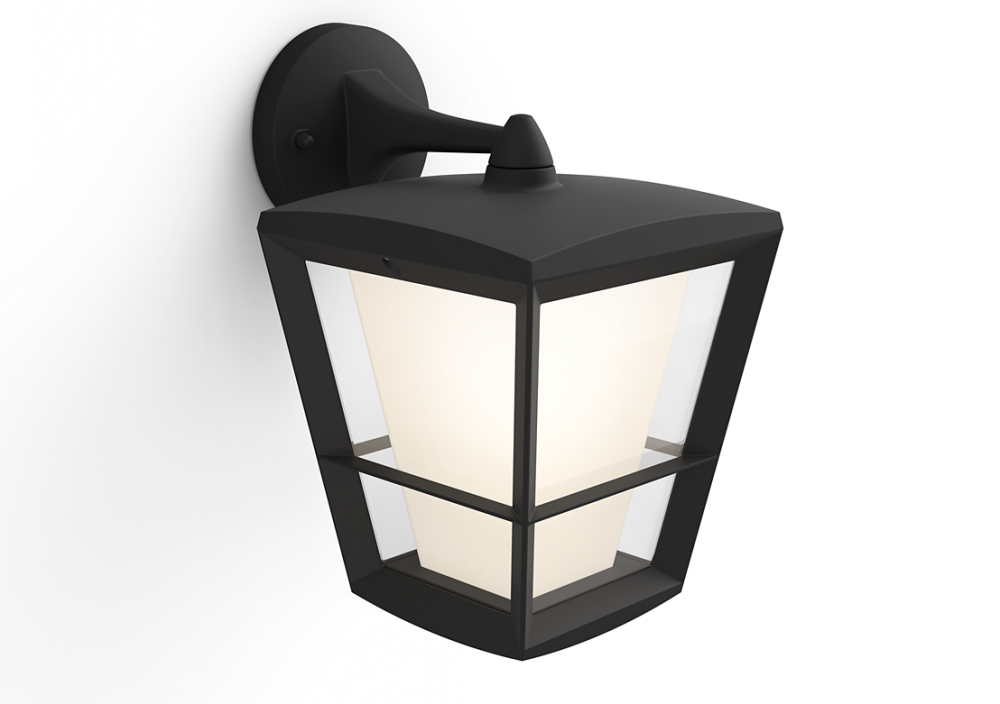 Lucca Outdoor Wall Sconce
Bring sophistication to your space with the Lucca wall sconce which provides soft, ambient illumination for your outdoor patio or porch space. This intricately designed LED wall light features a rugged aluminum frame with four horizontal rings that hold the light assembly with aesthetical integration. Combined with a black finish and white shades, Lucca is sure to make a modern statement wherever it's installed. The wall sconce includes an E26 Edison screw base LED bulb which produces 840 lumens of warm white light. Bringing subtle style and dependable illumination to building exteriors, Lucca provides a chic solution to eco-conscious homeowners who do not want comprise on every aspect of lighting - style, performance, energy efficiency, and intelligent control.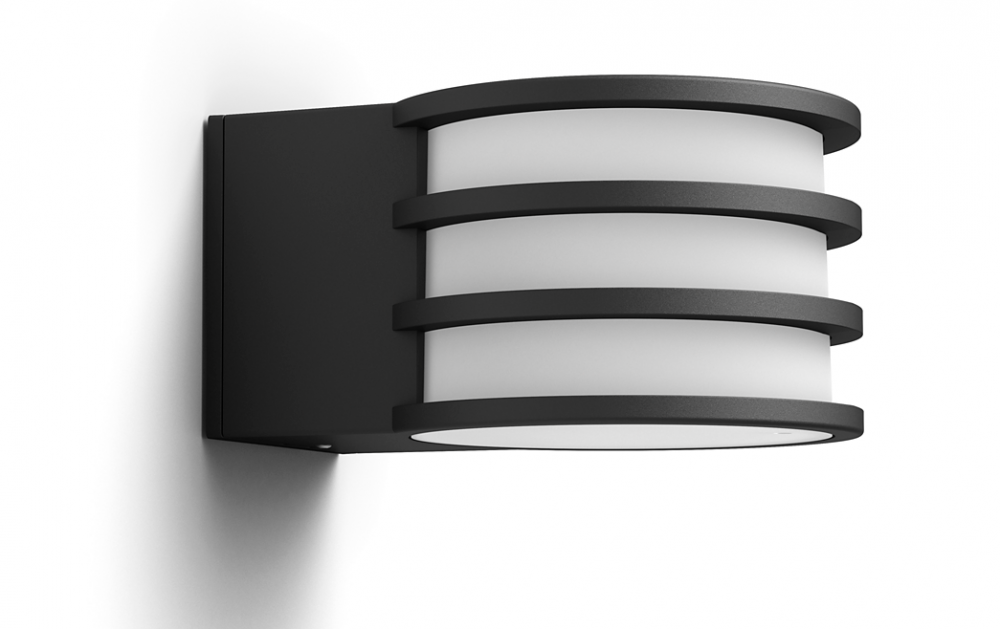 Ludere Outdoor Security Light
Ludere is a 2-spot security light designed to work with Philips Hue motion sensors to help deter unwanted visitors. The adjustable light heads are fitted with two PAR38 LED bulbs which combine to produce 2,700 lumens of high intensity light in response to a trigger event. These pivotable and tiltable light heads ensure fully customizable area coverage for enhanced security. Ludere's simple, sleek design adds instant appeal to any outdoor decor.