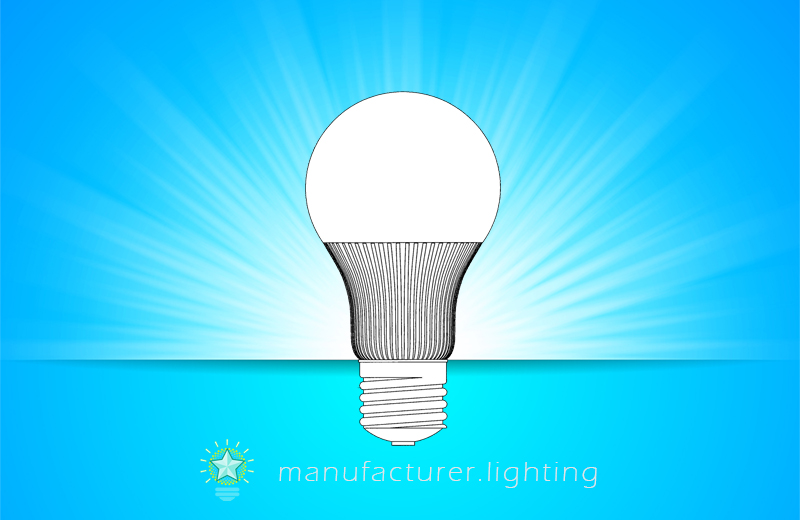 An LED bulb is a type of solid-state lighting device that uses LEDs as a light source for indoor or outdoor illumination. The A-series LED light bulb is the classic and standard type of light bulbs that is still the most extensively used type for general-purpose lighting applications. They are also called GLS (General Lighting Service) bulbs. A light emitting diode (LED) is a device for transferring electricity to light by making use of a principle in which, if a current flow in a forward direction through a junction region comprised of several different semiconductors, electrons and holes are coupled at the junction region to generate a light beam. An LED consists of a semiconductor junction which emits light in response to an electrical current flowing through the junction. The LED comes with an advantage that it is resistant to shock, and has a virtually eternal lifetime under a specific condition; that is why the LED bulb is expected to be a cost-effective yet high quality illumination device.

An LED bulb typically is comprised of a base, a circuit layer assembled on the base, a plurality of LEDs placed on the base and electrically interconnected with the circuit, an electrical connector and a driving circuit. The driving circuit or driver has two wires having different polarities. An end of one wire is soldered on the circuit board, and the other end is soldered on a conducting threaded section. LED bulbs are current controlled devices, which implies the light output is regulated by changes in current as opposed to incandescent and fluorescent bulbs that are voltage controlled. The difference in control requires that LED bulbs have specialized driver circuits that can convert the standard AC voltage supplied in residential outlets to a current suitable for driving LEDs. These driver circuits, however, characteristically contribute to an LED bulb which interacts with the electrical grid in a very distinctive way than incandescent bulbs. The insolated constant current driver can protect the LED against peak current, and the life span of the LED is considerably longer when compared to the non-insolated constant current driver. The lifespan and performance of an LED bulb depends, to some degree, on its operating temperature. The lifespan of the LED bulb driver circuit may limit the overall lifetime of the LED bulb in the instance that the driver circuit works at high temperature for long periods of time.

Light emitting diode provides many advantages when compared with the traditional tungsten, incandescent and fluorescent light bulbs, for example extended lifespan, lower energy consumption, higher luminosity and less fabrication materials. In today's world as energy saving and carbon reduction are continuously escalating concerns in the mind of people all over the world, LED is now being widely employed. The dimming feature with the LED bulbs allows for light levels to dim to the warm tones of a traditional incandescent, so it's very easy to customize your living space for various tasks. The energy saving A-series LED bulb is well suited for use in kitchens, living rooms, bedrooms and hallways. When lit, this bulb emits a comfortable and relaxing soft white light very similar to an incandescent. These LED bulbs feature stable glare-free soft light, produces a cozy ambiance. The appropriate amount of illumination helps save your eyes from stressing out, perfect for household lighting. LED bulbs are instant on - by simply flipping the switch, your living space is at full brightness - practically no slow starting or waiting. It's an extremely good alternative for household applications in which a warm atmosphere is as vital as lowering energy and avoiding the hassle of frequently replacing your light bulbs.

An A-line bulb has a pear-like shape and an Edison screw base or Bayonet mount. The number that comes after the "A" within the A series denotes diameter of the bulb cover, e.g. A55, A60, A65, A70, A80, or the width of the bulb in one-eighth inch units or in millimeters, e.g. A15, A17, A19, A21, A23. The most commonly used A-shape LED bulb type is the A60 bulb (A19 bulb), which is 60 mm in diameter at its widest point and 110 mm in length. The E26 Edison screw base is 26 millimeters in diameter and is used in the United States, Mexico, and Japan. The E27 (i.e. 27 millimeters in diameter) Edison screw base is most commonly used in China, European countries. The B22 Bayonet twist type base is used in the UK and in the Commonwealth of Nations (Australia, India etc.), as well as parts of the Middle East and Africa.

Create an inviting atmosphere throughout your home just by installing the bulb in any room in your home where dimming is used. Well-matched with your existing regular fixtures, by a simple screwing, you are ready to go. Use A-series light bulb to light any room including your living room, dining room, office, hallways, and bedrooms. They are perfect for table lamps, floor lamps, and open pendant fixtures.