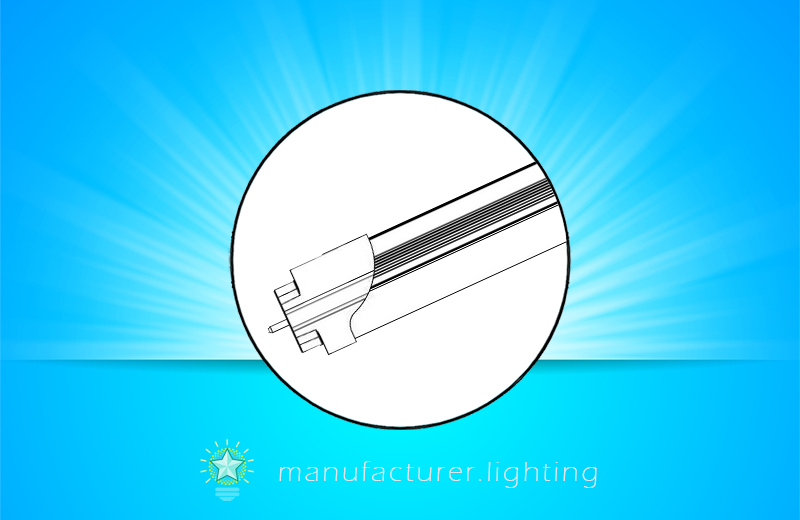 Tube lights are probably the most extensively used lighting products in the modern world. The T8 LED lamps are designed to replace traditional T8/T12 medium bi-pin Base fluorescent tube lighting to reduce energy and maintenance costs while improving the quality of light in work environments and living spaces. Fluorescent lamps have long been prevailing lighting devices, which deliver uniform, stable and wide-angle illumination. Nevertheless, fluorescent tubes have tube-shape shells fabricated from clear, fragile material such as thin glass, and even more have harmful materials such as mercury vapor filled in the shells. The conventional fluorescent tubes have life cycles significantly limited and roughly lasting from 3,000 hours to 4,000 hours, and have relatively low power factors, ultimately causing the issue of relatively high power consumption. LED tube lights have been developed for use in fluorescent light fixtures to replace conventional fluorescent tubes. Compared to traditional light sources, light emitting diodes (LEDs) have many advantages, which include high luminous efficiency, low power consumption, and long service life. LED are ideally suited for operation under cold and low outdoor temperatures. For fluorescent lamps, low temperatures may affect operation and cause an issue, but LED illumination operates well also in cold settings, such as for outdoor winter settings, freezer rooms etc.

Designed to replace all conventional T8 fluorescent tubes and can be replaced straight into any fluorescent fitting, T8 LED tube lights are a phenomenal alternative to old fluorescent tubes, the tubes are far superior when it comes to light output and use 90% less energy than fluorescent tubes. LED tube lamps typically include a power supply and a plurality of LEDs mounted on a flat or curved surface. The circuit board is long and thin, which has a large aspect ratio. High quality aluminum alloy body serves as a heatsink to extend the life of the LED's. The frosted plastic cover aids to dissipate light and improve appearance. These energy saving solutions accommodate with existing linear fixtures and provide equivalent light levels to current linear fluorescent systems. A high color rendering index (CRI) dramatically enhances the appearance of products by allowing colors to show up clear, vivid and distinguishable. The color rendering index (CRI) is used to describe the effect of a light source on color appearance. Natural outdoor light has a CRI of 100 and is used as the standard of comparison for any other light source. The CRI for LED tubes is typically higher than 80, close to the sun's value, showing colors truly and naturally. Frosted covers are used for anti-glare eye protection. The tube emits light in a hemi-spherical direction which improves the efficiency in light utilization. The integrated driver is isolated as a way to ensure the safety. These fixtures have end mounts which cooperate with bi-pin connectors (G13) stretching from the end caps of the light tubes.

Available in three color temperatures, they allows improved utilization of lighting control. The rotating end cap makes it possible for light to be directed. LED tubes with PC covers are extremely durable and constructed with sturdy components that are highly rugged and can withstand including the toughest conditions. The LED tube is designed to be completely plug and play. These tubes lights are identical in size to the fluorescent tube you are replacing and can be fitted in no time. There is no warm up time with these LED tubes, the moment you turn the lights on the tube will light up immediately. LED tube lights are works with PIR occupancy sensors for maximum potential energy savings. LED tubes provide a white light for improved color contrast and is an increasingly popular choice for office, store, school, basement, garage and similar lighting applications. The integrated LED tube can be widely used in office, store, shopping mall, manufacturing facility, museum, exhibition hall, convention center, waiting hall, dining hall, market and other public venues for clear lighting. It is especially advantageous in lighting of cool environments such as in commercial refrigerators and freezers, display boards and sign boards.