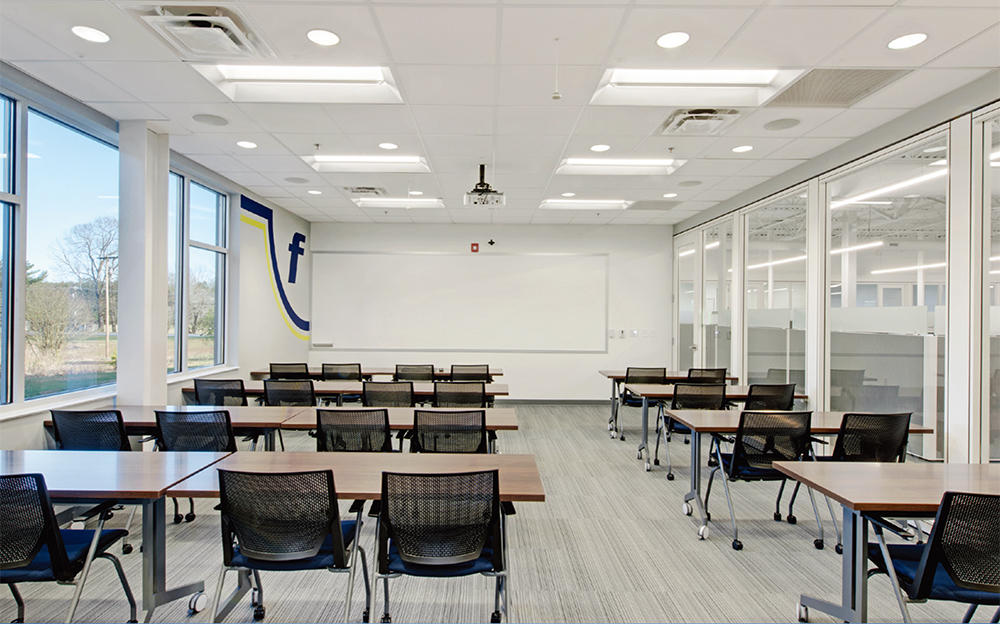 The Cree CR Series LED troffers are engineered to deliver unrivaled performance and efficiency as well as provide beautiful, comfortable and adaptive illumination through intelligent lighting control. These volumetric LED troffers deliver a distinct blend of sophisticated LED technology and contemporary aesthetics. With a unique combination of extreme energy productivity and enhanced lighting experience, these LED ceiling fixtures provide compelling motivation to improve and upgrade your workspace. The Cree CR Series LED troffers offer an economical, easy-to-install upgrade from traditional fluorescent troffers or parabolic fixtures while also bring forth a future-proof solution for new construction projects.
The CR Series includes a complete portfolio of LED troffers in 1'x4', 2'x2', and 2'x4' dimensions which easily accommodate recessed, surface mount or suspended installations. This family offers a broad choice of lumen packages from 2,200 to 5,000 lumens in 3000K, 3500K, 4000K and 5000K color temperature options. Cree's total systems approach to product development creates a product that integrates the most advanced LED sources, driver technologies, optics into robust lighting system. The high return on investment and a clean, modern design that complements modern architectures deem these highly engineered troffers a refreshingly good choice for energy efficient, maintenance-free and high quality lighting in offices, schools, retail, hospitals, healthcare facilities and other commercial spaces.
Cree architectural and commercial specification-grade troffers strike a perfect balance between color quality and lamp efficiency, which is previously a common misconception in LED lighting. High quality light does not intrinsically require greater electrical energy consumption. Cree LED troffers achieve a system luminous efficacy of up to 130 lumens per watt while producing a spectrum of light that allows the human eyes to perceive bright and vivid colors. This breakthrough performance is impossible without using Cree TrueWhite® Technology, a proprietary LED packaging innovation that begins with the highest performing commercially available LEDs and mixes in complementary light from red and unsaturated yellow LEDs to create a spectral power distribution (SPD) uniformly spread throughout the visible spectrum. This patented approach enables precise color management for an exclusive combination of 90+ CRI, beautiful light characteristics, and lifelong color consistency. With the power of TrueWhite®, only Cree LED troffers can deliver an exclusive combination of industry-leading efficacy and excellent spectral quality.
The Cree CR Series LED troffers blend an innovative optical design into a modern styling. A unique combination of reflective and refractive optical components creates perfect balance of high efficiency lumen delivery and high level visual comfort. The high performance optical system provides volumetric illumination by creating an optimal mix of light to walls as well as vertical and horizontal surfaces. The Cree CR Series LED troffers are designed with upward-facing LED strip so as to eliminate direct view of LEDs. Combined with frosted acrylic lenses which are engineered to diffuse intense LED beams without sacrificing light transmission, the LED troffer creates a comfortable luminous environment. The glare-free optical system provides uniform light distribution while eliminating pixelation and color fringing.
Built to last using 22-gauge cold rolled steel, the fixture housing has a quality construction as well as sleek appearance enhanced by an electrostatically deposited, thermoset polyester powdercoat finish. The exposed part of the housing (which also performs as a reflector) in textured white creates a comfortable visual transition from the lens to the ceiling plane. The thermally conductive CRS housing in conjunction with a unique room-side heat sink offers high efficiency heat dissipation. The innovative thermal management system maximizes cooling effectiveness and keeps LED junction temperature below the operation limits, thereby preventing the LEDs from phosphor thermal degradation which can cause color shift and lumen depreciation. The troffer housing has a standard access plate for electrical installation, and hanging tabs and holes for mounting support wires. Cree CR Series LED troffers support end-to-end interconnection for a consistent continuous row system without any visual interruption.
The Cree CR Series LED troffers can operate on Cree SmartCast® Power over Ethernet (PoE) platform for advanced energy management functionality, richer BMS integration and connection to the IoT. The CR Series LED troffers with SmartCast® Technology incorporate onboard motion sensors, daylight harvesting sensors and wireless communication modules to deliver exceptional lighting performance, achieve additional energy savings over non-controlled solutions and extend product life. Cree SmartCast® PoE technology seamlessly integrates hardware, software and the user experience with the Internet of Things to create the SmartCast Intelligence Platform to deliver smart lighting solutions. SmartCast® PoE enables the LED troffer to securely connect with building management systems, enterprise-wide networks and the Internet. The future-ready open platform with a standards-based API supports third-party cloud-based applications.
The connected lighting solution enables aggressive, intuitive control of Cree LED troffers for occupancy detection, daylight harvesting and other energy-paring strategies. The smart lighting platform facilitates effortless installation and management of Internet-enabled fixtures into a configurable network. These LED troffers share data collected from their integrated occupancy and daylight sensors. With embedded intelligence and sophisticated algorithms, foundational energy savings from automatic light management based upon occupancy and daylight conditions more than justify SmartCast's use. As an added bonus, Cree SmartCast® Technology transforms the CR Series LED troffers into tunable white light fixtures, which simplifies fixture deployment by allowing one troffer to be used in any space regardless of color temperature preference. Tunable white lighting which simulates natural daylight to accommodate specific needs can increase productivity in the workplace and promote human well-being in areas such as offices, healthcare facilities and educational institutions.
The CR troffer has an integrated LED driver that accepts a universal voltage input from 120 to 277 VAC or primary power at 347V. The constant current driver operates with a high power factor (PF, 0.9 nominal) and low total harmonic distortion (THD). It generates minimal ripples in the output current provided to the LED arrays, which contributes to flicker-free lighting. In addition to CMA (Cree SmartCast® Technology) dimming, the driver works with step level dimmers (minimum 50% brightness), 0-10V or Lutron EcoSystem enabled dimming controls (minimum 5% brightness). An emergency battery pack is available as an option.