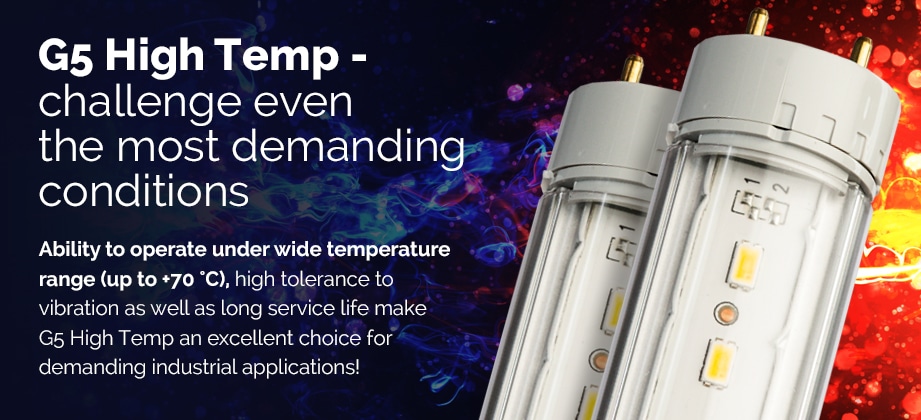 Setting the industry benchmark for light quality, efficiency and reliability, the Valtavalo G5 Series LED tube lights are built for demanding commercial and industrial applications. Enjoy superior lighting at a fraction of electrical cost delivered by these LED tubes which replicate the T8 form factor of linear fluorescent lighting (LFL) lamps while incorporating engineering breakthroughs to exploit the full potential of LED lighting for a host of features unique to industry. In addition to delivering industry leading system efficacy and vastly increased lamp life, the G5 Series LED tubes are engineered to address the challenge of underperforming light quality which is a typical ignorance in cost-centric lighting retrofits and upgrades.
Available in 1200mm and 1500mm lengths with a choice of two color temperatures – 4000K and 5000K, Valtavalo's compele portfolio of T8 LED tubes offers a strong ROI and provides quality illumination for a variety of commercial facilities and industrial spaces. A phenomenal system efficacy of up to 180 lm/W secures market-leading energy savings and the shortest payback time in its class. With an L70 life of up to 125,000 hours, the G5 Series LED tubes deliver superior value on a consistent basis and eliminate lamp replacements for many years to come. High efficacy and long lifespan make these tubes a perfect choice for general lighting in shopping centers, retail stores, office buildings, educational facilities and hospitals.
Upholding stringent standards across all dimensions of design and engineering, Valtavalo LED tubes support 24/7 operations which are highly desired in public spaces and manufacturing facilities such as parking garages, PCB assembly houses, textile mills, and distribution centers. Excellent performance in cold environments with ambient temperature as low as -40°C allows Valtavalo LED tubes to thrive in cold storage warehouses and food processing establishments. The G5 High Temp LED tube offers unparalleled reliability at high temperatures of up to +70 °C, making it a dependable illuminant in harsh environments such as foundries, bakeries, commercial kitchens, brick-firing and ceramic plants, glass factories, vehicle manufacturing plants, rubber manufacturing plants, electrical utility rooms, electric power cogeneration facilities, boiler rooms, industrial scale laundries, food canneries, chemical plants, and steam tunnels.
In Valtavalo's family of T8 tubular lamps, the innovation in power electronics contributes to a lighting system that brings forth a premium product experience. An integrated LED driver with compliance to worldwide safety regulations for lighting provides excellent load regulation to meet Valtavalo's stringent in-house specifications for power efficiency and quality. The built-in active power factor correction circuit maintains high power factor (up to 0.95) over a wide range of operating conditions while suppressing the harmonic current to a minimum. Robust design allows the driver to produce outputs accurately matched to the electrical characteristics of the array of LEDs, thereby achieving a high circuit efficiency and luminous efficacy without overdriving the LEDs.
The cutting edge driving topology enables Valtavalo LED tubes to not only secure high efficiency power conversion and high circuit reliability, but also outperform the industry standard for good quality light. High performance rectifying of AC power filters out the undesirable current ripple which affects the output quality of the LED. Flicker can be a serious detriment to lighting experience, especially for susceptible populations spending considerable time in illuminated environments such as offices, classrooms, hospitals, clinics, and electronics assembly plants. Studies suggest flicker is a contributor to eyestrain, blurred vision, impaired visual task performance and, in some cases, even photosensitive epilepsy. The percentage of residual ripple at twice the line frequency corresponds to the flicker rates in the light output. Flicker removal is not a design priority for LED tube light manufacturers because this may generate additional cost of the product and reduce lamp efficiency. As a consequence LED tube lights currently available on the market exhibit abnormally high percent flicker values (20 - 80%). By incorporating a ripple suppressor in the driver circuitry, the Valtavalo G5 Series LED tubes provide high quality illumination with an impressively low flicker value of only 1%!
Valtavalo LED tubes use high quality SMD LEDs to deliver high lumen output and high efficacy. A typical 85 CRI allows the LED tube to render colors more accurately than competitor's products. A tight 3SDCM ellipse binning ensures maximum color consistency along the length of the tube as well as across the entire run of fixtures. A polycarbonate optical cover available in a clear or frosted finish provides a wide flood distribution of 120° for high uniformity spatial illumination. The flame-retardant PC cover tolerates long-term heat exposure and is UV-stabilized to prevent yellowing. It is fitted to an aluminum housing which provides rigidity and strength for excellent bending endurance. Valtavalo LED tubes are assembled to withstand vibration and impact with a complete solid state construction, without using glue and silicone that will deteriorate earlier than the long life LEDs and driver.
The excellent lumen maintenance and long operation life of the light source is underpinned by superior thermal management of the lighting system. The surface mount LED packages are reflow soldered to the MCPCB with high thermal conductivity to form reliable solder joints, producing virtually no thermal stress in the soldering layer. The anodized aluminum housing provides high efficiency heat sinking that keeps the LED junction temperature well below the maximum allowable value. The driver is thermally isolated to ensure the LED thermal load does not negatively impact the performance and life of the critical driver components. The G5 High Temp LED tubes use high-temperature rated driver circuitry to prevent thermally-induced performance degradation and lifespan reduction.
The G5 Dimmable LED tubes provides compatibility with a wide variety of protocols to maximize energy savings. The driver works with an extensive range of leading and trailing edge Triac dimmers which are already ubiquitously used to regulate the brightness of incandescent and fluorescent lamps. With Tridonic switchDIM digital lamp management it is possible to create multiple-light systems with cost-effective dimming and switching control. A network-ready DALI interface enables digital addressable lighting in larger installations.