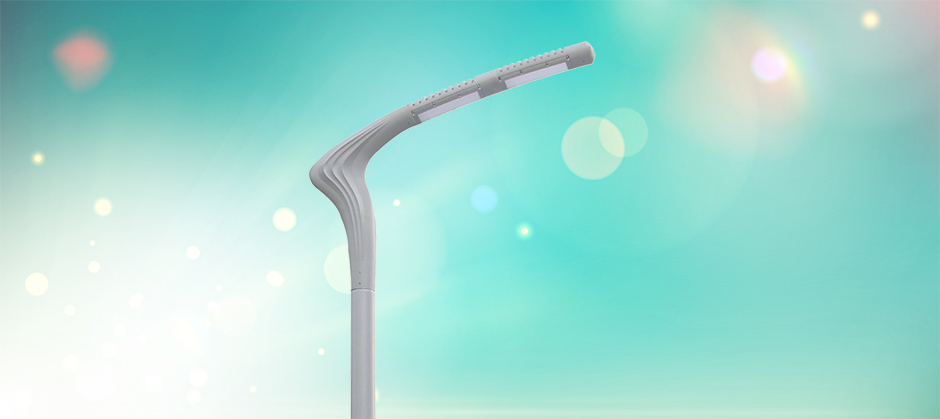 The JRB3 Series LED area lights from Jingri Lighing are contemporary style fixtures that combine state-of-the-art LED technology with elegant aesthetics. With a distinctive design language characterized by its slender silhouette, the fixture blends lighting functionality with an attractive form for artistic expression. The delicate, tubular luminaire seamless integrates with the pole in a shared design identity free of any distracting hardware that would take away from the integral beauty of the fixture design. The perfectly balanced luminaire and pole combination allows JRB3 to brilliantly illuminate roads, parks, gardens, squares or pedestrian areas while visually enhancing any outdoor setting with a sophisticated and graceful touch.
The JRB3 LED area lights embrace a sustainable modular design that facilitates application flexibility and performance upgrades. The tubular light engine in modular construction include 30 LEDs that draw 30 watts of electrical power. The light engine is a self-contained light assembly that incorporates all electrical and optical components in a rugged, die cast aluminum housing. The LEDs are mounted on a low thermal impedance MCPCB with excellent solder joint performance. A constant current LED driver provides reliable, efficient operation of the LED sources with greater than 0.9 power factor and less than 20% total harmonic distortion. The aluminum housing provides high performance heat sinking with integral cast wide channel fins which also enable natural cleaning and removal of dirt and debris. A curved, impact resistant and UV stabilized lens seals out ingress of water and dust as well as diffuse the light for softened illumination.
In addition to the exceptional design and superior photometrics that make this fixture a great addition to design-conscious area and pathway lighting applications, JRB3 takes advantage of CCT tunable white LED technology to synchronize with seasonal variations in the landscape. With automated shift in correlated color temperatures upon seasonal changes, this outdoor light fixture brings out the best in the nighttime beauty of landscape in all seasons and maximizes the influence of lighting on human bodies for optimal visual comfort. The JRB3 Series LED area lights are available in 1-, 2- and 3-module configurations with each delivering a light output of 1851 (CW)/1512 (NW)/ 971 (WW), 3718 (CW)/3024 (NW)/1942 (WW) and 5545 (CW)/4536 (NW)/2913 (WW) lumens respectively.
The JRB3 Series LED area lights are designed with durability and ease of installation in mind. IP65 rated ingress protection provides watertight integrity. Durable polyester TGIC powder coating offers this fixture superior weatherability. Modular design and quick electrical disconnects makes this fixture easy to install. The fixture is equipped with anti-drop safety wires to prevent the modular light assemblies from accidental free falling.
Product features
Slender, streamlined design that seamless integrates the luminaire and pole.
CCT tunable white LED technology provides seasonal synchronization of color temperatures.
Heavy duty, impact resistant die cast aluminum construction.
Excellent thermal management to ensure low LED junction temperature.
Modular structure allows for both easy installation and future upgrade.
State-of-the-art driver technology provides high system efficiency.
Precision engineered optics that restrict light trespass, glare and light pollution.
Thermoset TGIC super polyester powder coat finish for excellent corrosion resistance.
IP65 rated against the ingress of dust and water.

Automatic CCT tuning in synchronization with seasonal changes