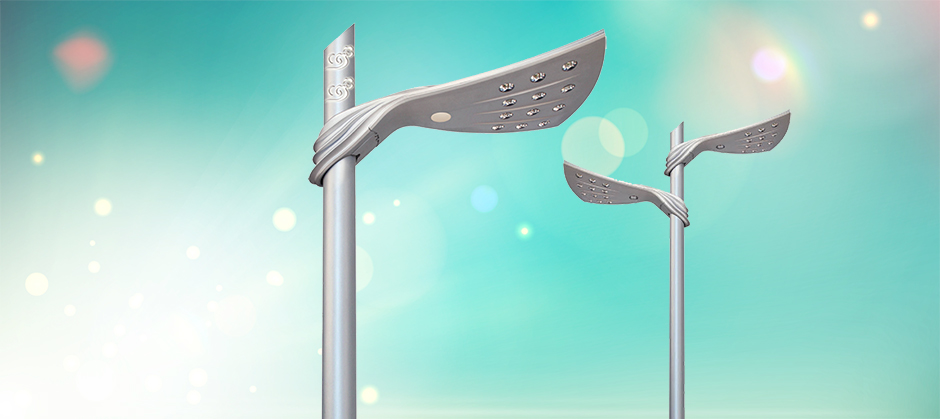 Inspired by the flying wings, the JRB5 Series Wing of Light LED Area Lights from Jingri Lighting bring undeniable charm and distinctive character from their dynamic, streamlined design that transcends architectural styles past and present. Delivering brilliant, dependable illumination with a striking, attractive appearance, the Wing of Light adds performance and aesthetic value to any streetscape or architectural project. In addition to the benefits of superior efficiency and longevity gained from LED technology, the Wing of Light provides a pleasant daytime and nighttime appearance that harmonizes in style with a wide range of applications including footpaths, driveways, cycle paths, gardens, pedestrian precincts, building perimeters, public parks and parking lots.
The Wing of Light is designed with a light engine that integrates independent LED modules. This design eliminates the need for the whole light engine to be changed when there is a malfunction of an individual LED. Each LED module includes an optical system that is molded out of impact resistant, UV stabilized polycarbonate. Precision designed, high transmittance optics provide uniform and controlled illumination for enhanced visibility and reduced glare. The JRB5 series LED luminaires are available with 12, 24, 36 or 48 LEDs that come in 31 watts (2261/2093/1736 lumens @ 6500/4000/3000K CCT), 41 watts (3255/3014/2501 lumens @ 6500/4000/3000K CCT), 59 watts (5414/5012/4153 lumens @ 6500/4000/3000K CCT) and 84 watts (7075/6549/5427 @ 6500/4000/3000K CCT) respectively.
JRB5's light engine uses the latest Cree or Osram LED technology to address the needs of the most demanding projects and stringent industry standards. State-of-the-art driver technology with overcurrent, short circuit, overvoltage and over-temperature protections ensures the system efficiency and reliability are maintained at a high level. Exceptional reliability and high luminous efficacy yields an attractive total cost of ownership over the extended service life time of an installation. Factory-installed internal passive infrared occupancy sensor allows for superior power savings by keeping the light at low intensity (20% maximum drive current) when target zone is absent of motion activity for a specified duration of time. The light illuminates to full brightness upon the detection of movement around the fixture across 10 meters of detection distance.
The low profile housing of the Wing of Light is constructed of high pressure die cast aluminum alloy for excellent thermal conductivity and dimensional stability. The streamlined aluminum housing are cast with a plurality of longitudinal heat dissipation fins that increase the surface area of the heat sink while providing self-cleanability to prevent debris buildup. The LED driver is mounted in a separate compartment, providing thermal isolation from the light engine as well as ease of maintenance. Electrostatically applied and thermocured polyester power coating over chemically chromatized aluminum casting surfaces ensures high corrosion resistance as well as optimal color and gloss retention. All electrical and optical components come with IP65 level ingress protection.
Product features
Dynamic, streamlined design that delivers contemporary aesthetics.
Heavy duty, impact resistant die cast aluminum construction.
Excellent thermal management system for LED and component longevity.
High performance LEDs in individual modules.
State-of-the-art driver technology provides high system efficiency.
Precision engineered optics that restrict light trespass, glare and light pollution.
Thermoset TGIC super polyester powder coat finish.
Motion activated light intensity adjustment.
Ease of installation and maintenance.
IP65 rated against the ingress of dust and water.