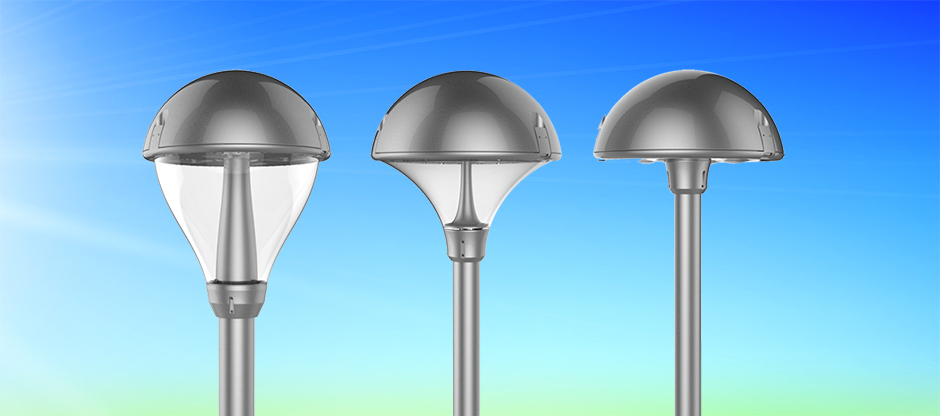 Designed to capture the essence of street and area lighting with
post top fixtures
, the JRB8 Series LED lights from Jingri Lighting strike a superb balance of dependable performance, sophisticated functionality and modern styling that matches well to a variety of architectural projects. The outdoor lighting collection carries a design philosophy that gives expression to a fully grown life with robustness and invigoration. With a sustainable concept and superior configurability in mind, the JRB8 Series LED post top lights offer a universal "all-in-one" product platform that delivers energy efficiency, high quality illumination with add-on features, e.g., motion activation, wireless control, daylight harvesting, and light pole customization.
JRB8 is characterized by a big domed top opening service cover made of high pressure die cast aluminum. The smooth dome delivers a contemporary minimalist aesthetic that lends daytime appeal to a landscape. An added functional benefit of this design is its watershed capability that allows water to easily flow off from the fixture as well as self-cleanability that enables natural removal of dirt and debris. The domed cover is fixed to the light assembly chassis using quick-release latches for tool-less access to LED light engines, LED driver, terminal block and other electrical components. Automatic electrical disconnect upon opening of top cover ensures operator safety. A mechanical lift support secures the cover in place during maintenance. Quick disconnect plugs facilitate serviceability in electrical wiring.
The JRB8 Series LED post top lights incorporate four modular LED engines which integrating state-of-the-art LEDs, optics and thermal management for a future proof product. Modular design provides a multitude of confi¬gurations and options to accommodate different lighting requirements. JRB8 post top lights are available with 16 and 24 LEDs in 37W, 55W and 83W wattage options for light output ranging from 3160 to 7620 lumens. Utilizing high performing Cree or Osram LEDs gives the JRB8 range a competitive advantage in luminous efficacy, light quality, chromaticity stability and lumen maintenance. Integrated die cast aluminum heat sinks provide robust thermal management that enables low junction temperatures at the chip level. The lighting systems are available in various IES distributions using TIR designed, heat and impact resistant, UV stabilized, non-yellowing polycarbonate lenses over each LED. The high efficiency optics enable JRB8 to provide improved horizontal and vertical uniformity, reduced glare and maximum column spacings.
The JRB8 Series LED post top lights offer a choice of driver options that include fixed output,
dimmable (DALI, Zigbee, 0/1-10V) and programmable drivers
with 700 mA or 1050 mA output currents. These constant current LED drivers from top tier manufacturers such as Mean Well and Inventronics deliver high system efficiency and reliability under wide temperature and electrical ranges. A full range of dimming solutions with both stand-alone and network protocols allow the lighting system to be operated with various controls, e.g., wireless control, photocells and PIR motion sensors. Optional installation of surge protection devices (SPDs) provides enhanced degree of protection for the driver and other electrical components against multiple nominal surges of up to 10 kV.
Jingri Lighting gives this product family an unprecedented set of design elements that make JRB8 posttops stand out in the market. In addition to three pole/luminaire combinations, the light pole itself can be customized to add flair to the nighttime ambience. Jingri Lighting offers a plethora of light poles with 3D laser cut decorative geometries which deliver the wonder of light and shadow.
Product features
Minimalism design with contemporary aesthetics.
Optional light poles with 3D laser cut decorative geometries.
Modular design for easy assembly, maintenance and upgrades.
Heavy duty, impact resistant aluminum housing.
Excellent thermal management for long-life LED performance and energy efficiency.
High efficacy LEDs with superior quality of light and long L70 life.
High efficiency constant current drivers with robust system protection.
TIR optics provide uniform light distribution, increased light level and excellent glare control.
Thermoset TGIC polyester powder coating finish over a chromate conversion coating.
Optional roof mounted twistlock photocell.
Optional wireless control.
IP65 ingress protection.