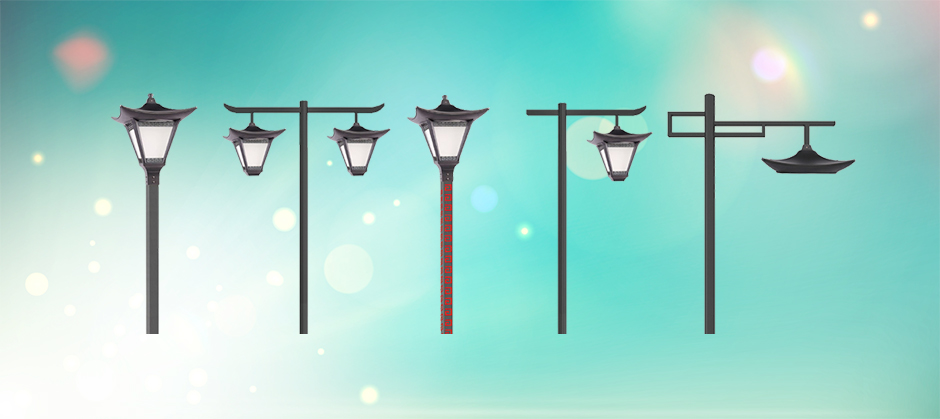 The JRB6 Series post top lights from Jingri Lighting combine modern lighting technology with aesthetics in a traditional form. The transitional style fixture features an Eastern-flavored design inspired by decorative cornices which are characteristic of traditional Chinese architecture. The lantern hood consists of two die cast aluminum parts, include the pavilion-style rooftop housing and a detachable, geometrically matched bottom housing that holds the modular LED engines and electrical components. The self-contained lantern hood can be used as an independent luminaire that provides a complete aesthetical profile. Adding a four-sided, cast aluminum frame with frosted polycarbonate shields to the hood completes the lantern design.
The modular design of JRB6's light source gives flexibility to address different lighting requirements and accommodate future updgrades. In contrast to fixtures with fully integrated LEDs, JRB6 provides easy, low cost component replacement and eliminates the need for the whole luminaire to be substituted upon system modification or upgrade. Compare with fixtures that use detachable light bulbs, JRB6 offers high efficiency optical performance with precision engineered TIR optics and provides the scalability of light output. The modular design of the JRB6 series provides a scalable luminous output from 1627 to 6475 lumens in 30W, 58W and 85W wattage options. These modular LED engines use Cree or Oram LEDs which deliver superior quality of light with industry leading punch for high thermal stability and excellent lumen maintenance. State-of-the-art drivers from Mean Well or Inventronics operate the modular LED engines with exceptional system efficiency.
The JRB6 series light fixtures are ruggedly constructed for a lifetime of durability. The die cast luminaire housing offers excellent structural strength and thermal conductivity. All metal parts are pretreated with a chemical chromatized protection and powder coated with a durable scratch- and chemical-resistant finish for superior weatherability. The fixture is IP65 rated against dust and water ingress.
The lantern can be mounted on horizontal arms or post tops. The post top fixture has a decorative finial. In addition to standard light poles, the JRB6 series offers dozens of design combinations with 3D fiber laser cut light poles. The striking light patterns delivered by these light poles harmonize in styles with the lantern and add beautiful flair to the nighttime beauty of a landscape.
Product features
Contemporary interpretation of the classic lantern-style fixtures.
Rugged construction, heavy duty die cast aluminum housing.
Modular light engines deliver scalable lighting performance.
High efficacy LEDs with long L70 lifetimes.
High efficiency LED driver.
Polyester powder coating for superior corrosion resistance and color retention.
Post top or arm mount.
IP65 ingress protection.