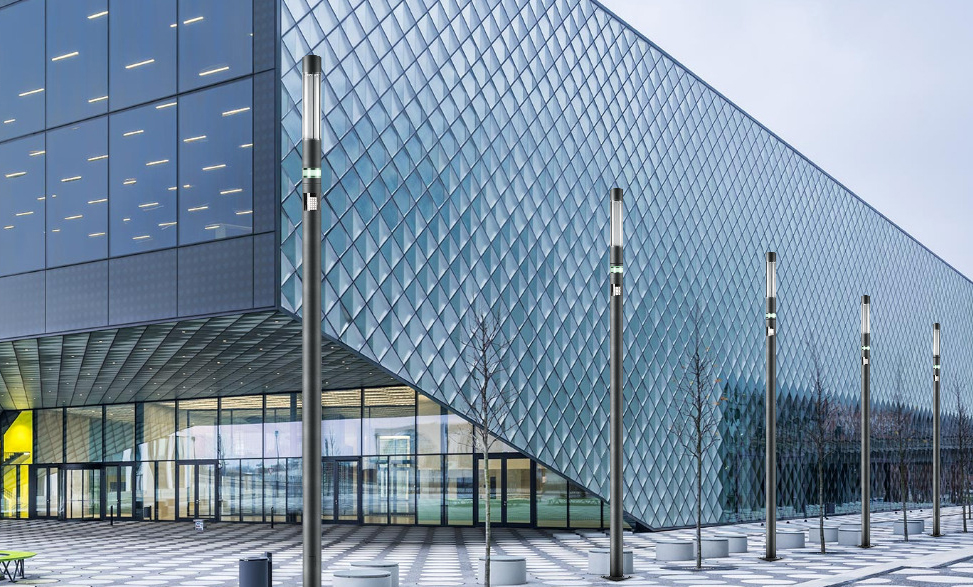 Whether classic or modern you can find your expression with ConStela, an architecturally adaptable light column presented by Trilux. Simply the most sophisticated and energy-efficient lighting option available today, ConStela integrates the latest LED advancements into a timeless design to provide long-lasting, future-proof lighting with a variety of optical and control options for customized performance. Combining sleek styling with rugged construction, the LED column offers an unmistakable form and character that blend tastefully into either commercial or residential design schemes for pedestrian scale lighting. Whenever emphasis is placed on optical performance or architectural integration, or both of them, ConStela never fails to create an exclamation point.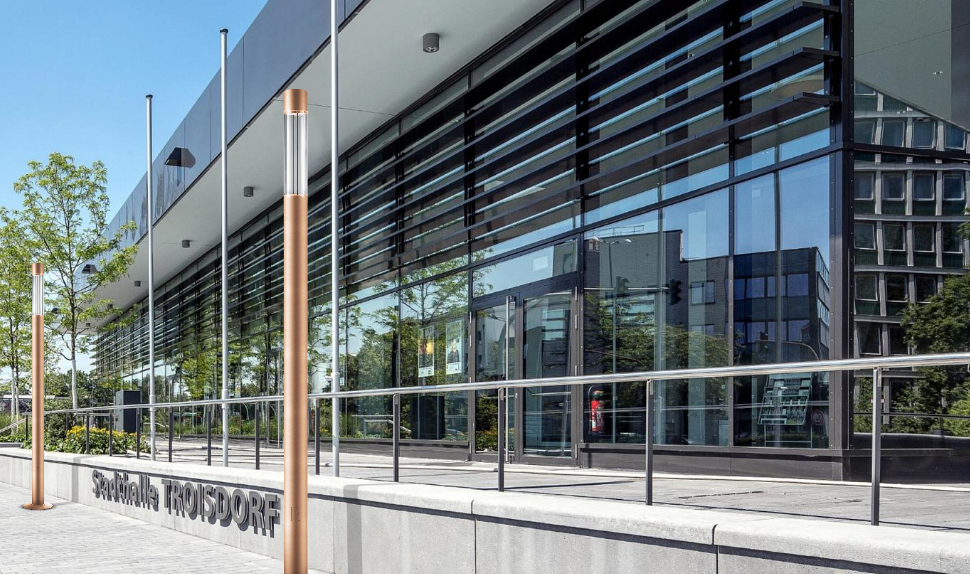 ConStela's minimalist design does not detract from the aesthetics of the architecture, landscaping and natural features. Instead the sleek look of the fixture exudes metallic modernity and refined personality that best exemplify today's cosmopolitan style architectures. Its slim line visually integrates with surrounding landscape without being overly obtrusive, producing decorative urban effect and enabling subtle design of public spaces during the day. The versatile optical system can be configured to offer an impressive range of variations in light distribution with a high level of visual comfort. Architecturally appealing design combined with outstanding system engineering makes ConStela an extraordinary addition to landscape architects' toolbox. ConStela is ideally suited to embellish the architectural setting and enhance the ambiance of pedestrian precincts, building surrounds, pathways, driveways, walkways, gardens, squares and parks of landscape areas, commercial complexes and municipal facilities.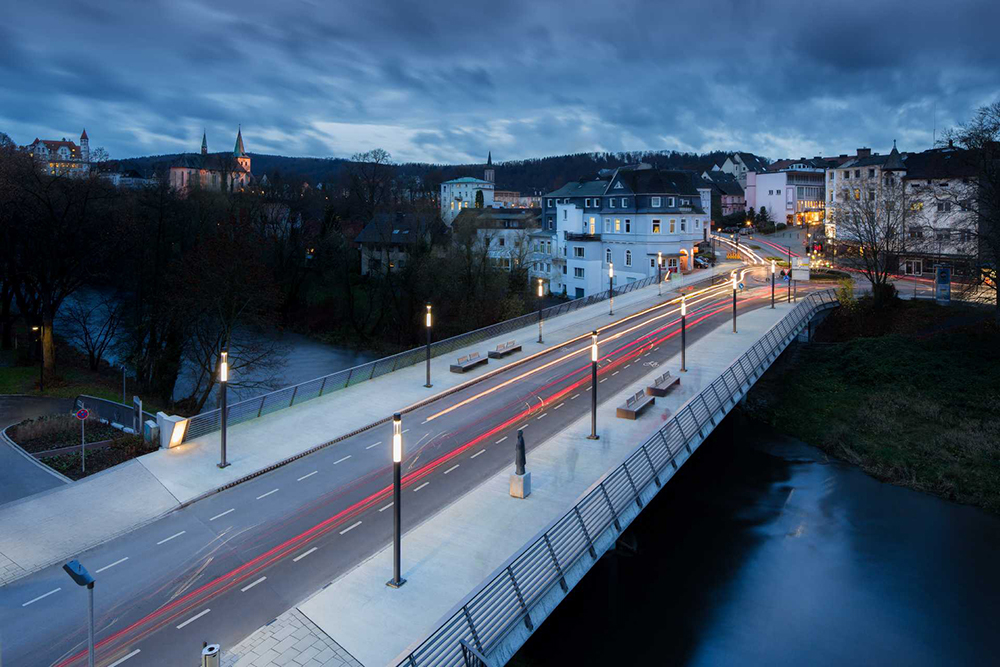 The ConStela light column family includes ø200mm and ø230mm versions and takes a modular approach to accommodate different application needs. The configurable assembly of this cylindrical fixture comprises a light head, supporting column, and the optional modules such as spotlight and signal light. As intermediate elements either between the post and light modules or as the termination element, intermediate pieces of various heights enable precise mounting of the luminaires and thus also expand light distribution flexibility. The light post can also be equipped with a variety of Smart City modules that will deliver benefits beyond illumination. Wi-Fi modules are available for access to public networks, charging stations for e-bikes and electric vehicles as well as video surveillance cameras for car park monitoring. The forward-thinking modular design offers the ultimate versatility required to provide precise levels of illumination performance with upgradability to future LED technology. The IoT-ready construction enables city architects to transform the light columns into network nodes capable of providing highly diverse urban services.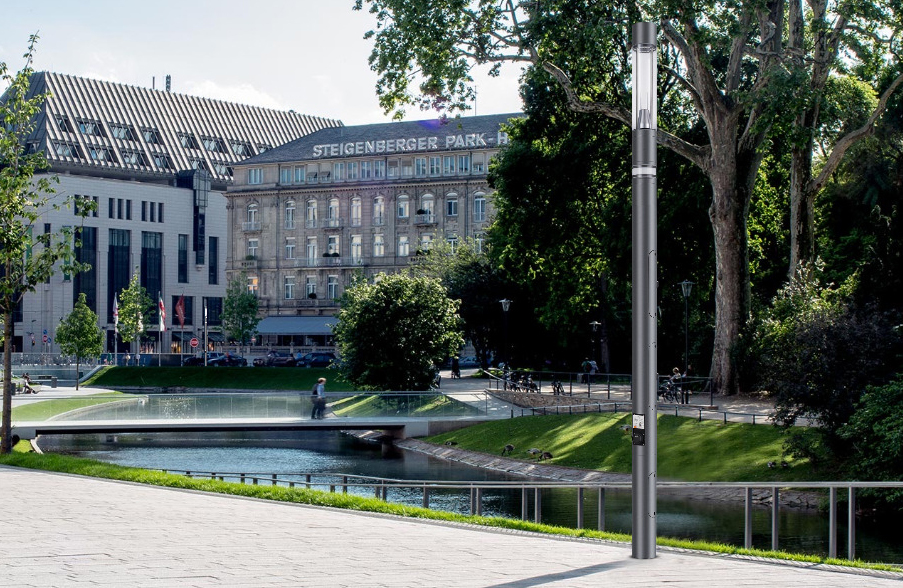 The light head module can be scaled from 2600 lm to 5600 lm in a choice of 6 lumen packages with correlated color temperature available in 3000K and 4000K options (70 CRI). With over 20 different lens configurations offered by Trilux smart multi-lens technology (MLT IQ), the optical system serves up incredibly uniform illumination with tremendous application flexibility. MLT lenses ensure individualized adaptation of light distribution and thus cover photometry for all P and M lighting classes with various beam characteristics. Injection molded total internal reflection (TIR) collimator and precision light shaping lens produce rotationally symmetric light distribution for open areas where illumination is required on all sides of the fixture. The optical system can be optionally configured to produce an asymmetric light pattern for uniform illumination on pathways.
The ConStela light column has three light head models including Basic 110 (110 cm high), Basic 80 (80 cm high), and Empror 80 (80 cm high). They're fitted with clear cylindrical PMMA shields which are UV stabilized and impact resistant, and protect the LED modules from water and dust ingress. The Empror 80 has an additional PMMA reflector cone that resides centrally in the cylinder to increase photometrically active area for more uniform luminance across the light head while reducing glare. Paired with state-of-the-art optic control, the Dark Sky compliant light head emits no spill light above the horizontal plane.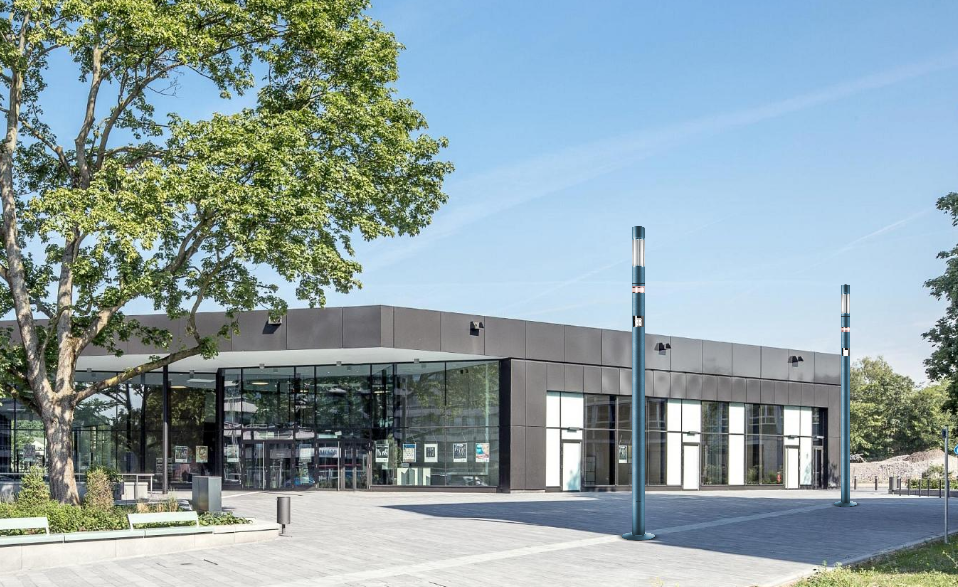 The optional spotlight and signal modules add to ConStela's application versatility. The incorporation of the spotlight module allows ConStela to serve as a bollard or façade projector as well. With symmetric lighting provided by the spotlight, ConStela produces more ground level illuminance for visual guidance or enhances building façade features. Choose from 2200, 2900, 3800 and 5100 lumen packages; narrow and wide beam patterns; 3000K and 4000K CCT options. The spotlight module is +/- 15° titable and 355° rotatable. No tools are needed to position and align the spotlight modules. This allows for effortless field optical aiming and offers lighting designers more creative freedom. Available in monochrome red, green, blue and white color options, the signal module adds way finding capability as well as drama and accent to what otherwise would be a rather dull landscape setting in environments requiring a more decorative ambiance.
Use of thermally optimized LED packages combined with high efficiency board and system level thermal management enables ConStela to deliver consistently high quality lighting with high luminous efficacy over its rated life. The LEDs incorporated in the ConStela light columns have an L80 life of up to 100,000 hours (based on a rated ambient temperature of Tq = 25°C). Effective heat dissipation keeps the LED junction temperature well below the operation limit, which ensures minimal lumen depreciation and color shift. Trilux also takes into account the luminous depreciation that takes place over time in the product design. Constant lumen output (CLO) technology is a standard feature of the LED drivers that power the light modules. CLO control fights the natural decay of LED light output and automatically compensates for the depreciation of luminous flux such that the intensity throughout the lumen depreciation period remains stable.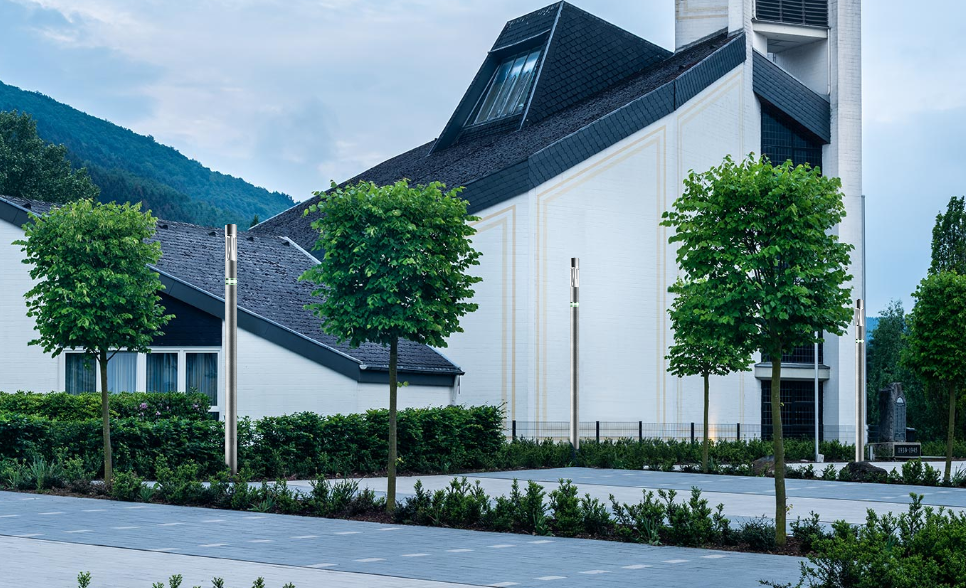 With special attention to mechanical engineering the ConStela light column will stand the test of time and endure the rigors of outdoor exposure. A durable extruded aluminum housing provides exceptional rigidity and strength. Electrostatically applied ultraweatherable TGIC polyester powder coat on the housing withstands extreme weather changes without cracking or peeling while providing maximum retention of gloss and luster. Standard colors are anthracite, red, blue, silver, gold and black. Other architectural finish colors including all RAL matches are available upon request. All light modules are gasketed to seal out external contaminant with an IP65 ingress protection rating.
The ConStela LED columns are equipped with constant current drivers that are integrated into the light modules. The driver has a network-ready DALI interface that allows for full digital programming. Integration with Trilux LiveLink outdoor light management system enables higher levels of efficiency, flexibility and customization. This light management system allows the complete lighting infrastructure to be analyzed and managed from anywhere at any time. The system features an open API interface for accommodating Smart City applications.