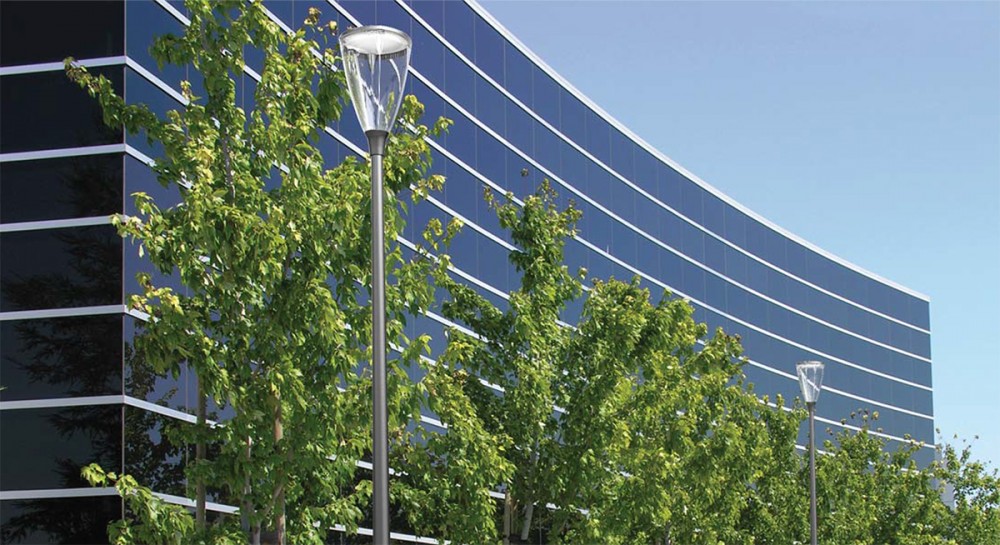 Free of distracting elements that would take away from the beauty of this modern outdoor post light, the
VASCO
draws the eye to its striking minimalist aesthetics. Produced by
Rohl S.A.
, a French lighting manufacturer, this graceful post mount fixture features an extremely clean architectural design that blends beautifully in a wide range of commercial environments, residential areas and landscape themes. Seamlessly interweaving form and function, the VASCO
outdoor post light
is a true work of art that delivers high performance with a fabulous, attractive appearance. The outdoor light fixture is thoughtfully created with state-of-the-art LED technology that guarantees maintenance-free, energy efficient lighting for a plethora of years.
Showing off contemporary elegance from a slender, reversely tapered geometry that comes with a gently arched silhouette, the tapered lantern of this post light fixture provides a lovely update to the classic posttop profile with its stunning simplicity. Measuring 660mm high, the lantern features one of the purest designs in the world of outdoor lighting. The quintessence of this striking design is a crystal clear polycarbonate shade which performs a triple role: structural support, optical lensing and ingress protection. Besides a daytime contemporary aesthetic that amps up the decor scheme of an exterior space, the frameless design creates an intriguing visual illusion that the light appears to float in the air at night.
The post top fixture is designed with a flat roof with the light engine, power electronics and control gear integrated into its low profile assembly. Available in 1- and 2-module configurations, VASCO L-540 is offered in a variety of wattages ranging from 19W to 73W with scalable drive current from 350 to 700 mA, providing maximum flexibility in all types of applications. Each LED module is mounted with 16 high performance LEDs up to 126 lumens per watt in neutral white (4000K) or up to 118 lumens per watt in warm white (3000K). The LEDs are soldered to a removable circuit board which is in full thermal contact with the aluminum rooftop for efficient heat dissipation. The modular design enables VASCO to accommodate different lighting requirements and allows effortless upgrades to future LED generations, making it a truly future-proof outdoor lighting system.
The LED light engine is equipped with precision molded TIR optics to assure consistent optical performance. The VASCO LED area light provides seven asymmetric and symmetric photometric distribution patterns that allow for maximum performance with a multitude of lighting designs or pole setbacks. The post top light also comes with an option for diffused lighting using a high transmission efficiency opal diffuser. Exceptional uniformity enables maximum pole spacing and creates bright environment at lower light levels. Improved backlight cutoff minimizes light trespass, sky glow, glare and light pollution for neighborhood-friendly and Dark Sky compliant outdoor lighting. With its distinctive design language, scalable lumen packages, interchangeable symmetrical or asymmetrical optics, the VASCO is the ideal solution for lighting up private roadways, residential areas, squares, parks, pedestrian zones, precincts, footpaths, gardens and building perimeters.
Engineered with expert craftsmanship, the post top light fixture provides dependable performance even in the toughest environments and brings across many benefits of utilizing LED lighting technology. The aluminum components that give VASCO lifetime durability are fabricated using high pressure die casting with precise dimensional consistency and tight dimensional tolerances. A thermoset super TGIC polyester powder coat finish that undergoes a stringent cleaning and pretreatment process resists cracking or loss of adhesion while providing optimal corrosion resistance, color and gloss retention. The streamlined roof housing provides air convection and conduction to keep LEDs and electrical components cool while also enables natural cleaning and removal of dirt and debris. The wet location rated light is sealed to an IP66 ingress rating using highly durable silicone rubber gasket. A pressure-stabilizing breather equalizes the internal and external air pressure to prevent excessive stress on the seals.
The sophisticated outdoor fixture is powered by a constant current LED Driver that combines smart technology to provide digital control and networked management. It features a standard digital interface that enables DALI digital dimming and allows for communication and configuration on LonWorks building automation networks. The network-ready fixtures can be controlled individually or in fixture groups for synchronized operation on a PLC (Power Line Communication) network. VASCO supports LoRa wireless data communication which provides long-range connectivity for
Internet of Things (IoT)
devices.
The post top LED lantern is designed to accommodate 60mm (O.D.) tenons and comes standard with 4m tall light poles in tapered, non-tapered design.