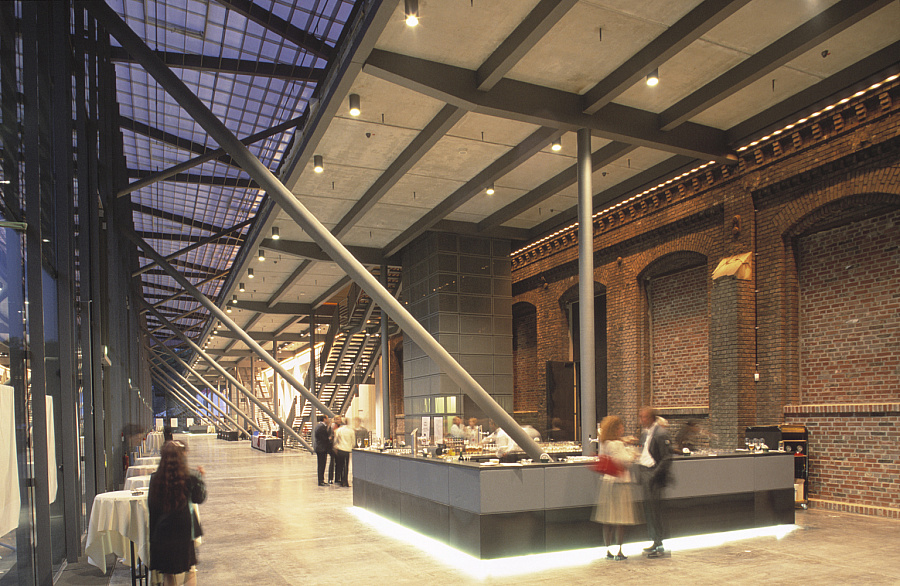 Taking its clean minimalist form in a sleek metallic cylinder, the ERCO Compact surface-mounted downlight brings a contemporary solution for outdoor ceiling lighting. Compact thrives on simplicity and works with any ceiling surface without compromising its architectural aesthetics. The LED cylinder designed with a universally adaptive look blends perfectly with a variety of modern exterior decor where recessed mounting is not possible. Compact gives lighting designers and architects a future-proof choice to fulfil both architectural and functional lighting tasks. The luminaire is designed for installation in arcades, canopies, doorways, covered areas, entry ways and roofs of convention centers, retail buildings, loading docks, airport terminals, railway stations, and other commercial facilities and public buildings.
The Compact collection is offered in 16W and 24W power packages with light outputs ranging from 1680 lm to 3300 lm. A choice of three optics (extra wide flood, oval food, wall wash) facilitates its application flexibility. Committed as always to meeting the highest standards of quality and quantity, ERCO developed this luminaire using its in-house fabricated LED modules. LEDs are sourced from top-tier brands based on the industry's highest standards of luminous flux, luminous efficacy, color quality, color locus and consistent electronic characteristics in mass production. With a luminous efficacy of 138 lm/W for neutral white LEDs and 105 lm/W for warm white LEDs, Compact delivers significant energy savings over traditional HID or fluorescent technology.
Compact is engineered to perform well beyond its specified life as well as its competition. ERCO's holistic development approach integrates photometric, electrical, mechanical and thermally efficient components in a single system. Robust interconnection between the high power LEDs and multi-core PCB in conjunction with effective heat sinking provided by the die cast aluminum housing guarantee no thermal buildup in the LED junction. Advanced thermal engineering ensures the luminaire's light source has an exceptional L/B value which specifies the drop in luminous flux of individual LEDs. Compact LED cylinders has an L90/B10 specification with 50,000 hours, which means that no more than 10% of the LEDs used (B) achieve less than 90% of their original luminous flux (L) within the specified period. Even after 50,000 hours, the surface mount LED downlights remain fully operational. The LEDs used at Compact have an incredibly low failure rate (0.1% for 50,000 hours), whereas the standard failure rate in the market is 0.2% for 1,000 hours.
Superior color quality and consistency lend this luminaire one of the highest specification outdoor lighting systems in the industry. With a color rendering index in excess of 90, Compact offers luxury color quality that is extraordinary in exterior applications. Enhanced color fidelity ensures the best rendering across all colors so people and exterior decor appear more vivid and vibrant. The light source is available in warm white and neutral white color temperatures. Each color temperature has color coordinates within a 2-step MacAdam ellipse tolerance where tight color binning ensures superior color consistency from fixture to fixture uniformity. Even after 50,000 hours of operation, this color deviation is still controlled within 3 SDCM. Excellent thermal management, optimized power management plus the inherent high quality of the LEDs assure the luminaire's lifetime consistency in light output and color stability.
The cylinder downlights are equipped with ERCO's patented polymer lens system which has been meticulously calculated and engineered to project soft, uniform light. The extra wide flood optics produce symmetrical light distribution which balances horizontal and vertical illuminance. For uniform ambient lighting, the spacing (d) between two Compact surface-mounted downlights may be up to approximately 1.5 times the height (h) of the luminaire above the working plane. The wall offset should be half the luminaire spacing. The oval light distribution lends itself particularly to the longitudinal illumination of hallways and long aisles. For uniform lighting with luminaires arranged in a line, the spacing (d) between two Compact downlights may be up to approximately 1.5 times the height (h) of the luminaire above the working plane. The wall wash optics produce highly uniform vertical illuminance with a smooth, clean gradient of light to wash walls evenly. To provide glare-free lighting for maximum visual comfort, the flood beam downlight uses an anti-glare ring with cross baffle for a 30° optical cut-off. The wall washer produces 30° or 40° asymmetric distribution using an aluminum vaporized polymer reflector and optical diffuser. For good longitudinal uniformity, the spacing (d) of Compact lens wallwashers may be up to 1.3 times the offset from the wall.
Compact operates on 220V-240V input with high power conversion efficiency and excellent EMC immunity. ERCO uses only high quality components in its driver circuitry to reduce the start-up peaks. The constant-current driver supports constant-current reduction (CCR) intensity adjustment for continuous, flicker-free dimming from 100% to 10%. It also provides compatibility with phase control dimmers (trailing edge) which are already widely used to dim incandescent and fluorescent lamps.
The downlight is built to last in all-weather applications. Compact is IP65 rated for wet locations and dusty environment. The rugged aluminum housing is protected by durable thermoset powder coat finish that can withstand extreme climate changes without cracking or peeling. The optical assembly is sealed by a non-reflective safety glass. This outdoor luminaire is assembled using tamper-proof screws to prevent casual vandalism or unauthorized openings.