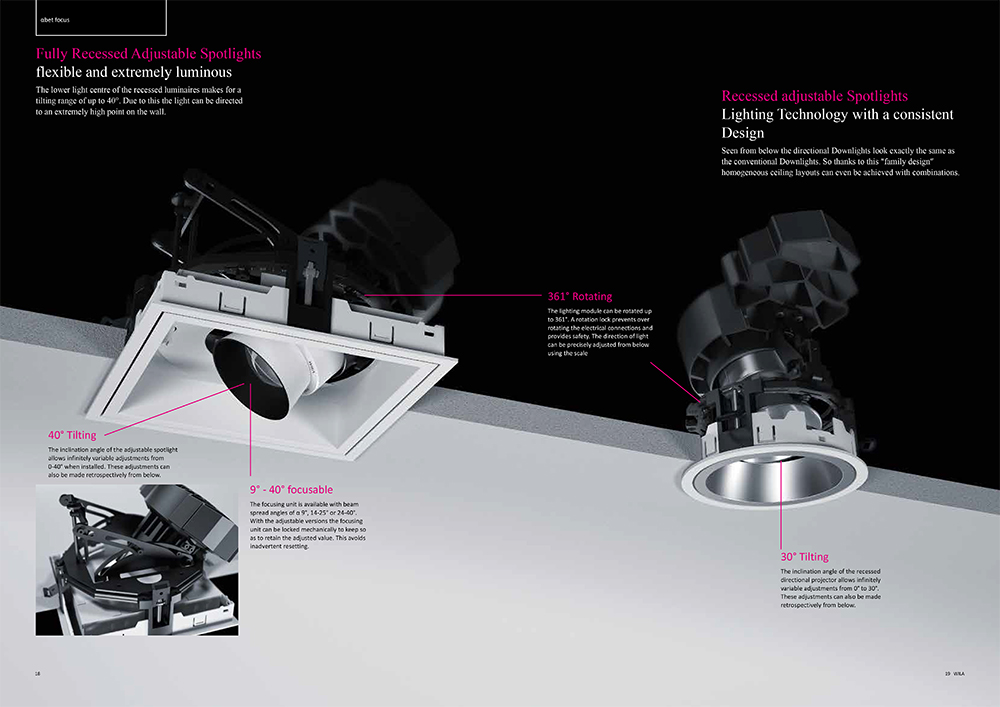 The Alphabet Focus Series recessed LED downlights are a comprehensive portfolio of adjustable wall-wash, spotlighting and flooding luminaires created and designed for high-end retail, hospitality and commercial applications. These directional downlights deliver targeted, precisely controllable lighting in galleries, museums, offices, shopping centers, commercial showrooms, restaurants, hotels, exhibition halls, window displays. Alphabet Focus gives architects, interior designers and lighting specialists plenty of creative freedom to address challenging architectural design requirements. With exceptional color quality and clean beam patterns, Alphabet Focus stands apart from competing solutions and delivers superior value for perception-orientated lighting designs.
Alphabet Focus is available in both round and square designs with different aperture sizes including 127x127mm, 170x170mm, 177x177mm, 120mm and 165 mm. The collection comes in 410 to 2190 lumen packages which are delivered in a choice of beam angles in 9°-60° range. The light module can be rotated through 361 degrees and allows tilt adjustments from 0° to 40° (square aperture version) or from 0° to 30° (round aperture version). Optical systems of the Alphabet Focus downlights are equipped with 9° fixed angle lens, and adjustable 14°-25°, 24°-40°, 35°-60° zoom lenses. Locking mechanisms for rotation and tilt adjustment are accessible from below the ceiling. Superior optical adjustability provides endless possibilities to accommodate architectural aiming and control in both asymmetrical and downlight applications.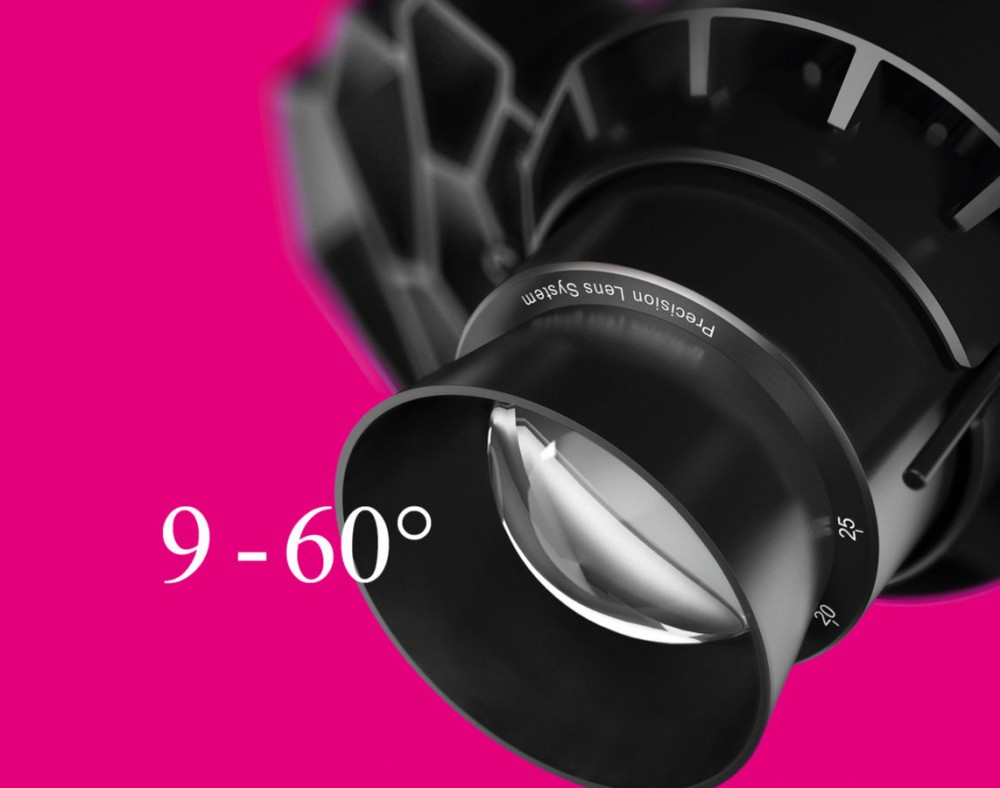 Precision engineered optical system addresses the photometric challenges of delivering high punch in a beam while producing a softer, more comfortable light that truly enhances the environment. The high efficiency beam-forming optics are optimized for beam uniformity, high center beam candlepower (CBCP) and minimal aperture brightness. With a printed scale, the beam spread angle can be fine-tuned, while the black anti-glare cone delivers ultimate visual comfort and reduces backward stray light into the room. Integrated lensing and reflection technology ensures exceptionally uniform levels of illuminance in a precise cut-off angle of the light distribution, thereby achieving maximum optical efficiency and superior glare control which are critical to any qualitative lighting design.
The wallwashers of the alphabet focus product range use Precision Lens Technology (PLT) to illuminate vertical surfaces with high homogeneity. Proprietary dual-level optical design ensures even ceiling-to-floor washing of vertical surfaces without light scallops. As with all products in the alphabet focus range, a primary lens ensures optimal light focusing. On a second plane a computer optimized secondary lens system makes for uniform, volumetric distribution of light. Alphabet Focus wallwashers enhance the perception of space and accentuates different aesthetics and characteristics of the room even at small setback distances to the wall. From narrow beam highlighting to wide flood accenting, the uniform wash of light opens up a space and accentuates brilliance of its architecture.
Alphabet Focus spotlights produce a clean beam that strikes the wall at a narrower angle to highlight special features and heighten drama. The extremely uniform beams carry the highest punch possible for dramatic accent lighting. Unparalleled CBCP offers tight spotlighting that improves the perception and attractiveness of the illuminated objects. The flexible adjustability of light module makes sure the lighting can remain flexible in various ceiling heights and setbacks. The Alphabet Focus family of LED spotlights include the flexibility and precision which are highly appreciated by lighting designers who aspire to create high drama for high-end retail environments, museums and galleries.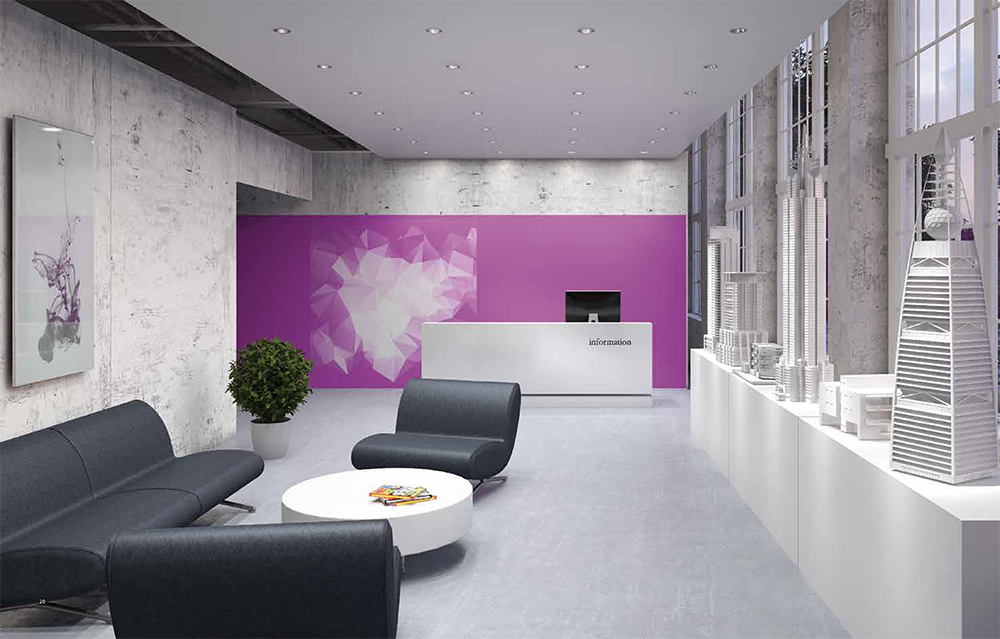 Alphabet Focus produces uncompromising quality of light that makes it possible to bring out the best in the space and items it illuminates. The directional downlight incorporates LEDs that are formulated to exhibit visible spectrum radiation at virtually all wavelengths of the spectrum for high color rendering up to a 90+CRI. The color-true lighting renders enhanced whites and vivid colors to provide a fantastic color experience that is essential in reinforcing design aesthetics and creating a pleasant environment. Available in 3000K and 4000K color temperature options, the high efficacy LEDs are binned to within a 2-step MacAdam ellipse to ensure color variations from fixture to fixture imperceptible by the human eye and therefore an optimal lighting quality.
Alphabet Focus is engineered to provide outstanding optical performance, superior energy efficiency and extremely long operational life. Everything about the LED performance is related to temperature. The distinctive geometry of its aluminum heat sink is thermally simulated in the development process to maximize the effective surface area and the convection heat transfer coefficient. The LED module is attached to the heat sink with high reliability interconnection that can strengthen the heat transmission, ensuring optimum thermal transfer from the LED junction to the ambient via high efficiency heat sinking. Superior thermal management allows the LEDs to operate as efficiently as possible without degradation of the phosphor and packaging materials. This ensures that Alphabet Focus maintains its high color quality and excellent lumen maintenance throughout the lifetime of the product.
The downlight is operated by an external driver that provides constant current output matched to the electrical characteristics of the LEDs. Loop-in and loop-out connection dramatically reduces installation time and allows cables to sit neatly side by side. In addition to 0-10V analog and trailing edge dimming controls, Alphabet Focus is dimmable via DALI which enables automatic control over individual luminaires, light groups and networks. An integrated luminaire controller with daylight control and occupancy detection can be optionally incorporated to maximize energy savings.