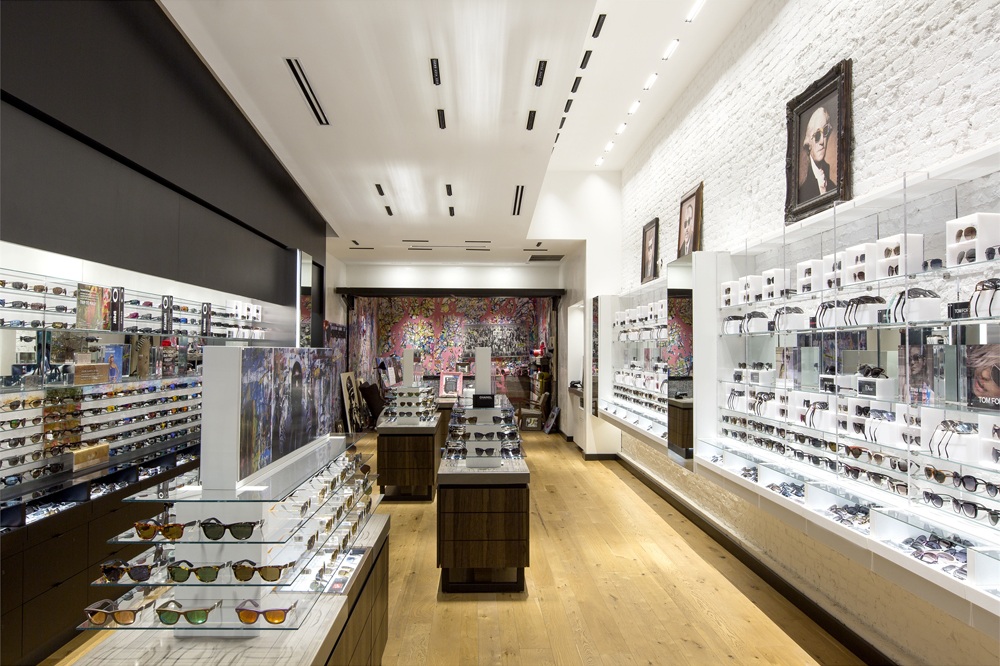 iGuzzini Laser Blade is a family of recessed LED downlights that provide unmatched architectural integration and lighting experience for all applications including spotlighting, floodlighting and wall washing. This award-winning range is created and designed for high-end retail, hospitality and commercial lighting projects to meet design specifications, with superb color quality, color consistency and precision distribution for any job, large or small. Inspired by the art of Lucio Fontana and specifically developed with input professional interior designers, the design-driven Laser Blade enables exceptional aperture aesthetics and optical performance while accommodating the latest technology available to deliver sustainability.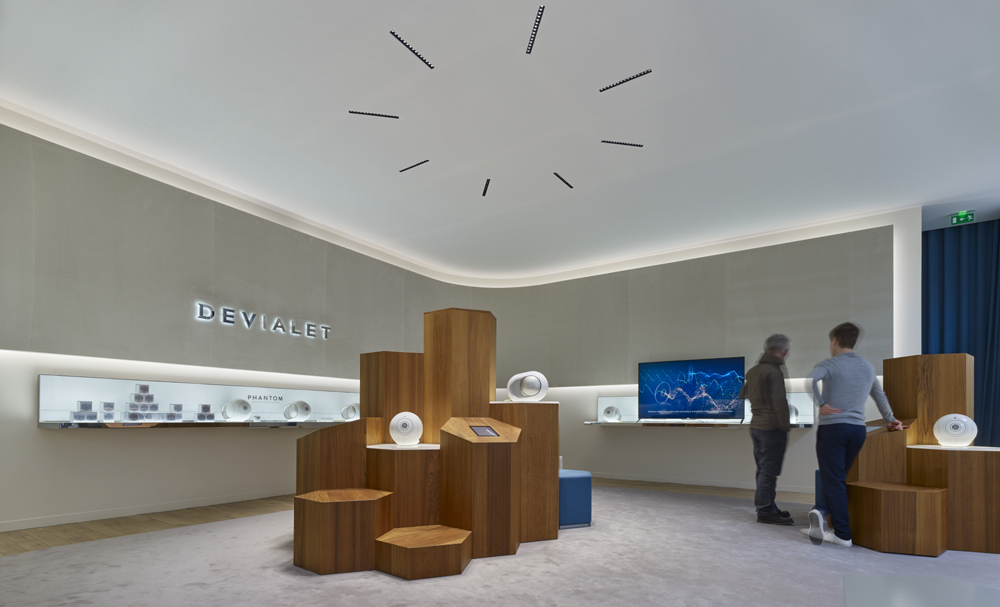 Cutting-edge Innovation Through a Systems Approach
iGuzzini's Laser Blade range has been hailed as an icon of innovation since its launch several years ago. It offers a revolutionary way to generate high-quality illumination from an architecturally adaptive, small aperture downlighting system that permits unobtrusive ceiling integration. This high-forming family of architectural LED downlights are innovated from the ground up by leveraging iGuzzini's disciplines of thermal, electrical and mechanical engineering, as well as unparalleled expertise and insights in optical design. Laser Blade is created to facilitate the design excellence of creative, discerning lighting designers and architects who are constantly hunting for a more consistent, inconspicuous architectural aesthetic and more compelling lighting experience for end-users. To sum it up, the Laser Blade range provides phenomenal configurability with its modular design while upholding high standards across all dimensions of design and utility, including visual integration, light quality, energy efficiency, system reliability, ease of installation and maintenance.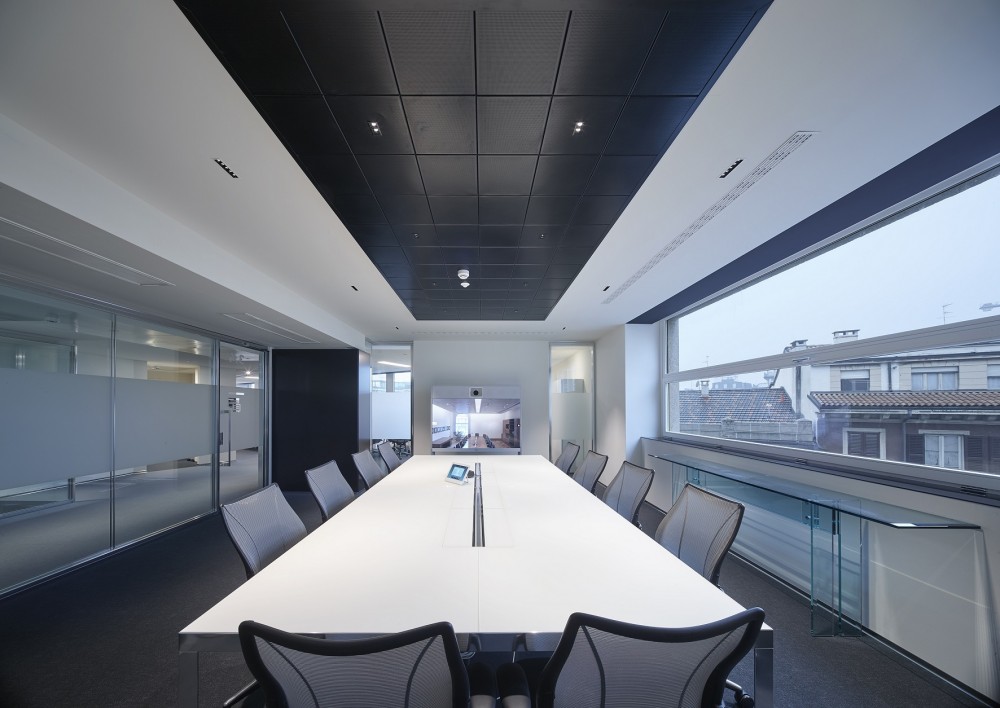 Precision Optical Engineering
Core to Laser Blade is iGuzzini's patented Opti Beam technology which enables construction of optical assemblies with exceptional beam precision and uniformity even in miniaturized footprint. The meticulously crafted optic generates a circular emission with an extremely uniform and chromatic yield. Deep-set light emission combined with optical accessories such as louvre cells suppresses high-angle light to reduce visual glare and improve visual comfort with a unified glare rating (UGR) as low as less than 10. In Laser Blade's precision engineered optical systems, the path of every ray is controlled by optimizing the position of each LED and the reflection of each angle of the reflector. The Laser Blade reflectors take advantage of sophisticated geometry and high refection metallized coating surface to regulate luminous flux from the light source. These facet reflectors which are engineered on advanced ray interaction algorithm produce mixed reflection that enables homogeneous illumination without striations, hot spots or color break up.
Whatever applications the LED luminaires are used for, Laser Blade can satisfy any design requirement with precise beam control and highly uniform illuminance. From spot to medium, flood, wide flood, wall washer and oval lighting distributions, Laser Blade luminaires with Opti Beam optics produce a perfectly defined pool of light that delivers the ultimate experience in visual comfort and maximum expression of architecture. Spotlights with narrow beams deliver the highest punch possible for accent lighting. The well collimated beams create contrast precision and are completely free from fall-off halos. Downlights with medium beam distributions balance the delivery of high illuminance levels with industry leading CBCP. The recessed LED floodlights with wide beam casts a soft glow with minimal aperture brightness. Lensed optics soften the light source to create even more visually comfort ambience. Laser Blade also excels at wallwashing. Its asymmetrical beam-shaping optics create uniform vertical illuminance across the entire surface of the wall without light scallops and lateral light spill.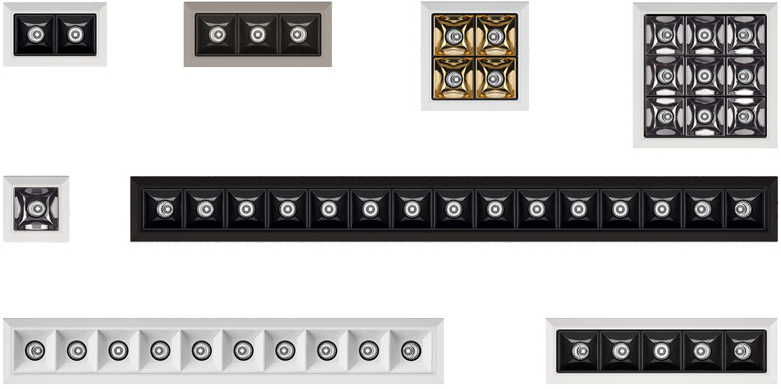 Superior Quality of Light
iGuzzini brings its renowned product benefits inside this highly engineered system that incorporates highest grade componentry. Upgrading to high quality, energy efficient LED lighting has never been easier with Laser Blade which uses high efficacy, high flux density and high color rendering LEDs. High performance LEDs deliver the industry's highest quality of light creating an ambiance with color performance previously exclusive to incandescent lamps, all while maintaining high luminous efficacy - a true no compromise solution. The enriched CRI light source guarantees peerless color rendition with uniformly spectral distribution of all color components across the wavelength range of the visible radiation spectrum. The top-class selection of LEDs used in Laser Blade luminaires ensures exceptional color fidelity that helps bring out more vibrant colors and patterns critical to color sensitive or visually demanding applications such as museum, art gallery, retail and office lighting.
Laser Blade LED luminaires are offered in 2700K, 3000K and 4000K color temperature options with a chromaticity variation of less than 3-step MacAdam ellipses. Tight color control ensures imperceptible color deviation for module-to-module and luminaire-to-luminaire color consistency. The Laser Blade family includes a tunable white version which allows end-users to control the correlated color temperature and offers the freedom to create different ambiances in multidisciplinary spaces supporting personal preferences or specific activities. Laser Blade tunable white solutions can simulate natural daylight with infinitely adjustable color temperature between 2700K and 5700K. In addition to dynamically underlining the beauty and brilliance of different objects and surfaces museum and retail display lighting, tunable white technology can contribute to human centric lighting by providing interior rooms with biologically effective artificial daylight that synchronizes human the day/night rhythm. This feature is highly coveted in the hospitality industry.


Built to Deliver Consistent Value
Laser Blade is equipped with a highly efficient wavy aluminum heat sink that effectively increases surface area for heat dissipation while remaining confined to its small footprint. The heat sink construction and dimensioning are based on thermal simulations that are part of iGuzzini's stringent product development process. The recessed LED luminaire has a thermal conduction pathway with extremely low thermal resistance from the LED junction, through the die cast aluminum housing and heat sink to the ambient environment thereby guaranteeing no excess heat buildup. Advanced passive thermal management ensures that at least 90% of all LEDs still achieve more than 80% of the initial luminous flux for up to 50,000 hours. It also prevents the LEDs from thermal degradation in phosphor and silicone encapsulation, making it possible for Laser Blade luminaires to maintain excellent chromaticity stability over the life of the products.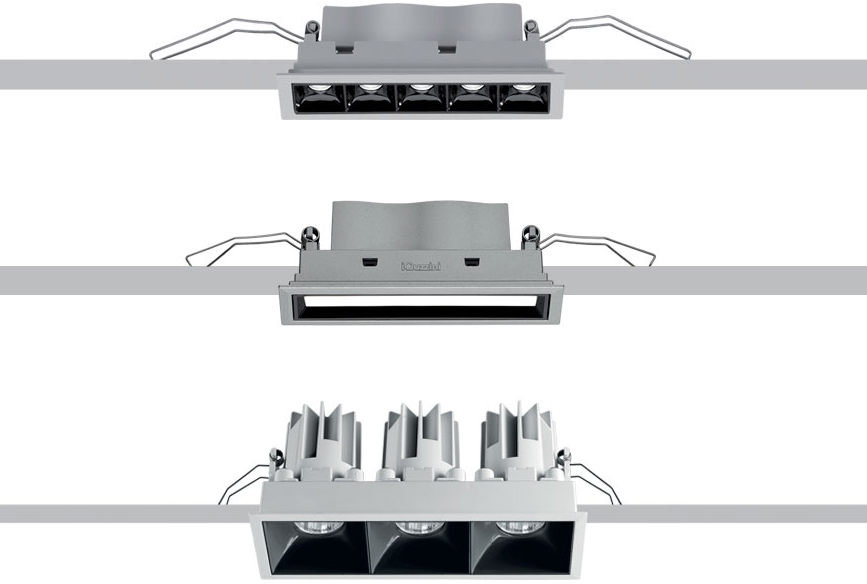 A Host of Architectural Lighting Solutions
Laser Blade is not a single luminaire but a system of continuous innovation. This product family has evolved to offer a number of state-of-the-art solutions which have been used in a plethora of prestigious projects. Modular ingenuity transforms the innovation into a host of best-in-class products which include Laser Blade (44mm square module), Laser Blade XS (28mm square module), Laser Blade L (86mm square module) and Laser Blade XL (144mm square module). The comprehensive portfolio of product offering gives wealth of flexibility to fill architectural design requirements. Laser Blade provides total integration in multiple application settings through scalable luminaire lengths and lumen packages as well as interchangeable optics and multiple aperture sizes. These modular downlights are available in linear and square configurations and finished in a choice of colors including white, black, gold and anthracite grey.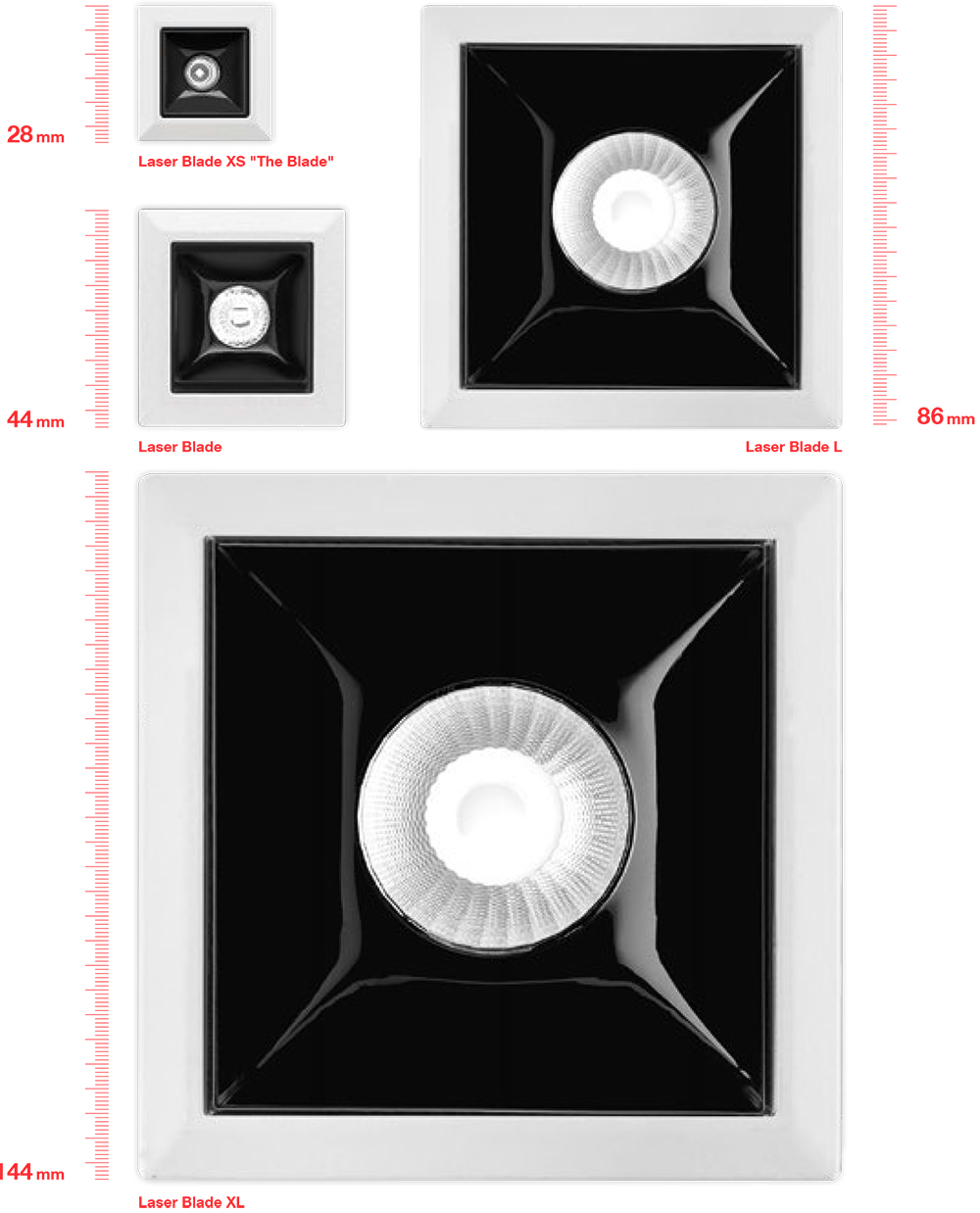 Laser Blade - The Laser Blade in 44 x 44 mm modules is the largest line of products in the entire Laser Blade family. This line is designed for recessed installation on false ceilings of 12.5mm thickness for the trimless versions or 1 to 25 mm thickness for the self-flanged version. 9 products are offered in this line, including High Contrast, Wall Washer, Wall Washer LGC, General Lighting, General Lighting Pro, Adjustable, System53, iN30 Recessed High Contrast, and iN30 Recessed Low Contrast. The High Contrast luminaires are available in 170-2760 lumen packages and 12° spot, 32° flood and 48° wide flood beam angles. The General Lighting and General Lighting Pro luminaires produce 860-3000 lumens through a diffuser with micro-prismatic screen. The Pro version offers enhanced glare control with additional metallic finish thermoplastic optics. The Laser Blade wall washers use a combination of reflectors and optical screens for a homogeneous illuminance with luminous flux ranging from 850 to 2760 lumens. The LGC version wall washer features longitudinal glare control. Laser Blade Adjustable offers +/- 30° swivel orientation and comes in single and double-row configurations. Laser Blade System53 is a linear modular system in which an array of Laser Blade modules are mounted to an aluminum track with a 53mm wide opening. This product offers unprecedented versatility and personalization thanks to its innovative slide and swivel mechanism. Laser Blade iN30 is a linear ambient lighting system with trimless LED modules recessed in an aluminum profile. The low contrast version is a lensed linear system that offers wider light distribution and softer glow. Both System53 and iN30 can be installed in continuous lines.
Laser Blade XS - Being only 28mm wide, Laser Blade XS is a masterpiece of miniaturization and precision. It features an extremely minimal design yet delivers uncompromising light outputs. Its micro optical assembly is engineered using nano technology to transform a small invisible LED into a powerful and uniform circle of light. Laser Blade XS is designed to be recessed in false ceilings with 1 to 25 mm thickness. This product line includes trimless and self-flanged versions in linear formats accommodating from a single module up to fifteen modules, and square formats in 4-module and 9-modue configurations. Laser Blade XS High Contrast LED luminaires deliver 160-2600 lumens in 24°, 36° and 55° beam options. The XS wall washers are available in 60mm-276mm length options and 440-2250 lumen packages. The XS general lighting luminaires produce up to 2600 lumens of high quality light. This range also has a low voltage version that operates on 48V power supplies.
Laser Blade L - Laser Blade L has the same concept and construction technology as the original Laser Blade High Contrast, Adjustable and Wall Washer models, but is more powerful yet still moderate in sizes (86mm wide). These luminaires are applicable to recessed installation in false ceilings with 12.5 to 25 mm thickness for the trimless version or from 1 to 25 mm thickness for the self-flanged version. This High Contrast luminaires produce up to 3450 lumens in 24°, 30° and 54° beam options. Laser Blade L Adjustable features 358° rotation and +/- 30° tilt.
Laser Blade XL - Recessed installation on false ceilings of thickness 12.5 to 25 mm for the trimless version or 1 to 25 mm for the self-flanged version. The product is a 1-module square aperture (125 x 125 mm) luminaire offered in self-flanged and trimless High Contrast, Adjustable and Wall Washer models with lumen delivery up to 3000 lm. The fixed-angle downlights are available in 21°, 31° and 55° beam options. The adjustable downlights include 9°, 21°, 31° and 55° beam options.