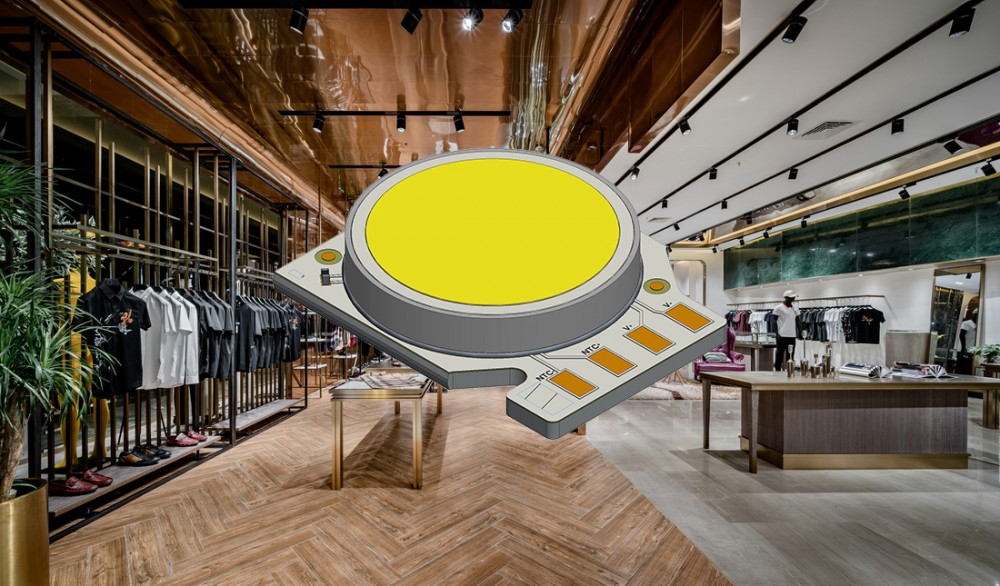 Lighting is a powerful form of visual communication that creates an identity of a space, reveals the character of an illuminated item, and reinforces positive emotions. In retail, hospitality and museum lighting applications, it's critical that the exhibit, merchandise, or environment is seen at its very best. Lighting is more than delivering adequate illuminance because the perception of the visual environment cannot be measured quantitatively. Aside from the amount of light, the distribution of light and the quality of light are all crucial factors that facilitate creating inspiring and visually interesting environment. And don't forget the sustainability of a lighting solution. Energy efficient lighting has gone far beyond a budgetary concern, it's one of the core strategic initiatives deeply ingrained in the business world.
Lighting Is Designed to Impress
Prominent manufacturers in the lighting industry have a never-ending quest for game-changing lighting solutions that help lighting designers transform any environment into a visual spectacle while providing end-users a competitive edge of high energy savings and long peace of mind. For architectural spaces catering to commercial accommodation, retail display and artwork exhibition, lighting is designed to attract the attention of visitors, emphasize distinctive features, and create atmospheres that enhance the core values of a brand or complement the theme of the space. The portfolio of products that fulfills these lighting needs is highly focused. Floodlights provide ambient lighting, wall washing, accentuation of large objects, or uniformly emphasis of complete spatial zone. Directional spotlights provide selective contrast and allow design elements to be accentuated, thereby adding depth, contrast and creating a focal point to improve the perception and attractiveness of the items displayed.
There's a Lot to Expect from LED Lighting
From recessed downlights to track mounted luminaires, and from pinpoint spots to wide floods, commercial lighting products harvest LED's benefits of high energy efficiency, high lumen density and exceptional beam controllability. The lure of high luminous efficacy, high lumen output and long lifespan makes LEDs an obvious choice. But retail and commercial lighting designers aspire for more. High color rendering is demanded for applications where a fantastic color experience with natural whites and vibrant colors is vital. A coherent lighting design relies on the high color consistency of the light source. The light source should pack enough of a punch in the beam to create visual impact. Tight beam control is also an important quality in directional spotlighting applications. The ability to maintain these excellent qualities challenges the thermal performance of the light source, especially in high flux density lighting.
Not All LEDs Are Created Equal
Now with Xicato LED modules, lighting designers and manufacturers no longer have to compromise any qualitative element. These state-of-art LED arrays unlock the aesthetic and economic potential of LEDs: the quality of light, their efficacy and ownership cost for retail stores, commercial showrooms, hotels, restaurants, bars, museums, galleries, high-end architectural environments and more. Modular design enables lighting manufacturers to leverage Xicato's turn­key solution with minimal investment in proof-of-concept prototyping and facilitate productivity in high volume production. From concept to completion, Xicato LED modules are designed to expedite time to market and crafted to convey your brand's distinct DNA, which creates value in today's hyper competitive and fast-paced marketplace. With a broad range of LES, CCT and the industry's leading color performance, Xicato LEDs address the need for a flexible, complete, east-to-integrate, future-proof light source optimized for specification-grade downlights, spotlights, and wall washers.
LED Technology
Xicato pioneered the remote phosphor technology that changes the way the world looks at light and enables everyone to continue indulging in a naturally rendered world after sunset. The conventional and currently still the mainstream LED packaging technology deposits phosphor over the LED dies. Remote phosphor LED modules do not coat phosphor directly on the LED dies. Instead the phosphor layer is remotely located from the LED dies. Blue LEDs illuminate behind the phosphor window which converts shorter wavelength photons to longer wavelength photons (white light). Xicato takes a unique remote phosphor approach to address the CCT and CRI challenges. Its patented Corrected Cold Phosphor LED architecture has a remote phosphor window which is formulated by applying an initial coat on the inner surface of the sapphire substrate and overcoating the second phosphor layer to precisely target CCT and CRI values.
Xicato proprietary remote phosphor technology enables high gamut color rendering, precise wavelength control, and exceptional thermal management. The separated phosphor mix can be tuned to counter any differences in wavelengths of the LEDs in the modules. The innovative LED architecture makes it possible to specify wavelength distributions with the highest standards of color control. Remote excitation of the high quantum efficiency phosphor mix produces a spectral power distribution balanced in exact proportions to provide the most accurate color rendition. Optimized spectral characteristics allow Xicato LED modules to produce the highest quality white light that we have long enjoyed with incandescent lamps. Corrected Cold Phosphor Technology puts an end to the color inconsistency issue. Color point consistency is extremely important in delivering consistent color appearance of the accentuated merchandise, artwork, and architectural features. All Xicato LEDs have a chromaticity variation of less than a 1 x 2 MacAdam Ellipse around the color point on the black body locus, which is 3 times smaller than the industry norm of 3 SDCM, and half as big as the "premium" standard of 2 SDCM..
Remote phosphor with separate thermal paths for the phosphor and the underlying LED array eliminates the concern of thermal phosphor degradation that often occurs in conventional LED packages. Excessive heat flux at the LED junction of conventional LED packages leads to a noticeable chromaticity shift toward the higher end of the spectrum. Over time there'll be permanent deviation in color temperatures as well as accelerated efficiency degradation and shortened life. With a remote phosphor window fabricated on a thermally conductive sapphire substrate, the Xicato LED module is capable of operating in high drive current and high flux density applications with minimal lumen depreciation and chromaticity shift. Xicato LED modules offer guaranteed color maintenance of less than 0.003 Duv for a minimum of 5 years, in comparison to the claimed ±0.005 (x,y) accuracy that is the industry norm.
Diversified Offerings
Xicato carries a complete portfolio of modular LED arrays that accommodate every niche in the commercial lighting market.
Xicato Artist Series products are designed to provide a spectrum of light that allows the human eye to distinguish between a virtually complete range of colors when viewed simultaneously. All Artist Series LED modules deliver CRI Ra > 95 (typical 97-98), CRI R9 > 90 (typical R9 of 95), and extremely high R values across all 15 CIE CRI samples in all CCTs including 2700K, 3000K, 3500K and 4000K. The Artist Series is specifically engineered to replace halogen and incandescent lighting in color critical applications. Light produced by Artist LEDs has a spectral power distribution that matches chroma of the test source very accurately, with no color group deviating more than 3% in saturation from the reference. The ability to emulate the characteristics of natural light makes the Artist Series the preferred choice of many of the world's top museums, galleries, retailers, luxury hotels and residences. The Artist LED modules come in flux packages from 700 to 4000 lumens.
Xicato Beauty Series LED modules are designed with an application-specific color point and spectral power distribution that enhance the natural beauty of human skin tones. The Xicato Beauty Series was initially developed for a major cosmetics retailer who wanted very high color fidelity for skin tone comparisons, but has an additional benefit of making people look and feel better. Outstanding color rendering and extended gamut aid in cosmetic color matching, making customers look their best and accentuating cosmetic products to create the desire of shopping. Flattering ambience is perfect not only for cosmetics concessions, but also for fostering positive feelings that inspire buyers to reach for their wallets in any retail store or creating an inviting and intimate environment in hospitality settings. The Beauty Series delivers CRI Ra > 93 (typical R9 of 95) in 2700K CCT and comes with 1300 and 2000 lumen output options.
Xicato Designer Series strikes an optimal balance between color fidelity, lumen output and efficacy. The spectrum is balanced in exact proportions to bring out the richest whites and renders colors no matter what the CCT. Uncompromised luminous efficacy allows LED luminaires to meet the most stringent energy codes. This series carries a minimum CRI Ra of 90 and R9 of 50, TM-30 Rf of 89 and Rg of 101, and a consistent white point. Designer Series LED modules are available in 9mm and 19mm LES, in 2700K, 3000K, 3500K and 4000K CCT, and in lumen packages from 700lm to 4500lm.
Xicato Vibrant Series is designed to bring out the most attractive colors in fabrics, surfaces, and other materials without fading or discoloring. The light spectrum adds vibrancy to colors, hues, and tones to intensify contrast and enhance aesthetics. Improved color differentiation allows very fine color appearance differences – especially whites, reds and blues – to be distinguished and makes colors pop like never before. The Vibrant Series is available in V8 (typical CRI of 83, with typical R9 of 28) and V9 (typical CRI of 96, with typical R9 of 96) versions, and comes in 3000K CCT with light outputs ranging from 700 to 5000 lumens.
Xicato Standard Series is designed to fulfill primary visual requirement with a light spectrum optimized for enhanced color performance while delivering a high luminous efficacy to keep the cost of ownership to a minimum. Unlike other 80 CRI LEDs which has extremely poor R9 rendering capability, Xicato Standard Series with a typical CRI (Ra) of 83 features an SPD uniformly spread throughout the visible spectrum with decent R values from R9-R15 that helps bring out saturated colors. This series comes in 2700K, 3000K, 3500K and 4000K CCT, and in flux packages from 700 to 5000 lumens.
Seamless Integration
Xicato designs its remote phosphor LED modules in three form factors so that the lighting community can tailor their high-performing lighting solutions with extreme ease. These modular LED assemblies feature an interchangeable platform that accommodates Xicato's remote phosphor LEDs. The form factor of the modules remains consistent between generations. This allows lighting manufacturers to create a consistent portfolio of LED luminaires, without having to undertake costly re-engineering of the optics or thermal management systems.
Xicato Core Array (XCA) - Measuring 28.6mm x 23.3mm (1.126" x 0.917") and available in 19mm and 9mm LES options, the Xicato Core Array (XCA) is the standard light module incorporated in Xicato Thin Module (XTM) and Xicato Intelligent Module (XIM) platforms. It is also designed for use with the Xicato XSA-401 45mm holder. XCA provides luminaire designers the highest degree of design flexibility for integration in a variety of luminaires and light fixtures.


Xicato Thin Module (XTM) - Measuring 50mm x 5.7mm (1.97" x 0.78"), the XTM LED module combines the LED core and holder to facilitate design and construction of a multitude of downlight and spot fixtures. Made of injection molded glass filled PBT and comes with pre-applied thermal interface material, the Zhaga compatible holder allows seamless integration of a large ecosystem of lenses and heatsinks. XTM is designed to accommodate the entire portfolio of XCA LED modules.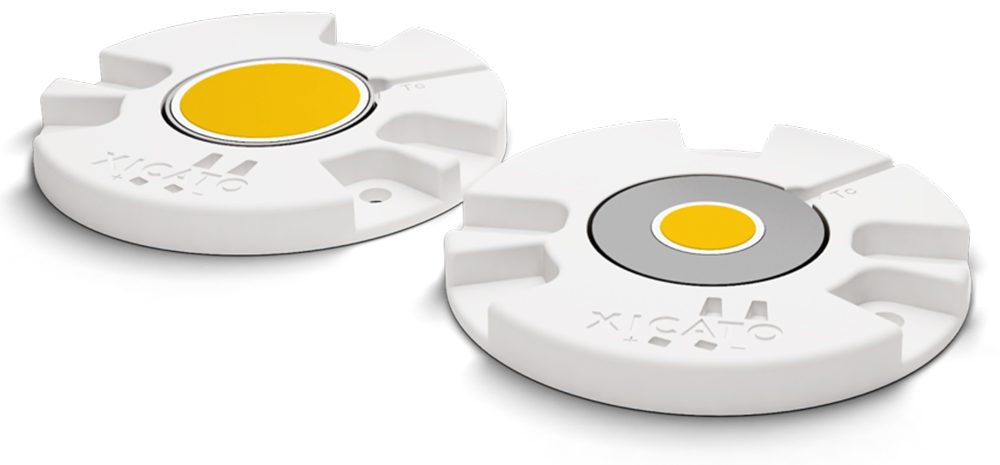 Xicato Intelligent Module (XIM) - XIM is an intelligent light engine that combines LED lighting, driver circuitry, Bluetooth wireless connectivity, and distributed intelligence. The smart LED module comes with software interfaces (APIs) that open up the platform for third-party developers to create a connected lighting solution with app controllability. XIM works with Google Eddystone and/or Apple iBeacons. Integrated 48 VDC driver allows for superior deep dimming, down to 0.1% in DALI and Bluetooth, and 1% in 1-10V. XIM is designed to accommodate Artist, Beauty, Designer, and Vibrant Series XCA LEDs.