AOK Lighting continues to raise the bar in industrial LED applications with the introduction of the iC series LED canopy lights, designed to provide a superior lighting experience while significantly cutting down on operating costs. The product line is optimized for commercial and industrial applications in constructures where over-head lighting is desirable such as petroleum service stations, parking areas, loading docks, convenience stores and drive-through restaurants or banking locations. The iC series LED canopy lights serves as the perfect upgrade solution for industrial class ceiling lighting that provides shelter, visibility, and security for consumers, as well as inviting storefronts that increase consumer traffic for businesses.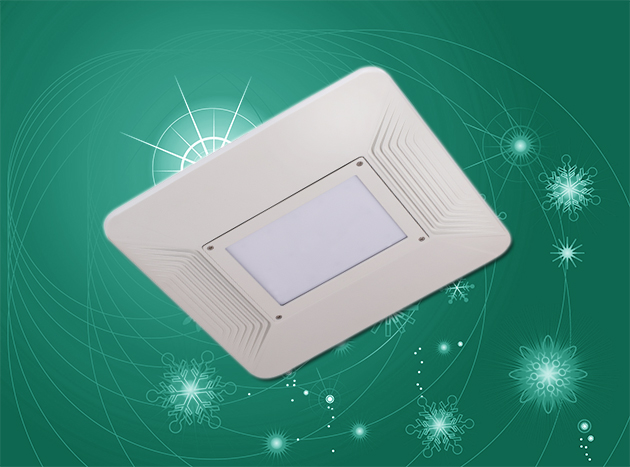 The LED canopy light offers a wide array of choices with exceptional quality and lighting performance that provide enhanced lighting experiences with trusted quality. The extremely thin profile LED canopy luminaire comes with a one-piece cast aluminum alloy housing with UV resistant white powder coat paint finish in 2.5 mil nominal thickness, providing leading-edge resistance to corrosion and weathering. The high-performing luminaire makes use of energy efficient, high brightness LEDs mounted to a metal-core circuit board to maximize heat dissipation and delivers an industry-leading efficiency of up to 130 lumens per watt (LPW). Unique patented thermal management design ensures low LED junction temperature. Integral designed heat sink does not trap dirt and grime, ensuring cool running performance over the life of the fixture. To further improve visual comfort, a glare-reducing optical system is utilized to maximize delivered lumens with minimizing glare. UV stabilized polycarbonate (PC) lenses provide optimized photometric distributions for exterior canopy lighting. The luminaire is designed to operate through the 90-305 Vac or 277-480 Vac universal voltage range. The driver is 0-10V dimmable which provide a pretty straightforward solution to adjusting light levels. The LED drivers are mounted in direct contact with the casting to facilitate low operating temperature and further simplifies installation, reducing installation time and cost. The electronic driver has a power factor of 0.95 min. at full load.
The iC series LED canopy lights are available in either ceiling recessed or surface mounting installations with customized configuration for each. Extremely light weight for safety use and installation, the versatile canopy lights are used not only in original product designs, but also in products designed to replace legacy light sources in conventional lighting applications. These retrofit canopy light systems often are designed to accommodate legacy luminaire openings such that retrofitting requires the bare minimum user effort and time. The retrofit kit comprises a plurality of LED lamp units configured to attach to a cover replacement unit. Housing is completely sealed against moisture and environmental contaminants with a highly protective IP66 ingress rating. Luminaires are rated for an ambient operating temperature range of -40ºC to 50ºC and an operating humidity of 10%-90% RH. Offered standard in 3000/4000/5000/5700/6500K (+/- 275K) CCT and nominal 78 CRI. Wattages available: 75W, 110W, 150W. Choose from 60°, 120°, 90*100° beam angle options. The functionally and aesthetically designed luminaire has an operating life of 50,000 hours and backed by a five year warranty.