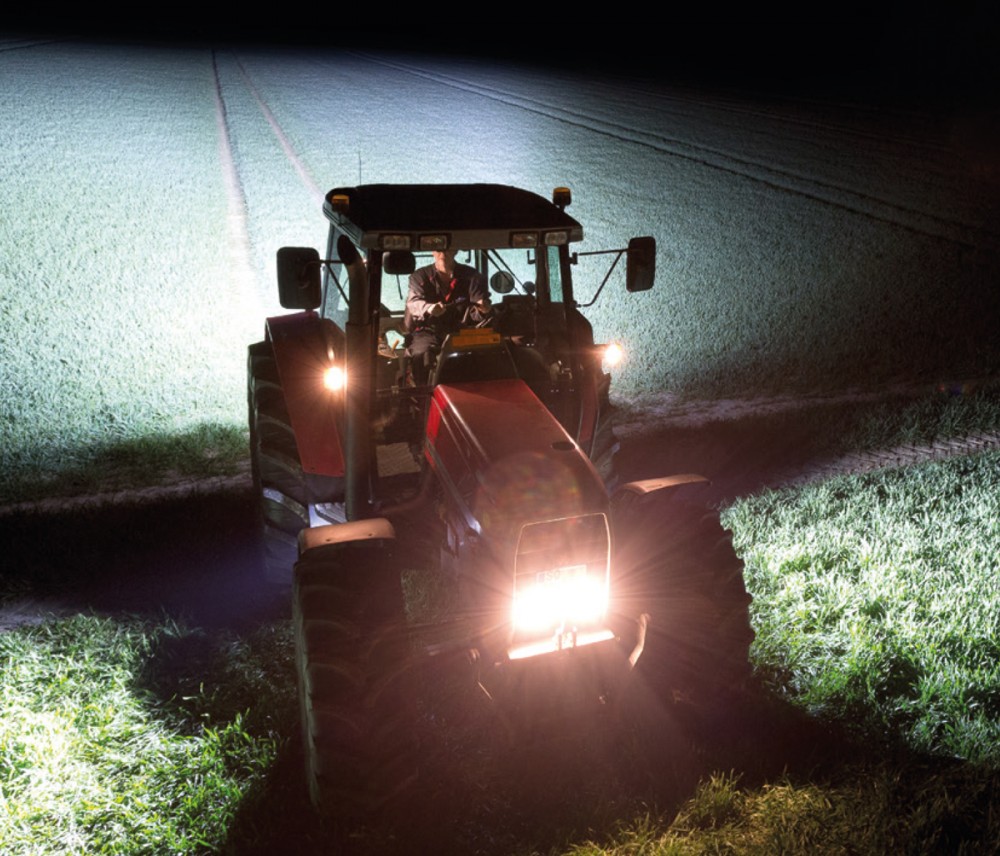 Tailored to the requirements of the agricultural and forestry industries, Hella's robust and versatile range of LED work lights enable farmers and agricultural contractors to work safely and efficiently. During the rush of the harvest season every minute counts. The weather and its seasonal constraints push the agricultural vehicle operators to work around the clock. This means lighting plays an important role in productive operation and workplace safety at night and in twilight. When used in agriculture and forestry, work lights, previously known as ploughing lamps, are exposed to harsh working conditions: rain, dirt, mud, vibration, and corrosion. Agricultural machinery manufacturers are under mounting pressure to create products with the highest possible availability and lowest possible operating costs as the end users strive to maximize profits. This places tough demands on the work lights in terms of performance, reliability and energy efficiency.
With an ongoing stream of firsts in agricultural and forestry vehicle lighting, Hella has once again set innovative benchmarks. Powerful, reliable and energy illumination lends Hella's LED work lights perfectly to heavy duty vehicle mounted lighting applications. Whether mounted on a tractor, combine harvester, sprayer, or a forwarder, Hella work lights deliver superior visibility, rugged durability and unmatched longevity, with energy consumption reduced to less than one third the consumption of a standard halogen work light as well as more than 130 times the service life of halogen. All the products that bear the name Hella are characterized by Hella's internationally recognized design innovation and engineering standard which ensures the best exploitation of the LED's overwhelming advantages over legacy technologies.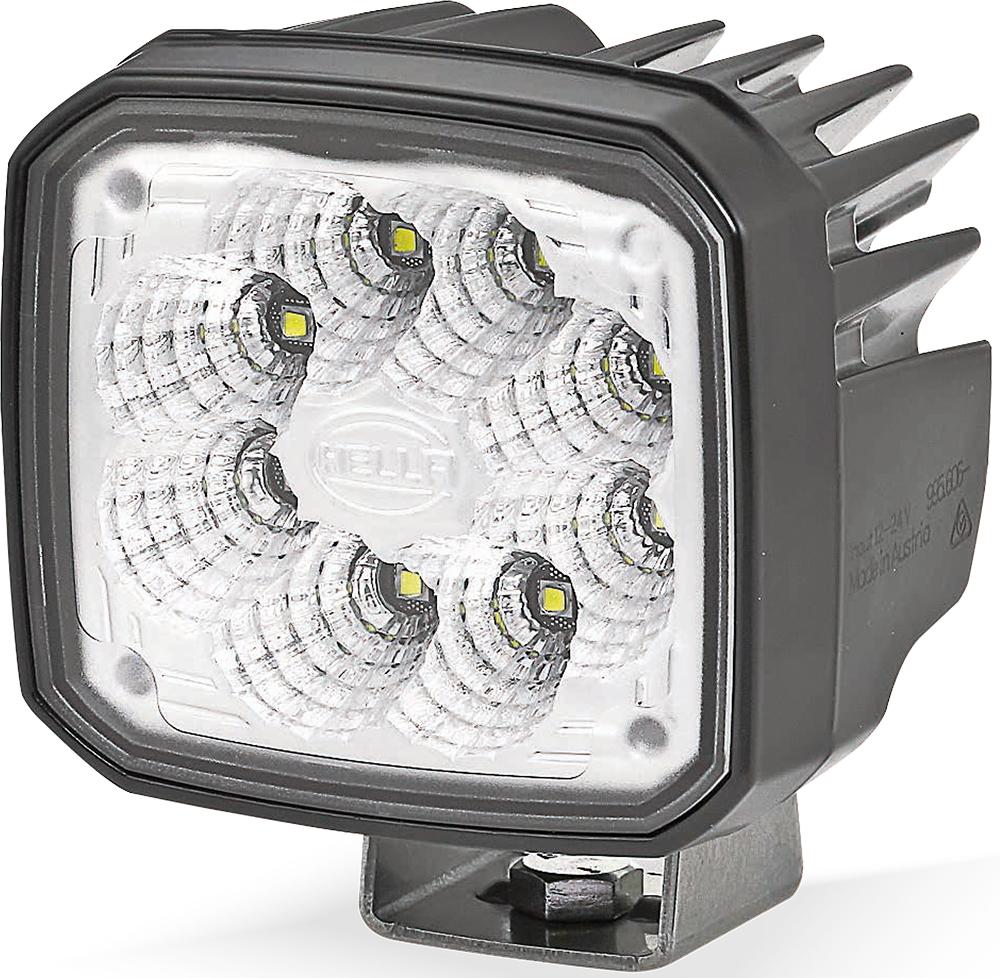 Hella offers a complete suite of products which include head lamps, side lamps, and rear lamps for close-range and/or long-range illumination. They are designed to be mounted onto the cab roof, cab bottom, front, rear, rear wing, step, mirror bracket, side wall, tail board, or other places of a tractor or harvester.
With an enormous 4,000-lumen light output, the energy-efficient Ultra Beam LED Gen. II is not only an adequate replacement for xenon work lights, but also suitable for all applications that require powerful illumination.
The Oval 90 LED Gen. II is a compact work light that has been specifically styled for the agriculture market. It's designed to provide extra-wide beam illumination with a light output of 4,300 lumens and can be installed upright (0°), or suspended (180°).
The powerful RokLUME 380 N headlamp produces groundbreaking intensity from a 7,800-lumen light engine, bringing daylight to the night.
The Flat Beam 500 has a very low profile and provides standard 45° downward illumination for direct near field areas.
The Q90 compact LED comes from the "Thermo Pro" work lights family which houses the LEDs in thermally conductive plastic housings in no way inferior to the aluminum housing. Its compact dimensions and uncompromised output of 1,000 lumens mean that it is a great all-rounder.
With 2,500 measured lumens, the Module 70 LED Generation IV headlamp is the most powerful on the market for this size.
The Power Beam 1800 is an ideal LED worklight that combines a powerful light output with a practical design. This luminaire is equipped with an additional PWM dimming function.
Module 50 LED is the smallest work light from Hella. Its ultra-compact design is well suited for installations with limited spaces. An optic-free version is available to facilitates] long-range and/or spot illumination.
The Oval 100 LED Thermo Pro has a thermally conductive plastic housing. It can be installed upright (0°), pendant (180°) and in the side-mounted version also in a 90° angle. The LED luminaire has a light output of 1,700 lumens.
The Mega Beam LED Generation III is ideal for use on battery-operated vehicles or on vehicles of which the alternator is already overloaded.
The LED Light Bar 350 is a 350 mm long elongated work light manufactured entirely from non-corrosive, thermally conductive high performance plastics. This 2,200-lumen light bar comes in two different beam patterns – High Beam (Ref 20) and Pencil Beam (Ref 30).
Thanks to state-of-the-art technologies developed using OE expertise, Hella work lights have been prominently distinguished from their competition. The company's extensive and intensive expertise across optical, thermal, electronic, and mechanical engineering ensures outstanding product performance and consistently high quality. Only LEDs that have undergone stringent tests and selection are used in Hella work lights. Thermal performance, luminous efficacy, color quality, lumen maintenance and chromaticity stability of the LEDs are thoroughly evaluated to ensure they live up to the expectations. Using the industry's highest-performing LEDs allows the Hella work lights to deliver a class-leading combination of performance, reliability and efficiency. In addition, the correlated color temperatures of Hella work lights are thoughtfully selected to maximize visibility and visual comfort for enhanced safety and productivity.
Hella work lights feature sophisticated reflector optics that put more light on task area. The reflector system is at the heart of Hella's cutting edge lighting concept. Hella takes advantage of the HELIOS software to create a reflector that efficiently regulates luminous flux from the light source. The software simulates light beams to test the light distribution of a new reflector. Computer-aided fine-tuning makes it possible to design a reflector that reduces light concentration at close range and ensures balanced flux distribution as the distance increases. The reflectors of Hella work lights are photometrically optimized to deliver uniform illuminance in a desired beam pattern. Work lights for close-range illumination are fitted with textured cover lenses which redistribute the light for wider coverage and reduced glare. Hella's RokLUME 380 work light is available with the ZEROGLARE optical system which produces a sharp horizontal cut-off to control the light onto the ground in front of the vehicle, thereby eliminating offensive light that could otherwise enter the oncoming operators' field of view.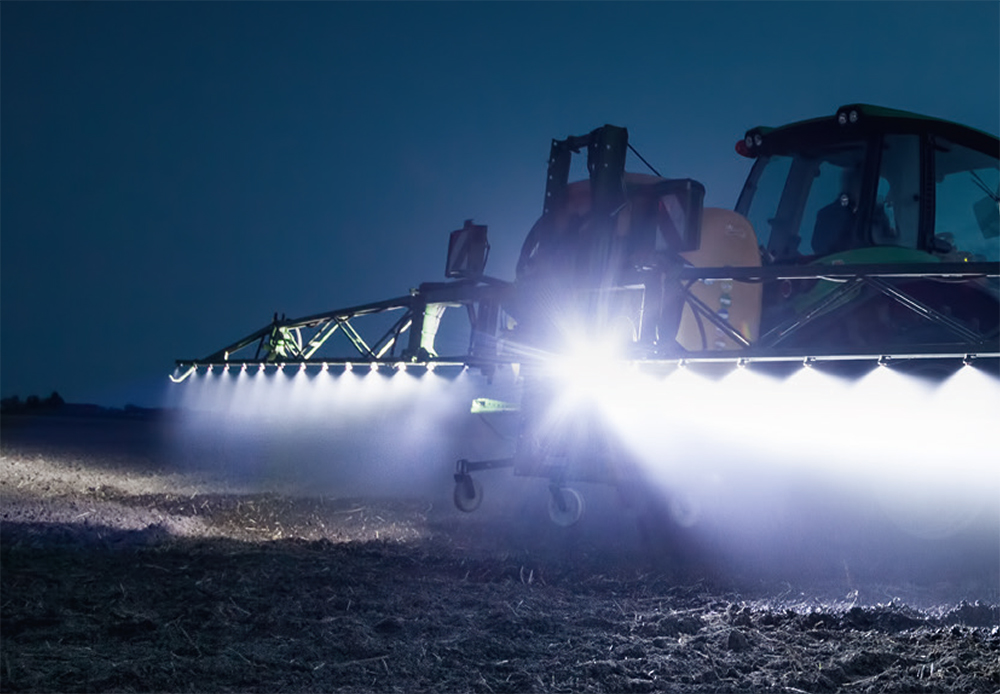 Hella's advanced thermal engineering enables its LED work lights to push the boundaries of lighting performance. To validate the effectiveness of a thermal management solution, thermal simulations have been performed. High power LED packages are mounted onto a metal core PCB with high thermal conductivity. High operating temperature capable solder interconnects ensure efficient heat transfer from the LED junction to the MCPCB. The MCPCB is thermally interfaced with the thermally efficient luminaire housing that doubles as a heat sink. The computer-optimized heat sink has integral fins that maximize the effective surface area of the thermal path. The maximum junction temperature is kept below the allowable thermal stress of the silicone encapsulate that surrounds die. Excellent thermal management allows the work lights to operate with high luminaire efficacy and minimal light output degradation over the products' rated life. If there is a risk of overheating, the built-in thermal protective circuit will automatically dim the LEDs to a lower output so that no excessive heat buildup will be accumulated at the LED junction. All Hella products undergo temperature cycle tests in which the products are exposed to temperature fluctuations from -40°C to +100°C in climatic chambers.
The rugged luminaire housing of a Hella work light is made of either die cast aluminum or Thermo Pro plastic. While the die cast aluminum housing boasts excellent thermal performance and high mechanical strength, the Thermo Pro plastic housing is equally efficient in heat dissipation and durable. Considerably reduced weight, improved vibration and corrosion resistance give the material a competitive edge. All Hella work lights have a CoroSafe coating which is specifically formulated to withstand the rigors of outdoor exposure and resist salt and corrosion for long-term performance. The finish is tested to withstand 720 hours of salt spray exposure.
Durable housing, impact-resistant polycarbonate lens, solid state light sources, and high reliability solder joints collectively make the work lights highly resistant to heavy vibrations and shocks which are ubiquitous in agricultural and forestry applications. Hella work lights survive a wideband random vibration test in which the frequency range extends from 10 to 1000 Hertz. A mechanical shock test that simulates the behavior in the event of jolts with an acceleration of between 300 and 500 m per second is conducted as well. The work lights are hermetically sealed by high-accuracy glue-dispensing robots. This guarantees the luminaires have IP6K9K or IP6K7 level ingress protection. Immersion and pressure tightness tests are carried out to ensure the enclosure integrity meets the design requirement.
Hella work lights has built-in, fully encapsulated circuitry that provides tight regulation and control on the current output. The driving circuit which operates between 9 to 33V or a fixed voltage and protects the work lights from reverse polarity input, transient spikecircuit and overvoltage. The EMC (electromagnetic compatibility) compliant LED arrangement and reflector construction ensure that there is no interference with the on-board sensitive radio communication equipment. All Hella work lights have an "E" approval in line with ECE regulation 10, demonstrating these products are suitable for use in all vehicle categories.