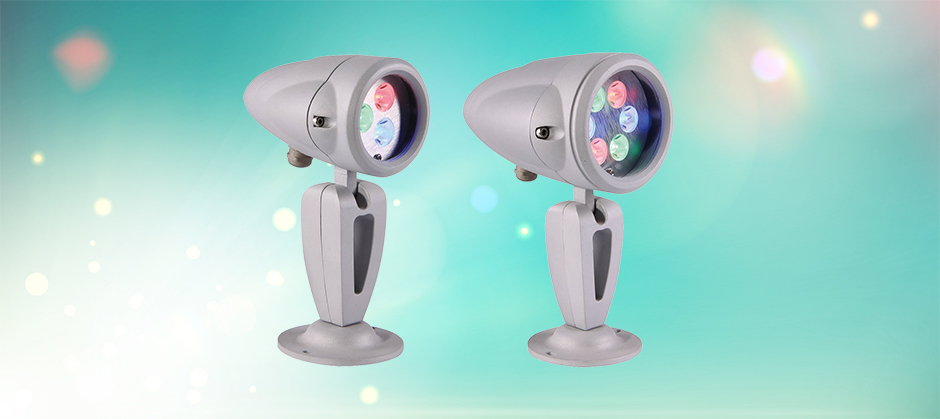 The JRS1 LED floodlights from Jingri Lighting are a versatile choice for low intensity hardscape and softscape lighting applications. The light fixture can be configured to accommodate either AC 100-277V line voltage or DC 24V low voltage power supply. Its light source can be either single color LEDs or a RGB combo. Whether to create a soft wash of light for a harmonized nighttime environment or a vibrant spectrum of colors that draw attention to architectural elements and design details, JRS1 offers a perfect lighting solution for most small-scale spotlighting and floodlighting requirements by combining value and performance in a robust, versatile design.
JRS1 has a specification grade die cast aluminum housing optimized for thermal management while offering no compromise on styling. The sleek, durable housing that is sealed with a tempered glass lens protects the optical and electrical components from mechanical shock, water and dust ingress. The casting surface is pre-treated with a multi-stage cleaning and chemical conversion coating process. A thermoset super TGIC polyester powdercoat finish with a 2 to 3 mil thickness is then electrostatically applied to the chromatized surface. This process ensures excellent salt and humidity resistance as well as optimal color retention of the aluminum housing.
As with other Jingri's light fixtures that use top tier LEDs for high efficacy operation and long term lumen maintenance, the JRS1 range is equipped with Cree or Osram LEDs to deliver high quality illumination through the precision engineered optical system. Available in 3-LED and 6-LED models, JRS1 offers four lumen packages - 284, 448, 538 and 850 lumens. JRS2 provides multiple photometric distribution options, including 10° narrow, 25° medium spot, 40° flood, and 60° wide flood beams. Exchangeable optics maximize utilization in a number of different applications from floodlighting, wall washing, and grazing to spotlighting.
JRS1 distinguishes itself from competitor's products in all aspects, including the down-to-earth mechanical design. The fixture has a sturdy cast stand that is 360° rotatable to the base and allows the light head to tilt 30° clockwise and 15° counterclockwise. The flexibility in aiming ensures freedom of installation. In addition to standard surface mount, a heavy duty ground spike is optionally supplied for stabilizing this light in the ground.
Product features
Sleek design, rugged construction.
Line voltage or low voltage power input.
Heavy duty die cast aluminum housing.
Corrosion resistant polyester powder coating.
High chromaticity stability Cree/Osram R/G/B/W LEDS.
Flexible optical aiming mechanism.
Optional ground spike mount.
IP66 ingress ingression.
5-year warranty.